Table of contents: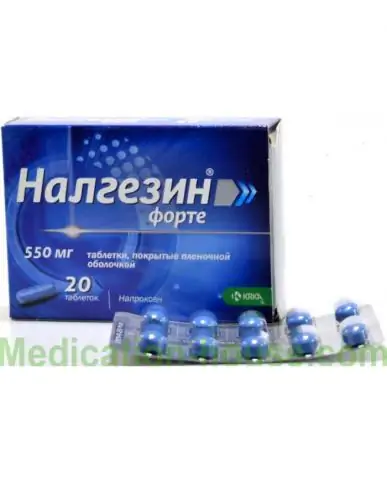 Video: Nalgezin Forte - Instructions For The Use Of Tablets, Price, Reviews, Analogues
Nalgezin forte
Nalgezin forte: instructions for use and reviews
1. Release form and composition
2. Pharmacological properties
3. Indications for use
4. Contraindications
5. Method of application and dosage
6. Side effects
7. Overdose
8. Special instructions
9. Application during pregnancy and lactation
10. Use in childhood
11. In case of impaired renal function
12. For violations of liver function
13. Use in the elderly
14. Drug interactions
15. Analogs
16. Terms and conditions of storage
17. Terms of dispensing from pharmacies
18. Reviews
19. Price in pharmacies
Latin name: Nalgesin forte
ATX code: M01AE02
Active ingredient: naproxen (naproxen)
Manufacturer: Krka (Slovenia)
Description and photo updated: 20.11.2018
Prices in pharmacies: from 252 rubles.
Buy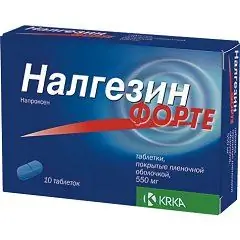 Nalgezin forte is a non-steroidal anti-inflammatory drug (NSAID).
Release form and composition
Dosage form of Nalgezin forte - film-coated tablets: oval, biconvex, with a risk on one side, blue (10 pcs. In blisters, 1-2 blisters in a cardboard box).
Composition of 1 tablet:
active substance: naproxen sodium - 550 mg;
auxiliary components: povidone K30, purified water, magnesium stearate, talc, microcrystalline cellulose, Opadry YS-1R-4216 dye (macrogol, titanium dioxide, hypromellose, indigo carmine dye).
Pharmacological properties
Pharmacodynamics
Naproxen - the active substance of Nalgezin forte - has an analgesic, anti-inflammatory and antipyretic effect. The mechanism of its action is due to the ability to non-selectively inhibit the activity of COX-1 and COX-2 (cyclooxygenases of groups 1 and 2), as a result of which the synthesis of prostaglandins is disrupted and, as a result, pain sensations decrease, the development of the inflammatory process is inhibited.
Nalgezin forte in the form of film-coated tablets dissolves well, is rapidly absorbed from the digestive tract and provides a quick onset of an anesthetic effect.
Pharmacokinetics
Naproxen is rapidly and completely absorbed from the gastrointestinal tract (GIT). It is characterized by high bioavailability - about 95%. Food does not affect the completeness and speed of absorption. The maximum concentration is reached within 1-2 hours.
The connection with plasma proteins is at least 99%.
It is metabolized in the liver with the participation of the CYP2C9 enzyme system to form dimethylnaproxen.
Clearance - 0.13 ml / min / kg. The half-life is 12-15 hours. It is excreted mainly by the kidneys in the form of metabolites (unchanged - no more than 10%), to a lesser extent - with bile (up to 2.5% of the dose). In patients with renal impairment, accumulation of naproxen metabolites may occur.
Equilibrium concentration is determined by taking 4-5 doses of the drug (after 2-3 days).
Indications for use
pain syndrome of mild or moderate severity: postoperative pain (in gynecology, orthopedics, traumatology, maxillofacial surgery), post-traumatic pain syndrome (bruises and sprains), accompanied by inflammation, lumboischialgia, ossalgia, neuralgia, myalgia, adnexitis, migrainesis, headache, headache and toothache;
diseases of the musculoskeletal system: bursitis, ankylosing spondylitis (ankylosing spondylitis), tendovaginitis, osteoarthritis of the spine and peripheral joints (including with radicular syndrome), rheumatic lesions of soft tissues, as well as juvenile chronic, gouty psoriatic arthritis and rheumatoid
febrile syndrome with infectious and colds;
infectious and inflammatory diseases of ENT organs with severe pain syndrome: otitis media, pharyngitis, tonsillitis (as part of complex therapy).
Nalgezin forte is used only for symptomatic therapy (reducing pain and inflammation, reducing fever). It has no effect on the progression of the disease.
Contraindications
Absolute:
pregnancy, lactation period;
oppression of bone marrow hematopoiesis;
progressive kidney disease;
severe renal failure (creatinine clearance less than 20 ml / min), including confirmed hyperkalemia;
active liver disease;
severe liver failure;
period after coronary artery bypass grafting;
cerebrovascular bleeding or other bleeding, hemostasis disorders;
active gastrointestinal bleeding;
inflammatory bowel disease in the acute phase (ulcerative colitis, Crohn's disease);
erosive and ulcerative changes in the mucous membrane of the stomach or duodenum;
anamnestic data about an attack of bronchial obstruction, rhinitis and urticaria after taking acetylsalicylic acid (ASA) or other NSAIDs (complete or incomplete syndrome of acetylsalicylic acid intolerance - urticaria, nasal mucosa polyps, rhinosinusitis, bronchial asthma);
hypersensitivity to the components of the drug.
Due to the high dosage of the active ingredient, Nalgezin Forte is not recommended for children under 15 years of age.
Relative contraindications (the drug is used with caution after assessing the benefits and risks):
severe somatic diseases;
anamnestic data on the development of ulcerative lesions of the gastrointestinal tract;
presence of Helicobacter pylori infection;
diabetes;
cerebrovascular diseases;
cardiac ischemia;
peripheral arterial disease;
congestive heart failure;
blood clotting disorders;
bronchial asthma;
creatinine clearance less than 60 ml / min;
dyslipidemia / hyperlipidemia;
frequent alcohol consumption;
smoking;
long-term treatment with NSAIDs;
concomitant therapy with the following drugs: selective serotonin reuptake inhibitors (for example, paroxetine, fluoxetine, sertraline or citalopram), oral glucocorticosteroids (including prednisolone), antiplatelet agents (including acetylsalicylic acid and clopidogrel) (for example, anticoagulants), anticoagulants
hypersensitivity to other analgesics;
elderly age.
Instructions for use of Nalgezin forte: method and dosage
Nalgezin forte is taken orally, regardless of meals.
It is recommended to use the drug in the minimum effective dose for the minimum possible course. This will reduce the incidence of side effects from the digestive system.
You should strictly adhere to the doctor's instructions, do not change the dosage yourself and do not stop treatment.
To relieve moderate pain, usually 1-2 tablets per day are sufficient. With severe pain, but provided that there is no history of gastrointestinal diseases, the daily dose may be increased to 3 tablets, but treatment in this case should not exceed 2 weeks.
To reduce elevated body temperature, take 1 tab. Nalgezin forte, then it is allowed to take ½ tab. every 6-8 hours.
To prevent migraines, 1 tablet is prescribed twice a day. If the intensity, frequency and / or duration of attacks does not decrease within 4-6 weeks, the drug should be discontinued. At the first signs of a migraine attack, you should take 1½ tab., If necessary, after 30 minutes another ½ – 1 tab.
With gynecological pain (after the introduction of an intrauterine device, during menstruation, adnexitis, etc.), the first dose of the drug is 1 tab., Then ½ tab. every 6-8 hours.
The initial dose of Nalgezin forte with an attack of gout is 1½ tab., After 8 hours - 1 tab., Then - ½ tab. every 8 hours until the attack stops.
In rheumatoid diseases, usually 1-2 tablets are prescribed. twice a day, morning and evening. For patients in whom pain is the leading symptom, patients with severe morning stiffness and / or severe night pain, as well as patients who are transferred to Nalgezin Forte from high doses of other NSAIDs, the initial daily dose can be increased to 1½ – 3 tab. As a rule, 1-2 tablets are enough to relieve pain. per day (2 admission).
Morning and evening doses can be different depending on the prevalence of symptoms, such as night pain or morning stiffness.
If the effect of Nalgezin forte feels very weak or, on the contrary, too strong, you should inform your doctor about it.
Side effects
from the digestive system: ulcerative stomatitis, dyspepsia, abdominal pain, diarrhea, constipation, nausea, erosive and ulcerative lesions and bleeding of the gastrointestinal tract, melena, bloody vomiting, increased activity of liver enzymes, jaundice, liver dysfunction;
from the genitourinary system: menstrual irregularities, interstitial nephritis, hematuria, glomerulonephritis, nephrotic syndrome, renal papillary necrosis, renal failure;
on the part of the nervous system: inability to concentrate, drowsiness / insomnia, sleep disturbances, slowing down the reaction rate, cognitive dysfunction, headache, malaise, dizziness, hearing loss, myalgia and muscle weakness, depression, aseptic meningitis;
from the respiratory system: eosinophilic pneumonitis;
on the part of the cardiovascular system: shortness of breath, swelling, vasculitis, congestive heart failure, palpitations;
from the hematopoietic organs: leukopenia, aplastic anemia, hemolytic anemia, thrombocytopenia, granulocytopenia, eosinophilia;
from the senses: tinnitus, impaired hearing and / or vision;
on the part of the skin: itching, increased sweating, photodermatosis, ecchymosis, alopecia, purpura;
allergic reactions: urticaria, skin rash, erythema multiforme, epidermal necrosis, angioedema, Stevens-Johnson syndrome;
others: hyper- or hypoglycemia, hyperthermia, thirst, increased bleeding time.
Side effects of Nalgezin forte are dose-dependent.
Overdose
Symptoms: dyspeptic disorders (heartburn, abdominal pain, nausea and vomiting), weakness, tinnitus, drowsiness, irritability; in severe cases - melena, bloody vomiting, convulsions, impaired consciousness, renal failure.
After taking a dose that is significantly higher than the recommended one, it is worth doing a gastric lavage. Treatment of an overdose is symptomatic: intake of activated charcoal and antacids, the use of H 2 receptor blockers and proton pump inhibitors. Hemodialysis is ineffective.
special instructions
If, despite taking the drug, pain and / or fever persists or becomes worse, a doctor's consultation is required.
Patients on a diet with limited salt intake should take into account that each Nalgezin Forte tablet contains approximately 50 mg of sodium.
If it is necessary to conduct a planned surgical intervention, a test for the determination of 17-corticosteroids or 5-hydroxyindoleacetic acid in urine, it is recommended to cancel naproxen 48 hours before.
Simultaneously with Nalgezin Forte, you should not take other pain relievers and anti-inflammatory drugs, unless such a combination is prescribed by a doctor.
Naproxen, like other drugs that block prostaglandin synthesis, can affect fertility, so it is not recommended for women planning a pregnancy.
Influence on the ability to drive vehicles and complex mechanisms
According to the instructions, Nalgezin forte slows down the rate of reactions, which should be taken into account by vehicle drivers and patients employed in industries that require increased attention and speed of reactions.
Application during pregnancy and lactation
Nalgezin forte is not recommended during pregnancy and lactation.
Pediatric use
Due to the high content of the active substance in 1 tablet, the drug is not recommended for children and adolescents under 15 years of age. If necessary, Nalgezin Forte can be taken by patients of this age group only on prescription and under the strict supervision of a physician.
With impaired renal function
Reception of Nalgezin Forte is strictly contraindicated in progressive kidney disease and severe renal failure (creatinine clearance <20 ml / min), including with confirmed hyperkalemia.
In patients with impaired renal function (creatinine clearance 20-60 ml / min), the drug should be used with caution, under the control of creatinine clearance.
For violations of liver function
Reception of Nalgezin forte is strictly contraindicated in active liver diseases and severe liver failure.
In chronic alcoholic and other forms of cirrhosis of the liver, the concentration of unbound naproxen increases; therefore, such patients should be prescribed the drug in lower doses.
Use in the elderly
Elderly patients are prescribed Nalgezin forte if necessary, but treatment is carried out with lower doses of naproxen and under close supervision.
Drug interactions
Naproxen may increase bleeding time, which should be considered in patients receiving anticoagulants.
Magnesium and aluminum-containing antacids reduce the absorption of naproxen, probenecid increases its concentration in the blood.
With the simultaneous use of anticoagulants, hydantoins or other agents that largely bind to plasma proteins, it is possible to potentiate their action and, as a consequence, develop overdose symptoms.
Naproxen slows down excretion and increases the risk of developing the toxic effects of sulfonamides, phenytoin and methotrexate. Inhibits the natriuretic effect of furosemide. Increases the concentration of lithium in blood plasma. May reduce the antihypertensive effect of propranolol and other beta-blockers.
With the simultaneous use of cyclosporine or angiotensin-converting enzyme inhibitors, the risk of developing renal failure increases.
The patient should inform the attending physician about all medications that he takes, as well as the presence of concomitant diseases or allergies.
Analogs
Analogs of Nalgezin forte are: Nalgezin, Naproxen, Aleve, Apranax, Algezir Ultra, Naproxen-Acri, Naprobene, Sanaprox, Naproxen sodium, Pronaxen, Naproxen, Naprios.
Terms and conditions of storage
Store in its original packaging at temperatures up to 25 ° C out of the reach of children.
The shelf life is 5 years.
Terms of dispensing from pharmacies
Dispensed by prescription.
Reviews about Nalgezin Fort
Most of the reviews about Nalgezin Forte are positive: the drug helps to quickly and effectively relieve pain.
To the disadvantages of Nalgezin forte, certain patients include a large list of contraindications and possible side effects, a relatively high price, a large size of tablets that makes it difficult to swallow them.
Price for Nalgezin forte in pharmacies
The price for Nalgezin forte varies between 225-320 rubles. per pack of 10 tablets, 390-460 rubles. per pack of 20 tablets.
Nalgezin forte: prices in online pharmacies
Drug name
Price
Pharmacy
Nalgezin forte 550 mg film-coated tablets 10 pcs.
252 RUB
Buy
Nalgezin Forte tablets 550mg 10 pcs.
255 RUB
Buy
Nalgezin Forte tablets p.o. 20 pcs.
398 RUB
Buy
Nalgezin forte 550 mg film-coated tablets 20 pcs.
398 RUB
Buy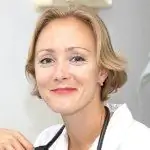 Anna Kozlova Medical journalist About the author
Education: Rostov State Medical University, specialty "General Medicine".
Information about the drug is generalized, provided for informational purposes only and does not replace the official instructions. Self-medication is hazardous to health!
Popular by topic