Table of contents: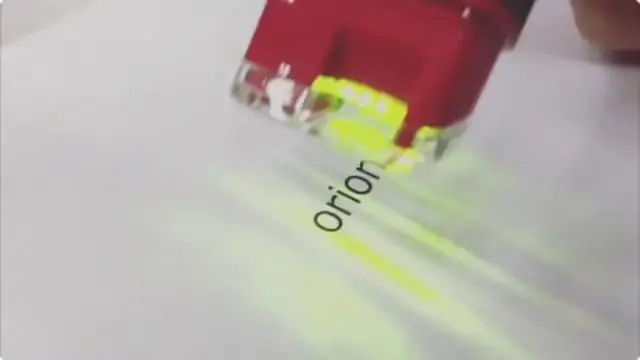 Video: Nazol Advance - Instructions For Use, Price, Reviews, Spray Analogues
Nazol Advance
Nazol Advance: instructions for use and reviews
1. Release form and composition
2. Pharmacological properties
3. Indications for use
4. Contraindications
5. Method of application and dosage
6. Side effects
7. Overdose
8. Special instructions
9. Application during pregnancy and lactation
10. Use in childhood
11. Drug interactions
12. Analogs
13. Terms and conditions of storage
14. Terms of dispensing from pharmacies
15. Reviews
16. Price in pharmacies
Latin name: Nazol Advance
ATX code: R01AA05
Active ingredient: oxymetazoline (oxymetazoline)
Manufacturer: Institut de Angeli S. p. l. (Italy)
Description and photo updated: 22.11.2018
Prices in pharmacies: from 174 rubles.
Buy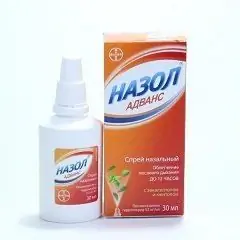 Nazol Advance is a drug with a vasoconstrictor and local decongestant effect.
Release form and composition
Dosage form - dosed nasal spray 0.05%: transparent, from colorless to light yellow liquid with a faint smell of eucalyptus, camphor and menthol (10, 15 and 30 ml each in polyethylene bottles equipped with a spray device, in a cardboard box 1 bottle).
Composition of the preparation:
active substance: oxymetazoline hydrochloride - 0.5 mg in 1 ml, 0.025 mg in 1 dose;
auxiliary components: sodium hydrogen phosphate dihydrate, polysorbate 80, disodium edetate dihydrate, concentrated hydrochloric acid, propylene glycol, sodium dihydrogen phosphate dihydrate, benzalkonium chloride, levomenthol, eucalyptol (cineol), racemic camphor, purified water.
Pharmacological properties
Pharmacodynamics
Oxymetazoline hydrochloride is a drug from the group of alpha-adrenostimulants for local use, which has a vasoconstrictor effect.
When applied intranasally, it reduces the edema of the mucous membrane of the upper respiratory tract, as a result of which nasal breathing is facilitated, the mouths of the paranasal sinuses and Eustachian tubes open.
The effect of the drug is observed 10-15 minutes after injection into the nasal passages and lasts for 10-12 hours.
Indications for use
According to the instructions, Nazol Advance is used to facilitate nasal breathing in the following diseases:
rhinitis of any etiology;
colds;
sinusitis;
viral infections of the upper respiratory tract.
Contraindications
Absolute:
atrophic rhinitis;
severe atherosclerosis;
angle-closure glaucoma;
conditions after transsphenoidal hypophysectomy;
children under 6 years old;
period of pregnancy;
lactation;
simultaneous use of MAO (monoamine oxidase) inhibitors and a period of 14 days after their cancellation;
hypersensitivity to any component of the drug.
Relative (Nazol Advance should be used with caution):
increased intraocular pressure;
violation of carbohydrate metabolism (diabetes mellitus);
diseases of the cardiovascular system (arterial hypertension, arrhythmia, ischemic heart disease, tachycardia, chronic heart failure);
chronic renal failure;
dysfunction of the thyroid gland (hyperthyroidism);
hyperplasia of the prostate with clinical symptoms (urinary retention);
pheochromocytoma;
simultaneous use of tricyclic antidepressants.
Instructions for the use of Nazola Advance: method and dosage
Nazol Advance is administered intranasally.
Adults and children from 12 years old are prescribed 2-3 injections into each nostril, children 6-12 years old - 1 injection into each nasal passage. The frequency of drug use is 2 times a day.
The recommended duration of treatment is no more than 3 days. With prolonged and frequent use of the nasal spray, it is possible that the difficulty in nasal breathing reappears or worsens. In this case, it is necessary to stop therapy and consult a doctor.
Do not tilt your head back when spraying. The drug should not be administered while lying down.
Side effects
In some cases, after the introduction of the drug into the nasal cavity, irritation, dryness or burning of the nasal mucosa, dryness in the mouth and throat, an increase in secretions from the nose, sneezing occur. In rare cases, after the end of the action of Nazola Advance, a strong feeling of nasal congestion (reactive hyperemia) occurs.
Possible systemic effects of the drug: palpitations, increased blood pressure, dizziness, increased anxiety, headache, insomnia, nausea.
With prolonged treatment (more than 7 days), the development of reactive hyperemia and atrophy of the nasal mucosa is possible. There is a risk of tachyphylaxis (a rapid decrease in the therapeutic effect with repeated use of the drug).
Overdose
In case of overdose (too frequent and / or prolonged use) and accidental ingestion of the drug inside, Nazol Advance can cause increased blood pressure, tachycardia, arrhythmia, nausea, vomiting, fever, cyanosis, shortness of breath, mental disorders and depression of the central nervous system (decrease in body temperature, drowsiness, decreased blood pressure, bradycardia, respiratory arrest and coma). Treatment is symptomatic. In case of taking the drug inside, gastric lavage and intake of activated charcoal are recommended.
special instructions
You can use the drug daily without a doctor's prescription for no longer than 3 days. If used for more than 7 days, symptoms of nasal congestion may recur.
Avoid contact with eyes.
To prevent the spread of infection, it is recommended to use the nasal spray bottle individually.
Influence on the ability to drive vehicles and complex mechanisms
Due to the risk of developing some side effects, such as dizziness, during treatment, it is worth refraining from driving a car and performing potentially hazardous types of work that require clarity of visual perception and speed of reactions.
Application during pregnancy and lactation
During pregnancy and lactation, Nazol Advance can be used only in certain cases, when the expected benefit outweighs the potential risks.
Pediatric use
The medicinal product is not intended for the treatment of children under 6 years of age.
Drug interactions
Nazol Advance slows down the absorption of concurrently used local anesthetic drugs and lengthens their effect.
With the combined use of other vasoconstrictors, the likelihood of side effects increases.
Tricyclic antidepressants and MAO inhibitors can increase blood pressure when used in combination with oxymetazoline.
Analogs
Nazol Advance analogs are Nazol, Afrin, Nazivin, Nazivin Sensitiv, Noxprey, Nazosprey, Vicks Active Sinex, Afrin moisturizing, Afrin extro, Nesopin, Oxyfrin, Oxymetazoline, Otrivin Oxy.
Terms and conditions of storage
The shelf life is 3 years.
Store at temperatures from 2 to 25 ° C out of reach of children.
Terms of dispensing from pharmacies
Available without a prescription.
Reviews about Nazole Advance
Most of the reviews about Nazole Advance are positive. Patients note the fast and effective action of the drug aimed at eliminating nasal congestion, which, moreover, lasts a long time, so it is enough to use the spray 2 times a day.
Negative reviews most often contain complaints about the development of side effects, such as burning and irritation of the nasal mucosa, but they usually go away quickly and the next time the drug is injected into the nasal passages, they are not very pronounced. There are isolated cases of the development of an allergic reaction, manifested by lacrimation and profuse discharge of secretions from the nose.
Price for Nazol Advance in pharmacies
The approximate price for Nazol Advance is 220 rubles for 1 bottle of 10 ml.
Nazol Advance: prices in online pharmacies
Drug name
Price
Pharmacy
Nazol Advance 0.025 mg / dose 150 doses nasal spray dosed 10 ml 1 pc.
174 r
Buy
Nazol Advance nasal spray. dosage. 0.025mg / dose 10ml
192 RUB
Buy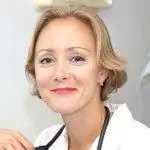 Anna Kozlova Medical journalist About the author
Education: Rostov State Medical University, specialty "General Medicine".
Information about the drug is generalized, provided for informational purposes only and does not replace the official instructions. Self-medication is hazardous to health!
Popular by topic