Table of contents: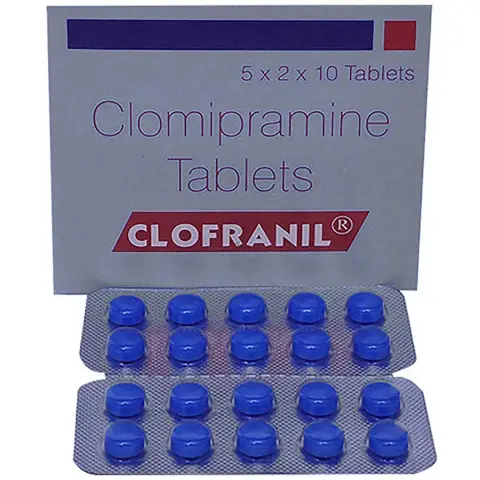 Video: Clofranil - Instructions For Use, Price, Reviews, Analogs Of Tablets
Clofranil
Clofranil: instructions for use and reviews
1. Release form and composition
2. Pharmacological properties
3. Indications for use
4. Contraindications
5. Method of application and dosage
6. Side effects
7. Overdose
8. Special instructions
9. Application during pregnancy and lactation
10. Use in childhood
11. For violations of liver function
12. Use in the elderly
13. Drug interactions
14. Analogs
15. Terms and conditions of storage
16. Terms of dispensing from pharmacies
17. Reviews
18. Price in pharmacies
Latin name: Clofranil
ATX code: N06AA04
Active ingredient: clomipramine (Clomipramine)
Manufacturer: San Pharmaceutical Industries, Ltd. (Sun Pharmaceutical Industries, Ltd.) (India)
Description and photo update: 2019-05-07
Prices in pharmacies: from 279 rubles.
Buy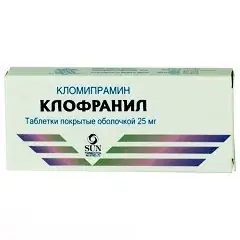 Clofranil is an antidepressant.
Release form and composition
Dosage form - film-coated tablets: round, blue, with a dividing line on one side (10 pcs. In aluminum strips, in a cardboard box 5 strips and instructions for the use of Clofranil).
Composition of 1 tablet:
active substance: clomipramine hydrochloride - 25 mg;
auxiliary components: titanium dioxide, macrogol 6000, microcrystalline cellulose, magnesium stearate, colloidal silicon dioxide, corn starch, purified talc, sodium carboxymethyl starch, lactose, hypromellose 2910 (methocel E5), brilliant blue, brilliant blue dye.
Pharmacological properties
Pharmacodynamics
Clofranil's active ingredient, clomipramine, is a tricyclic antidepressant from the group of indiscriminate inhibitors of neuronal uptake of monoamines. It has a pronounced thymoanaleptic activity. It has a combined psychostimulating, anxiolytic and sedative effect, therefore it belongs to antidepressants with a balanced effect.
The mechanism of the antidepressant activity of clomipramine is due to inhibition of the reuptake of norepinephrine and serotonin by the corresponding neurons (in comparison with other tricyclic antidepressants, clomipramine is characterized by a more pronounced decrease in serotonin reuptake).
With prolonged use, Clofranil reduces the functional activity of beta-adrenergic and serotonin receptors in the brain, normalizes serotonergic and adrenergic transmission, and also restores the balance of these systems, disturbed due to depressive conditions.
The drug has a pronounced central and peripheral alpha-adrenergic blocking, H1-histamine blocking and M-anticholinergic effects. It has central analgesic and anti-bulimic activity. Effective for bedwetting. The psychostimulating effect is weaker than that of imipramine, and the sedative effect is less pronounced than that of amitriptyline. The antidepressant effect develops during the first week of using Clofranil.
Pharmacokinetics
After taking Clofranil inside, clomipramine is rapidly and almost completely absorbed. Bioavailability is approximately 50%. Has the effect of the first passage through the liver.
After a single dose of 50 mg, the maximum concentration (Cmax) of clomipramine is observed after 4 hours. It is metabolized to form N-desmethylclomipramine, the main desmethylated metabolite, which is a potent inhibitor of norepinephrine reuptake, the Cmax of which is reached within 4-24 hours.
When using Clofranil 25 mg 3 times a day, equilibrium plasma concentrations (Css) are created by the end of the first week of treatment. Css of clomipramine is 113 ng / ml, desmethylclomipramine is 184 ng / ml. When taking a dose of 75 mg once a day (in the evening), these parameters are 70 and 81 ng / ml, respectively.
It is characterized by a high bond with proteins - 97.6%. The volume of distribution is 12-17 l / kg.
In cerebrospinal fluid, the concentration is 2% of plasma, the level of the substance in breast milk is similar to plasma.
The half-life is 21 hours, with depression it can increase to 36 hours. It is excreted mainly by the kidneys in the form of water-soluble compounds - ⅔ of the dose, and also through the intestines - about ⅓ of the dose.
Unchanged clomipramine and its active metabolite by the kidneys are excreted in an amount of not more than 1% of the dose received. The rest is excreted as hydroxylated metabolites.
Indications for use
For adults:
depressive mood disorders of a psychopathic, neurotic and reactive nature;
depressive states of various etiologies, proceeding with various symptoms: organic, neurotic, reactive, endogenous, involutional and masked forms of depression;
depression in patients with psychopathy and schizophrenia;
depressive syndromes in old age caused by chronic somatic diseases and chronic pain syndrome;
phobias and panic attacks;
obsessive compulsive disorder;
cataplexy accompanying narcolepsy;
chronic pain syndrome.
For children and adolescents:
obsessive compulsive disorder;
nocturnal enuresis in children from 5 years of age (with the exception of organic enuresis).
Contraindications
Absolute:
congenital syndrome of prolongation of the QT interval;
recent myocardial infarction;
children under 5 years old;
the period of pregnancy and breastfeeding;
simultaneous use of monoamine oxidase (MAO) inhibitors, including reversible MAO-A (for example, moclobemide), as well as a period of 14 days after their cancellation;
cross-hypersensitivity to tricyclic antidepressants included in the dibenzazepine group;
hypersensitivity to any component of Clofranil.
Relative (Clofranil tablets are used with caution, after assessing the benefits and risks):
organic diseases of the brain;
schizophrenia;
convulsive syndrome (including a history);
intraocular hypertension;
cardiovascular diseases (chronic heart failure, intracardiac conduction disorders, including atrioventricular blockade of the I – III degree, arrhythmia);
chronic alcoholism;
severe liver disease;
retention of urine;
chronic constipation;
tumors of the adrenal medulla (including neuroblastoma, pheochromocytoma);
oppression of bone marrow hematopoiesis;
angle-closure glaucoma;
hyperthyroidism;
elderly age;
substance abuse;
simultaneous use of neuroleptics;
joint intake of thyroid hormone preparations.
Clofranil, instructions for use: method and dosage
Clofranil tablets should be taken orally, during or after meals.
The doctor selects the optimal dose individually.
Recommended dosing regimens for adults:
phobias, depression, obsessive-compulsive disorder: treatment usually begins with a daily dose of 75 mg (25 mg 2-3 times a day), gradually increasing it over the course of a week to 150 mg, for severe depression resistant to therapy - up to 300 mg (in 2-3 receptions). After a significant improvement in the condition, taking Clofranil is continued in a maintenance dose - 25 mg 2-4 times a day. For elderly patients, the initial daily dose is 12.5 mg (½ tablet), over the next 10 days it is gradually increased to 30-50 mg;
agoraphobia, panic attacks: treatment begins with a daily dose of 12.5 mg, then it is gradually increased to the optimal effective dose of 25-100 mg. In severe cases, it is possible to increase the daily dose to 150 mg. The recommended duration of treatment is at least 6 months, during which the dose is gradually reduced to the minimum maintenance dose;
catalepsy accompanying narcolepsy: 25–75 mg per day;
chronic pain syndrome: 10–150 mg per day, taking into account simultaneously used analgesics (if necessary, reduce their dose).
Recommended dosing regimens for children and adolescents:
obsessive-compulsive disorder: treatment begins with a dose of 12.5 mg, during the first 2 weeks it is gradually increased until the minimum therapeutic is reached - 3 mg / kg or 100 mg, whichever is less. If necessary, over the next few weeks, the dose continues to be increased to 200 mg or 3 mg / kg per day, whichever is less;
nocturnal enuresis: children 5–8 years old - 20–30 mg per day, children 9–12 years old - 25–50 mg, children over 12 years old - 25–75 mg per day. If there is no clinical effect within 1 week, the dose of Clofranil is increased. The entire daily dose should usually be taken after dinner. However, in cases where episodes of involuntary urination are noted in the early night hours, it is recommended to take part of the dose at about 16 hours. After achieving the effect, treatment is continued for 1-3 months, gradually reducing the dose of the drug.
Side effects
allergic reactions: feeling of warmth or cold, flushing of the skin of the face, photosensitivity, itching, hyperpyrexia;
from the nervous system: drowsiness or insomnia, nightmares, decreased concentration, asthenia, dizziness, fear, headache, anxiety, aggressiveness, psychomotor agitation, confusion, speech impairment, hallucinations, muscle hypertonicity, ataxia, minor tremor, paresthesia, depersonalization, disorientation, delirium; in patients in the depressive phase - manic disorders; rarely - extrapyramidal disorders, myoclonus, agitation, convulsive seizures;
on the part of the cardiovascular system: changes in the electrocardiogram, sinus tachycardia, orthostatic hypotension; very rarely - violation of intracardiac conduction, including a change in the PQ interval, lengthening of the QT interval, expansion of the QRS complex, bundle branch block, ventricular tachycardia (pirouette-type), especially in patients with high blood pressure and hypokalemia;
from the digestive system: diarrhea, nausea, vomiting, constipation, anorexia, dry mouth, increased appetite, changes in liver function tests, jaundice, hepatitis;
on the part of the endocrine system: very often - dysmenorrhea, impaired libido and potency, increased body weight; often - an increase in the mammary glands, galactorrhea; very rarely - syndrome of inappropriate secretion of antidiuretic hormone;
on the part of the hematopoietic organs: very rarely - thrombocytopenia, eosinophilia, purpura, agranulocytosis, leukopenia;
from the urinary system: urinary retention;
on the part of the senses: tinnitus, change in taste, blurred visual perception (veil before the eyes), paresis of accommodation;
others: an increase in the incidence of dental caries, alopecia, petechiae; with prolonged use of Clofranil, especially in high doses, and with a sharp withdrawal of the drug - withdrawal syndrome, manifested by such symptoms as hyperexcitability, sleep disturbance with vivid unusual dreams, irritability, headache, diarrhea, nausea, vomiting, and abdominal pain.
Overdose
When taking an excessive dose of Clofranil, the following symptoms may develop: insomnia, drowsiness, agitation, ataxia, stupor, choreoathetosis, muscle rigidity, convulsions, hyperreflexia, fever, cyanosis, anuria, oliguria, mydriasis, AV blockade, intraventricular block, tachycardia arrhythmias, decreased blood pressure, heart failure, depression of the respiratory center, respiratory arrest, coma. Overdose manifestations are noted after about 4 hours, reach a maximum after 24 hours and persist for 4-6 days.
Gastric lavage and symptomatic therapy are recommended. Physostigmine is contraindicated due to the increased risk of seizures. Within 5 days, careful monitoring of cardiovascular activity on an electrocardiogram is necessary, since a relapse is possible for 48 hours or more. Hemodialysis and forced diuresis are ineffective.
special instructions
Patients with depression are at risk of suicidal ideation, which can persist during treatment, up to substantial remission. While taking Clofranil, an increase in anxiety disorders is possible, especially during the period of dose selection. For this reason, at the initial stage of therapy, if necessary, the drug is prescribed in combination with neuroleptics or benzodiazepines, treatment is carried out under constant medical supervision. It is recommended that authorized persons receive and store medicines.
Clofranil is able to lower the seizure threshold, therefore it can cause seizures in patients with a history of seizure syndrome and patients with a predisposition to it due to age or injury.
During the period of drug use, it is necessary to monitor peripheral blood parameters (due to the risk of agranulocytosis) and blood pressure.
There is a risk of transition of patients with a depressive phase to a manic phase.
Before performing anesthesia (both general and local), the anesthesiologist should be warned about taking Clofranil.
During therapy, it is forbidden to consume alcoholic beverages.
Before prescribing Clofranil to children and adolescents for nocturnal diuresis, the doctor should assess the ratio of the expected benefits and possible risks. The drug is used if alternative therapy is impossible.
Influence on the ability to drive vehicles and complex mechanisms
During the period of antidepressant therapy, driving a car and performing potentially hazardous activities that require increased attention and speed of reactions are prohibited.
Application during pregnancy and lactation
Clofranil is contraindicated in pregnant and breastfeeding women.
Pediatric use
It is contraindicated to prescribe the drug to children under 5 years of age. In older children, Clofranil is used according to indications, according to the dosage regimen.
For violations of liver function
In severe liver diseases, Clofranil is used with caution.
Use in the elderly
Treatment of elderly patients is carried out under close monitoring of the functional state of the liver and cardiovascular system. Clofranil is prescribed in minimal doses, which are increased gradually to avoid the development of hypomania, delirious disorders and other complications.
Drug interactions
other antidepressants: synergistic action is noted;
narcotic analgesics, sedatives and hypnotics, antipsychotics, anticonvulsants, general anesthetics, ethanol: their depressing effect on the central nervous system is enhanced;
guanethidine and drugs with a similar mechanism of action: a decrease in the antihypertensive effect is possible;
anticonvulsants: their effect may be weakened;
cimetidine: the plasma concentration of clomipramine increases, which is fraught with the development of toxic effects;
antiparkinsonian drugs and other drugs that cause extrapyramidal reactions: their effect is enhanced;
antipsychotics (phenothiazines), anticholinergics, benzodiazepines: febrile temperature reaction and ileus (paralytic intestinal obstruction) may occur;
catecholamines and other adrenostimulants: their hypertensive effects are enhanced, which is accompanied by the risk of developing cardiac arrhythmias, a pronounced increase in blood pressure, tachycardia;
methylphenidate: increases the plasma concentration of clomipramine;
drugs that affect the release of noradrenazine: their effects are suppressed;
disulfiram and other acetaldehyde dehydrogenase inhibitors: the patient may have delirium;
quinidine: slows down the metabolism of clomipramine;
anticoagulants, coumarin or indandione derivatives: an increase in their anticoagulant activity is possible;
inducers of microsomal liver enzymes (carbamazepine, phenytoin, barbiturates): the plasma concentration of clomipramine decreases;
medicines for the treatment of thyrotoxicosis: the risk of developing agranulocytosis increases;
pimozide, probucol: may increase cardiac arrhythmias;
estrogen-containing oral contraceptives: increase the bioavailability of clomipramine;
glucocorticosteroids: may increase the depression caused by them;
MAO inhibitors: the development of severe complications that can lead to death are possible.
If it is necessary to use MAO inhibitors or tricyclic antidepressants between doses of drugs, a minimum of 14-day intervals should be observed.
Analogs
Clofranil analogs are Adepress, Azafen MV, Alventa, Amitriptyline, Anafranil SR, Asentra, Brintellix, Valdoxan, Velaxin, Venlaxor, Dapfix, Zoloft, Ixel, Calixa, Lenuxin, Mirzaten, Mirtalizil, Paxerriton, Plaktozko, Fevarin, Tsipralex, Tsitol, Elycea, Efevelon and others.
Terms and conditions of storage
Store at a temperature not exceeding 30 ° C, out of the reach of children, in a dry, dark place.
Shelf life is 4 years.
Terms of dispensing from pharmacies
Dispensed by prescription.
Reviews about Clofranil
According to reviews, Clofranil is an effective drug for various depressive conditions, panic attacks and phobias. Patients note a significant improvement in mood and sleep, a decrease in negative symptoms such as tearfulness, anxiety, fears, and nervousness. There are also positive reports on the effectiveness of the drug in depressive syndrome caused by chronic pain.
Side effects include dry mouth, thirst, headache, weakness, dizziness, nausea, and decreased blood pressure.
Price for Clofranil in pharmacies
The approximate price for Clofranil is 250-265 rubles. per pack of 50 coated 25 mg tablets.
Clofranil: prices in online pharmacies
Drug name
Price
Pharmacy
Clofranil 25 mg film-coated tablets 50 pcs.
279 r
Buy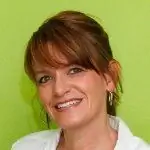 Maria Kulkes Medical journalist About the author
Education: First Moscow State Medical University named after I. M. Sechenov, specialty "General Medicine".
Information about the drug is generalized, provided for informational purposes only and does not replace the official instructions. Self-medication is hazardous to health!
Popular by topic