Table of contents: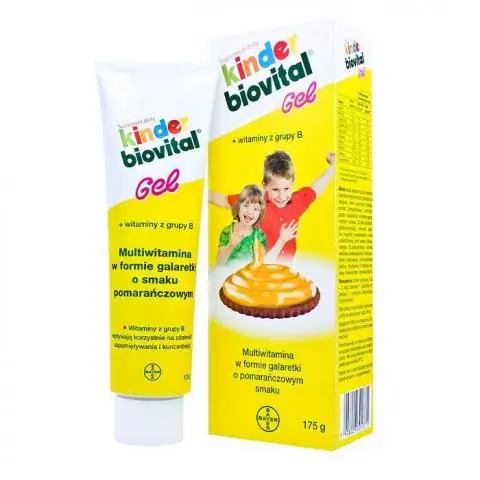 Video: Kinder Biovital Gel For Children - Instructions For Use, Reviews, Analogues
Kinder Biovital gel for children
Kinder Biovital gel for children: instructions for use and reviews
1. Release form and composition
2. Pharmacological properties
3. Indications for use
4. Contraindications
5. Method of application and dosage
6. Side effects
7. Overdose
8. Special instructions
9. Drug interactions
10. Analogs
11. Terms and conditions of storage
12. Terms of dispensing from pharmacies
13. Reviews
14. Price in pharmacies
Latin name: Kinder Biovital Gel for Children
ATX code: A11AA04
Active ingredient: multivitamins (multivitamins) + other drugs (other medicines)
Producer: A. Nuttermann and Sie (Germany)
Description and photo update: 2018-27-11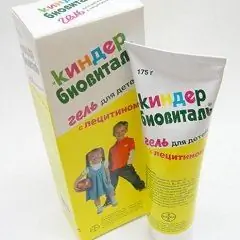 Kinder Biovital gel for children is a remedy for the deficiency of vitamins and minerals.
Release form and composition
Dosage form - oral gel: light yellow, viscous, homogeneous, with a large number of air bubbles, with a sweet and sour fruit taste and a weak fruity odor (175 g each in aluminum tubes, in a cardboard box 1 tube and instructions for use Kinder Biovital gel for children).
Active ingredients in 10 g gel:
cholecalciferol (vitamin D 3) - 600 International units (IU);
lecithin (phospholipids from soybeans) - 200 mg;
ascorbic acid (vitamin C) - 100 mg;
soluble manganese citrate - 6 mg;
nicotinamide - 5 mg;
retinol palmitate (vitamin A) - 2.75 mg (5000 IU);
calcium phosphinate - 2.5 mg;
alpha-tocopherol acetate (vitamin E) - 1.65 mg;
pyridoxine hydrochloride (vitamin B 6) - 1.5 mg;
calcium pantothenate - 1 mg;
riboflavin (vitamin B 2) - 0.33 mg;
thiamine hydrochloride (vitamin B 1) - 0.33 mg;
sodium molybdate - 0.25 mg;
cyanocobalamin (vitamin B 12) - 0.001 mg.
Auxiliary components: isopropyl myristate, sodium carboxymethyl cellulose, sodium benzoate, potassium sorbate, vanillin, DL-α-tocopherol, sucrose, ethanol, demineralized water, red orange flavor.
Pharmacological properties
Pharmacodynamics
Kinder Biovital gel for children is a combined preparation, the action of which is due to the properties of its constituent vitamins, micro- and macroelements. It has a multivitamin and metabolic effect. Prevents the development of vitamin deficiency, stimulates the immune defense, normalizes fat, protein and carbohydrate metabolism, reduces the damaging effects of negative environmental factors, accelerates the recovery of working capacity after overwork.
The vitamins contained in the gel are important components necessary for the harmonious development of the child's body, the synthesis of enzymes, hormones and other substances.
Properties of individual components of Kinder Biovital gel for children:
vitamin A (retinol palmitate) - has an immunomodulatory effect, improves vision, participates in the synthesis of visual pigment, promotes the development of epithelium, accelerates the healing of cuts and wounds on the skin;
B vitamins (pyridoxine hydrochloride, thiamine hydrochloride, cyanocobalamin, riboflavin) - strengthen the immune system and the nervous system. Vitamin B 6 has a positive effect on muscle growth and heart function, participates in carbohydrate-fat metabolism and metabolic processes;
vitamin E (alpha-tocopherol acetate) - plays an important role in the functioning of the nervous system, is involved in erythropoiesis and the formation of muscle tissue. As a natural antioxidant, it protects the body from the harmful effects of free radicals. Increases stress resistance and performance;
vitamin C (ascorbic acid) - supports immunity and redox reactions, participates in collagen synthesis, accelerates the absorption of other vitamins and vitamin-like substances. It has an antioxidant effect;
vitamin D 3 (cholecalciferol) - stimulates the rapid absorption of calcium by the body, as a result of which it strengthens the nervous system, muscular apparatus, bones and teeth. It is used to prevent diseases of the nervous system, muscle weakness and rickets.
Indications for use
inflammation of the oral mucosa (stomatitis);
stunting;
increased need for vitamins due to inadequate and unbalanced nutrition;
the period of recovery after prolonged and / or severe diseases (including infectious diseases);
hypo- and avitaminosis, lack of minerals (prevention and treatment);
prevention of rickets;
strengthening the body during antibiotic or chemotherapy.
Contraindications
hypervitaminosis A or B;
hypercalciuria;
hypercalcemia;
individual hypersensitivity to the components of the drug.
The product is not intended to diagnose, treat or prevent disease.
Kinder Biovital gel for children, instructions for use: method and dosage
Kinder Biovital gel for children is taken orally.
Recommended doses:
children 1-3 years old: ½ teaspoon 1 time per day;
children 3-6 years old: 1 teaspoon 1 time per day;
children from 6 years old and adults: 1 teaspoon 2 times a day.
The duration of the drug use is determined individually by the attending physician.
The gel can also be used topically for lesions of the mucous membranes of the oral cavity: apply to the mucous membranes and leave for a while.
Side effects
In some cases, individual hypersensitivity reactions may develop.
Overdose
There are no reports of overdose cases.
When taking more than 100 g of the drug, nausea, stomach pain, and stool disorders may occur. In this case, it is necessary to wash the stomach and carry out symptomatic treatment.
With chronic overdose, hypervitaminosis may develop.
special instructions
Do not use Kinder Biovital gel for children as a substitute for a complete and balanced diet.
Do not exceed the recommended dose yourself.
Information for patients with diabetes mellitus: 1 teaspoon of gel (5 mg) corresponds to 0.15 XE.
Drug interactions
Kinder Biovital gel for children should not be taken simultaneously with other multivitamin products.
If you need to take other medicines in combination, it is recommended to consult a doctor.
Analogs
Analogs of Kinder Biovital gel for children are: Complivit Calcium D 3 for babies, Daleron S junior, Vetoron for children, Vectrum junior, Vibovit Baby, Vibovit Junior, Multi-tabs Baby, Multi-tabs Kid, Multi-tabs Junior, Multi-tabs Teenager, Polivit for children, Sana-Sol - Multivitamin complex, Vitrum Baby, Vitrum Kids, Vitrum Junior, Vitrum Teenager, Multiproduct for children, etc.
Terms and conditions of storage
Store at temperatures up to 25 ° C out of reach of children.
Shelf life is 2 years.
Terms of dispensing from pharmacies
Available without a prescription.
Reviews about Kinder Biovital gel for children
Reviews of Kinder Biovital gel for children are positive. Parents who gave the vitamin complex to their children note its balance, the presence of lecithin in the composition, which is especially necessary for children with delayed speech development, and the pleasant taste of the gel. The disadvantages include inconvenient packaging (when the gel runs out, it is extremely inconvenient to squeeze it out of an aluminum tube).
Of the side effects, only allergic reactions are mentioned due to individual intolerance to certain components of the drug.
Price for Kinder Biovital gel for children in pharmacies
The price of Kinder Biovital gel for children is unknown. Currently, the drug is not available in pharmacies because its registration period has expired.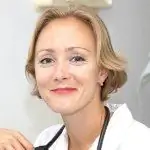 Anna Kozlova Medical journalist About the author
Education: Rostov State Medical University, specialty "General Medicine".
Information about the drug is generalized, provided for informational purposes only and does not replace the official instructions. Self-medication is hazardous to health!
Popular by topic