Table of contents: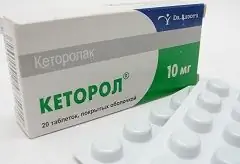 Video: Ketorol - Instructions, Application, Contraindications
Ketorol
Instructions for use:
1. Pharmacological action
2. Indications for use
3. Instructions for use
4. Side effects
5. Contraindications to use
6. Additional information
Prices in online pharmacies:
from 36 rubles.
Buy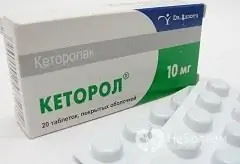 Ketorol is an analgesic drug with anti-inflammatory and antipyretic effects.
pharmachologic effect
The active substance of Ketorol is ketorolac, which, by inhibiting the activity of the enzyme cyclooxygenase, inhibits the biosynthesis of prostaglandins, which are modulators of inflammation, thermoregulation and pain sensitivity.
The analgesic effect of Ketorol injections can be observed within half an hour after administration, and the maximum effect - after 1-2 hours.
The therapeutic effect of Ketorol lasts for 4-6 hours.
Indications for use
The instruction recommends prescribing Ketorol for moderate or severe pain syndrome: pain in the muscles and back, pain with injuries in the joints, sprains, dislocations, postoperative pains, neuralgia, cancer, radiculitis, toothache, migraine, burns, etc.
Instructions for use Ketorol
Ketorol, the use of which is advisable only for acute pain syndrome, and not for the treatment of chronic pain, is available in the form of tablets and solution for intramuscular injection.
Depending on the severity of the pain syndrome, Ketorol tablets can be prescribed once or repeatedly.
It is usually recommended to take 10 mg once (1 table), and again - 10 mg, but no more than 4 times a day. It is contraindicated to take Ketorol tablets for more than 5 days.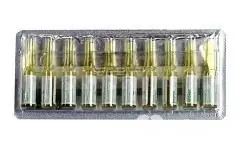 Solution for injection should be administered by deep intramuscular route. For patients under 65 years of age, Ketorol injections are prescribed at a dose of 10-30 mg once or the same dose - every 4-6 hours, while the maximum daily dose should not exceed 90 mg. For patients over 65 years old, Ketorol injections are given according to the scheme described above, with the only difference that the maximum single dose should correspond to 15 mg, and the maximum daily dose should be 60 mg. Ketorol injections can be used for no longer than 5 days.
When switching from intramuscular administration to oral administration of Ketorol, the total daily doses of the drug should be taken into account: on the day of transition - 30 mg, for patients over 65 years old - 60 mg, for patients under 65 years old - 90 mg.
Side effects
Ketorol tablets and injections can provoke such undesirable reactions in patients as:
diarrhea, stomach pain, vomiting, constipation, flatulence, stomatitis, nausea, heartburn;
lower back pain, acute kidney failure, frequent urination, nephritis (inflammation of the kidneys), decreased or increased urine volume;
bronchospasm, laryngeal edema, rhinitis;
headache, drowsiness, dizziness, hyperactivity, depression, ringing in the ears, hearing loss, blurred vision.
increased blood pressure, fainting, pulmonary edema;
leukopenia (an increase in leukocytes in the blood), eosinophilia (an increase in the number of eosinophils), anemia (a decrease in the number of red blood cells or hemoglobin);
rectal, nasal, postoperative bleeding;
purpura, skin rash, urticaria, Lyell's syndrome (allergic dermatitis as a reaction to drugs), Stevens-Johnson syndrome (the appearance of bubbles on the skin and mucous membranes of various organs);
itching, hives, discoloration of the face, skin rash, swelling of the eyelids, shortness of breath, wheezing, heaviness in the chest;
weight gain, edema of feet, fingers, ankles, legs, face, tongue, excessive sweating, fever;
pain or burning at the injection site Ketorol.
Contraindications to the use of Ketorol
According to the instructions, Ketorol is not used to treat chronic pain syndrome. The use of Ketorol is contraindicated for:
bronchospasm (narrowing of the bronchi as a result of muscle contraction);
"Aspirin" asthma (asthma attacks associated with the intake of salicylates);
hypovolemia (decrease in blood volume);
angioedema (limited deep edema of the mucous membranes or subcutaneous tissue and skin);
dehydration (dehydration);
peptic ulcers (manifestation of the mucous membrane of the esophagus as a result of exposure to gastric juice on one of its segments);
erosive and ulcerative lesions of the digestive tract in the acute phase;
hypocoagulation (decreased blood clotting);
hemorrhagic diathesis (diseases of the blood system, which are characterized by a tendency to increased bleeding);
hemorrhagic stroke (cerebral hemorrhage caused by rupture of blood vessels);
hepatic or renal failure;
concomitant use with other anti-inflammatory nonsteroidal drugs;
violation of hemopoiesis;
high risk of bleeding;
hypersensitivity to ketorolac or other non-steroidal anti-inflammatory drugs.
Ketorol, the use of which must be agreed with the attending physician, is not prescribed for pregnant and lactating women, as well as children and adolescents under 16 years of age.
The instruction recommends to use Ketorol with caution in cholecystitis (inflammation of the gallbladder), arterial hypertension, chronic heart failure, bronchial asthma, impaired renal function, sepsis (ingestion of infectious agents into the blood), active hepatitis, polyps (tissue outgrowths) of the nasopharyngeal mucosa and nose, systemic lupus erythematosus (connective tissue disease).
Additional Information
The instruction recommends to store Ketorol in a dark place where the air temperature does not rise above 25 0 C. The shelf life of Ketorol tablets and injection solution is 3 years.
Ketorol: prices in online pharmacies
Drug name
Price
Pharmacy
Ketorol Express 10 mg orodispersible tablets 20 pcs.
RUB 36
Buy
Ketorol 10 mg film-coated tablets 20 pcs.
43 rbl.
Buy
Ketorol express tab. dispersion in the oral cavity 10 mg 20 pcs.
RUB 48
Buy
Ketorol (for injection) 30 mg / ml solution for intravenous and intramuscular administration 1 ml 10 pcs.
117 RUB
Buy
Ketorol (gel) 2% gel for external use 30 g 1 pc.
210 RUB
Buy
Reviews Ketorol (gel)
210 RUB
Buy
Ketorol gel 2% 30g
273 r
Buy
Ketorol (gel) 2% gel for external use 50 g 1 pc.
RUB 314
Buy
Ketorol gel for outside approx. 2% tube 50g
349 r
Buy
See all offers from pharmacies
Information about the drug is generalized, provided for informational purposes only and does not replace the official instructions. Self-medication is hazardous to health!
Popular by topic