Table of contents:
Video: Ketodeksal - Instructions For Use, Reviews, Analogues, Price
Ketodexal
Ketodeksal: instructions for use and reviews
1. Release form and composition
2. Pharmacological properties
3. Indications for use
4. Contraindications
5. Method of application and dosage
6. Side effects
7. Overdose
8. Special instructions
9. Application during pregnancy and lactation
10. In case of impaired renal function
11. For violations of liver function
12. Use in the elderly
13. Drug interactions
14. Analogs
15. Terms and conditions of storage
16. Terms of dispensing from pharmacies
17. Reviews
18. Price in pharmacies
Latin name: Ketodexal
ATX code: M01AE17
Active ingredient: dexketoprofen (dexketoprofen)
Manufacturer: SC ROMPHARM Company, SRL (Romania)
Description and photo updated: 20.11.2018
Prices in pharmacies: from 171 rubles.
Buy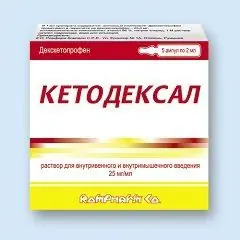 Ketodexal is a non-steroidal anti-inflammatory drug (NSAID).
Release form and composition
The dosage form of Ketodexal is a solution for intravenous (i / v) and intramuscular (i / m) administration: colorless, transparent (in 2 ml ampoules, in contoured cell packs of 5 ampoules, 1 package in a cardboard box).
Composition of 1 ml solution:
active substance: dexketoprofen (in the form of trometamol) - 0.025 g;
auxiliary components: water for injection - up to 1 ml; sodium hydroxide solution 1M - up to pH 7.4 ± 0.1; sodium chloride - 0.004 g; ethanol 96% - 0.1 g
Pharmacological properties
Pharmacodynamics
Ketodexal has antipyretic, analgesic and anti-inflammatory effects. By inhibiting the synthesis of prostaglandins as a result of suppressing cyclooxygenase, the mechanism of action of the drug is realized.
After 30 minutes after application, the analgesic effect of Ketodexal occurs, which lasts from 4 to 6 hours.
Indications for use
pain syndrome of various origins, including toothache, neuralgia, sciatica, sciatica, algomenorrhea, renal colic, pain in bone metastases, post-traumatic / postoperative pain (for relief);
acute and chronic metabolic, inflammatory-degenerative, inflammatory pathologies of the musculoskeletal system (for symptomatic therapy).
Contraindications
Absolute:
renal / hepatic impairment;
severe heart failure;
bronchial asthma, including history;
active bleeding of various origins;
Crohn's disease;
nonspecific ulcerative colitis;
gastrointestinal bleeding;
peptic ulcer of the stomach and duodenum;
increased bleeding;
anticoagulant therapy;
pregnancy;
period of breastfeeding;
individual intolerance to the components contained in the preparation.
Relative (diseases / conditions in the presence of which the appointment of Ketodexal requires caution):
allergic reactions;
systemic connective tissue pathologies;
violation of hematopoiesis;
use of the drug less than 24 hours before / after using methotrexate;
elderly age.
Instructions for the use of Ketodexal: method and dosage
The solution is administered intravenously or intramuscularly.
The recommended single dose is 0.012 5 g from 1 to 6 times a day every 4-6 hours (as needed) or 0.025 g from 1 to 3 times a day every 8 hours.
The maximum dose is 0.075 g per day. The duration of the course of treatment varies from 3 to 5 days (no more).
The daily dose for elderly patients and patients with impaired renal / liver function is 0.05 g (no more).
Side effects
Possible adverse reactions (> 10% - very common;> 1% and 0.1% and 0.01% and <0.1% - rarely; <0.01% - very rare):
nervous system: paresthesias, sleep disturbances, nervousness, dizziness, headache;
cardiovascular system: increased blood pressure, heart rate;
digestive system: abdominal pain, heartburn; rarely - erosive and ulcerative lesions of the gastrointestinal tract;
allergic reactions: bronchospasm, skin rash;
others: photosensitivity, swelling of the extremities, chills; rarely - renal dysfunction, changes in the picture of peripheral blood.
Overdose
There are no data on an overdose of Ketodexal.
special instructions
In cases of the development of side effects, as well as in the absence of a therapeutic effect within 3-5 days of therapy, it is necessary to consult a doctor for advice.
Influence on the ability to drive vehicles and complex mechanisms
During the period of use of Ketodexal, patients should be careful when driving and conducting potentially hazardous activities.
Application during pregnancy and lactation
The drug is contraindicated for use during pregnancy and lactation.
With impaired renal function
According to the instructions, Ketodexal is contraindicated in renal failure.
For violations of liver function
The drug is contraindicated in patients with hepatic impairment.
Use in the elderly
The drug is used with caution in elderly patients at a reduced dose.
Drug interactions
With the combined use of dexketoprofen with certain drugs / substances, the following effects may develop:
methotrexate: its concentration in blood plasma may increase when dexketoprofen is used less than 24 hours before / after the end of methotrexate therapy;
other NSAIDs: the risk of side effects increases;
lithium preparations: an increase in the concentration of dexketoprofen in blood plasma is possible.
Analogs
Dexonal, Dexalgin and Flamadex are analogs of Ketodexal.
Terms and conditions of storage
Store in a place protected from light and moisture at temperatures up to 25 ° C. Keep out of the reach of children.
The shelf life is 5 years.
Terms of dispensing from pharmacies
Dispensed by prescription.
Reviews about Ketodexal
There are few reviews of Ketodexal, indicating the effectiveness of the drug.
The price of Ketodexal in pharmacies
The approximate price of Ketodexal solution for intravenous and intramuscular administration (5 ampoules of 2 ml each) is 233 rubles.
Ketodexal: prices in online pharmacies
Drug name
Price
Pharmacy
Ketodexal 25 mg / ml solution for intravenous and intramuscular administration 2 ml 5 pcs.
171 r
Buy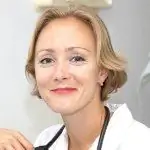 Anna Kozlova Medical journalist About the author
Education: Rostov State Medical University, specialty "General Medicine".
Information about the drug is generalized, provided for informational purposes only and does not replace the official instructions. Self-medication is hazardous to health!
Popular by topic