Table of contents: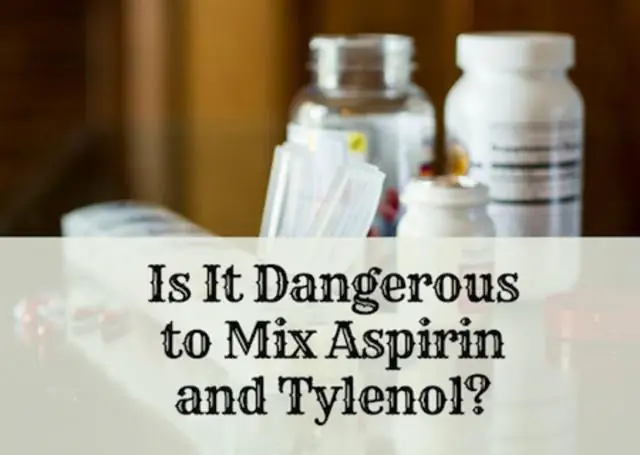 Candide B
Latin name: Candid B
ATX code: D01AC20
Active ingredient: beclometasone (beclometasone), clotrimazole (clotrimasole)
Manufacturer: Glenmark Pharmaceuticals Ltd. (India)
Description and photo update: 2018-22-10
Prices in pharmacies: from 406 rubles.
Buy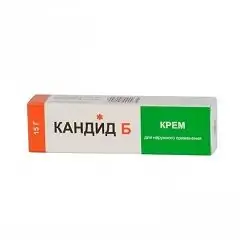 Candide B is a drug for external use with antifungal and anti-inflammatory effects.
Release form and composition
Dosage form Candida B - cream for external use: a homogeneous mass of white (15 g each in an aluminum tube, 1 tube in a cardboard box).
1 g of cream contains:
active ingredients: clotrimazole - 10 mg, beclomethasone dipropionate - 0.25 mg;
auxiliary components: propylene glycol, benzyl alcohol, butylhydroxytoluene, cetomacrogol emulsion wax, methyl parahydroxybenzoate, sodium phosphate anhydrous, propyl parahydroxybenzoate, sodium dihydrogen phosphate, paraffin oil (liquid paraffin), white petrolatum, purified water.
Pharmacological properties
Pharmacodynamics
Candide B has a local antifungal and anti-inflammatory effect, has antiallergic, antipruritic and antiexudative activity.
The pharmacological properties of the drug are due to its combined composition.
Clotrimazole is an imidazole derivative, a substance with a broad spectrum of antifungal activity. Its action is associated with a violation of the synthesis of ergosterol, which is part of the cell membrane of fungi. As a result of changes in the structure and properties of the membrane, cell lysis occurs.
Molds, yeast-like fungi (genus Candida, Rhodotorula, Torulopsis glabrata), dermatophytes, the causative agent of erythrasma, the causative agent of pityriasis versicolor (Pityriasis versicolor) show sensitivity to clotrimazole.
The antimicrobial activity of clotrimazole was confirmed against gram-positive (strepto- and staphylococci) and gram-negative bacteria (Gardnerella vaginalis, Bacteroides), Trichomonas vaginalis.
Beclomethasone is a glucocorticosteroid; has anti-inflammatory, anti-exudative, anti-allergic and antipruritic effects. When applied externally, the mechanism of its action is aimed at suppressing skin reactions of an inflammatory and allergic nature, as well as reactions associated with increased proliferation. This results in a decrease in erythema, lichenification, edema, irritation, itching and pain.
Indications for use
According to the instructions, Candide B is indicated for the treatment of the following fungal skin infections, especially if they are accompanied by acute eczematous reactions:
epidermophytosis inguinal;
candidiasis due to Candida albicans;
microsporia of smooth skin;
athlete's foot.
Contraindications
lupus;
measles, chickenpox;
skin reactions that have occurred after vaccination;
herpes simplex;
blastomycosis, actinomycosis, sporotrichosis;
cutaneous manifestations of syphilis;
trophic ulcers due to chronic venous insufficiency;
skin tumors;
period of breastfeeding;
individual intolerance to the components of the drug.
During pregnancy, Candide B can be used only if absolutely necessary, when the therapeutic effect for the mother is significantly higher than the potential risk to the fetus.
Instructions for use of Candida B: method and dosage
Cream Candide B is applied externally, applying a thin layer to the affected skin and rubbing lightly.
The skin of the problem area should be pre-washed and dried.
Frequency rate of application - 2-3 times a day.
Duration of treatment:
epidermophytosis inguinal, smooth skin microsporia, candidiasis: 14 days;
athlete's foot: 28 days.
If a longer course of therapy is required, Candide B should be applied every other day.
When treating a chronic form of the disease, after the disappearance of all symptoms, it is recommended to continue using the cream for some time - this will avoid a relapse of the disease.
Side effects
possible: development of allergic reactions at the site of application of the cream in the form of skin redness, burning and tingling sensations;
rarely: skin atrophy, development of acne-like changes, hypopigmentation, hypertrichosis, striae, secondary skin infections, telangiectasia.
Overdose
Symptoms are characteristic of suppression and inadequacy of the adrenal cortex state. They can occur against the background of prolonged application of beclomethasone to large areas of the body with impaired skin integrity, the use of an occlusive dressing, and with prolonged treatment of children.
Treatment: immediate cancellation of Candida B, the appointment of symptomatic therapy.
special instructions
Adverse effects are usually mild.
If, after the first application of the cream, signs of a hypersensitivity reaction in the form of burning, redness or itching appear on the skin, its use should be stopped immediately and a doctor should be consulted.
Due to the risk of adrenal suppression, an optimally short course of therapy is required.
When applying Candide B cream to large areas of the body or using occlusive dressings, systemic absorption of beclomethasone is possible.
Do not allow the cream to come into contact with the eyes, so do not apply it to the skin in the eye area and their mucous membranes.
If the infection spreads, the use of Candida B should be discontinued and a doctor should be consulted for antimicrobial therapy.
Since a warm, moist environment (including occlusive dressings) is favorable for maintaining bacterial infection, the skin must be thoroughly cleansed before each application of the cream.
Influence on the ability to drive vehicles and complex mechanisms
The use of Candida B does not affect the patient's ability to drive vehicles and mechanisms.
Application during pregnancy and lactation
External use of the cream is allowed during the gestation period only if the expected benefit from therapy for the mother exceeds the potential threat to the fetus, and subject to a short treatment period with applying the cream to small areas of the skin.
Since it has not been established whether Candide B is excreted in breast milk, the drug can be used during lactation only according to strict indications, categorically avoiding application to the skin of the mammary gland before direct feeding.
Drug interactions
The interaction of Candida B with other drugs has not been established.
Analogs
Analogs of Candida B are Amiclon, Antifungol, Imidil, Clotrimazole, Kanesten, Candizol.
Terms and conditions of storage
Keep out of the reach of children.
Store at temperatures up to 25 ° C in a dark place.
The shelf life is 3 years.
Terms of dispensing from pharmacies
Available without a prescription.
Reviews about Candida B
Numerous reviews of Candida B are mostly positive. They indicate the versatility and effectiveness of the drug in the treatment of fungal infections of the feet, nails, candidiasis of various origins, and allergic skin diseases. Describing the advantages, the authors of the reviews note the rapid onset of relief after applying the cream, the disappearance of redness, itching and peeling of the skin, good tolerance of the drug. In case of skin infections, the use of the cream allows you to restore the integrity of the skin within 7 days. Women write about significant relief and quick recovery from thrush treatment. Parents give an excellent assessment of the effect of the drug after its use for the treatment of children, including diaper dermatitis, complicated by a fungal infection.
A positive assessment is given to the physical properties of the cream (no smell, fast absorption).
Price for Candide B in pharmacies
The price of Candide B for one tube is approximately 483 rubles.
Candide B: prices in online pharmacies
Drug name
Price
Pharmacy
Candid B 1% cream for external use 15 g 1 pc.
406 r
Buy
Candide B cream 1% 15g
444 r
Buy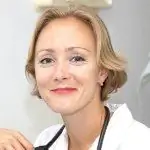 Anna Kozlova Medical journalist About the author
Education: Rostov State Medical University, specialty "General Medicine".
Information about the drug is generalized, provided for informational purposes only and does not replace the official instructions. Self-medication is hazardous to health!
Popular by topic