Table of contents:
Video: Modelform 30+ - Instructions For Use, Reviews, Price, Analogues
Modelform 30+
Modelform 30+: instructions for use and reviews
1. Release form and composition
2. Pharmacological properties
3. Indications for use
4. Contraindications
5. Method of application and dosage
6. Side effects
7. Overdose
8. Special instructions
9. Application during pregnancy and lactation
10. Drug interactions
11. Analogs
12. Terms and conditions of storage
13. Terms of dispensing from pharmacies
14. Reviews
15. Price in pharmacies
Latin name: Modelform 30+
Active ingredient: innovative complex ELEGREENALL + forskolin + psyllium
Manufacturer: Vneshtorg Pharma LLC, V-MIN + LLC (Russia)
Description and photo update: 2019-19-08
Prices in pharmacies: from 600 rubles.
Buy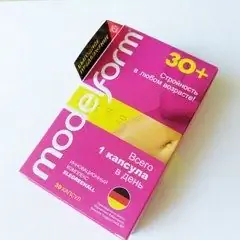 Modelform 30+ is a dietary supplement (BAA) based on plant extracts, developed specifically for women over 30 years old, helping to control body weight.
Release form and composition
Dosage form - gelatin capsules weighing 370 mg (15 pcs. In blisters, 2 blisters per package).
Active substances:
Innovative complex ELEGREENALL (Innovative complex ELEGRINOL), containing extract of bitter orange 10%, psyllium and extract of Japanese medlar;
forskolin 10%.
Additional components: aerosil 380, psyllium, emulsifier - magnesium salt of stearic acid (E470).
The composition of the capsule shell: gelatin, brilliant black dyes, titanium dioxide and azorubin.
Pharmacological properties
extract of bitter orange, which is a source of synephrine: activates metabolism, suppresses appetite, accelerates the breakdown of fats, stimulates thermogenesis, relieves fatigue, increases activity;
psyllium (dietary fiber): normalizes digestion and bowel function, promotes balanced absorption of fats and carbohydrates and a longer feeling of fullness, thereby reducing the amount of food consumed;
extract of Japanese medlar, rich in corosolic acid, potassium, vitamin C and provitamin A: lowers blood sugar and lipids, improves metabolism.
Modelform 30+ is additionally fortified with natural ingredients, especially for women over 30:
psyllium - added to the dietary supplement, in addition to being present in the ELEGREENALL complex, to enhance its ability to have a positive effect on the regulation of digestion and appetite, as well as to increase its detoxifying properties, that is, the ability to remove toxins from the body that are formed during metabolism substances and come from outside;
Forskolin is a biologically active compound obtained from the plant Coleus forskohlii (Coleus forskolii), which activates the metabolic process and reduces appetite.
Indications for use
According to the instructions, Modelform 30+ is recommended for women over 30 years of age as a dietary supplement that:
regulates appetite;
improves the functional state of the gastrointestinal tract;
regulates the assimilation of fats and carbohydrates entering the body with food;
cleanses the body of toxins;
reduces body weight;
helps to reduce body fat;
improves overall well-being.
Contraindications
During pregnancy and breastfeeding;
hypersensitivity to any component of the supplement.
Instructions for use Modelform 30+: method and dosage
Modelform 30+ should be taken orally during or after a meal, swallowing the capsules whole and drinking a glass (200 ml) of water.
Adults are prescribed 1 capsule 1 time per day in the morning.
The recommended duration of admission is 2 months. If necessary, a second course is possible.
Side effects
There are no reports of possible adverse reactions to Model Form 30+.
Overdose
Overdose cases of dietary supplements have not been registered.
special instructions
Modelform 30+ is not a medicinal product, you should consult your doctor before using it.
The dye azorubin, which is part of the capsule, can have a negative effect on the activity and attention of the child.
Application during pregnancy and lactation
Modelform 30+ is contraindicated during pregnancy and during breastfeeding.
Drug interactions
There is no information on interaction with other drugs.
Analogs
The analogues of Modelform 30+ are Porciola, XL-S Medical "Calorie blocker" and others.
Terms and conditions of storage
Keep out of reach of children, protected from moisture and sunlight at temperatures up to 25 ° C.
The shelf life is 3 years.
Terms of dispensing from pharmacies
Available without a prescription.
Reviews about Modelform 30+
According to reviews, Modelform 30+ is effectively used for weight loss and significantly reduces appetite, and also helps to cleanse the body. The dietary supplement is very convenient to use due to the reception once a day, in addition, the drug effectively copes with stress. There are mentions that he has no diuretic and laxative effects and that after treatment it is much easier to switch to a proper diet. Many are attracted by the natural composition of the preparation, as well as the cleansing effect on the skin. After using Modelform 30+, the average weight is reduced by 7-8 kg, however, some patients report that their weight did not change by the end of the course of therapy, and their appetite even increased.
Price for Modelform 30+ in pharmacies
The average price for Modelform 30+ varies from 771 to 980 rubles.
Modelform 30+: prices in online pharmacies
Drug name
Price
Pharmacy
Modelform 30+ 370 mg capsules 30 pcs.
RUB 600
Buy
Modelform 30+ capsules 30 pcs.
774 RUB
Buy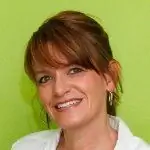 Maria Kulkes Medical journalist About the author
Education: First Moscow State Medical University named after I. M. Sechenov, specialty "General Medicine".
Information about the drug is generalized, provided for informational purposes only and does not replace the official instructions. Self-medication is hazardous to health!
Popular by topic