Table of contents: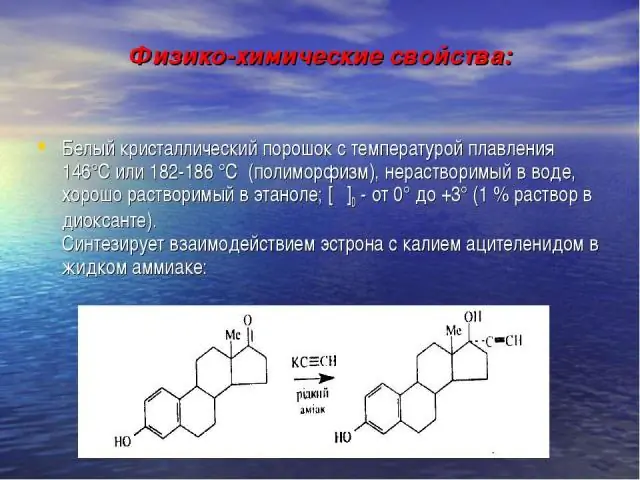 Video: Microfollin - Instructions For Use, Indications, Doses, Analogues
Microfollin
Instructions for use:
1. Release form and composition
2. Indications for use
3. Contraindications
4. Method of application and dosage
5. Side effects
6. Special instructions
7. Drug interactions
8. Analogs
9. Terms and conditions of storage
10. Terms of dispensing from pharmacies
Microfollin is an estrogenic drug.
Release form and composition
Dosage form - tablets: convex, almost white, marked with two dots on one side, odorless (10 tablets in blisters, 1 pack in a cardboard box).
Active ingredient: ethinylestradiol, content in 1 tablet is 50 mcg.
Additional components: lactose monohydrate, anhydrous colloidal silicon, corn starch, gelatin, magnesium stearate, talc.
Indications for use
Climacteric syndrome;
Dysmenorrhea;
Amenorrhea;
Oligomenorrhea;
Metrorrhagia (including in the menopause);
Menorrhagia;
Acne (acne vulgaris);
Cessation of lactation;
Prostate cancer.
Contraindications
Absolute:
A history of idiopathic jaundice or pruritus during pregnancy;
Liver dysfunction;
Condition after hepatitis;
Cerebral circulation disorder;
Thrombophlebitis and thromboembolism, including a history;
Rotor and Dubin-Johnson syndromes;
Otosclerosis, aggravated by previous pregnancies;
Vaginal bleeding of unknown etiology;
Endometriosis;
The presence or suspicion of hormone-dependent tumors of the endometrium and cervix or mammary glands;
Violation of lipid metabolism;
Pregnancy;
Hypersensitivity to the drug.
Relative (Microfollin should be used with extreme caution and under constant monitoring of the patient's condition due to the existing risk of serious complications):
Cardiovascular disorders;
Arterial hypertension;
Renal dysfunction;
Bronchial asthma;
Epilepsy;
Closed-angle glaucoma;
Diabetes.
Method of administration and dosage
Microfollin should be taken orally.
Recommended dosage regimens:
Amenorrhea, oligomenorrhea: 20-100 mcg per day for 20 days, after which 5000 mcg of progesterone is injected intramuscularly within 5 days;
Menopausal disorders in women under 45 years of age: 50 mcg per day;
Dysmenorrhea: 10-30 mcg per day in 3 doses for 20 days, starting on the 4th or 5th day of the menstrual cycle, every 2-3 months;
Suppression of lactation: the first 3 days after childbirth - 20 mcg 3 times a day, the next 3 days - 10 mcg 3 times a day, the next 3 days - 10 mcg 1 time a day;
Acne: 30-60 mcg per day; during puberty - 10-30 mcg per day;
Breast cancer in women over 60 and prostate cancer in men: 50-100 μg 3 times a day in combination with radiation therapy. The treatment is long, the duration is determined individually. The daily dose is gradually reduced to the optimal maintenance dose - 50 μg.
Side effects
In patients of both sexes: flatulence, diarrhea, nausea, anorexia, vomiting (mainly with high doses of the drug), intestinal or biliary colic, pancreatitis, hepatitis, gallbladder obstruction, peripheral edema, headache (including migraine), dizziness, intolerance to contact lenses;
In men: gynecomastia, tenderness and tenderness of the mammary glands, decreased libido;
In women: amenorrhea, breakthrough bleeding, intermenstrual smearing vaginal discharge, increased libido, increase in size, tenderness and tenderness of the mammary glands, breast swelling.
Women who are being treated for breast cancer and men with prostate cancer may also experience thrombosis and thromboembolism.
special instructions
Before prescribing Microfollin, the patient must undergo a thorough medical examination of the mammary glands and pelvic organs, and blood pressure measurement is also required. With long-term treatment, the examination must be repeated periodically (after 6 months, then at least once a year).
Reception of Microfollin should be immediately interrupted in the following cases: increased blood pressure, prolonged immobilization (for example, due to an accident), the first signs of thromboembolism or thrombophlebitis, the development of jaundice, acute visual impairment, the first frequent migraine-like headache that occurs for the first time.
When treating patients with cardiovascular diseases, impaired renal function, arterial hypertension, bronchial asthma and epilepsy, it should be borne in mind that the drug can cause water and sodium retention in the body.
In patients with angle-closure glaucoma, intraocular pressure should be monitored during treatment.
In patients with diabetes mellitus, a decrease in glucose tolerance is possible.
Microfollin can cause breakthrough uterine bleeding, therefore, if long-term use is necessary, it should be prescribed cyclically.
Women of childbearing age should be aware that under certain conditions ethinyl estradiol has a contraceptive effect (it is part of many oral contraceptive drugs).
Some endocrine studies and hepatic functional tests give reliable results only 2-4 months after the end of Microfollin therapy.
Drug interactions
Ethinylestradiol should be used with caution in conjunction with metabolism inducers.
Analogs
The analogue of Microfollin is Ethinylestradiol.
Terms and conditions of storage
Keep out of the reach of children. Observe the temperature regime from 15 to 30 ºС.
The shelf life is 5 years.
Terms of dispensing from pharmacies
Dispensed by prescription.
Information about the drug is generalized, provided for informational purposes only and does not replace the official instructions. Self-medication is hazardous to health!
Popular by topic