Table of contents: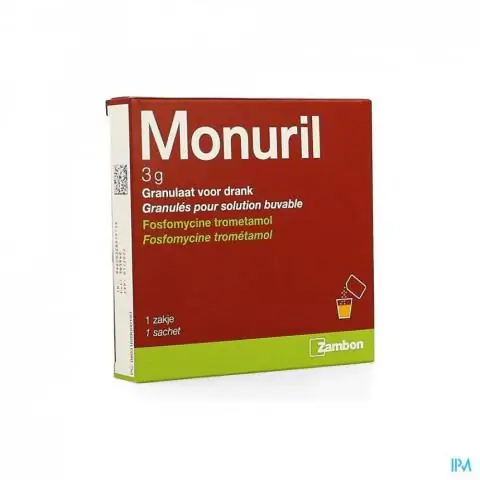 Video: Menoril Plus - Instructions For Use, Reviews, Price, Analogues
Menoril plus
Menoril plus: instructions for use and reviews
1. Release form and composition
2. Pharmacological properties
3. Indications for use
4. Contraindications
5. Method of application and dosage
6. Side effects
7. Overdose
8. Special instructions
9. Application during pregnancy and lactation
10. Drug interactions
11. Analogs
12. Terms and conditions of storage
13. Terms of dispensing from pharmacies
14. Reviews
15. Price in pharmacies
Latin name: Menoril plus
Active ingredient: a combination of vitamins and vitamin-like substances (compositum vitaminum et vitaminum-sicut substantiae)
Producer: Vneshtorg Pharma (Russia), KorolevFarm, LLC (Russia)
Description and photo updated: 2018-23-11
Prices in pharmacies: from 400 rubles.
Buy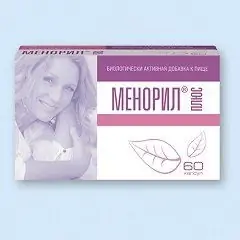 Menoril plus - dietary supplement (dietary supplement) to food, a source of resveratrol and genistein, an additional source of vitamins K 1 and D 3; It is used to prevent symptoms associated with menopause and menopause, as well as to prevent osteoporosis.
Release form and composition
Dosage form Menoril plus - capsules weighing 250 mg (in a carton box 4 blisters of 15 capsules).
Composition of 1 capsule:
active substances: resveratrol, genistein, vitamin K 1 5% (acacia gum, phytomenadione, sugar), vitamin D 3 (sodium ascorbate, modified food starch, alpha-tocopherol, cholecalciferol, sugar, medium-chain triglycerides, silicon dioxide);
auxiliary components: lactose monohydrate, gelatin, titanium dioxide (E171), azorubin (E122), amorphous silicon dioxide (E551), pectin, magnesium stearate (E470).
Content in a daily dose (2 capsules) of biologically active components:
resveratrol - 30 mg;
isoflavones (genistein) - 30 mg;
vitamin D 3 - 0.01 mg;
vitamin K 1 - 0.12 mg.
Pharmacological properties
Pharmacodynamics
Menoril plus is a biologically active food supplement. Genistein helps to reduce the unpleasant manifestations associated with menopause and menopause, resveratrol - to slow down the process of age-related skin changes. In postmenopausal osteoporosis, vitamins K 1 and D 3 have a positive effect on the process of bone mineralization.
The action of Menoril plus is determined by the properties of its active substances:
genistein is an organic substance belonging to the class of isoflavones; isoflavones are bioflavonoids, they can be of plant origin or their synthetic analogues, which exhibit effects similar to the action of estrogens in the female body (in conditions of a lack of production of its own estrogens). Isoflavones have antioxidant, anti-inflammatory and antipyretic effects, as well as inhibit platelet aggregation and thrombin formation, thereby contributing to the prevention of cardiovascular diseases. Due to the use of isoflavones, there is a decrease in the frequency of hot flashes, headaches, sweating and other symptoms characteristic of the menopause;
resveratrol is a natural phytoalexin. Like all polyphenols, it is a powerful antioxidant, superior in activity to vitamin E. Resveratrol helps to slow down the aging process of the skin and the formation of wrinkles, restore the structure and synthesis of elastin, collagen, improve the functional state of the cardiovascular system and normalize peripheral blood circulation. By binding to the same receptors as estradiol, it exhibits estrogenic activity;
vitamin D 3 is a natural form of vitamin D produced in humans and animals. Vitamin D 3 is required for the functioning of the skeletal system, parathyroid glands, kidneys and intestines. Takes an active part in the absorption of phosphates and calcium in the intestine, the process of bone calcification and the transport of mineral salts, regulates the excretion of phosphates and calcium by the kidneys. During menopause, vitamin D 3 is required in a sufficient dose, since with a deficiency of estrogen, the likelihood of osteoporosis increases;
Vitamin K 1 is one of the essential elements necessary for the formation and repair of bones. Takes part in the regulation of redox processes in the body. As one of the components of cell membranes, it actively affects their structural properties and functions. It helps prevent osteoporosis and ensures the synthesis of osteocalcin, which is a bone protein on which calcium crystallizes. Thanks to the action of vitamin K 1, normal blood coagulation is ensured, and the function of blood vessels is maintained. Promotes normal kidney function.
The active components, acting on the body in combination, have a positive effect on the female body in the climacteric period. Thanks to the use of dietary supplements, the following effects are observed:
decreased feeling of fatigue, weakness;
maintaining normal blood pressure levels;
improved mood, increased sexual activity;
reduction of headaches associated with hot flashes;
slowing down the process of age-related skin changes;
bone mineralization;
reduced frequency of hot flashes.
Indications for use
According to the instructions, Menoril plus is prescribed as a dietary supplement - a source of genistein and resveratrol, vitamins K 1 and D 3.
It is used to prevent symptoms associated with menopause and menopause and osteoporosis.
Contraindications
pregnancy;
period of breastfeeding;
individual intolerance to the components.
Instructions for the use of Menoril plus: method and dosage
Menoril plus is taken orally at the same time as food.
Unless otherwise prescribed by a doctor, dietary supplements should be taken by adults 2 times a day, 1 capsule, or 1 time a day, 2 capsules.
The average duration of the course is 30 days. The doctor may prescribe repeated use of the supplement.
Side effects
There is no information.
Overdose
There is no information.
special instructions
The capsules contain a dye that can negatively affect children's attention and activity.
It is not a drug. Before use, a medical consultation is required.
Application during pregnancy and lactation
Menoril plus is not prescribed during pregnancy / lactation.
Drug interactions
There is no information.
Analogs
Analogues of Menoril plus are: Menoril, Feminal, Red Dragon, Menotera, Phytoclimax, Ovulavit.
Terms and conditions of storage
Store in a place protected from light and moisture at temperatures up to 25 ° C. Keep out of the reach of children.
Shelf life is 2 years.
Terms of dispensing from pharmacies
Available without a prescription.
Reviews about Menoril plus
Reviews about Menoril plus various. Some women note its effectiveness during menopause, which is manifested in a decrease in the number of hot flashes and increased sweating. Others talk about the lack of improvement and the development of pronounced side effects, most often in the form of weight gain and disorders of the digestive system.
Menoril plus price in pharmacies
The approximate price for Menoril plus (60 capsules) is 470-650 rubles.
Menoril plus: prices in online pharmacies
Drug name
Price
Pharmacy
Menoril plus 250 250mg ± 10% capsules 60 pcs.
RUB 400
Buy
Menoril Plus capsules 60 pcs.
529 r
Buy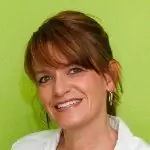 Maria Kulkes Medical journalist About the author
Education: First Moscow State Medical University named after I. M. Sechenov, specialty "General Medicine".
Information about the drug is generalized, provided for informational purposes only and does not replace the official instructions. Self-medication is hazardous to health!
Popular by topic