Table of contents: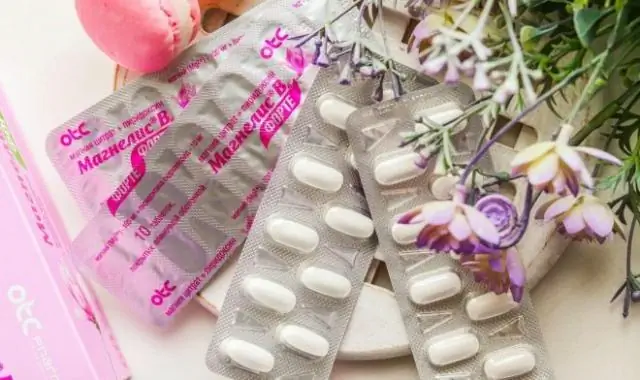 Video: Magnelis B6 - Instructions For The Use Of Tablets, Price, Reviews, Analogues
Magnelis B6
Latin name: Magnelis B6
ATX code: A12CC06
Active ingredient: pyridoxine (pyridoxine), magnesium lactate (magnesium lactate)
Producer: PHARMSTANDART-UfaVITA, JSC (Russia)
Description and photo update: 19.10.2018
Prices in pharmacies: from 357 rubles.
Buy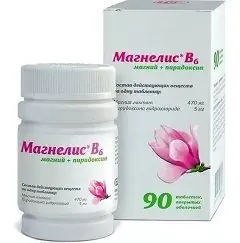 Magnelis B6 is a drug that replenishes magnesium deficiency in the body.
Release form and composition
Dosage form of Magnelis B6 - coated tablets: biconvex, round, white or almost white (10 pcs. In blisters, in a cardboard box 3 or 5 packages; 60 or 90 pcs. In polymer cans, in a cardboard box 1 can).
The composition of 1 tablet contains:
active substances: magnesium lactate dihydrate - 470 mg (in terms of Mg 2+ - 48 mg); pyridoxine hydrochloride - 5 mg;
auxiliary components (core): kaolin - 41 mg; sucrose - 27.4 mg; magnesium stearate - 6.8 mg; talc - 6.8 mg; carmellose sodium - 34 mg; acacia gum - 25 mg; Kollidone SR (polyvinyl acetate - 80%; povidone - 19%; sodium lauryl sulfate - 0.8%; silicon dioxide - 0.2%) - 34 mg;
shell: talc - 15 mg; sucrose - 166.7 mg; titanium dioxide - 9 mg; gelatin - 0.9 mg; beeswax - 0.4 mg; acacia gum - 4 mg; kaolin - 54 mg.
Pharmacological properties
Pharmacodynamics
Magnelis B6 is one of the drugs that help to replenish magnesium deficiency.
Magnesium is a vital element found in all tissues of the body and necessary for the normal functioning of cells. It has an antispasmodic, antiplatelet and antiarrhythmic effect. Participates in muscle contraction, regulation of the transmission of nerve impulses, most metabolic reactions.
Magnesium enters the body through food. Its deficiency can be observed in violation of the diet (diet) or in cases of increased need for it (with the use of diuretics, increased mental and physical stress, pregnancy, stress).
Vitamin B 6 (pyridoxine) is involved in many metabolic processes and in the regulation of the metabolism of the nervous system. It helps to improve the absorption of magnesium from the gastrointestinal tract and its penetration into cells.
Moderate magnesium deficiency is noted when its serum content is in the range of 12-17 mg / l (0.5-0.7 mmol / l), and at lower values (<12 mg / l), severe magnesium deficiency develops.
Pharmacokinetics
Absorption of magnesium from the gastrointestinal tract after oral administration is 50%.
Excretion occurs mainly in the urine. In the kidneys, after glomerular filtration of 70% of the magnesium present in the plasma, the rate of its reabsorption in the renal tubules is in the range of 95–97%.
Indications for use
Magnelis B6 tablets are prescribed for established magnesium deficiency, isolated or associated with other deficiency conditions, accompanied by symptoms such as:
increased fatigue;
minor sleep disturbances;
increased irritability;
cardiopalmus;
muscle spasms / pains, tingling sensations in the muscles;
gastrointestinal cramps.
Contraindications
Absolute:
severe renal failure (with creatinine clearance <30 ml / min);
fructose intolerance, sucrase / isomaltase deficiency, glucose-galactose malabsorption;
age up to 6 years;
lactation period;
individual intolerance to the components of the drug.
Relative (diseases / conditions that require caution):
moderate renal failure;
pregnancy.
Instructions for the use of Magnelis B6: method and dosage
Magnelis B6 tablets are taken orally with a glass of water, preferably with meals.
The recommended daily dose (in 2-3 doses):
adults: 6-8 tablets;
children from 6 years of age (weighing> 20 kg): 4–6 tablets.
The therapy is carried out until the concentration of magnesium in the blood is normalized.
Before taking the drug, you need to consult your doctor.
Side effects
Possible side reactions from the digestive system: flatulence, vomiting, constipation, abdominal pain, nausea.
Development of allergic reactions can also be observed.
Overdose
In the absence of impaired renal function, oral intake of magnesium does not cause toxic reactions. With renal failure, magnesium poisoning may develop. Basically, the toxic effects depend on the serum magnesium content in the blood.
The main symptoms of an overdose: vomiting, nausea, decreased blood pressure, slowing reflexes, respiratory depression, anuria, cardiac arrest, coma.
Therapy: forced diuresis, rehydration. Patients with renal failure are prescribed hemodialysis or peritoneal dialysis.
special instructions
Patients with diabetes mellitus should take into account that sucrose is included in the tablets as an auxiliary component.
With frequent use of alcohol, laxatives, strenuous mental and physical exertion, the need for magnesium increases, which can cause the development of magnesium deficiency in the body.
In cases of concomitant calcium deficiency, magnesium deficiency must be corrected before taking calcium supplements.
Application during pregnancy and lactation
According to the data of the clinical use of the drug, no fetotoxic or fetal developmental defects were detected. Magnelis B6 by pregnant women can only be used as directed by a doctor.
Since magnesium passes into breast milk, the drug should be avoided during lactation.
Pediatric use
According to the instructions, Magnelis B6 is not prescribed for children under 6 years old.
With impaired renal function
The presence of severe renal failure (with creatinine clearance <30 ml / min) is an absolute contraindication to the use of the drug. In moderate violations, Magnelis B6 should be used with caution.
Drug interactions
Possible interactions:
preparations containing phosphates or calcium salts: a significant decrease in the absorption of magnesium in the gastrointestinal tract;
tetracycline: a decrease in its absorption (the interval between doses of drugs should be at least 3 hours);
oral thrombolytic agents: weakening their action;
iron: a decrease in its absorption;
levodopa: inhibition of its activity.
Analogs
Analogues of Magnelis B6 are: Magnistad, Magne B6, Magne express, Magnelis B6 forte.
Terms and conditions of storage
Store at temperatures up to 25 ° C. Keep out of the reach of children.
The shelf life is 3 years.
Terms of dispensing from pharmacies
Available without a prescription.
Reviews of Magnelis B6
According to reviews, Magnelis B6 is an affordable and effective drug. Its rapid action is noted for muscle cramps, stress, sleep disturbances, as well as the absence of side effects.
Price for Magnelis B6 in pharmacies
The approximate price for Magnelis B6 (50 or 90 tablets per pack) is 300-330 or 410-415 rubles.
Magnelis B6: prices in online pharmacies
Drug name
Price
Pharmacy
Magnelis B6 tablets p.o. 50 pcs.
357 r
Buy
Magnelis B6 Forte tablets p.o. 100mg + 10mg 30 pcs.
413 r
Buy
Magnelis B6 tablets p.o. 90 pcs.
546 r
Buy
Magnelis b6 tab. by. 120 pcs.
722 RUB
Buy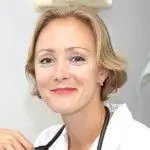 Anna Kozlova Medical journalist About the author
Education: Rostov State Medical University, specialty "General Medicine".
Information about the drug is generalized, provided for informational purposes only and does not replace the official instructions. Self-medication is hazardous to health!
Popular by topic