Table of contents: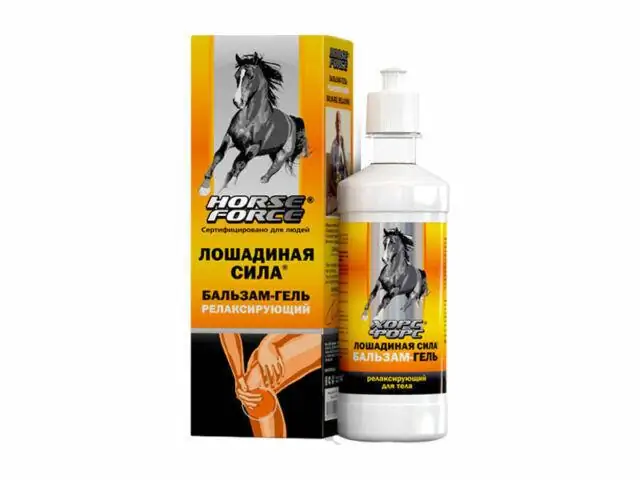 Video: Horsepower Balm-gel Relaxing For The Body (joints) - Instructions For Use
Horsepower Balm-gel relaxing for joints
Latin name: Horse Force Balm-Gel Relaxing nam artus
ATX code: V07AT
Active ingredient: peppermint essential oil (Mentha Piperita Oil), lavender essential oil [Lavandula Angustifolia (Lavender) Oil], tocopherol acetate (vitamin E) [Tocopheroli acetas (Vitamin E)], menthol (Menthol)
Manufacturer: LLC R. Cosmetic "(Russia); Dina + LLC (Russia)
Description and photo updated: 2018-26-11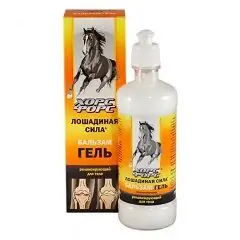 Horse power Relaxing balm-gel for the body (joints) is a cosmetic product for body skin care with a relaxing effect.
Release form and composition
The tool is produced in the form of a gel: a thick dense mass of white color, has a rich menthol smell (500 ml in a plastic bottle, in a cardboard box 1 bottle).
The balm gel contains:
active ingredients: menthol, lavender essential oil, peppermint essential oil, tocopherol acetate (vitamin E);
auxiliary components: soybean oil (Glycine Soja (Soybean) Oil), glycerin (Glycerin), phenoxyethanol (Phenoxyethanol), ethylhexylglycerin (Ethylhexylglycerin), carbomide (Carbomed), triethanolamine (Triethanolamine), water (Aqua).
Pharmacological properties
Horse Power Relaxing balm-gel for the body (joints) is a body skin care product with a relaxing, cooling and pronounced analgesic effect. The concentration of active ingredients is adapted for people.
The mechanism of action of the drug is due to the content of the following natural substances:
mint oil: a high content of menthol stimulates blood flow, improves the penetration of the active components of the balm-gel deep into the muscles and joints, relieves the feeling of discomfort;
lavender oil: intensely moisturizes the skin, improves its elasticity, gives the preparation a pleasant consistency. Has a general tonic effect;
tocopherol acetate (vitamin E): is a powerful antioxidant, improves respiration of skin cells and slows down their aging process, prevents thrombus formation and promotes resorption of existing blood clots, has high regenerative properties, reduces the risk of scar formation. Promotes increased endurance.
The drug is effective for carrying out therapeutic and prophylactic measures for pain syndrome of diseases and injuries of the musculoskeletal system, pain of various origins in muscles, ligaments and joints.
Indications for use
pain syndrome with radiculitis, rheumatism and sprains;
pain in joints, muscles and ligaments;
body skin care for the purpose of intensive hydration and improvement of its elasticity, including during massage;
prevention of muscle overstrain after significant physical exertion.
Contraindications
violation of the integrity of the skin at the site of the intended application of the gel;
individual intolerance to the components of the drug.
Instructions for use Horsepower Balm-gel relaxing for the body: method and dosage
The balm-gel is intended for external use by applying a thin layer to the skin area of the body and rubbing in with light massaging movements.
The frequency of procedures is determined individually as required.
Side effects
Against the background of the use of a cosmetic product, hypersensitivity reactions may develop.
Overdose
Overdose symptoms have not been established.
special instructions
After opening the bottle, the drug can be used for no more than six months.
Do not allow the drug to come into contact with mucous surfaces of the body, including the eyes. It is recommended to wash your hands thoroughly after each procedure.
If symptoms of hypersensitivity appear, the use of the balm gel should be discontinued.
The duration of use is not limited.
Drug interactions
According to the instructions, Horsepower Balm-gel relaxing for joints is not a drug; it can be included in the complex therapy of diseases of the musculoskeletal system.
Analogs
Analogues of the Horsepower Balm-gel relaxing for the body are Medana Pharma Horsepower Cream-Gel for pain in joints and muscles, Chondroxide, Diclofenac, Ortofen, Nise, Voltaren Emulgel, Dolgit, Viprosal B, Finalgon, etc.
Terms and conditions of storage
Keep out of the reach of children.
Store at temperatures between 5 and 25 ° C, protected from direct sunlight.
Shelf life is 2 years.
Terms of dispensing from pharmacies
Available without a prescription.
Reviews about Horsepower Balm-Gel Relaxing for Joints
Reviews about Horsepower Balm-Gel Relaxing for Joints are mostly positive. Users are very pleased with its relaxing, toning and softening properties. A rapid onset of a pronounced cooling and analgesic effect, a pleasant consistency is noted. Many people use the balm to relieve muscle fatigue after heavy physical exertion.
Negative reviews indicate an unpleasant smell of balm-gel, a sticky feeling on the skin after applying it, and the absence of an analgesic effect.
Price for Horsepower Balm-gel relaxing for joints in pharmacies
The price of Horsepower Balm-gel relaxing for joints for a package containing 1 bottle of the drug with a volume of 500 ml can be about 485 rubles.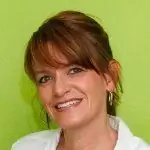 Maria Kulkes Medical journalist About the author
Education: First Moscow State Medical University named after I. M. Sechenov, specialty "General Medicine".
Information about the drug is generalized, provided for informational purposes only and does not replace the official instructions. Self-medication is hazardous to health!
Popular by topic