Table of contents: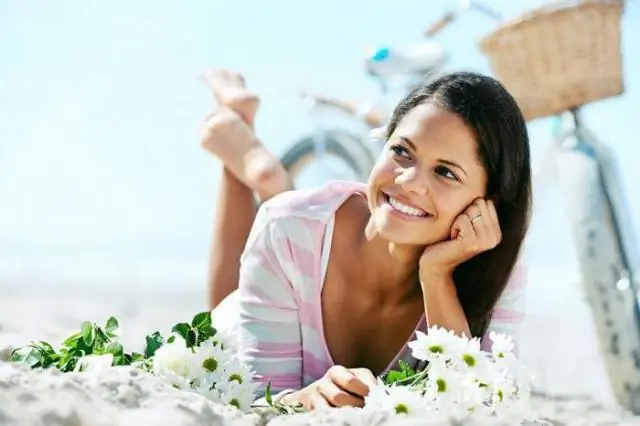 Video: Livolin Forte - Instructions For Use, Reviews, Price, Analogues, Composition
Livolin Forte
Livolin Forte: instructions for use and reviews
1. Release form and composition
2. Pharmacological action
3. Pharmacodynamics and pharmacokinetics
4. Indications for use
5. Contraindications
6. Method of application and dosage
7. Side effects
8. Overdose
9. Special instructions
10. Pregnancy and lactation period
11. Application in children
12. Drug interactions
13. Analogs
14. Terms and conditions of storage
15. Terms of dispensing from pharmacies
16. Reviews
17. Price in pharmacies
Latin name: Livolin Forte
ATX code: A05BA
Active ingredient: Multivitamins + Other medicines (Multivitamins + Other medicines)
Manufacturer: Mega Life Sciences Ltd (Thailand)
Description and photo update: 2019-31-07
Prices in pharmacies: from 345 rubles.
Buy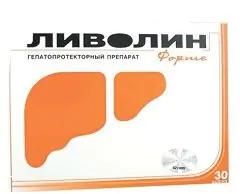 Livolin Forte is a combined hepatoprotective agent.
Release form and composition
The drug is available in the form of capsules: size No. 2, gelatinous soft, brown, containing a dark yellow pasty mass (10 pieces in blisters, in a cardboard box 1 blister; 1 aluminum foil bag with three blisters).
The active ingredient is lecithin, in 1 capsule - 0.85713 g, of which:
Phosphatidylcholine - 0.3 g;
Nicotinamide - 0.03 g;
Thiamine mononitrate - 0.01 g;
Pyridoxine hydrochloride - 0.01 g;
Tocopherol acetate - 0.01 g;
Riboflavin - 0.006 g;
Cyanocobalamin - 0.00001 g.
Auxiliary components: white wax, anhydrous vegetable oil, soybean oil.
The composition of the capsule shell: glycerol, gelatin, titanium dioxide, iron oxide black, iron oxide red, iron oxide yellow, purified water.
pharmachologic effect
Livolin Forte belongs to the group of hepatoprotectors. The preparation contains "essential" phospholipids as active components, the main elements of which are polyunsaturated fatty acids (oleic, linoleic and linolenic) and phosphatidylcholine.
Phosphatidylcholine is a part of the drug in the form of a highly purified fraction obtained by extraction from soybeans. The concentration of polyunsaturated fatty acids in this fraction is significant, therefore, most of the drug remains unchanged in the duodenum, without interacting with phospholipase A2. After entering the blood, "essential" phospholipids are predominantly incorporated into subcellular and cell membranes.
According to the instructions, Livolin Forte helps to improve the functional state of the liver, avoids the formation and proliferation of connective tissue in this organ, and has a positive effect on the regulation of carbohydrate and lipid metabolism. Also, the drug ensures the regeneration and preservation of the structure of hepatocytes and enhances the detoxification function.
Important components of Livolin Forte are cobalt, vitamin E and B vitamins:
vitamin E refers to antioxidants and prevents lipid peroxidation of unsaturated fatty acids in membranes, and also takes part in the formation of elastic and collagen fibers of the digestive tract, vascular smooth muscles, connective tissue and the formation of intercellular substance;
vitamin PP is involved in the processes of tissue respiration, as well as in fat and carbohydrate metabolism, and stabilizes the xenobiotic metabolism system;
vitamin B1 as a coenzyme takes part in the processes of carbohydrate metabolism and is responsible for the transmission of nerve impulses in the central nervous system and in all tissues;
vitamin B2 refers to the catalysts of cellular respiration, and is also involved in the processes of glucuronidation and peroxidation of xenobiotics and endogenous substances;
vitamin B6 is a coenzyme involved in the exchange of amino acids and protein metabolism, and is responsible for the synthesis of neurotransmitters;
vitamin B12 in combination with folic acid starts the process of nucleotide synthesis, takes part in the formation of cells of the nervous membranes and erythrocytes, and ensures the growth of the body;
cobalt is a serotonin antagonist; involved in folic acid metabolism, methionine reduction, fatty acid metabolism.
Pharmacodynamics and pharmacokinetics
The pharmacodynamics and pharmacokinetics of Livolin Forte have not been sufficiently studied at the moment due to the multicomponent composition of the drug.
Indications for use
Complex therapy of the following diseases and conditions:
Toxic hepatitis;
Cirrhosis of the liver;
Chronic and acute hepatitis;
Fatty liver disease caused by chronic infections, diabetes mellitus and other pathologies;
Radiation sickness;
Toxicosis during pregnancy;
Psoriasis;
Dysfunction of the liver against the background of other somatic diseases;
Intoxication.
Contraindications
Do not prescribe the drug to patients with hypersensitivity to the drug components.
Instructions for the use of Livolin Forte: method and dosage
Capsules are taken orally, during meals, with water.
Recommended dosage: 1-2 capsules 2-3 times a day, the course of treatment is 3 months. If necessary, a longer intake of the drug or the appointment of repeated courses of therapy is indicated.
Side effects
Digestive system: abdominal pain, nausea;
Others: the development of allergic reactions.
Overdose
Overdose cases when using the drug by the manufacturer have not been identified.
special instructions
The preparation includes riboflavin (vitamin B 2), in high doses, it urine stains bright yellow.
Also, the capsules contain beeswax, which must be taken into account by patients who have intolerance to bee products.
Pregnancy and lactation
During pregnancy, treatment with Livolin Forte is allowed according to indications and only as directed by a doctor.
The active substances of the drug can penetrate into breast milk, therefore, it is recommended to stop breastfeeding during treatment.
Application in children
There are no data on the efficacy and safety of the drug in pediatric practice.
Drug interactions
The interaction of Livolin Forte with other drugs has not been established.
Analogs
Livolin Forte analogs are: Velmen, Geptral, Biovital, Vitamax, Eslidin, Vitrum Beauty, Doppelgerts, Phosphogliv, Gerimaks Energy, Pantovigar, Complivit, Revalid.
Terms and conditions of storage
Keep out of the reach of children.
Store at temperatures up to 25 ° C in a dark and dry place.
Shelf life is 2 years.
Terms of dispensing from pharmacies
Available without a prescription.
Reviews about Livolin Fort
According to reviews, Livolin Forte is especially effective in lowering total cholesterol levels in elderly patients. This effect of the drug is explained by the normalization of hepatic metabolism, which avoids the accumulation of cholesterol in the hepatic system.
In general, the drug is well tolerated and rarely causes allergic side reactions (for example, urticaria). The presence of additional components in the composition of the drug - vitamins of group B - explains the positive effect of Livolin Forte on the body with various forms of vitamin deficiency.
Price for Livolin Forte in pharmacies
The price of Livolin Forte in pharmacies on average varies from 350 to 370 rubles (the cost of a package containing 3 blisters of 10 capsules).
Livolin Forte: prices in online pharmacies
Drug name
Price
Pharmacy
Livolin Forte capsules 30 pcs.
345 r
Buy
Livolin Forte capsules 30 pcs.
355 RUB
Buy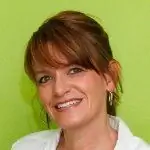 Maria Kulkes Medical journalist About the author
Education: First Moscow State Medical University named after I. M. Sechenov, specialty "General Medicine".
Information about the drug is generalized, provided for informational purposes only and does not replace the official instructions. Self-medication is hazardous to health!
Popular by topic