Table of contents: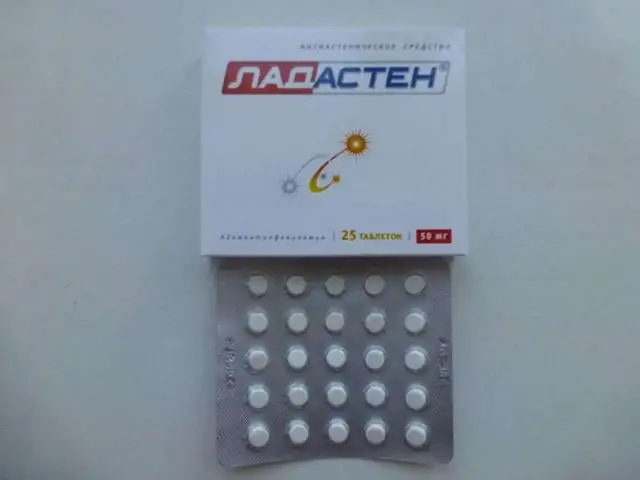 Video: Duoprost - Instructions For The Use Of Eye Drops, Price, Analogues
Duoprost
Duoprost: instructions for use and reviews
1. Release form and composition
2. Pharmacological properties
3. Indications for use
4. Contraindications
5. Method of application and dosage
6. Side effects
7. Overdose
8. Special instructions
9. Application during pregnancy and lactation
10. Drug interactions
11. Analogs
12. Terms and conditions of storage
13. Terms of dispensing from pharmacies
14. Reviews
15. Price
Latin name: Duoprost
ATX code: S01ED51
Active ingredient: Latanoprost (Latanoprost), Timolol (Timolol)
Producer: SC ROMPHARM Company SRL (Romania)
Description and photo update: 18.10.2018
Prices in pharmacies: from 378 rubles.
Buy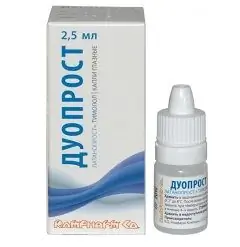 Duoprost is a combined antiglaucoma drug.
Release form and composition
Duoprost is available in the form of eye drops: transparent, colorless (2.5 ml each in a 5 ml polymer dropper bottle, with a polymer cap and a protective ring, 1 dropper bottle in a cardboard box along with instructions for use).
1 ml of the drug contains:
active substances: timolol maleate (in terms of thymol) - 5 mg, latanoprost - 0.05 mg;
auxiliary substances: disodium phosphate dodecahydrate - 11.85 mg, sodium dihydrogen phosphate dihydrate - 5.2 mg, sodium chloride - 4.1 mg, benzalkonium chloride - 0.2 mg, 1M sodium hydroxide solution / 1M hydrochloric acid solution - up to pH 6 ± 0.1, purified water.
Pharmacological properties
Pharmacodynamics
Timolol is a non-selective beta-adrenergic receptor blocker, has a slight internal sympathomimetic and membrane-stabilizing activity (SMA). When applied topically, it reduces the formation of aqueous humor and slightly increases its outflow, thereby lowering intraocular pressure.
Latanoprost is an active analogue of prostaglandin F2α, as well as a selective FP receptor agonist. The main mechanism of action of latanoprost is an increase in uveoscleral outflow. By increasing the outflow of aqueous humor, latanoprost thereby lowers intraocular pressure. It has an anti-glaucoma effect, does not have a reliable effect on the production of aqueous humor, and does not affect the hemato-ophthalmic barrier.
Pharmacokinetics
When applied topically, Timolol penetrates the cornea in a short time. In 1 hour after the instillation of drops, the maximum concentration of timolol in the aqueous humor of the eye is reached. The plasma half-life is 6 hours. Through the vessels of the conjunctiva, the mucous membrane of the lacrimal tract and nose, by absorption, it enters the systemic circulation in a small amount. Timolol metabolites are excreted mainly by the kidneys.
Latanoprost reaches its maximum concentration in the aqueous humor of the eye (approximately 15-30 ng / ml) 2 hours after the instillation of drops. Distributed primarily in the eyelids, conjunctiva and anterior segment of the eyes. Only a small amount of matter reaches the posterior segment. In the cornea, under the influence of esterases, latanoprost undergoes hydrolysis with the formation of biologically active acid. In the tissues of the eye, metabolism of latanoprost acid practically does not occur. The main metabolism takes place in the liver. The plasma half-life is 17 minutes. The main metabolites, 1,2-dinor- and 1,2,3,4-tetranor-metabolites, have little or no biological activity, and are excreted mainly in the urine.
Indications for use
increased intraocular pressure;
open-angle glaucoma.
Contraindications
sinus bradycardia;
atrioventricular block of the second and third degree;
decompensated chronic heart failure of the second and third degree;
cardiogenic shock;
chronic obstructive pulmonary disease;
bronchial asthma, including history;
hypersensitivity to any component of Duoprost;
age up to 18 years;
lactation period.
The drug should be used with caution in congenital, angle-closure, neovascular or inflammatory glaucoma, open-angle glaucoma in combination with pseudophakia, pigmentary glaucoma (due to lack of experience with Duoprost), aphakia, pseudoaphakia with rupture of the posterior lens capsule, the presence of risk factors for macular edema (in due to the fact that during the treatment with latanoprost, cases of macular edema, including cystoid edema, have been noted).
Instructions for the use of Duoprost: method and dosage
Eye drops Duoprost is a topical preparation.
Instill Duoprost once a day, 1 drop in each eye. If a dose has been missed, then the next dose should be administered as usual. If it is necessary to instill more than one drug, they are administered at intervals of at least five minutes.
Side effects
According to the instructions, Duoprost can cause the following side effects:
organ of vision: visual impairment, conjunctivitis, allergic lesions of the conjunctiva (including papillary reactions of the conjunctiva, follicles, punctate hemorrhages, etc.), lesions of the cornea (pigmentation, erosion, punctate keratitis and others), eye hyperemia, refractive error, irritation eyes, increased pigmentation of the iris, pain in the eyes, photophobia, keratitis, loss of areas of the visual field;
nervous system: headache;
psyche: depression;
infections: upper respiratory tract infections, sinusitis, and other infections;
nutritional and metabolic disorders: diabetes mellitus, hypercholesterolemia;
vascular system: increased blood pressure;
skin and subcutaneous tissues: rash, skin changes (chalazion, irritation and others), hypertrichosis;
musculoskeletal system: arthritis.
Side effects of timolol:
organ of vision: decreased sensitivity of the cornea, cystoid macular edema, ptosis, detachment of the choroid after filtration surgery, visual impairment, including changes in refraction and diplopia;
hearing and vestibular apparatus: tinnitus;
nervous system: drowsiness, dizziness, increased symptoms of myasthenia gravis, paresthesia, fainting, acute cerebrovascular accidents, cerebral ischemia;
psyche: changes in behavior and mental disorders, including anxiety, insomnia, confusion, nightmares, decreased libido, hallucinations, disorientation, nervousness, memory loss;
nutritional and metabolic disorders: in patients with diabetes, latent symptoms of hypoglycemia, anorexia;
vascular system: lowering blood pressure, Raynaud's syndrome, intermittent claudication, cold extremities;
heart: bradycardia, arrhythmia, palpitations, heart failure, progression of angina pectoris, intracardiac conduction block, cardiac arrest;
respiratory organs: cough, nasal congestion, shortness of breath, bronchospasm (mainly in patients who have had bronchospastic diseases in the past), pulmonary edema, respiratory failure;
immune system: systemic allergic reactions, including urticaria, localized and generalized rash, anaphylaxis, angioedema;
gastrointestinal tract: dry mouth, dyspepsia, nausea, diarrhea, retroperitoneal fibrosis;
skin and subcutaneous tissues: exacerbation of psoriasis, psoriasis-like rash, alopecia, pseudopemphigoid;
musculoskeletal system and connective tissue: systemic lupus erythematosus;
reproductive system and mammary glands: Peyronie's disease, impotence;
general and local reactions: asthenia, fatigue, chest pain, edema.
Side effects of latanoprost:
organ of vision: eyelid edema, eye irritation (feeling of sand in the eyes, itching, burning, tingling, foreign body sensation), transient punctate erosion of the epithelium, changes in eyelashes and vellus hair (elongation, change in the direction of growth, which can cause eye irritation, thickening, an increase in the number and color change), edema and erosion of the cornea, macular edema, including cystoid, iritis / uveitis, blurred vision;
nervous system: dizziness;
respiratory organs: shortness of breath, bronchospasm (exacerbation of the disease or acute attacks in patients with a history of bronchial asthma);
skin and subcutaneous tissues: local reactions of the eyelids, darkening of the eyelid skin, skin rash;
musculoskeletal system and connective tissues: pain in joints and muscles;
general and local reactions: nonspecific chest pain.
Overdose
Symptoms caused by an overdose of thymol: nausea, vomiting, headache, bronchospasm, bradycardia, arrhythmia.
Symptoms caused by an overdose of latanoprost: dizziness, eye irritation, episcleral or conjunctival hyperemia.
Treatment of symptoms of Duoprost overdose: rinse eyes with 0.9% sodium chloride solution or water, symptomatic therapy.
special instructions
When using the drug, periodic observation by the attending physician is recommended due to the fact that Duoprost can cause a change in eye color due to an increase in the concentration of brown pigment in the iris.
It is necessary to remove contact lenses at the time of instillation of Duoprost and do not install them within 15 minutes after instillation, based on the fact that the drug contains a preservative benzalkonium chloride, which can be absorbed by contact lenses and damage the eyes.
Influence on the ability to drive vehicles and complex mechanisms
When instilling Duoprost eye drops, the patient may experience a transient feeling of a "veil before the eyes." It usually goes away within a few minutes. During this time, it is necessary to refrain from driving vehicles and complex mechanisms.
Application during pregnancy and lactation
There are no described data on the use of Duoprost during pregnancy and lactation.
During pregnancy, taking the drug is possible only when the expected benefit to the mother outweighs the potential risk to the fetus.
During lactation, the use of Duoprost is not recommended. If such a need exists, then breastfeeding should be interrupted due to the fact that timolol, latanoprost and its metabolites are able to penetrate into breast milk.
Drug interactions
With the simultaneous administration of timolol and epinephrine, cases of the development of mydriasis have been described.
Concomitant use of Duoprost with drugs that reduce the activity of catecholamines, slow calcium channel blockers, antiarrhythmics (such as amiodarone, quinidine), beta-blockers, cholinomimetics, cardiac glycosides, monoamine oxidase inhibitors and narcotic analgesic effects can cause an increase / hypotensive effect. bradycardia.
Analogs
The analogue of Duoprost is Ksalak.
Terms and conditions of storage
Store out of direct sunlight, at a temperature of 2 to 8 ° C. Keep out of the reach of children.
The shelf life is 3 years.
After opening the bottle, the drug is recommended to be stored at temperatures up to 25 ° C for no longer than 4 weeks.
Terms of dispensing from pharmacies
Dispensed by prescription.
Reviews about Duoprost
There are no reviews about Duoprost.
Price for Duoprost
The price for Duoprost is about 618 rubles.
Duoprost: prices in online pharmacies
Drug name
Price
Pharmacy
Duoprost 0.05 mg / ml + 5 mg / ml eye drops 2.5 ml 1 pc.
378 r
Buy
Duoprost eye drops 2.5ml
RUB 688
Buy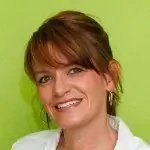 Maria Kulkes Medical journalist About the author
Education: First Moscow State Medical University named after I. M. Sechenov, specialty "General Medicine".
Information about the drug is generalized, provided for informational purposes only and does not replace the official instructions. Self-medication is hazardous to health!
Recommended: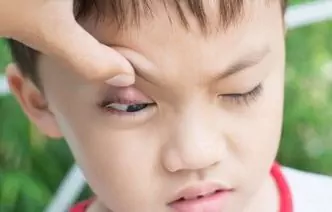 Many people have encountered such a nuisance as barley on the eye. This disease is a consequence of infection of the mucous membranes with pathogenic bacteria, in most cases - Staphylococcus aureus. Painful symptoms (redness, pain, swelling, and itching) usually develop very quickly. Then, within two to three days, a small abscess, located on the inner or outer surface of the eyelid, matures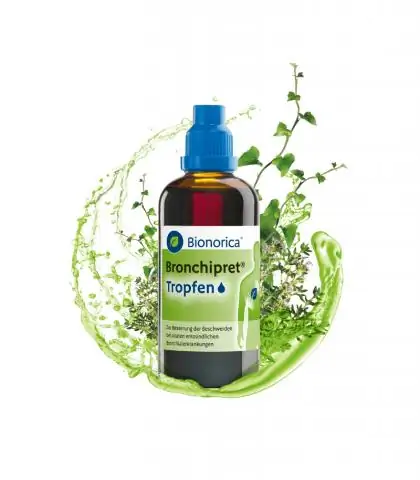 Instructions for use Bronchipret drops and syrup. Information on dosing for children, contraindications, reviews, analogues and the price of the drug in pharmacies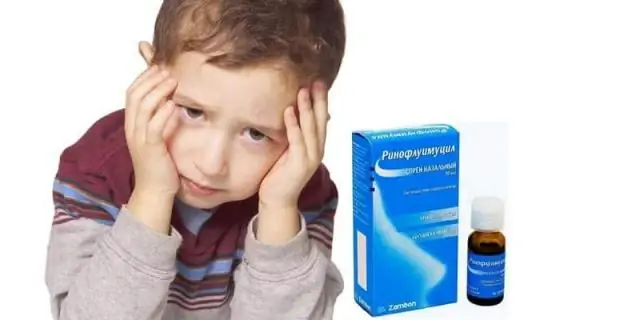 Instructions for use Rinostop Extra spray and drops. Information on the appointment for children, contraindications, reviews, analogues and the price of the drug in pharmacies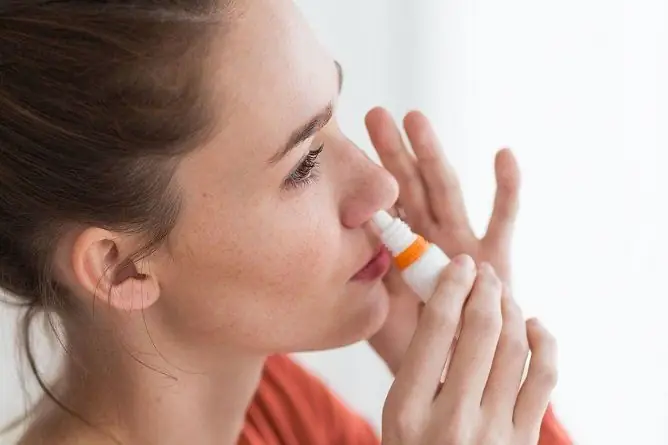 Drops from sinusitis are used as part of a combination treatment. Their action is aimed at reducing swelling of the nasal mucosa and facilitating nasal breathing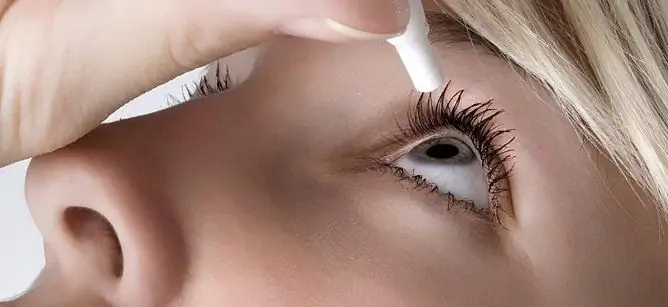 Drops from eye pressure reduce it, affecting the production of moisture in the chambers of the eye, reducing its amount or increasing excretion