Table of contents: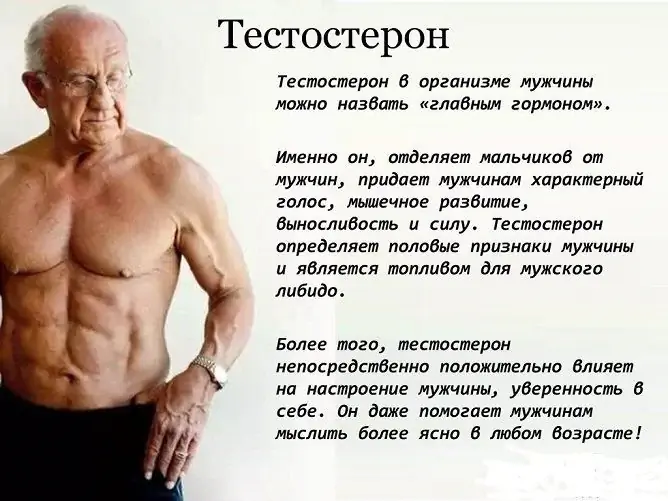 Video: Increased Testosterone In Men: Symptoms, Causes, Signs
Increased testosterone in men: symptoms, causes and consequences
The content of the article:
Causes of high testosterone in men
Symptoms of high testosterone in men
Diagnosis of increased testosterone in men
Treatment of high testosterone in men
Testosterone is a male sex hormone that belongs to the group of androgens, is produced by the Leydig cells of the testicles and the adrenal cortex and is a product of peripheral metabolism. The production of testosterone is regulated by the pituitary gland and hypothalamus, depending on the level of luteinizing hormone. Testosterone is responsible for the normal virilization of males, which includes the normal processes of puberty. Testosterone also takes part in the development of muscle and bone tissue, sperm production, affects mood, stimulates the production of sebum, affects the synthesis of fats in the liver, stimulates the production of endorphins, affects carbohydrate metabolism in the body, and takes part in insulin metabolism. Male sex hormones, including testosterone, are responsible for sexual performance, strength and endurance,mental balance.
The concentration of testosterone depends on a number of factors, which include heredity, lifestyle, physical activity, nutrition, etc. In men, the concentration of testosterone increases in puberty and remains so until the age of 50–65, when testosterone levels begin to decline. The maximum testosterone content is observed in the blood in the morning, the minimum - in the evening.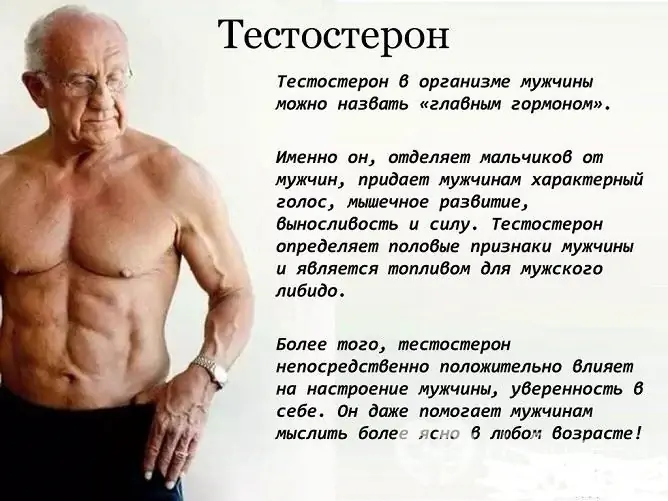 Testosterone is the main male sex hormone
Causes of high testosterone in men
Elevated testosterone levels in men can have both exogenous and endogenous causes.
Factors contributing to elevated testosterone levels in men include:
genetic predisposition;
the use of a number of drugs (primarily hormonal drugs for medicinal purposes or by athletes in order to build muscle mass);
poor nutrition;
insufficient night sleep;
psycho-emotional stress;
bad habits;
excessive physical activity;
prolonged absence of sexual contact.
Increased testosterone in men is observed with some metabolic disorders, neoplasms. Violation of testosterone synthesis, both upward and downward, is often associated with pathological processes in the gonads or adrenal glands.
Many liver diseases are accompanied by impaired production of globulin that binds androgens. For this reason, at normal values of total testosterone, the free fraction of the hormone may be higher than normal. An increase in the concentration of free testosterone is observed in Itsenko-Cushing syndrome, Reifenstein syndrome (incomplete resistance to androgens), congenital hyperplasia or dysfunction of the adrenal cortex.
Symptoms of high testosterone in men
The main signs of increased testosterone in men include:
sudden mood swings;
aggressiveness, irritability;
growing weakness;
excessive sweating;
sleep disorders - insomnia, daytime sleepiness (especially after eating);
memory impairment, decreased concentration;
frequent headaches;
increased blood pressure;
increased hair growth on the trunk;
hair loss on the head;
skin problems (acne, seborrhea);
increased libido (while periods of increased sexual activity can alternate with apathy or depressive states);
premature ejaculation;
painful sensations during urination and ejaculation.
With increased testosterone, body weight may increase in the absence of appetite.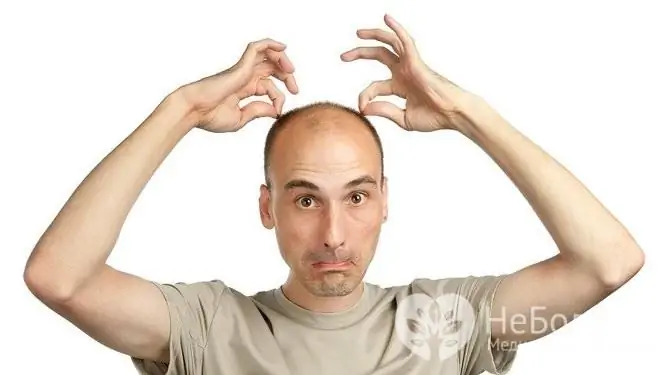 One of the signs of high testosterone in men is baldness.
In the absence of correction of the pathological condition, patients may develop diseases of the liver and gallbladder, cardiovascular system, kidneys, chronic prostatitis, increased blood clotting, which entails the risk of thrombosis, strokes, etc.
The consequences of high testosterone include infertility, benign prostatic hyperplasia, and prostate cancer.
Diagnosis of increased testosterone in men
The norm for total testosterone in adult men is 8.5–32.0 nmol / L, however, it may vary in different laboratories depending on the method used to determine the hormone.
In a bound state, 97–99% of testosterone circulates in the blood, while about 54% of the hormone is associated with albumin, about 44% with globulin that binds sex hormones. Only 1–3% of testosterone is in unbound form (free testosterone). In cases where the patient has an increased or decreased level of sex steroid binding globulin, the determination of the level of free testosterone makes it possible to assess androgenic function.
In the course of laboratory determination of testosterone levels, the patient's blood serum is examined. Blood sampling is carried out from 8:00 to 14:00. The day before the study, physical and psycho-emotional stress, the use of alcoholic beverages are excluded. The last meal should be 8-12 hours before taking blood, one hour before taking the test, you should not smoke.
To draw up a treatment plan for high testosterone may require ultrasound, magnetic resonance imaging.
Treatment of high testosterone in men
If an increased testosterone level has developed while taking medications that stimulate its synthesis, it is usually enough to cancel these medications for the hormone concentration to return to normal. The same is the case with a short-term physiological increase in testosterone concentration - no treatment is required, since the level of the hormone normalizes on its own when the etiological factor is eliminated. Additional examination may be required to exclude concomitant pathology.
Diet is recommended for men with elevated testosterone levels. The diet includes coffee, lime honey, eggs, fatty milk, herbal teas and decoctions (clover, licorice, peppermint, hops), soy, fresh vegetables, fruits and berries (especially red grapes), linseed oil. Limit the use of red meat, foods containing starch. Such a diet is prescribed for a limited period of time (one and a half to two weeks), since otherwise it may have adverse consequences for the state of the body as a whole.
It is recommended to adjust the daily routine, namely, to normalize night sleep (at least 6 hours), diet. If possible, sexual activity should be normalized (regular sexual relations with a constant partner are recommended) and body weight.
You should avoid stressful situations, excessive physical and mental stress, give up bad habits, adjust the mode of work and rest. Shown adequate, that is, daily, but not exhausting physical activity. Long walks in the fresh air, jogging, and anaerobic exercise are recommended. It is better to refuse strength training, at least until testosterone levels normalize.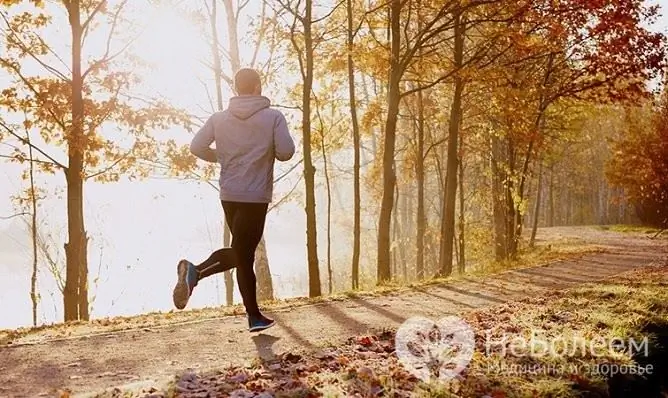 With high testosterone, men are advised to give up strength training in favor of jogging
With increased testosterone (especially in adolescent patients), hormonal therapy with the use of luteinizing hormone analogs may be appropriate, which suppress the activity of the pituitary gland, reduce the secretion of gonadotropins, thereby reducing the production of testosterone in the testes. These drugs have a number of side effects and contraindications, which is why their use is permissible only if there are strict indications and under the supervision of the attending physician.
If the elevated testosterone level in men is due to a neoplasm, treatment is anticancer therapy.
YouTube video related to the article: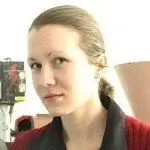 Anna Aksenova Medical journalist About the author
Education: 2004-2007 "First Kiev Medical College" specialty "Laboratory Diagnostics".
Found a mistake in the text? Select it and press Ctrl + Enter.
Popular by topic