Table of contents: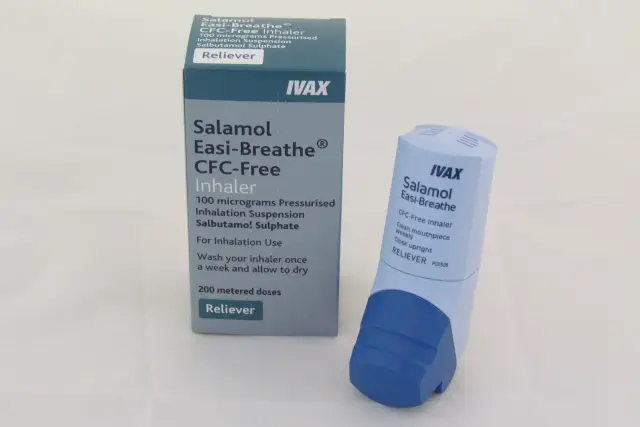 Video: Salbutamol-Teva - Instructions For The Use Of Aerosol, Price, Reviews
Salbutamol-Teva
Salbutamol-Teva: instructions for use and reviews
1. Release form and composition
2. Pharmacological properties
3. Indications for use
4. Contraindications
5. Method of application and dosage
6. Side effects
7. Overdose
8. Special instructions
9. Application during pregnancy and lactation
10. Use in childhood
11. Drug interactions
12. Analogs
13. Terms and conditions of storage
14. Terms of dispensing from pharmacies
15. Reviews
16. Price in pharmacies
Latin name: Salbutamol-Teva
ATX code: R03AC02
Active ingredient: salbutamol (Salbutamol)
Manufacturer: TEVA Pharmaceutical Enterprises, Ltd. (TEVA Pharmaceutical Industries, Ltd.) (Israel); Norton Waterford trading as IVAX Pharmaceuticals Ireland (Ireland)
Description and photo update: 2019-17-12
Prices in pharmacies: from 100 rubles.
Buy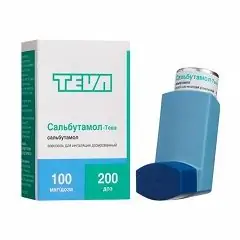 Salbutamol-Teva is a bronchodilator.
Release form and composition
Dosage form - metered-dose inhalation aerosol (in an aluminum bottle equipped with a metering valve and an inhalation device with a protective cap, 200 doses, 1 bottle and instructions for use of Salbutamol-Teva are packed in a cardboard box).
Composition of 1 dose of the drug:
active substance: salbutamol sulfate - 124 μg (which corresponds to 100 μg of salbutamol);
auxiliary components: hydrofluoroalkane (HFA-134a), ethanol.
Pharmacological properties
Pharmacodynamics
The active substance Salbutamol-Teva, influencing the smooth muscles of the respiratory system, stimulates beta2-adrenergic receptors, which leads to relaxation of the airways and the prevention of bronchospasm. Also, the drug causes a decrease in resistance in the airways and an increase in the vital capacity of the lungs. Prevents the release of prostaglandin D2, leukotrienes, histamine and other biologically active substances from mast cells.
Salbutamol, used in therapeutic doses, does not increase blood pressure and does not cause negative reactions from the cardiovascular system. Expands the coronary arteries. It expresses a slight positive chrono- and inotropic effect in comparison with other drugs from this pharmacological group.
It has some metabolic effects: it participates in the release of insulin, exhibits hyperglycemic activity (especially in patients with bronchial asthma), reduces the plasma content of potassium ions, has a lipolytic effect, and increases the risk of acidosis.
After inhalation, the effect of Salbutamol-Teva develops within 5 minutes and lasts up to 4-6 hours.
Pharmacokinetics
From 10 to 20% of the dose of the inhaled drug reaches the respiratory tract, the rest is deposited in the oropharynx and is swallowed or retained in the inhaler. Part of the dose that reaches the respiratory tract is absorbed by the lung tissues and, without being metabolized, enters the bloodstream. From the systemic circulation, salbutamol is metabolized by the liver. When it enters the stomach, it is rapidly absorbed, undergoes first pass metabolism during the first passage through the liver and turns into phenolic sulfate.
The maximum plasma concentration (C max) of salbutamol is observed 3 hours after inhalation and is 30 ng / ml. About 10% binds to plasma proteins.
Most of the substance is excreted unchanged, some in the form of phenolic sulfate. It is excreted mainly through the kidneys with urine, to a lesser extent - with bile. Salbutamol crosses the blood-brain barrier and creates a concentration of about 5% of the plasma concentration.
The half-life (T 1/2) is 3-7 hours.
Indications for use
symptomatic therapy of broncho-obstructive syndrome (including chronic bronchitis and pulmonary emphysema);
prevention and relief of bronchospasm in bronchial asthma;
treatment of chronic obstructive pulmonary disease.
Contraindications
The use of Salbutamol-Teva is contraindicated in children under 2 years of age and in patients with known hypersensitivity to any of its components.
With caution, a bronchodilating agent should be used for arterial hypertension, ischemic heart disease, tachyarrhythmias, myocarditis, aortic stenosis, heart defects, severe chronic heart failure, hypertrophic obstructive cardiomyopathy, decompensated diabetes mellitus, pheochromocytoma, thyrotoxicosis of the heart, also pregnancy and breastfeeding.
Salbutamol-Teva, instructions for use: method and dosage
Aerosol Salbutamol-Teva is used by inhalation using a special device included in the kit.
Recommended doses for children from 2 years of age and adults:
prevention of bronchospasm: 1-2 inhalations (100-200 mcg of the drug) 15-30 minutes before the possible exposure to the allergen or the start of physical activity. A maximum of 8 inhalations can be done per day (800 μg of salbutamol);
relief of bronchospasm: 1 inhalation (100 μg) from 1 to 4 times a day. If necessary, at the same frequency of administration, the dose is increased to 2 single inhalations (200 μg).
The interval between injections of Salbutamol-Tev should not be less than 4 hours.
Instructions for use of the inhalation device
Before using the inhaler for the first time and after a long break, always check the device for proper operation. To do this, press once on the valve of the cartridge and release the dose into the air.
Rules for taking the drug:
Remove the protective cap from the inhaler, make sure the outlet tube is clean.
Holding the device vertically, place it between your thumb (it is located on the bottom of the inhaler) and index (placed on the metering valve) fingers.
Shake the can vigorously up and down.
Exhale deeply through the mouth and tightly clamp the exit tube with your lips.
Slowly take a deep breath and at this moment press the metering valve with your index finger, releasing one dose of Salbutamol-Tev and continuing to inhale.
Take out the inhaler and hold your breath for as long as possible, without feeling discomfort (at least 10 seconds).
Exhale slowly *.
Trying not to swallow the aerosol that has got into the mouth, rinse your mouth with clean water.
If it is necessary to introduce two doses, repeat the steps from points 2–8.
Close the inhaler with a protective cap.
* It is important to exhale as slowly as possible. It is recommended to carry out inhalation in front of a mirror at the beginning of treatment. If, during exhalation, "steam" is noticeable coming out of the corners of the mouth or the top of the balloon, the procedure is restarted from point 3.
The inhaler should be cleaned at least once a week. Why you need to rinse the inhalation device and its protective cap with warm water (not hot!), Then shake them and dry them well under natural conditions (without using heating devices). In this case, care must be taken to avoid contact with water of the aluminum can.
Side effects
According to the recommendations of the World Health Organization (WHO), side effects are classified by frequency of occurrence as follows: very common (<10%), often (≥ 1 but ≤ 10%), infrequently (≥ 0.1, but ≤ 1%), rarely (≥ 0.01, but ≤ 0.1%), rarely (≤ 0.01%, including single messages), unknown frequency (available data are insufficient to roughly estimate the frequency of adverse events).
Possible adverse reactions when using Salbutamol-Teva (frequency according to the WHO scale):
on the part of the chest and respiratory system: infrequently - irritation of the pharyngeal mucosa; very rarely - paradoxical bronchospasm;
from the central nervous system: often - anxiety, generalized tremor, headache; rarely - hyperactivity (only in children), hallucinations and sleep disorders (mainly in children); very rarely - feeling of tension, dizziness;
on the part of the musculoskeletal system: infrequently - myalgia; very rarely - slight tremor of the hands;
from the digestive system: infrequently - dryness and irritation of the oral mucosa; very rarely - nausea, vomiting;
on the part of the cardiovascular system: often - tachycardia; infrequently - palpitations; very rarely - cardiac arrhythmias (including extrasystole, supraventricular tachycardia, atrial fibrillation); unknown frequency (cause not established) - myocardial ischemia;
allergic and skin reactions: very rarely - dermatitis, itching of the skin, urticaria and other hypersensitivity reactions (angioedema, arterial hypotension, collapse);
others: rarely - hyperglycemia, hypokalemia, lactic acidosis.
Overdose
In case of an overdose of salbutamol, the following disorders are possible: increased excitability, decreased blood pressure, hallucinations, headache, nausea, vomiting, muscle tremor, ventricular flutter, tachycardia, hypokalemia, hypoxemia, hyperglycemia, lactic acidosis.
In case of intoxication, symptomatic treatment is performed. With tachycardia, the introduction of cardioselective beta-blockers is required, however, caution should be exercised in patients with bronchial asthma, since they have a high risk of developing bronchospasm.
special instructions
When prescribing Salbutamol-Tev, the physician should check that the patient is using the inhalation device correctly to ensure that the aerosol is adequately dispensed.
All patients should be warned about the need to immediately contact a specialist if, after taking the usual dose, the effect has become less lasting. It is forbidden to independently increase the frequency of inhalation or a single dose of Salbutamol-Tev.
A sharp progressive deterioration in disease control is fraught with an attack of bronchospasm, which is a potential threat to life. The treatment regimen should be changed or concomitant therapy should be additionally prescribed.
In the case of long-term treatment with a bronchodilator, you should be monitored regularly by a doctor.
When carrying out inhalation, the patient must be careful not to get the aerosol in the eyes.
In severe bronchial asthma, high doses of salbutamol can increase the concentration of lactic acid in the blood serum, which in some cases leads to lactic acidosis.
It is important to warn patients with any concomitant cardiovascular pathologies about the need for urgent medical attention if the following symptoms appear or become more frequent: chest pain, heart rate, shortness of breath.
There are some known episodes of paradoxical bronchospasm on the background of inhalation therapy. In such cases, Salbutamol-Teva is discontinued, and alternative therapy is immediately prescribed.
Beta2-adrenomimetics can cause the development of severe hypokalemia. This is especially dangerous in severe bronchial asthma, since hypoxia and the concomitant use of diuretics, glucocorticosteroids, xanthine derivatives can contribute to a decrease in potassium concentration. To avoid complications, it is necessary to control the serum potassium concentration.
It should be borne in mind that hypokalemia can enhance the effect of cardiac glycosides, which leads to the development of intoxication. Patients receiving these drugs require special monitoring.
In diabetes mellitus, Salbutamol-Teva is able to increase the concentration of glucose in the blood; cases of ketoacidosis are known. This condition can be aggravated by concomitant use of glucocorticosteroids. In order to avoid decompensation of diabetes mellitus, it is important to regularly monitor blood glucose levels, if necessary, adjust the dose of the hypoglycemic agent.
The aluminum cartridge is under pressure. It must not be heated, disassembled, deformed or punctured, even after the drug has been used up.
Influence on the ability to drive vehicles and complex mechanisms
Due to the likelihood of dizziness, patients are advised to take precautions when driving and engaging in potentially hazardous activities that require increased attention and a high reaction rate.
Application during pregnancy and lactation
Inhaled beta-adrenergic agonists used in recommended doses in early pregnancy did not have any negative effect on the woman and the fetus. However, there is not enough clinical data to accurately confirm the safety of this group of drugs. Therefore, it is recommended to carefully assess the situation, and prescribe Salbutamol-Teva aerosol only in cases where the benefits of treatment definitely outweigh the potential risks.
The drug penetrates into breast milk, this should be taken into account when carrying out therapy for women who are breastfeeding. You can use Salbutamol-Teva if the benefit to the mother is higher than the possible risk to the child.
Pediatric use
Salbutamol-Teva is strictly prohibited for use in children under 2 years of age. In older children, the drug should be used with caution, under the close supervision of adults, with strict adherence to the recommended dosage regimen.
Drug interactions
Salbutamol, due to pharmacological antagonism, cannot be used simultaneously with propranolol and other non-selective beta-blockers, including in the form of eye drops.
Salbutamol-Teva has a hypokalemic effect, therefore it is able to enhance the effect on the central nervous system of psychostimulants, as well as the cardiotropic effect of thyroid hormones. Against the background of its intake, the danger of intoxication with cardiac glycosides increases.
The hypokalemic effect of salbutamol is enhanced by glucocorticosteroids and diuretics.
With the joint administration of anticholinergics (including inhalation), salbutamol can participate in an increase in intraocular pressure.
Patients receiving antihypertensive or antianginal drugs may need to adjust their doses, since when using Salbutamol-Tev, an increase in blood pressure and an increase in the number of heart contractions are possible.
With the combined use of theophylline or other xanthines, the risk of developing tachyarrhythmias increases.
Concomitant use of levodopa or inhalation anesthetics increases the risk of severe ventricular arrhythmias. When carrying out a planned operation using halogen anesthetics, Salbutamol-Tev should be discontinued at least 6 hours in advance.
The beta-adrenergic effect of salbutamol can be enhanced by tricyclic antidepressants, monoamine oxidase inhibitors and cardiac glycosides. As a result, a sharp drop in blood pressure is possible.
Analogs
The analogues of Salbutamol-Teva are Astmanon, Berotek N, Berotek, Ventolin Nebula, Ventolin, Salbutamol-MHFP, Onbrez Breezhaler, Sorbital, Salbutamol-Pharmstandard, Fenoteir, Fenoterol-Aeronativ, Formoterol Easyheiler, etc.
Terms and conditions of storage
Store at a temperature not exceeding 25 ° С out of reach of children, protected from direct sunlight. Avoid freezing.
The shelf life is 3 years.
Terms of dispensing from pharmacies
Dispensed by prescription.
Reviews about Salbutamol-Teva
Patients in reviews of Salbutamol-Teva call it a good remedy that allows you to effectively and quickly stop an attack of bronchospasm. The aerosol is odorless, contained in a convenient small bottle, which allows you to always carry the inhaler with you. The cost of the drug is estimated as more than acceptable, especially in comparison with many other inhaled beta2-adrenergic agonists.
As disadvantages, some patients note a short mouthpiece and a specific chemical flavor of the aerosol. In some reports, they write about the lack of effectiveness of the drug in severe protracted attacks of bronchial asthma.
The price of Salbutamol-Teva in pharmacies
The price of Salbutamol-Teva in the form of a metered aerosol for inhalation can be 154-167 rubles. for 1 bottle containing 200 doses of 100 mcg.
Salbutamol-Teva: prices in online pharmacies
Drug name
Price
Pharmacy
Salbutamol-Teva 100 mcg / dose 200 doses inhalation aerosol 1 pc.
RUB 100
Buy
Salbutamol-Teva aerosol for in. dosage. 100mcg / dose 200 doses
133 rbl.
Buy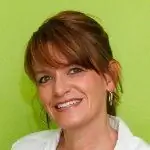 Maria Kulkes Medical journalist About the author
Education: First Moscow State Medical University named after I. M. Sechenov, specialty "General Medicine".
Information about the drug is generalized, provided for informational purposes only and does not replace the official instructions. Self-medication is hazardous to health!
Popular by topic