Table of contents: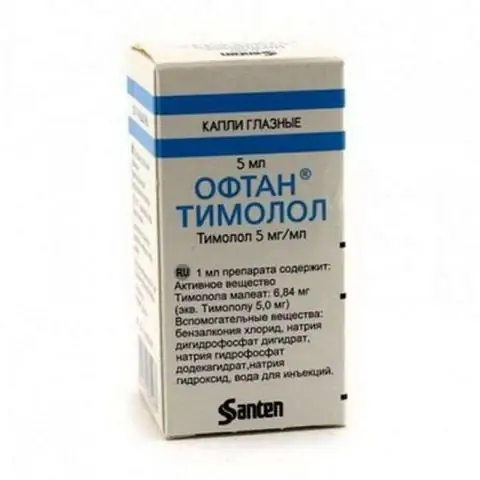 Video: Oftan Timolol - Instructions For Use Of Eye Drops, Price, Analogues
Oftan Timolol
Oftan Timolol: instructions for use and reviews
1. Release form and composition
2. Pharmacological properties
3. Indications for use
4. Contraindications
5. Method of application and dosage
6. Side effects
7. Overdose
8. Special instructions
9. Application during pregnancy and lactation
10. Use in childhood
11. Drug interactions
12. Analogs
13. Terms and conditions of storage
14. Terms of dispensing from pharmacies
15. Reviews
16. Price in pharmacies
Latin name: Oftan Timolol
ATX code: S01ED01
Active ingredient: timolol (Timolol)
Manufacturer: Santen, JSC (Santen, OY) (Finland)
Description and photo update: 2019-31-10
Prices in pharmacies: from 40 rubles.
Buy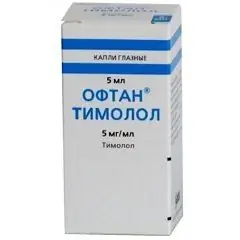 Oftan Timolol - beta-blocker; antiglaucoma drug that reduces intraocular pressure.
Release form and composition
The drug is available in the form of eye drops: a clear, colorless liquid (5 ml each in polyethylene bottles with a dropper stopper, 1 bottle in a cardboard box and instructions for use of Oftan Timolol).
1 ml drops contain:
active substance: timolol maleate - 3.42 or 6.84 mg, which is equivalent to 2.5 or 5 mg of timolol, respectively;
auxiliary components: benzalkonium chloride, disodium phosphate dodecahydrate, sodium hydrogen phosphate, sodium hydroxide, water for injection.
Pharmacological properties
Pharmacodynamics
Oftan Timolol is an antiglaucoma drug. Its active substance - timolol, being a non-selective blocker of beta-adrenergic receptors, does not show internal sympathomimetic and membrane-stabilizing activity. The use of timolol in the form of eye drops helps to reduce the formation of intraocular fluid, which causes a decrease in normal and increased intraocular pressure.
Does not affect pupil size and eye accommodation.
When applied topically, a decrease in intraocular pressure appears after 1/3 hour, after 1–2 hours, the maximum effect occurs, which lasts for 24 hours.
Pharmacokinetics
After instillation of Oftan Timolol into the conjunctival cavity of timolol maleate quickly penetrates through the cornea. The maximum concentration (C max) of timolol in the aqueous humor of the eye is reached after 1–2 hours.
As a result of absorption through the vessels of the conjunctiva, lacrimal tract and nasal mucosa, 80% of timolol enters the systemic circulation. Compared with adults, in children, including newborns, the C max of timolol in blood plasma is significantly higher.
It overcomes the placental barrier, enters breast milk.
It is excreted mainly through the kidneys in the form of metabolites.
Indications for use
ophthalmic hypertension (increased intraocular pressure);
open-angle glaucoma;
secondary glaucoma, including aphakic;
angle-closure glaucoma - as part of combination therapy with miotics to further reduce intraocular pressure;
congenital glaucoma (if the use of other drugs is ineffective).
Contraindications
Absolute:
dystrophic processes in the cornea;
severe form of chronic obstructive airway diseases, including bronchial asthma;
atrioventricular block II – III degree;
sinus bradycardia;
decompensated heart failure;
age up to 18 years;
individual intolerance to the components of the drug.
Oftan Timolol eye drops should be used with caution for the treatment of patients with severe cerebrovascular insufficiency, pulmonary insufficiency, arterial hypotension, heart failure in the stage of compensation, hypoglycemia, diabetes mellitus, thyrotoxicosis, myasthenia gravis, pheochromocytoma, Raynaud's syndrome, atrophic rhinitis, concomitant therapy -adrenergic blockers and psychoactive drugs that increase the release of epinephrine.
During pregnancy and lactation, the administration of the drug is allowed in cases where the expected therapeutic effect for the mother justifies the potential threat to the fetus and child.
Oftan Timolol, instructions for use: method and dosage
Oftan Timolol eye drops are used by instillation into the conjunctival sac of the affected eye.
The recommended dosage for Oftan Timolol 2.5 or 5 mg / ml: initial therapy - 1-2 drops 2 times a day. After normalization of intraocular pressure against the background of regular administration of the drug, the patient is transferred to a maintenance dose, which is 1 drop of the drug once a day in the morning.
The duration of treatment is usually long.
The decision to change the dosage of Oftan Timolol or to interrupt therapy is made by the attending physician.
Side effects
on the part of the cardiovascular system: transient disorders of cerebral circulation, lowering blood pressure (BP), bradycardia, bradyarrhythmia, exacerbation of chronic heart failure, collapse, heart block;
from the respiratory system: shortness of breath, pulmonary insufficiency, bronchospasm;
from the central nervous system: weakness, headache, mood changes, dizziness, confusion, hallucinations, insomnia, painful and painful dreams (onyrodynia), anxiety;
from the genitourinary system: decreased potency, Peyronie's disease;
on the part of the immune system: the development of allergic reactions in the form of a local or generalized rash, itching;
dermatological reactions: exacerbation of psoriasis, psoriasis-like rashes, alopecia;
other undesirable systemic reactions: myasthenia gravis, nasal congestion, nausea, diarrhea, ringing in the ears, chest pain, paresthesia;
local reactions: burning and itching of the eyes, lacrimation, irritation and hyperemia of the conjunctiva, blurred vision, conjunctivitis, edema of the corneal epithelium, hypoesthesia (decreased sensitivity) of the cornea, punctate superficial keratopathy, dry eye syndrome, keratitis, blepharitis; against the background of prolonged use - ptosis, rarely - diplopia; possibly in the postoperative period with penetrating (fistulizing) antiglaucomatous interventions - detachment of the choroid.
Overdose
Symptoms: systemic effects characteristic of beta-blockers, such as nausea, vomiting, headache, dizziness, bronchospasm, arrhythmia, bradycardia.
Treatment: immediate rinsing of the eyes with water or saline is required, in the future, symptomatic therapy is prescribed.
special instructions
In the event of side effects, the patient should contact the attending physician immediately.
With prolonged use, the effect of timolol may be weakened. In this regard, it is recommended to regularly monitor the clinical efficacy of Oftan Timolol, starting approximately 3-4 weeks after the first instillation of drops.
During the treatment period, it is necessary, at least with an interval of 6 months, to conduct a study of the function of lacrimation, the state of the cornea, and an assessment of the magnitude of the visual fields.
Patients with contact lenses should be removed before instillation of the drug; they can be put on again only 15 minutes after the procedure.
Preliminary therapy with miotics can cause a violation of refraction, therefore, when switching to treatment with Oftan Timolol, its correction may be necessary.
Patients with diabetes mellitus should be aware that the use of any beta-blockers can hide the symptoms of low blood sugar.
Influence on the ability to drive vehicles and complex mechanisms
Visual impairment can be observed within 30 minutes after instillation, in addition, side effects from the central nervous system may occur. In this regard, during the period of treatment with Oftan Timolol, patients need to be careful when driving and working with complex mechanisms that require good vision, increased concentration of attention and speed of psychomotor reactions.
Application during pregnancy and lactation
It is allowed to prescribe Oftan Timolol during pregnancy and lactation only in cases where, in the doctor's opinion, the intended effect of therapy for the mother justifies the potential threat to the fetus and child.
Children of mothers who used Oftan Timolol right before childbirth or during breastfeeding require careful monitoring both for several days after birth and throughout the entire period of breastfeeding.
Pediatric use
The use of Oftan Timolol for the treatment of patients under the age of 18 years is contraindicated due to the lack of data on the effectiveness and safety of the drug.
Drug interactions
When using Oftan Timolol in conjunction with other drugs, the following reactions may occur:
eye drops containing adrenaline: dilation of the pupil is possible against the background of a combination of timolol with adrenaline;
eye drops with epinephrine and pilocarpine: help to increase the decrease in intraocular pressure;
other beta-blockers: it is not recommended to instill drops containing another beta-blocker into the same eye;
calcium antagonists, reserpine, systemic beta-blockers: it is possible to increase arterial hypotension and bradycardia with concomitant therapy with these agents;
quinidine, cimetidine: when combined with CYP2D6 inhibitors, the risk of increasing the concentration of timolol in plasma increases;
insulin, oral antidiabetic drugs: hypoglycemia may develop while taking antidiabetic drugs;
muscle relaxants: the effect of muscle relaxants is enhanced, therefore, with elective surgery, the use of eye drops should be discontinued 48 hours before the start of general anesthesia.
Analogs
The analogues of Oftan Timolol are Timolol, Timolol-POS, Timolol-AKOS, Timolol-Teva, Timolol-SOLOfarm, Timolol-Betalek, Timolol-DIA, Arutimol, Glautam, Okumed, Okumol, Okupres-E, Oftan E, Timogel-Rotol, Timolol-Long and others.
Terms and conditions of storage
Keep out of the reach of children.
Store at 15-25 ° C.
The shelf life is 3 years.
After opening, the contents of the bottle are stable for 30 days.
Terms of dispensing from pharmacies
Dispensed by prescription.
Reviews about Oftan Timolol
The few reviews about Oftan Timolol are mostly positive. Patients indicate that the recommended dosing regimen provides a sufficient decrease in intraocular pressure. The use of the drug is not accompanied by the development of adverse events.
Price for Oftan Timolol in pharmacies
The price of Oftan Timolol for a package containing 1 bottle (5 ml) of drops at a dosage of 5 mg / ml can range from 80 rubles.
Oftan Timolol: prices in online pharmacies
Drug name
Price
Pharmacy
Oftan Timolol 0.5% eye drops 5 ml 1 pc.
RUB 40
Buy
Oftan Timolol eye drops 0.5% 5ml
RUB 56
Buy
Oftan Timolol 0.25% eye drops 5 ml 1 pc.
RUB 65
Buy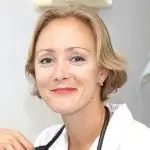 Anna Kozlova Medical journalist About the author
Education: Rostov State Medical University, specialty "General Medicine".
Information about the drug is generalized, provided for informational purposes only and does not replace the official instructions. Self-medication is hazardous to health!
Popular by topic