Table of contents: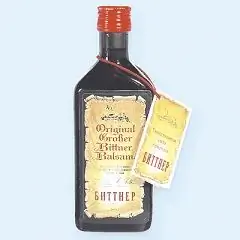 Video: The Original Large Bittner Balm - Instructions For Use, Indications, Doses, Analogues
Bittner's original big balm
Instructions for use:
1. Release form and composition
2. Indications for use
3. Contraindications
4. Method of application and dosage
5. Side effects
6. Special instructions
7. Analogs
8. Terms and conditions of storage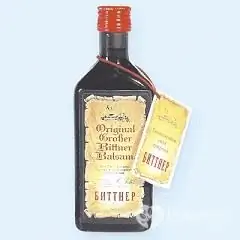 The original large Bittner balm is a combined herbal preparation with immunostimulating and general strengthening effects, indicated for the treatment of a wide range of diseases.
Release form and composition
The drug is produced in the form of a balm with a fragrant odor (in dark glass bottles of 50, 100 and 250 ml, 1 bottle in a cardboard box).
Herbal ingredients in 100 ml of balm:
White ash juice - 136 mg;
Yellow gentian root - 50 mg;
The root of stemless thistle - 68 mg;
Angelica root - 136 mg;
Turmeric rhizomes long - 138 mg;
Root and rhizomes of elecampane high - 2 mg;
Thistle grass - 1.5 mg;
Centaury grass herb - 1.3 mg;
Flowers of the common mullein - 1.4 mg;
Real ginger rhizomes - 1.5 mg;
Peel of sweet orange fruit - 1.1 mg;
Clove flowers - 3 mg;
Calamus rhizome marsh - 4.7 mg;
Nutmeg fruits - 28 mg;
Licorice root - 17 mg;
Cubeba pepper fruits - 1.7 mg;
Bitter orange peel - 3.1 mg;
Yarrow herb - 0.6 mg;
Galangal rhizomes of the present - 1.4 mg;
Rhizomes of German iris - 0.5 mg;
Myrrh gum resinous dried - 70 mg;
Racemic camphor - 95 mg;
Wormwood herb - 3.5 mg;
Curacao orange peel - 3.8 mg;
Real star anise fruits - 4.6 mg;
Teriak - 97 mg;
Three-leaf watch leaves - 12 mg.
Indications for use
Bittner's original big balm is taken internally:
As a sedative for sleep disorders and increased nervous excitability;
During the rehabilitation period as part of complex therapy for cardiovascular diseases;
During recovery after surgery, illness, injury, stress and increased physical and mental stress (as a general tonic);
As an agent that increases the immune defense in secondary immunological deficiency;
With violations of lipid metabolism and hyperlipidemia;
In diseases of the gastrointestinal tract, including chronic gastritis without an exacerbation stage, a tendency to constipation, peptic ulcer disease, biliary dyskinesia.
Topically, the balm is used for post-traumatic pain, insect bites, as well as for the treatment of ENT diseases of the throat and oral cavity.
Contraindications
The use of the original large Bittner balm is contraindicated in renal and hepatic insufficiency, obstructive diseases of the biliary tract and cirrhosis of the liver. Alcoholism, pregnancy, lactation and children under 12 years of age are also contraindications to the use of the drug.
Local medicine is not recommended for use in case of damage and irritation of the skin, dermatological diseases, as well as open and bleeding wounds in places where the balm is applied.
Method of administration and dosage
Bittner's original large balm is taken orally depending on the disease:
When treating the gastrointestinal tract with normal or low acidity, usually 1-2 teaspoons of the undiluted drug are prescribed half an hour before meals 3 times a day. With increased acidity, the balm is recommended to be taken one hour after a meal. Also, Bittner's balm can be diluted in 50-100 ml of water or tea. The treatment course is 1 month;
During the rehabilitation period for diseases of the cardiovascular system, take 2 teaspoons of the balm 3 times a day for a month;
As a fortifying agent after surgery, infectious diseases or injuries, Bittner's balm is taken for 3-4 weeks, 2 teaspoons up to 4 times a day;
After radiation therapy in the recovery period, 2 teaspoons of the balm are prescribed, diluted in 100 ml of water or tea, 3 times a day before meals. Treatment is usually long (up to 3 months).
Bittner's original large balm is applied topically:
Acute inflammatory diseases of the oral cavity and pharynx, as well as exacerbation of chronic diseases (for rinsing the throat and oral cavity, 3 teaspoons of the balm are diluted in a sufficient amount of water);
Inflammatory skin diseases or insect bites (the drug is applied directly to the site of the lesion);
Closed traumatic injuries of soft tissues and arthralgia (it is recommended to apply the balm to the painful area of the skin and rub until completely absorbed, if necessary, then a warming dry compress can be applied).
Side effects
The original large Bittner balm causes side effects in the form of allergic reactions only with individual intolerance to individual components of the drug.
special instructions
With a high level of basal secretion of gastric juice, taking the drug on an empty stomach may be accompanied by mild heartburn or discomfort. In this case, it is recommended to take the balm one hour after a meal.
Do not apply undiluted preparation to open wounds due to the local cauterizing effect of alcohol.
The balm is not prescribed concurrently with drugs, when taking which alcohol is prohibited.
Analogs
According to the mechanism of action, analogues of the original large Bittner balm are: Aloe syrup with iron, Aralia tincture, Doppelgerts Ginseng, Ginseng tincture, Zamanihi tincture, Oat tincture, Apilak, Adaptovit, Panaxel, Trerezan, Sodecor, Rantarina, Biosedontar Sodecor, Ladasten, Befungin, Metaprot, Safinor, Bemaktor, Milife, Pantokrin, Velkornin, Ginrozin, Fitovit.
Terms and conditions of storage
Store in a dark place at temperatures up to 25 ° C.
The shelf life is 5 years.
Information about the drug is generalized, provided for informational purposes only and does not replace the official instructions. Self-medication is hazardous to health!
Popular by topic