Table of contents: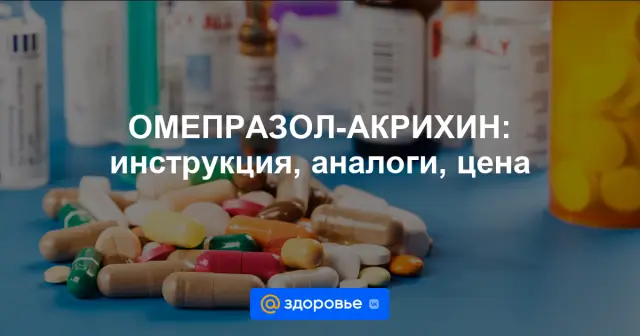 Video: Omeprazole-Akrikhin - Instructions For Use, Price, Reviews, Analogues
Omeprazole-Akrikhin
Latin name: Omeprazol-Akrikhin
ATX code: A02BC01
Active ingredient: omeprazole (omeprazole)
Manufacturer: Open Joint Stock Company "Chemical and Pharmaceutical Plant" AKRIKHIN "(Russia)
Description and photo update: 2018-23-10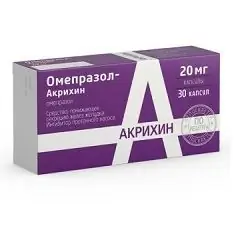 Omeprazole-Akrikhin - a drug that lowers the secretion of stomach glands; proton pump inhibitor.
Release form and composition
Dosage form of the drug Omeprazole-Akrikhin - capsules: size No. 1, gelatinous solid, yellowish-cream body, dark green cap; filled with pellets from creamy or yellowish-white to almost white (10 pcs. in blister strip packs, in a cardboard box 1, 2 or 3 packs).
Composition for one capsule:
active substance (in pellets): omeprazole - 20 mg (8.5%);
auxiliary substances (in pellets): [sucrose, mannitol, sodium lauryl sulfate, sodium hydrogen phosphate (sodium phosphate disubstituted), sodium hydroxide, lactose monohydrate, hypromellose (hydroxypropyl methylcellulose), calcium carbonate, methacrylic acid and ethyl acrylate copolymer (1: propylene glycol, cetyl alcohol, polysorbate-80 (tween-80), titanium dioxide, talc, povidone (polyvinylpyrrolidone)] - 235 mg;
gelatin capsule (body: titanium dioxide, yellow iron oxide, gelatin; cap: titanium dioxide, yellow iron oxide, black iron oxide, indigotin, gelatin) - 76 mg.
Pharmacological properties
Pharmacodynamics
The active component of Omeprazole-Akrikhin - omeprazole, is a proton pump inhibitor, inhibits gastric acid production by inhibiting the activity of hydrogen-potassium adenosine triphosphatase (H + / K + -ATPase) in stomach cells secreting hydrochloric acid and internal Castle factor, thereby blocking the final the stage of secretion of hydrochloric acid. Omeprazole is a prodrug that is activated in the acidic environment of the secretory tubules of glandulocytes. It reduces acid secretion, both basal and stimulated, regardless of the pathogenesis of the stimulus. After taking 20 mg of omeprazole, its antisecretory effect occurs within the first hour, maximum - after 2 hours, inhibition continues up to 50% of the maximum secretion for 24 hours.
Thus, taking the drug once a day provides an effective and rapid decrease in day and night secretion of gastric juice, which reaches its maximum after 4 days from the start of treatment and passes by the end of 3-4 days after the completion of the course of administration. For patients with duodenal ulcer after taking 1 capsule of Omeprazole-Akrikhin (20 mg), intragastric acidity is maintained at a pH of 3.0 for 17 hours.
Pharmacokinetics
The absorption of omeprazole is high. The substance reaches its maximum concentration values in blood plasma in 0.5–3.5 hours, its bioavailability is 30–40%, and in patients with hepatic insufficiency it rises to almost 100%. The drug has a high lipophilicity, due to which it easily penetrates into glandulocytes. It binds to plasma proteins by 90–95%, mainly with albumin and acidic α 1 -glycoprotein.
The half-life of omeprazole is from 0.5 to 1 hour, in patients with hepatic insufficiency, this figure increases to 3 hours. Clearance is 500–600 ml / min. The metabolism of the substance almost completely occurs in the liver with the participation of the CYP2C19 enzyme system, resulting in the formation of several pharmacologically inactive metabolites - sulfide / sulfone derivatives, hydroxyomeprazole, etc. Omeprazole is an inhibitor of the CYP2C19 isoenzyme. The substance is excreted by the kidneys - up to 70–80% and with bile - up to 20–30%.
In patients with chronic renal failure, excretion decreases in proportion to the decrease in creatinine clearance. In old age, the excretion of omeprazole decreases, and its bioavailability increases.
Indications for use
For adult patients, Omeprazole-Akrikhin is recommended to be taken for the treatment / prevention of the following diseases:
reflux esophagitis;
peptic ulcer and 12 duodenal ulcer (including prevention of relapse);
pancreatic adenoma ulcerogenic (Zollinger-Ellison syndrome);
ulcers of the gastrointestinal tract (gastrointestinal tract) of stress genesis;
systemic mastocytosis;
polyendocrine adenomatosis;
gastropathy induced by taking non-steroidal anti-inflammatory drugs (NSAID gastropathy);
eradication of Helicobacter pylori in infected patients with gastric ulcer and duodenal ulcer (as part of complex treatment).
For children aged 2 years and older Omeprazole-Akrikhin is prescribed for the treatment of gastroesophageal reflux disease; for children over 4 years of age, the drug is included in the complex treatment of duodenal ulcer associated with Helicobacter pylori.
Contraindications
Absolute:
rare hereditary diseases: lactose intolerance, lactase deficiency, sucrase / isomaltase deficiency, fructose intolerance, glucose-galactose malabsorption;
simultaneous use with posaconazole, nelfinavir, erlotinib, St. John's wort preparations;
concomitant use with clarithromycin for liver failure;
children under 2 years of age and body weight <20 kg in the treatment of reflux esophagitis and symptomatic therapy of heartburn and sour belching in the treatment of reflux esophagitis;
children under 4 years of age and body weight <31 kg in the treatment of duodenal ulcer caused by Helicobacter pylori;
children and adolescents up to 18 years old for all indications except those indicated above;
increased individual sensitivity to omeprazole or any other ingredients of the drug.
Relative contraindications: according to the instructions, Omeprazole-Akrikhin must be used with caution during pregnancy, osteoporosis, renal / hepatic failure, with a deficiency of cyanocobalamin (vitamin B 12), simultaneously with atazanavir (the dose of omeprazole should not be more than 20 mg per day), itraconazole, clopidogrel, warfarin, diazepam, tacrolimus, cilostazol, phenytoin, saquinavir, voriconazole, clarithromycin, rifampicin.
Caution should also be observed when taking Omeprazole-Akrikhin with a significant decrease in body weight, repeated vomiting, vomiting with blood, impaired swallowing, discoloration of feces (tarry stools).
Instructions for the use of Omeprazole-Akrikhin: method and dosage
Omeprazole-Akrikhin capsules are taken orally, mainly in the morning, before breakfast or directly during meals, without chewing and drinking a little water.
Dosing regimen according to indications for adult patients:
exacerbation of peptic ulcer disease, reflux esophagitis and NSAID gastropathy: 20 mg 1 time per day; in severe reflux esophagitis, the dose is increased to 40 mg per day. The duration of the course of therapy for duodenal ulcer disease is 2-3 weeks, if necessary, it can be extended to 4-5 weeks, gastric ulcer and reflux esophagitis - 4-8 weeks;
peptic ulcer and 12 duodenal ulcer, reflux esophagitis in patients resistant to other antiulcer drugs: 40 mg per day. The duration of the course of therapy for duodenal ulcer disease - 4 weeks, gastric ulcer and reflux esophagitis - 8 weeks;
Zollinger-Ellison syndrome: 60 mg per day, if necessary, the dose is increased to 80-120 mg per day, divided into 2-3 doses;
relapses of peptic ulcer disease (for prophylaxis) - 20 mg 1 time per day;
eradication of Helicobacter pylori, triple therapy: within 7 days - Omeprazole-Akrikhin 20 mg + amoxicillin 1000 mg + clarithromycin 500 mg - 2 times a day, or Omeprazole-Akrikhin 20 mg + clarithromycin 250 mg + metronidazole 400 mg - 2 times per day, or Omeprazole-Akrikhin 40 mg 1 time per day + amoxicillin 500 mg 3 times a day + metronidazole 400 mg 3 times a day;
eradication of Helicobacter pylori, double therapy: within 14 days - Omeprazole-Akrikhin 20-40 mg + amoxicillin 750 mg - 2 times a day, or Omeprazole-Akrikhin 40 mg once a day + clarithromycin 500 mg 3 times a day or amoxicillin 750-1500 mg 2 times a day.
Dosing regimen of Omeprazole-Akrikhin according to indications for children:
gastroesophageal reflux disease (children over 2 years old with body weight> 20 kg) - 20 mg 1 time per day; if necessary, the dose is increased to 40 mg once a day. The duration of the course of therapy is 28–56 days;
duodenal ulcer associated with Helicobacter pylori, as part of complex treatment (children over 4 years old with body weight> 31 kg): 20 mg 2 times a day in combination with amoxicillin and clarithromycin. The duration of the course of therapy is 7 days. Amoxicillin and clarithromycin are used in accordance with the instructions for these drugs.
Side effects
The frequency of side effects according to the WHO (World Health Organization): very often - ≥ 0.1; often - 0.01-0.1; infrequently - 0.001–0.01, rarely - 0.001–0.0001, extremely rarely - <0.0001; with unknown frequency - it is not possible to establish the frequency from the available data.
Systemic organ classification of adverse reactions:
blood and lymphatic system: rarely - thrombocytopenia, leukopenia; extremely rare - pancytopenia, agranulocytosis; with an unknown frequency - eosinophilia;
immune system: rarely - hypersensitivity reactions (angioedema, fever, anaphylactic reaction and / or anaphylactic shock);
metabolism and nutrition: rarely - hyponatremia; with an unknown frequency - hypomagnesemia;
nervous system: often - headache; infrequently - paresthesia, dizziness, drowsiness; rarely - taste disturbance;
psyche: infrequently - insomnia; rarely - confusion, agitation, depression; extremely rare - hallucinations, aggression;
organ of hearing and labyrinthine disorders: infrequently - vertigo;
organ of vision: rarely - blurred vision;
respiratory system, chest and mediastinal organs: rarely - bronchospasm;
Gastrointestinal tract: often - abdominal pain, diarrhea, flatulence, constipation, nausea / vomiting; rarely - stomatitis, dry mouth, microscopic colitis, candidiasis of the gastrointestinal tract;
liver and bile ducts: infrequently - an increase in the activity of liver enzymes; rarely - hepatitis (including jaundice); extremely rare - liver failure, in patients with liver disease - encephalopathy;
skin and subcutaneous tissues: infrequently - dermatitis, rash, itching, urticaria; rarely - photosensitivity, alopecia; extremely rare - Stevens-Johnson syndrome, erythema multiforme, Lyell's syndrome;
musculoskeletal and connective tissue: infrequently (mainly in elderly patients) - fracture of the bones of the wrist, hip, vertebrae; rarely - myalgia, arthralgia; extremely rare - myasthenia gravis;
kidneys and urinary tract: rarely - interstitial nephritis;
genitals and mammary gland: extremely rare - gynecomastia;
general disorders: rarely - malaise, peripheral edema; infrequently - hyperhidrosis.
Overdose
Symptoms of an Omeprazole-Akrikhin overdose are blurred vision, confusion, drowsiness, headache, dry mouth, nausea, arrhythmia, tachycardia.
For the treatment of the condition, relief of symptoms is recommended. In this case, hemodialysis is not effective enough.
special instructions
Before starting therapy, the presence of malignant pathologies should be excluded, especially with gastric ulcer, since treatment with Omeprazole-Akrikhin, masking symptoms, can delay the correct diagnosis.
Elevated plasma levels of chromogranin A (CgA) due to omeprazole therapy may affect the results of examinations in order to detect neuroendocrine neoplasms. To prevent such an effect, the administration of omeprazole must be temporarily stopped 5 days before the determination of the CgA concentration.
With prolonged therapy with omeprazole, for at least 3 months, some patients had severe hypomagnesemia, manifested by increased fatigue, delirium, convulsions, dizziness and ventricular arrhythmia. In most episodes, after discontinuation of proton pump inhibitors and administration of magnesium preparations, hypomagnesemia was stopped. With planned long-term therapy, or in the case of prescribing omeprazole with digoxin, as well as other drugs theoretically capable of causing hypomagnesemia (for example, diuretics), an assessment of the magnesium content in the body and periodic monitoring of the indicator during treatment is required before the start of the course.
Like all substances that reduce acidity, omeprazole can reduce the absorption of cyanocobalamin (vitamin B 12), which should be taken into account in long-term treatment of patients with a reduced supply or the presence of risk factors for malabsorption.
Episodes of formation of gastric glandular cysts during prolonged therapy with proton pump inhibitors due to inhibition of hydrochloric acid secretion were recorded. The phenomenon is of a benign transient nature.
A decrease in the secretion of hydrochloric acid in the stomach under the influence of proton pump inhibitors or other agents leads to an increase in the growth of normal intestinal microflora, which may cause a slight increase in the risk of developing intestinal infections caused by bacteria of the genus Campylobacter spp. and Salmonella spp., and Clostridium difficile in hospitalized patients.
Influence on the ability to drive vehicles and complex mechanisms
There are no data on the effect of Omeprazole-Akrikhin on concentration and speed of psychomotor reactions. However, one should take into account the possibility of such adverse reactions of the drug as blurred vision, dizziness and drowsiness, and therefore, be careful when driving a car or other complex mechanisms.
Application during pregnancy and lactation
According to the research results, the absence of an adverse effect of omeprazole on the course of pregnancy, the health of the fetus and the newborn has been proven. As a result, Omeprazole-Akrikhin is approved for use during gestation. The drug should be used with caution.
Omeprazole passes into breast milk, but when used in therapeutic doses, its effect on a child is unlikely. Omeprazole-Akrikhin is approved for use during lactation (breastfeeding).
Pediatric use
In pediatric practice, Omeprazole-Akrikhin is used according to indications, taking into account age restrictions.
With impaired renal function
Patients with renal insufficiency do not need Omeprazole-Akrikhin correction, the drug should be used with caution.
For violations of liver function
For patients with hepatic insufficiency, Omeprazole-Akrikhin is prescribed in a dose of not more than 20 mg per day, the drug should be used with caution.
Use in the elderly
Elderly patients (65 years and older) do not need dose adjustment.
Drug interactions
With simultaneous use with Omeprazole-Akrikhin:
erlotinib, ketoconazole, iron preparations, itraconazole, posaconazole, cyanocobalamin (drugs whose bioavailability is largely determined by the acidity of gastric juice): an increase or decrease in their absorption is possible;
atazanavir, nelfinavir: their concentration in blood plasma can be significantly reduced;
saquinavir, ritonavir: there is an increase in their plasma concentration up to 70%, while the tolerance of therapy by patients with HIV infection does not deteriorate;
Digoxin (with 20 mg of omeprazole): increases its bioavailability by 10%; simultaneous use in elderly patients requires caution;
warfarin (R-warfarin), other vitamin K antagonists, cilostazol, diazepam, phenytoin, as well as drugs metabolized in the liver by the isoenzyme CYP2C19: an increase in their plasma concentration and an increase in the half-life time is possible (may require a reduction in doses of these drugs);
warfarin, other vitamin K antagonists (long-term use): concomitant treatment with omeprazole at a dose of 20 mg per day can lead to a change in the coagulation time, which requires control of the international normalized ratio (INR), and in some cases - a decrease in the dose of warfarin or others antagonists of vitamin K. Omeprazole in a daily dose of 40 mg once increased the maximum plasma concentration and AUC of cilostazol (area under the concentration-time curve) by 18% and 26%, respectively, and for one of its active metabolites the increase was 29% and 69% respectively;
clopidogrel: when used together, its plasma concentration decreases on the first day by 46%, on the fifth day - by 42%; the use of such a combination should be avoided with consideration of alternative methods of antiplatelet therapy;
tacrolimus: omeprazole increases its plasma concentration, dose adjustment may be required; in combination therapy, the plasma concentration of tacrolimus and renal function (creatinine clearance) should be carefully monitored;
rifampicin, St. John's wort preparations, other inducers of isoenzymes CYP3A4 and CYP2C19: can increase the metabolism of omeprazole, thereby reducing the plasma concentration and its therapeutic effect;
methotrexate: a slight increase in its concentration in blood plasma is possible; if it is necessary to use high doses of methotrexate, it is recommended to temporarily stop taking Omeprazole-Akrikhin;
clarithromycin, erythromycin: increase the plasma concentration of omeprazole;
amoxicillin, metronidazole: do not affect the concentration of omeprazole in the blood;
caffeine, piroxicam, theophylline, diclofenac, metoprolol, naproxen, propranolol, ethanol, lidocaine, cyclosporine, quinidine and estradiol: prolonged use with omeprazole at a dose of 20 mg once a day did not lead to a change in their plasma concentration;
antacids: no interaction with omeprazole was observed.
Analogs
Analogs of Omeprazole-Akrikhin are: Dactanol, Dactarin, Mikozon, Gino-Dactanol, etc.
Terms and conditions of storage
Store at temperatures up to 25 ° C in a dark place. Keep out of the reach of children.
Shelf life is 2 years.
Terms of dispensing from pharmacies
Available without a prescription.
Reviews of Omeprazole-Akrikhin
In reviews of Omeprazole-Akrikhin, it is reported that this is an inexpensive, effective, affordable drug that helps well with diseases of the gastrointestinal tract, treats the cause of heartburn, and is well tolerated. Many consider it to be an excellent replacement for expensive analogs.
In rare cases, the chemical composition of the drug and a large number of possible side reactions are indicated as disadvantages.
Price for Omeprazole-Akrikhin in pharmacies
The approximate price of Omeprazole-Akrikhin (capsules in a dosage of 20 mg, 30 pcs. In a package) is from 50 to 60 rubles.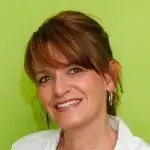 Maria Kulkes Medical journalist About the author
Education: First Moscow State Medical University named after I. M. Sechenov, specialty "General Medicine".
Information about the drug is generalized, provided for informational purposes only and does not replace the official instructions. Self-medication is hazardous to health!
Popular by topic