Table of contents:
Video: Oxyprogesterone Capronate - Instructions For Use, Reviews, Price
Oxyprogesterone capronate
Oxyprogesterone capronate: instructions for use and reviews
1. Release form and composition
2. Pharmacological properties
3. Indications for use
4. Contraindications
5. Method of application and dosage
6. Side effects
7. Overdose
8. Special instructions
9. Application during pregnancy and lactation
10. Use in childhood
11. In case of impaired renal function
12. For violations of liver function
13. Drug interactions
14. Analogs
15. Terms and conditions of storage
16. Terms of dispensing from pharmacies
17. Reviews
18. Price in pharmacies
Latin name: Oxyprogesteroni caproas
ATX code: G03DA03
Active ingredient: hydroxyprogesterone caproate (Hydroxyprogesterone caproate)
Manufacturer: Dalkhimpharm (Russia); Biopharma, JSC (Ukraine)
Description and photo update: 03.10.2019
Prices in pharmacies: from 859 rubles.
Buy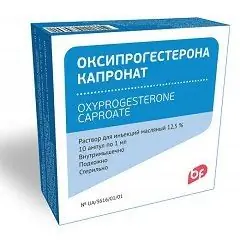 Oxyprogesterone capronate is a synthetic analogue of the corpus luteum hormone, which has the biological activity of progesterone.
Release form and composition
The drug is produced in the form of an oily solution for intramuscular administration: a clear light yellow or golden yellow oily liquid [1 ml in ampoules made of neutral glass, in blisters made of polyvinyl chloride film, 5 ampoules, in a cardboard box 2 blister packs (in cardboard box of 10 ampoules), instructions for the use of Oxyprogesterone capronate and ampoule knife / scarifier; if there is a notch, ring or breakpoint on the ampoules, the ampoule knife / scarifier may not be inserted].
Composition for 1 ampoule (1 ml solution):
active ingredient: hydroxyprogesterone caproate - 125 mg;
auxiliary components: medical benzyl benzoate - 0.3 ml; olive oil - up to 1 ml.
Pharmacological properties
Pharmacodynamics
As an active component, Oxyprogesterone capronate contains a synthesized artificial analogue of progesterone (ovarian corpus luteum hormone) - hydroxyprogesterone caproate. Chemically, it differs from progesterone in the content of the caproic acid residue at position 17. Being an ester of hydroxyprogesterone, it is metabolized more slowly than progesterone, as a result of which it has a longer pharmacological effect.
The effect of the use of an oil solution as a result of its single intramuscular administration is similar in biological properties to progesterone and lasts 1–2 weeks. The mechanism of action of Oxyprogesterone capronate is based on the effect of the substance on the synthesis of ribonucleic acid (RNA) by regulating the transcription of deoxyribonucleic acid (DNA) through penetration into the nucleus after binding with receptors on the surface of cells of target organs.
Thanks to Oxyprogesterone capronate, the mucous membrane of the uterus passes from the proliferation phase, excited by follicle-stimulating hormone, into the secretory one. After fertilization, this creates the necessary conditions for implantation into the lining of the uterus and the further development of a fertilized egg. The drug inhibits excitability, reduces the contractility of the myometrium and the muscle walls of the fallopian tubes, and also has a stimulating effect on the development of the alveoli of the mammary glands.
Pharmacokinetics
Hydroxyprogesterone caproate is rapidly and almost completely absorbed after intramuscular injection.
The hormone is metabolized in the liver, as a result of which it forms conjugates with sulfuric and glucuronic acids.
T 1/2 (half-life) is ~ 5 minutes. The drug is excreted in the urine (50-60%) and bile (more than 10%). The amount of metabolites excreted by the kidneys depends on the phase of the corpus luteum.
Indications for use
Oxyprogesterone capronate is recommended for use in women for the treatment of conditions associated with corpus luteum insufficiency:
DMC (dysfunctional uterine bleeding);
amenorrhea (primary / secondary).
Contraindications
The absolute contraindications for the use of Oxyprogesterone nylon are:
liver failure;
hepatitis;
carcinoma of the genital organs and / or breast;
thrombophilia;
children and adolescents up to 15 years old;
second half of pregnancy;
breast-feeding;
hypersensitivity to any components of the oil solution.
Relative contraindications for which Oxyprogesterone capronate is recommended to be used with caution are arterial hypertension, diseases of the cardiovascular system, chronic renal failure, bronchial asthma, diabetes mellitus, epilepsy, depression, migraines, hyperlipoproteinemia.
Therapy is usually combined with the appointment of estrogenic hormonal drugs or carried out immediately after replacement treatment with estrogen.
Oxyprogesterone capronate, instructions for use: method and dosage
Oxyprogesterone capronate oil solution is intended exclusively for intramuscular administration. Before injection, the ampoule with the drug must be heated to 30–40 ° C.
Recommended dosage:
DMC (to normalize the cycle): 62.5–125 mg (0.5–1 ml) on the 20–22 day of the cycle; it should be borne in mind that Oxyprogesterone capronate is less convenient than progesterone, since it acts more slowly;
amenorrhea (primary / secondary): 250 mg once or in two doses, immediately after completion of estrogen therapy.
Side effects
CNS (central and peripheral nervous system): headache, drowsiness, apathy, depression, dysphoria;
cardiovascular system: an increase in blood pressure, thromboembolism (including cerebral and / or pulmonary artery vessels), peripheral edema, retinal vein thrombosis, thrombophlebitis;
digestive system: nausea, vomiting, cholestatic hepatitis, loss of appetite, calculous cholecystitis;
genitourinary system: menstrual irregularities, decreased libido;
sense organs: visual impairment;
endocrine system: alopecia, galactorrhea, weight gain, hirsutism, breast enlargement, pain and tension in the mammary gland;
immune system: hypersensitivity reactions;
local responses: soreness at the injection site.
Overdose
Symptoms of an overdose of hydroxyprogesterone caproate can be CNS depression, tachycardia, drowsiness, increased blood pressure, weakness, hyperhidrosis.
It is recommended to stop using Oxyprogesterone capronate until symptoms disappear. In the future, therapy is continued with the use of smaller doses. If necessary, symptomatic treatment is prescribed.
special instructions
In case of visual detection of partial crystallization of the contents of the ampoule (precipitation of crystals) or crystallization of the entire solution, the ampoule must be heated in a boiling water bath, shaking occasionally. The drug is again suitable for use if the crystals completely disappeared after heating the ampoule, the solution regained its former transparency, and crystallization did not occur again when it was cooled to 36–38 ° С.
The drug should be prescribed only by the attending physician, after an accurate diagnosis, provided that the therapy is carried out under his control.
If Oxyprogesterone capronate is used for the treatment of amenorrhea in pediatric patients, this diagnosis must be verified.
Therapy prior to puberty should be directed towards stimulating growth. Girls over 15-17 years old can be treated with HRT (hormone replacement therapy) with both estrogens and gestagens, but it must be borne in mind that HRT can cause cyclical uterine bleeding.
Influence on the ability to drive vehicles and complex mechanisms
Oxyprogesterone capronate can cause side effects that can affect concentration and psychomotor speed. In this regard, caution should be exercised while driving vehicles, while at potentially dangerous facilities (industries) and performing all types of work related to them.
Application during pregnancy and lactation
The drug should not be used during pregnancy.
If conception occurred during therapy, you must immediately interrupt the course. There is no evidence of the need for termination of pregnancy.
Oxyprogesterone capronate is contraindicated in the second half of pregnancy and during breastfeeding.
Pediatric use
In pediatric practice, the use of a hormonal drug for the treatment of girls and adolescent girls under the age of 15 is contraindicated.
With impaired renal function
Oxyprogesterone capronate is used with caution in chronic renal failure.
For violations of liver function
It is contraindicated to use Oxyprogesterone capronate in patients with hepatic insufficiency and hepatitis.
Drug interactions
pituitary gonadotropic hormones; oxytocin and other drugs that stimulate myometrium contraction; nandrolone and other anabolic steroids: hydroxyprogesterone caproate weakens the effect of these drugs;
diuretics, antihypertensive drugs, immunosuppressants, bromocriptine: when combined with hydroxyprogesterone capronate, their effectiveness increases;
anticoagulants: their pharmacological action decreases;
rifampicin, barbiturates, hydantoins, other inducers of enzymes of microsomal oxidation in the liver: reduce the gestagenic activity of Oxyprogesterone capronate.
Analogs
Analogs of Oxyprogesterone capronate are Duphaston, Progesterone, Oxyprogesterone capronate solution for injection in oil, Utrozhestan, etc.
Terms and conditions of storage
Store at a temperature of 5-25 ° C in a dark place. Keep out of the reach of children.
The shelf life of the oil solution is 5 years.
Terms of dispensing from pharmacies
Dispensed by prescription.
Reviews of hydroxyprogesterone capronate
Few reviews of Oxyprogesterone capronate indicate the high effectiveness of the drug when used according to indications. Patients note that the injection is very painful, and therefore it is recommended to do it a few hours before bedtime, so that the pain has time to subside and does not interfere with falling asleep. It is advised to introduce the solution slowly, the ampoules must be well heated to the required temperature.
In some cases, in addition to pain at the injection site, no other adverse reactions were noted. But there is information about bloody discharge throughout the course of therapy, severe pain in the lower abdomen and problems with veins, which have turned into thrombophlebitis with the need to remove a blood clot.
The cost of hydroxyprogesterone capronate is called quite high.
Price for Oxyprogesterone capronate in pharmacies
The approximate price of Oxyprogesterone capronate, oil solution for injection, 12.5%, for a package of 10 ampoules of 1 ml each is from 764 to 951 rubles.
Oxyprogesterone capronate: prices in online pharmacies
Drug name
Price
Pharmacy
Oxyprogesterone capronate 125 mg / ml solution for intramuscular administration (oil) 1 ml 10 pcs.
859 r
Buy
Oxyprogesterone capronate solution for in. oil 12.5% 1ml 10 pcs.
1086 RUB
Buy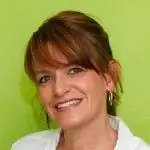 Maria Kulkes Medical journalist About the author
Education: First Moscow State Medical University named after I. M. Sechenov, specialty "General Medicine".
Information about the drug is generalized, provided for informational purposes only and does not replace the official instructions. Self-medication is hazardous to health!
Popular by topic