Table of contents: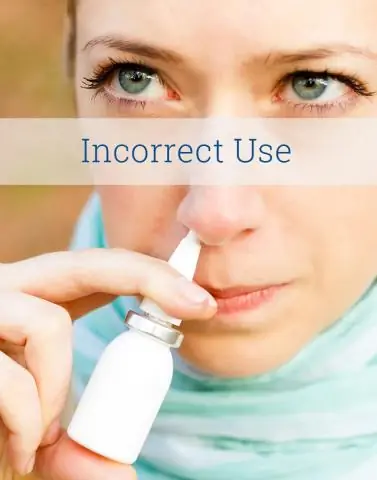 Video: Ropaxim - Instructions For The Use Of Nasal Spray, Reviews, Price
Ropaxim
Ropaxim: instructions for use and reviews
1. Release form and composition
2. Pharmacological properties
3. Indications for use
4. Contraindications
5. Method of application and dosage
6. Side effects
7. Overdose
8. Special instructions
9. Application during pregnancy and lactation
10. Use in childhood
11. In case of impaired renal function
12. For violations of liver function
13. Use in the elderly
14. Drug interactions
15. Analogs
16. Terms and conditions of storage
17. Terms of dispensing from pharmacies
18. Reviews
19. Price in pharmacies
Latin name: Ropaxim
ATX code: R01AB06
Active ingredient: ipratropium bromide (Ipratropium bromide) + xylometazoline (Xylometazoline)
Manufacturer: LLC "Grotex" (Russia)
Description and photo update: 2019-20-12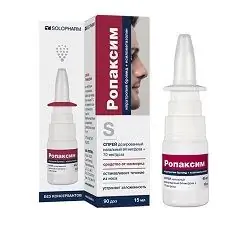 Ropaxime is a decongestant drug used in ENT practice as a vasoconstrictor drug.
Release form and composition
The drug is produced in the form of a dosed nasal spray, which is a clear liquid, slightly colored or colorless [in polyethylene bottles equipped with a dosing nozzle, 10 ml (60 doses) or 15 ml (90 doses) each, in a cardboard box 1 bottle and instructions for use Ropaxim].
One dose of the drug contains:
active ingredients: ipratropium bromide (in the form of monohydrate) - 84 mcg, xylometazoline (in the form of hydrochloride) - 70 mcg;
additional substances: anhydrous glycerol - 3320 mcg; edetate disodium dihydrate - 70 mcg; 1M sodium hydroxide solution or 1M hydrochloric acid solution - to pH 3.7–4.7; water for injection - up to 140 μl.
Pharmacological properties
Pharmacodynamics
The pharmacological action of Ropaxim is due to the properties of the two active components that make up its composition:
ipratropium bromide: has an anticholinergic effect; the intranasal route of administration provides a decrease in nasal secretion, stopping the flow from the nose due to competitive inhibition of cholinergic receptors located in the epithelium of the nasal cavity. Application in therapeutic concentrations does not cause irritation of the mucous membrane and its hyperemia;
xylometazoline: is a local vasoconstrictor (belongs to the group of decongestants) with alpha-adrenomimetic action; relieves swelling and hyperemia of the nasopharyngeal mucosa, causing narrowing of the blood vessels of the nasal mucosa; eliminates congestion, facilitating nasal breathing with rhinitis.
The action of Ropaxim begins 5-10 minutes after the application and lasts 6-8 hours.
Pharmacokinetics
Intranasal administration of Ropaxim promotes low absorption of active ingredients. Both ipratropium bromide and xylometazoline are found in plasma only in small amounts.
Indications for use
Ropaxime is used in the treatment of acute respiratory disease, accompanied by a runny nose (rhinitis) with nasal congestion; sinusitis, hay fever, acute allergic rhinitis, as well as for the symptomatic treatment of edema and hyperemia of the nasal cavity.
Contraindications
Absolute:
atrophic rhinitis;
thyrotoxicosis;
tachycardia;
arterial hypertension;
glaucoma;
severe atherosclerosis;
condition after surgical interventions on the membranes of the brain (in history), transsphenoidal hypophysectomy;
age up to 18 years;
During pregnancy and breastfeeding;
therapy with tri- and tetracyclic antidepressants or monoamine oxidase (MAO) inhibitors, including a 2-week period after their withdrawal;
established sensitivity to atropine or similar compounds (for example, to scopolamine, hyoscyamine);
hypersensitivity to the constituents of the drug.
Relative (Ropaxim should be used, taking precautions):
angina pectoris III and IV functional class;
diseases of the cardiovascular system, including ischemic heart disease (ischemic heart disease);
porphyria;
stenosis of the interureteral fold;
hyperplasia of the prostate;
obstruction of the bladder neck;
pheochromocytoma;
hyperthyroidism;
diabetes.
In addition, caution is required when prescribing Ropaxim nasal spray to patients who have a predisposition to nosebleeds or hypersensitivity to adrenergic drugs, since the latter can lead to the development of undesirable symptoms [increased blood pressure (BP), dizziness, arrhythmia, tremor of skeletal muscles, sleep disturbance, paralytic intestinal obstruction], as well as for patients with cystic fibrosis.
Patients who have a history of immediate hypersensitivity reactions (bronchospasm, laryngeal edema, angioedema, rash, urticaria, anaphylactic reactions) should be careful when using a nasal spray.
In the presence of any of the above diseases, it is necessary to consult a specialist before using Ropaxim.
Ropaxim, instructions for use: method and dosage
Spray Ropaxim is used intranasally.
Recommended dosage for patients over 18 years of age: three times a day, 1 injection in each nasal passage. The interval between injections should not be less than 6 hours.
Without consulting a doctor, Ropaxim can be used for no more than 7 days (maximum duration of therapy).
If the symptoms of the disease were stopped earlier, the drug should be discontinued in order to minimize the risk of developing adverse events. So, with prolonged use of xylometazoline, the so-called phenomenon of rebound or withdrawal syndrome (manifested by edema of the nasal mucosa and increased secretion) may develop, due to cell hypersensitivity to the active components of Ropaxim.
Before the first use of the spray, it is necessary to press the pump dispenser several times until the full dose of the product is received. In the future, it is not necessary to additionally activate the dosing device. In case of uneven dosing of the spray or a break in the use of the drug, which lasted more than 9 days, you should repeatedly press the pump dispensing device in order to activate it until the full dose is released.
The content of active components in one injection is: ipratropium bromide - 84 μg, xylometazoline - 70 μg.
Side effects
Classification of adverse reactions to the use of Ropaxim from systems and organs on a scale of development frequency corresponding to the standards of the World Health Organization (very often - from 1/10 and above; often - from 1/100 to 1/10; infrequently - from 1/1000 to 1/100; rarely - from 1/10 000 to 1/1000; very rarely - less than 1/10 000, including individual messages; with an unknown frequency - it is not possible to calculate the frequency of reactions based on the available data):
respiratory system, chest and mediastinal organs: very often - dryness and / or irritation of the nasopharyngeal mucosa, nosebleeds; often - sneezing, nasal hypersecretion, nasal congestion (with prolonged and / or too frequent use of Ropaxim), tingling / burning sensation, rhinorrhea, rhinalgia, sore / dry throat; infrequently - dysphonia, throat pain, cough, ulcer of the nasal mucosa; with an unknown frequency - swelling of the pharynx, spasm of the larynx, discomfort in the area of the paranasal sinuses;
cardiovascular system: infrequently - arterial hypertension, heart palpitations, supraventricular tachycardia; very rarely - an arrhythmic pulse; with an unknown frequency - atrial fibrillation;
central nervous system (CNS): often - headache, taste disturbances; infrequently - tremor, dizziness, impaired sense of smell; very rarely - hallucinations, convulsions, insomnia;
immune system: with an unknown frequency - hypersensitivity reactions (itching, rash, angioedema, laryngospasm, anaphylactic reaction);
digestive system: often - dry mouth; infrequently - nausea, dyspepsia; with an unknown frequency - difficulty swallowing;
kidneys and urinary tract: with an unknown frequency - difficulty urinating;
skin and subcutaneous tissues: with an unknown frequency - urticaria / skin rash, itching;
organ of vision: infrequently - dry eyes, eye irritation; with an unknown frequency - deterioration in closed-angle glaucoma, photopsia, pupil dilation, increased intraocular pressure, halo effect (the presence of rainbow circles in the field of view around the light source), mydriasis, impaired clarity of visual perception, eye pain;
general disorders: infrequently - fatigue, discomfort; with an unknown frequency - thirst, a feeling of discomfort in the chest.
In case of aggravation of any of the above side effects or the development of undesirable phenomena not specified in the instructions for Ropaxim, you should inform your doctor.
Overdose
Since, with intranasal administration, both xylometazoline and ipratropium bromide are absorbed into the bloodstream in small quantities, an acute overdose of Ropaxim is unlikely.
Overdose symptoms typical for each of the active substances separately:
ipratropium bromide: tachycardia, dry mouth, difficulty in accommodation; in case of taking an excessive dose inside, it is possible to develop symptoms associated with the anticholinergic action of the drug from the central nervous system, in particular hallucinations (cholinesterase inhibitors are used to stop this phenomenon);
xylometazoline: a decrease in body temperature, sweating, nausea, headache, dizziness, arterial hypertension (may be replaced by arterial hypotension), bradycardia, disturbance of accommodation, convulsions, respiratory depression, coma.
Treatment with the development of the above symptoms is symptomatic, carried out under the supervision of a doctor. If you suspect an overdose, you must urgently take appropriate action. They include compulsory observation of the patient's condition for at least 6 hours. In case of severe poisoning, accompanied by cardiac arrest, resuscitation should be continued for 1 hour (at least).
special instructions
Before using Ropaxim spray, you should clean the nasal passages.
Long-term use of the drug, for example, for the treatment of chronic rhinitis, is not recommended. This is due to the presence of xylometazoline in its composition, which, with prolonged use, can cause the so-called rebound effect (swelling of the nasal mucosa and increased secretion), due to cell hypersensitivity to the active substances of the Ropaxim nasal spray. In order to minimize the risk of developing such phenomena, treatment should be discontinued as soon as the symptoms of the disease are stopped.
Do not allow the spray to come into contact with the eyes or the area around the eyes. In case of accidental contact, temporary blurred vision, the appearance of pain, irritation and redness of the eyes, exacerbation of angle-closure glaucoma are possible. It is necessary to immediately rinse the eyes with plenty of cold water and in case of blurred vision or pain in the eyes, consult a specialist for advice.
Influence on the ability to drive vehicles and complex mechanisms
When using Ropaxim, cases of dizziness, visual impairment (including dilated pupil, blurred vision), fatigue were noted. Patients should be advised to refrain from driving and other mechanisms when such symptoms appear, as well as from any other activities that require increased concentration of attention (in order to reduce the risk both for the patients themselves and for other people).
Application during pregnancy and lactation
For pregnant and breastfeeding women, the use of Ropaxim spray is contraindicated.
Pediatric use
Ropaxim spray is not prescribed to patients under the age of 18.
With impaired renal function
There are no special conditions for the use of Ropaxim for patients with impaired renal function.
For violations of liver function
There are no special conditions for the use of Ropaxim for patients with impaired hepatic function.
Use in the elderly
Patients under the age of 70 years use Ropaxim spray according to the recommendations set out in this instruction. The experience of using the drug in patients over 70 years of age is limited.
Drug interactions
The simultaneous use of the drug with tri- and tetracyclic antidepressants, monoamine oxidase (MAO) inhibitors, including the previous 2-week period, is prohibited, since the combined use of these drugs and Ropaxim can enhance the sympathomimetic effect of xylometazoline.
Sympathomimetic drugs cause the release of catecholamines (including norepinephrine, which has a vasoconstrictor effect), thereby increasing blood pressure. If there is a significant increase in blood pressure, the use of the spray should be discontinued and the patient should be prescribed symptomatic treatment.
The anticholinergic effect of ipratropium bromide can be enhanced by the combined use of other drugs with anticholinergic activity.
The above interactions were studied separately for each active ingredient of the drug Ropaxim, in combination for both active ingredients (ipratropium bromide + xylometazoline), they were not studied.
Analogs
Ropaxim's analogues are Xymelin Extra, Otrivin Complex, Aqua Maris Plus, Aqua Maris Strong, Xilong, Nazik, Nazik for children, Naximin, Rinofluimucil, etc.
Terms and conditions of storage
Keep out of the reach of children. The temperature at the storage location should not exceed 25 ° C.
The shelf life is 3 years.
Terms of dispensing from pharmacies
Available without a prescription.
Reviews about Ropaxim
Experts say that the vasoconstrictor effect that the spray produces is pronounced, fast and long-lasting. In addition, they attribute to the advantages of this drug an intelligent spray system, thanks to which the spray, despite the absence of preservatives in the composition, remains sterile throughout the shelf life, and also works in any position and provides maximum irrigation of the nasal mucosa.
Since the drug was registered in the State Register of Medicines less than a year ago, there are no patient reviews about Ropaxime yet.
The price of Ropaxim in pharmacies
The price of Ropaxim, dosed nasal spray 84 mcg / dose + 70 mcg / dose, ranges from 180 to 295 rubles. per bottle of 15 ml.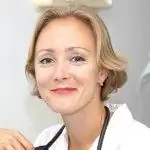 Anna Kozlova Medical journalist About the author
Education: Rostov State Medical University, specialty "General Medicine".
Information about the drug is generalized, provided for informational purposes only and does not replace the official instructions. Self-medication is hazardous to health!
Popular by topic