Table of contents: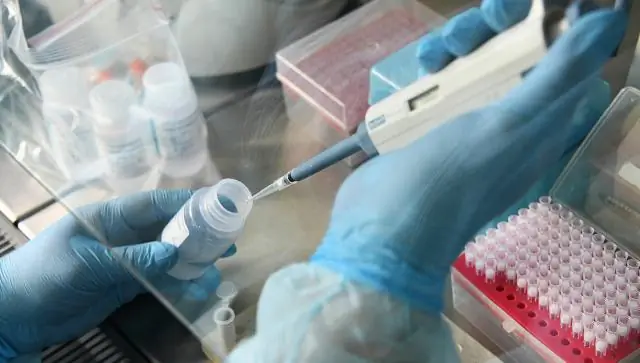 Video: Ridostin - Instructions For Use, Price, Reviews, Analogues
Ridostin
Ridostin: instructions for use and reviews
1. Release form and composition
2. Pharmacological properties
3. Indications for use
4. Contraindications
5. Method of application and dosage
6. Side effects
7. Overdose
8. Special instructions
9. Application during pregnancy and lactation
10. Use in childhood
11. In case of impaired renal function
12. For violations of liver function
13. Drug interactions
14. Analogs
15. Terms and conditions of storage
16. Terms of dispensing from pharmacies
17. Reviews
18. Price in pharmacies
Latin name: Ridostin
ATX code: L03A
Active ingredient: sodium ribonucleate (ribonucleate sodium)
Manufacturer: Diafarm (Russia)
Description and photo update: 2018-21-11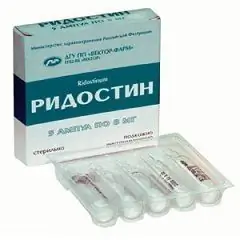 Ridostin is an immunostimulating agent with antibacterial, antiviral and anti-inflammatory effects.
Release form and composition
Dosage form - lyophilisate for preparation of a solution for intramuscular (i / m) and subcutaneous (s / c) administration: lyophilized porous hygroscopic mass of white [8 mg (5 mg of active substance) in glass ampoules or vials; 10 ampoules or vials in a cardboard box complete with a scarifier; in a box of polystyrene or polyvinyl chloride 4 or 5 ampoules].
Composition of 1 ampoule (1 dose):
active substance: sodium salt of double-stranded ribonucleic acid (RNA) - 5 mg;
auxiliary component: sodium chloride - 3 mg.
Pharmacological properties
Pharmacodynamics
The active substance of Ridostin is an interferon inducer. The mechanism of its action is due to the ability of double-stranded RNA to induce the formation of endogenous interferons: immunogenic (gamma-Inf), leukocyte (alpha-Inf) and fibroblast (beta-Inf), which at the intracellular level suppress the reproduction of viruses and the development of intracellular microorganisms (for example, chlamydia), than prevent the development of the infectious process.
At the systemic level, the drug stimulates phagocytosis of macrophages and neutrophils. Acting on the T- and B-cell link, it has anti-Chlamydial and antiviral properties. By activating natural killers, it increases the body's resistance to infections.
Ridostin is an early type inducer. The maximum production of interferon is observed 2–6 hours after the administration of the drug, it returns to background values within 2 days.
In therapeutic doses, the drug is well tolerated. Does not cumulate, does not possess local irritating, mutagenic, sensitizing and teratogenic properties, does not affect reproductive function.
Pharmacokinetics
After i / m administration, Ridostin is rapidly absorbed, the maximum concentration in the blood reaches within 15 minutes. 60 minutes after administration, the drug is found in small amounts (<10%) in the tissues of the kidneys and liver, by the end of the first day in small amounts (2–3%) in the skin and gastrointestinal tract.
The main amount of the active substance (approximately 70%) is excreted from the blood within 4 hours after injection, mainly in the urine.
Does not penetrate the blood-brain barrier.
Indications for use
According to the instructions, Ridostin is used for the treatment and prevention of acute respiratory viral infections (ARVI), influenza and various infectious and inflammatory diseases caused by chlamydia, viruses of simple, herpes zoster and genital herpes.
Contraindications
severe liver and kidney disease;
pregnancy;
children under 7 years of age;
individual intolerance to the components of the drug.
Instructions for the use of Ridostin: method and dosage
The drug is administered intramuscularly or subcutaneously. Immediately before administration, the contents of the ampoule / vial are dissolved in 2 ml of a 0.5% procaine solution or water for injection.
Standard dosage regimens:
ARVI and influenza in adults and children from 7 years of age (prevention and treatment): i / m 1 dose in 1 ml of 0.5% procaine solution on the day of visiting a doctor. A repeated dose is administered 2 days later to patients who persist with fever, intoxication and the risk of exacerbation of chronic inflammatory diseases of the bronchi and upper respiratory tract;
simple, herpes zoster and genius herpes: 1 dose every 3 days for 9 days (the course includes 3 injections);
infectious urogenital diseases: 1 dose every 2 days for 8 days (the course includes 4 injections). For the prevention of relapse and at the time of relapse, a second course is carried out. If necessary, the treatment is repeated after 2–3 months.
Side effects
Ridostin is well tolerated. In rare cases, an increase in temperature is possible during the period of therapy.
Overdose
With the introduction of a dose that is 40 times higher than the recommended therapeutic dose, there were minor changes in metabolic processes (changes in the ratios of protein fractions in the blood, an increase in creatinine and alkaline phosphatase activity, a decrease in blood cholinesterase activity), a slight violation of blood circulation in the kidneys and intestines, the development of moderate lymph and leukopenic reactions. These violations are reversible, short-term and do not need additional corrective measures. The use of diuretics (for example, furosemide) or infusion detoxification therapy helps to speed up the recovery of functions.
special instructions
No information available.
Application during pregnancy and lactation
Ridostin is prohibited for use by pregnant and lactating women.
Pediatric use
In pediatrics, the drug is used according to indications in children over 7 years old.
With impaired renal function
In severe kidney disease, Ridostin is contraindicated.
For violations of liver function
In severe liver diseases, Ridostin is contraindicated.
Drug interactions
Cases of drug interactions with Ridostin while using other drugs have not been reported.
Analogs
There are no structural analogues of Ridostin. The group analogs that have a stimulating effect on the immune system include the drugs Neovir, Immunal, Estifan, Modimunal, Inmunoferon, Poludan, Cycloferon, Ferrovir, Groprinosin, Milistan Immunorm and others.
Terms and conditions of storage
Shelf life is 2 years.
Keep out of reach of children at temperatures from -12 ° C to +8 ° C.
Terms of dispensing from pharmacies
Dispensed by prescription.
Reviews about Ridostin
Reviews of Ridostin are positive: the drug is effective when used according to indications, does not contain synthetic components, has practically no contraindications, is not toxic, is well tolerated, and is combined with other drugs.
Ridostin price in pharmacies
The actual price of Ridostin is unknown, since the drug is currently not available on the market.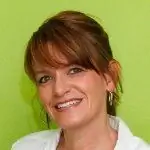 Maria Kulkes Medical journalist About the author
Education: First Moscow State Medical University named after I. M. Sechenov, specialty "General Medicine".
Information about the drug is generalized, provided for informational purposes only and does not replace the official instructions. Self-medication is hazardous to health!
Popular by topic