Table of contents: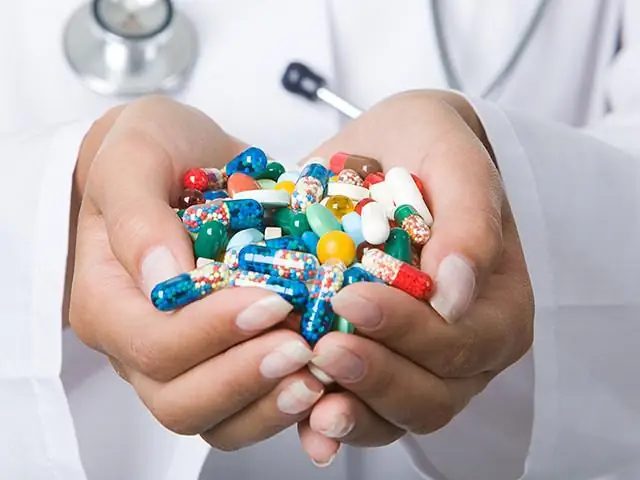 Video: Ribonuclease - Instructions For Use, Price, Reviews, Analogues
Ribonuclease
Ribonuclease: instructions for use and reviews
1. Release form and composition
2. Pharmacological properties
3. Indications for use
4. Contraindications
5. Method of application and dosage
6. Side effects
7. Overdose
8. Special instructions
9. Application during pregnancy and lactation
10. For violations of liver function
11. Drug interactions
12. Analogs
13. Terms and conditions of storage
14. Terms of dispensing from pharmacies
15. Reviews
16. Price in pharmacies
Latin name: Ribonuclease
ATX code: D03BA
Active ingredient: ribonuclease (ribonuclease)
Manufacturer: Samson-Med (Russia)
Description and photo update: 2018-25-10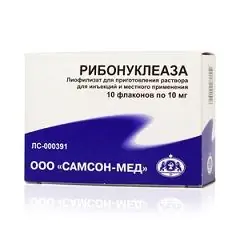 Ribonuclease is an enzyme preparation with proteolytic activity.
Release form and composition
The dosage form of Ribonuclease is a lyophilisate for the preparation of a solution for injection and topical application: a lyophilized mass of white with a slight yellowish tint or white in the form of lumps, tablets, plates or powder (in 5 ml vials, 10 vials in a cardboard box).
Active ingredient in 1 bottle: ribonuclease - 10 mg.
Pharmacological properties
Pharmacodynamics
Ribonuclease is one of the enzyme preparations obtained from the pancreas of cattle.
Has anti-inflammatory effect. Depolymerizes RNA to acid-soluble oligo- and monopeptides. Thinns thick and viscous phlegm, mucus, pus. Due to the destruction of nucleic acids, it delays the reproduction of a number of RNA-containing viruses.
Indications for use
diseases of the respiratory tract, proceeding with difficult to separate viscous sputum (atelectasis of the lung, lung abscesses, bronchiectasis, exudative pleurisy);
trophic ulcers, fistulas, purulent wounds, abscesses;
gingivitis, periodontal disease;
acute / exacerbation of chronic otitis media, including in the perforated stage;
acute / exacerbation of chronic sinusitis;
tick-borne encephalitis (in severe cases, in combination with specific gamma globulin);
thrombophlebitis.
Contraindications
Absolute:
chronic heart failure stage II – III;
liver dysfunctions;
respiratory failure;
open form of pulmonary tuberculosis;
hemorrhagic diathesis;
individual intolerance to any component of the drug.
Relative (Ribonuclease is prescribed under medical supervision):
empyema of the pleura of tuberculous etiology (due to the fact that resorption of exudate can contribute to the occurrence of bronchopleural fistula);
pregnancy and lactation.
Instructions for the use of Ribonuclease: method and dosage
Recommended application scheme:
inhalation: 25 mg for 1 procedure (the lyophilisate should be dissolved in 3-4 ml of 0.9% sodium chloride solution or in 0.5% procaine solution); for inhalation, a fine aerosol should be used;
intrapleural: 25-50 mg in 5-10 ml of 0.9% sodium chloride solution or 0.2% procaine solution;
endobronchial: 25-50 mg using a catheter or laryngeal syringe (including bronchoscopy);
topically for gingivitis and periodontal disease: 1% solution (in 0.5% solution of procaine) in the form of cotton swabs in gingival pockets and applications around the neck of the tooth; apply daily in a course of 10 days, the duration of the procedure is 30 minutes;
topically for wounds and ulcers: sprinkle the ulcerative / wound surface with powder in an amount of 25-50 mg and apply tampons / napkins moistened with a solution of the drug in 0.9% sodium chloride solution, course duration - 2-10 days;
topically for sinusitis: 5-10 mg of ribonuclease in 3-5 ml of 0.9% sodium chloride solution is injected into the maxillary (maxillary) sinus after washing and puncture; after 30 minutes, rinse with sodium chloride solution;
topically for otitis media: 0.5-1 ml of a 0.1% solution prepared in 0.9% sodium chloride solution is injected into the ear; after 30 minutes, rinse with sodium chloride solution.
The maximum single dose for intracavitary / local administration is 50 mg.
Intramuscularly Ribonuclease is injected at 5-10 mg in 1 ml of 0.9% sodium chloride solution or 0.5% procaine solution; the course of therapy is 2-10 injections, 1-2 injections are performed per day.
In the treatment of tick-borne encephalitis, ribonuclease is injected intramuscularly 6 times a day (with an interval of 4 hours).
A single dose is:
children 1–3 years old (determined by body weight): 5–8 mg;
children 4-6 years old: 10-14 mg;
children 7-11 years old: 15-18 mg;
children 12-15 years: 20 mg;
adults: 25-30 mg.
Before injection, the required amount of the drug should be dissolved in 2 ml of 0.25 or 0.5% procaine solution.
Prior to use, a sensitivity test should be performed: 0.1 ml of solution is injected intradermally into the flexor surface of the forearm. If the development of local / general reactions is not noted, the full dose can be administered after 60 minutes. The use of ribonuclease is stopped 2 days after the temperature has returned to normal.
Side effects
Possible side reactions: hyperthermia, allergic reactions, tachycardia.
With intramuscular injection, local reactions can develop: hyperemia and soreness at the injection site. When administered by inhalation, hoarseness and irritation of the mucous membranes of the upper respiratory tract are possible.
Overdose
No information provided.
special instructions
No information provided.
Application during pregnancy and lactation
There are no data on the use of ribonuclease in women during pregnancy / lactation.
For violations of liver function
According to the instructions, Ribonuclease is contraindicated in case of liver failure.
Drug interactions
No information provided.
Analogs
Ribonuclease analogs are: Deoxyribonuclease, Chimopsin, Chymotrypsin, Ronidase, Terridekase.
Terms and conditions of storage
Store in a place protected from light at temperatures up to 25 ° C. Keep out of the reach of children.
Shelf life is 2 years.
Terms of dispensing from pharmacies
Dispensed by prescription.
Reviews about Ribonuclease
Reviews of Ribonuclease are few. The effectiveness of the drug is noted when used according to indications.
The price of ribonuclease in pharmacies
The approximate price for Ribonuclease (for 10 bottles per pack) is 642–653 rubles.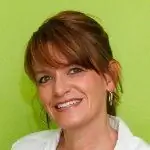 Maria Kulkes Medical journalist About the author
Education: First Moscow State Medical University named after I. M. Sechenov, specialty "General Medicine".
Information about the drug is generalized, provided for informational purposes only and does not replace the official instructions. Self-medication is hazardous to health!
Popular by topic