Table of contents: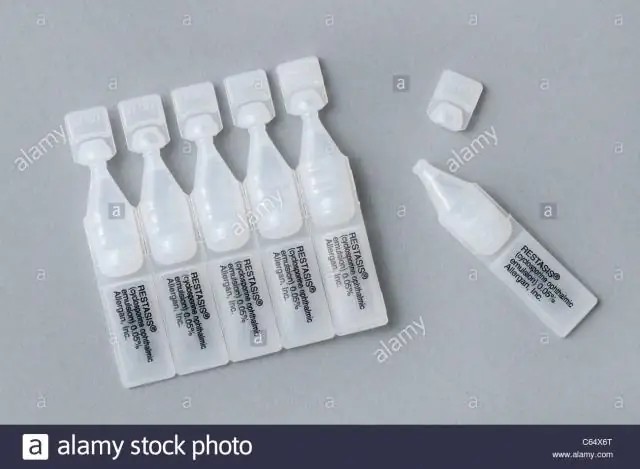 Video: Restasis - Instructions For The Use Of Eye Drops, Price, Reviews
Restasis
Restasis: instructions for use and reviews
1. Release form and composition
2. Pharmacological properties
3. Indications for use
4. Contraindications
5. Method of application and dosage
6. Side effects
7. Overdose
8. Special instructions
9. Application during pregnancy and lactation
10. Use in childhood
11. Drug interactions
12. Analogs
13. Terms and conditions of storage
14. Terms of dispensing from pharmacies
15. Reviews
16. Price in pharmacies
Latin name: Restasis
ATX code: S01XA18
Active ingredient: cyclosporin (ciclosporin)
Producer: Allergan Sales, LLS (Allergan Sales, LLC) (Germany)
Description and photo update: 2018-21-11
Prices in pharmacies: from 3750 rubles.
Buy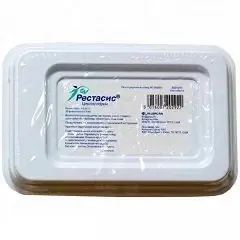 Restasis is a drug that moisturizes and protects the cornea of the eye; immunosuppressant.
Release form and composition
Dosage form Restasis - eye drops: white, homogeneous, translucent or cloudy emulsion (0.4 ml in single-dose vials, in a polypropylene package 30 vials).
Composition of 1 ml drops:
active substance: cyclosporine - 500 mcg;
auxiliary components: castor oil, glycerol, polysorbate-80, carbomer, sodium hydroxide, water.
Pharmacological properties
Pharmacodynamics
The active component of Restasis drops - cyclosporine, used systemically, has an immunosuppressive effect. In the case of local application in ophthalmology, in patients with dry keratoconjunctivitis, with inhibition of tear production, the drug has an anti-inflammatory and immunomodulatory effect.
Pharmacokinetics
Systemic absorption of the drug when applied topically is low. Due to its use 2 times a day, the concentration of cyclosporin remains below the determined value (0.1 ng / ml).
Indications for use
According to the instructions, Restasis is indicated for patients with reduced tear production caused by keratoconjunctivitis dry.
Contraindications
Absolute contraindications:
acute infectious eye diseases;
pregnancy and lactation;
age up to 18 years;
increased sensitivity to the components of the drug.
The drug should be used with caution in patients with a history of herpetic keratitis.
Instructions for the use of Restasis: method and dosage
Restasis eye drops are used topically. Before use, the bottle should be inverted several times to obtain a white, homogeneous, opaque emulsion.
Into the conjunctival sac, 1 drop of the drug is instilled 2 times a day, with an interval of 12 hours.
Side effects
The use of Restasis most often (up to 17%) causes a burning sensation in the eye.
Frequency of other side effects:
frequent (more than 1% but less than 10%): hyperemia of the mucous membrane of the eye, blurred vision, a feeling of the presence of a foreign body in the eye, headache, dry eye syndrome, photophobia, irritation, pain, itching, discharge from the eye;
infrequent (more than 0.1%, but less than 1%): edema and hyperemia of the eyelids, keratitis with ulceration, dizziness, nausea, rash, increased lacrimation;
frequency unknown: urticaria, hypersensitivity reactions, edema of the mucous membrane of the eye and eyelids.
Overdose
Overdose cases of Restasis when applied topically are extremely unlikely, due to its low systemic absorption.
special instructions
The contents of one bottle are intended for single use, the unused remainder of the emulsion must be disposed of. Opened vial storage is not allowed.
To avoid infection of the contents of the vial, do not touch its tip to the eyes or any other surfaces.
With reduced tear production, wearing contact lenses is usually contraindicated. If the lenses are nevertheless used, they must be removed before applying Restasis and not worn within 15 minutes after the procedure.
Influence on the ability to drive vehicles and complex mechanisms
With a decrease in visual acuity after using the drug, you should refrain from driving vehicles and other complex mechanisms until it is restored.
Application during pregnancy and lactation
Restasis eye drops are contraindicated for use during pregnancy and lactation.
Pediatric use
The drug is contraindicated for use in pediatrics.
Drug interactions
There is no information on interaction with other drugs.
Analogs
Restasis analogs are Orgasporin, Sandimmun, Cyclosporin, Ekoral, Istil, Videstim, Vizomitin, Vidisik, Gipromeloza-P, Defislez, Lakropos, Lakrisify, Oftagel, Oftolik BK, Oftolik, Natural Tear.
Terms and conditions of storage
Store at a temperature not exceeding 25 ° C. Keep out of the reach of children.
Shelf life is 2 years.
Terms of dispensing from pharmacies
Dispensed by prescription.
Reviews about Restasis
In the few reviews about Restasis, the patients who used it most often note the weak effectiveness of the drug, despite the high cost. Some people mention undesirable effects such as irritation and pain in the eyes at the beginning of treatment, which disappear over time without discontinuation of therapy. The reviews indicate that for the complete restoration of tear fluid production, regular use of drops is required for at least six months.
The price of Restasis in pharmacies
The approximate price for Restasis, eye drops 0.05%, for 30 bottles is about 3660 rubles.
Restasis: prices in online pharmacies
Drug name
Price
Pharmacy
Restasis 0.05% eye drops 0.4 ml 30 pcs.
RUB 3750
Buy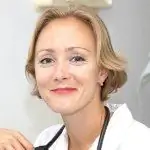 Anna Kozlova Medical journalist About the author
Education: Rostov State Medical University, specialty "General Medicine".
Information about the drug is generalized, provided for informational purposes only and does not replace the official instructions. Self-medication is hazardous to health!
Popular by topic