Table of contents: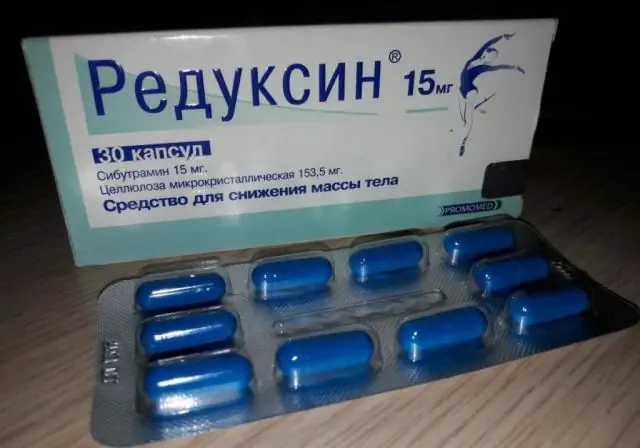 Video: Reduksin Forte - Instructions For Use, Reviews, Price, 850 Mg + 10 Mg
Reduksin Forte
Reduksin Forte: instructions for use and reviews
1. Release form and composition
2. Pharmacological properties
3. Indications for use
4. Contraindications
5. Method of application and dosage
6. Side effects
7. Overdose
8. Special instructions
9. Application during pregnancy and lactation
10. Use in childhood
11. In case of impaired renal function
12. For violations of liver function
13. Use in the elderly
14. Drug interactions
15. Analogs
16. Terms and conditions of storage
17. Terms of dispensing from pharmacies
18. Reviews
19. Price in pharmacies
Latin name: Reduxin Forte
ATX code: A08A, A10BA02
Active ingredient: metformin + sibutramine (Metformin + Sibutramine)
Producer: JSC "BIOCHEMIK" (Russia); LLC "OZON" (Russia)
Description and photo update: 2019-10-12
Prices in pharmacies: from 1779 rubles.
Buy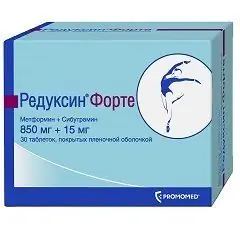 Reduxin Forte is a drug for the treatment of obesity from the biguanide group.
Release form and composition
Reduksin Forte is produced in the form of film-coated tablets:
tablets with a dosage of 850 mg + 10 mg: biconvex, oval, film-coated blue, with a dividing line on one side, white at a break;
tablets with a dosage of 850 mg + 15 mg: biconvex, oval, film-coated white, with a dividing line on one side, white at a break.
Tablets, regardless of dosage, are packed in blisters of 5, 7, 10 or 15 pcs. or in polyethylene terephthalate cans of 10, 15, 30, 60, 75, 100, 120 or 180 pcs. In a cardboard box from 1 to 10 blisters or 1 can and instructions for use of Reduksin Forte.
Composition for 1 film-coated tablet:
active ingredients: metformin (in the form of metformin hydrochloride) - 850 mg, sibutramine (in the form of sibutramine hydrochloride monohydrate) - 10 mg or 15 mg;
auxiliary components of the tablet core: croscarmellose sodium, magnesium stearate, microcrystalline cellulose, povidone K-25;
film shell: for tablets Reduxin Forte 850 mg + 10 mg - Opadray II 85F30656 blue (titanium dioxide, polyvinyl alcohol, indigo carmine dye with aluminum varnish, macrogol, yellow iron oxide dye, brilliant blue dye with aluminum varnish, talc); for tablets Reduxin Forte 850 mg + 15 mg - Opadrai II 85F48105 white (talc, polyvinyl alcohol, titanium dioxide, macrogol).
Pharmacological properties
Pharmacodynamics
Reduxin Forte contains two active ingredients - metformin and sibutramine.
Metformin is an oral hypoglycemic agent from the biguanide group. It reduces hyperglycemia, but does not lead to hypoglycemia. It differs from sulfonylurea derivatives in that it does not stimulate insulin secretion, and also does not cause hypoglycemic action in healthy individuals.
Under the influence of metformin, the sensitivity of peripheral receptors to insulin increases and the utilization of glucose by cells increases. It slows down gluconeogenesis in the liver, inhibits the intestinal absorption of carbohydrates. By acting on glycogen synthase, metformin stimulates the synthesis of glycogen. In addition, it increases the transport capacity of all types of membrane glucose transporters.
Metformin has a beneficial effect on lipid metabolism: it reduces the content of LDL (low density lipoprotein), triglycerides and total cholesterol.
Taking metformin leads to moderate weight loss or helps to stabilize weight.
Sibutramine is a prodrug from which, as a result of metabolism, active primary and secondary amines are formed, which inhibit the reuptake of dopamine, norepinephrine and serotonin. By increasing the concentration of neurotransmitters in synapses, the activity of central adrenergic and 5HT-serotonin receptors increases, and this leads to a decrease in the need for food, an increase in heat production and a feeling of satiety.
Due to the indirect activation of β 3 -adrenoreceptors, sibutramine affects brown adipose tissue. With a decrease in body weight while taking sibutramine, the concentration of HDL (high density lipoproteins) in the blood serum increases and the level of total cholesterol, triglycerides, uric acid and LDL decreases.
Sibutramine metabolites and sibutramine itself do not inhibit MAO (monoamine oxidase) and do not affect the release of monoamines; they do not have affinity for most neurotransmitter receptors, including muscarinic, benzodiazepine, serotonin (5-HT 1, 5-HT 1A, 5-HT 1B, 5-HT 2C), histamine (H 1), dopamine (D 1, D 2), glutamate NMDA receptors and adrenergic (β 1 β 2, β 3, α 1, α 2) receptors.
Pharmacokinetics
After taking Reduxin Forte inside, metformin is almost completely absorbed in the digestive tract. Concomitant food intake reduces and slows down its absorption. The absolute bioavailability is 50-60%. In blood plasma, the maximum concentration is reached after 2.5 hours and is approximately 15 μmol or 2 μg / ml. Metformin hardly binds to plasma proteins. It is rapidly distributed in tissues and organs.
It is metabolized to an insignificant extent. Excretion is carried out by the kidneys. In healthy people, the clearance of metformin is 400 ml / min (this is 4 times higher than the clearance of creatinine, which indicates active secretion in the renal tubules). The half-life is about 6.5 hours. In renal failure, the half-life is lengthened (the risk of accumulation of the active substance increases).
Sibutramine is not less than 77% absorbed from the digestive tract. Fast absorption. It undergoes the effect of primary passage through the liver (biotransformed under the influence of the CYP3A4 isoenzyme). As a result of biotransformation, two active metabolites are formed - M1 (monodesmethylsibutramine) and M2 (didesmethylsibutramine). After oral administration of a single dose of 15 mg, the maximum plasma concentration of M1 is 3.2-4.8 ng / ml (on average 4 ng / ml), and M2 is 5.6-7.2 ng / ml (on average 6, 4 ng / ml). The maximum concentration of sibutramine in plasma is reached after 1.2 hours, and its active metabolites - after 3-4 hours. Food intake reduces the maximum level of metabolites in plasma by 30% and lengthens the time to reach it by almost 3 hours, while the area under pharmacokinetic the concentration-time curve (AUC) does not change. Sibutramine is rapidly distributed in organs and tissues, its connection with plasma proteins is 97%. M1 and M2 metabolites bind 94% to plasma proteins. The equilibrium concentration of metabolites in plasma is reached within 4 days after the start of therapy. It is almost 2 times higher than the plasma concentration after taking a single dose of the drug.
The active metabolites of sibutramine are hydroxylated and conjugated. The inactive metabolites formed as a result of these processes are mainly excreted by the kidneys. The half-life of sibutramine is 1.1 hours, the M1 metabolite is 14 hours, and the M2 metabolite is 16 hours.
In men and women, the pharmacokinetics of sibutramine do not differ significantly. In elderly healthy people, the pharmacokinetics correspond to those in young people.
In renal failure, AUC M1 and M2 are almost unchanged. In patients with end-stage renal disease who are on dialysis, the AUC of the M2 metabolite is different.
In hepatic failure of moderate severity, the AUC of active metabolites after a single dose of sibutramine is 24% higher than in healthy people.
Indications for use
Reduksin Forte is used to reduce body weight in the following cases:
alimentary obesity in patients with BMI (body mass index) ≥ 27 kg / m 2 in combination with dyslipidemia and type 2 diabetes mellitus;
alimentary obesity in patients with a BMI> 30 m 2 with prediabetes and the presence of one or more risk factors for the development of type 2 diabetes mellitus (if adequate glycemic control is not achieved with a change in lifestyle).
Contraindications
Absolute:
liver dysfunction;
impaired renal function (with creatinine clearance less than 45 ml / min);
diseases of the cardiovascular system at present or in history (chronic heart failure in the stage of decompensation, arrhythmia, tachycardia, ischemic heart disease, transient cerebrovascular accidents, occlusive lesions of peripheral arteries);
uncontrolled arterial hypertension (with blood pressure above 145/90 mm Hg);
diabetic precoma and coma, diabetic ketoacidosis;
chronic and acute diseases with clinically pronounced symptoms that are potentially capable of causing tissue hypoxia (including acute myocardial infarction, respiratory and heart failure);
acute conditions accompanied by the risk of developing impaired renal function (for example, severe infectious diseases, vomiting, diarrhea, shock);
thyrotoxicosis;
pheochromocytoma;
increased concentration of lactic acid in the blood (lactic acidosis), including a history;
benign prostatic hyperplasia;
angle-closure glaucoma;
mental illness;
severe eating disorders (such as bulimia nervosa or anorexia nervosa);
the presence of organic causes of obesity (for example, obesity due to hypothyroidism);
acute ethanol poisoning, chronic alcoholism;
generalized tics (Tourette's syndrome);
children and adolescents up to 18 years old;
advanced age over 65;
During pregnancy and breastfeeding;
adherence to a low-calorie diet (less than 1000 kcal per day);
established drug or pharmacological dependence;
trauma or major surgical interventions (when there is an indication for insulin therapy);
coadministration with hypnotics containing tryptophan and other centrally acting drugs for the treatment of mental disorders or weight loss;
simultaneous administration of serotonin reuptake inhibitors (antipsychotics, antidepressants, etc.);
concomitant use of MAO inhibitors or their use 2 weeks before or 2 weeks after taking sibutramine;
X-ray or radioisotope studies with the introduction of an iodine-containing contrast agent (period 48 hours before and 48 hours after the study);
hypersensitivity to the main or auxiliary components of the tablets.
Relative (Reduxin Forte tablets are used with caution):
renal dysfunction (creatinine clearance from 45 to 59 ml / min);
cholelithiasis;
chronic circulatory failure;
a history of cardiac arrhythmias;
diseases of the coronary arteries (except for angina pectoris and myocardial infarction), including a history;
controlled arterial hypertension, including a history;
bleeding disorders, bleeding tendency;
history of verbal and motor tics;
epilepsy;
neurological disorders, including seizures and mental retardation (including a history);
glaucoma (except for angle-closure glaucoma);
elderly age from 60 to 65 years (especially when patients perform heavy physical work, which increases the risk of lactic acidosis);
simultaneous administration of drugs that affect platelet function or hemostasis.
Reduksin Forte, instructions for use: method and dosage
Reduxin Forte tablets are taken orally, once a day.
The dose of the drug is selected individually (taking into account the tolerance of the drug and its clinical efficacy).
At the beginning of treatment, Reduxin Forte 850 mg + 10 mg is prescribed once a day.
The tablets should be taken in the morning, swallowed whole and washed down with at least one glass of water or other liquid (on an empty stomach or in combination with food). After 4 weeks of taking the drug, the achieved weight loss is assessed. If this figure is less than 5%, then the patient is transferred to Reduxin Forte 850 mg + 15 mg once a day.
In patients who do not respond well to therapy (if body weight in 3 months of treatment has decreased by less than 5% of the initial level), Reduxin Forte can be used for no more than 3 months. You should not continue therapy in the case when, after the achieved decrease in body weight in the course of further treatment, it again increases by 3 kg or more.
The total duration of the course is no more than 1 year, since there are no data on the safety and efficacy of sibutramine with longer use.
Treatment with Reduksin Forte must be combined with exercise and diet, as well as under the supervision of a physician who has practical experience in the treatment of obesity. After the end of the course of drug treatment, it is recommended to transfer the patient to metformin monotherapy.
Side effects
Side effects of Reduksin Forte caused by metformin:
digestive system: very often - vomiting, nausea, lack of appetite, abdominal pain, diarrhea (these symptoms usually occur at the beginning of treatment and usually disappear spontaneously);
hepatobiliary system: very rarely - hepatitis and liver dysfunction (disappear completely after discontinuation of the drug);
metabolism and nutrition: very rarely - an increase in the concentration of lactic acid in the blood; with long-term therapy - a decrease in the absorption of vitamin B 12 (should be taken into account when prescribing Reduxin Forte to patients with megaloblastic anemia);
nervous system: often - taste disturbance;
skin and subcutaneous fat: very rarely - skin rash, itching, erythema and other skin reactions.
Undesirable side effects due to sibutramine:
digestive system: very often - constipation, loss of appetite; often - exacerbation of hemorrhoids, nausea (in patients with a tendency to constipation in the first days, it is necessary to control the evacuation function of the intestine, and in case of constipation, to cancel Reduxin Forte and prescribe a laxative);
cardiovascular system: often - palpitations, tachycardia; frequency is unknown - vasodilation, moderate rise in blood pressure (by 1-3 mm Hg at rest), moderate increase in heart rate (by 3-7 beats per minute);
nervous system: very often - a feeling of dryness in the mouth, insomnia; often - change in taste, dizziness, paresthesia, headache, anxiety;
skin and subcutaneous fat: often - increased sweating;
other reactions: isolated cases - flu-like syndrome, thirst, paradoxical increase in appetite, rhinitis, edema, bleeding, hemorrhage in the skin, acute interstitial nephritis, pruritus, dysmenorrhea, abdominal and back pain, transient increase in liver enzyme activity, thrombocytopenia, anxiety, drowsiness, irritability, convulsions, depression, emotional lability.
Additional side effects of sibutramine identified during the post-marketing use of Reduxin Forte:
digestive system: vomiting, diarrhea;
cardiovascular system: atrial fibrillation;
nervous system and sensory organs: blurred vision (a feeling of a veil before the eyes), short-term visual disturbances, convulsions;
mental disorders: mania, suicidal thinking, psychosis, suicide (in the event of such conditions, drug treatment should be canceled);
urinary system: urinary retention;
skin and subcutaneous fat: pathological hair loss;
genitals and mammary gland: uterine bleeding, menstrual irregularities, erectile dysfunction, orgasm / ejaculation disorders;
immune system: urticaria, skin rashes, Quincke's edema, anaphylactic reactions.
Overdose
When metformin was used in a daily dose of 85 g (42.5 times higher than the maximum daily dose), there were no symptoms of hypoglycemia, but cases of lactic acidosis were noted.
If signs of lactic acidosis appear, therapy should be discontinued, and the patient should be urgently hospitalized (to clarify the diagnosis, it is necessary to determine the lactate content in the blood). The most effective way to remove metformin and lactate from the body is through hemodialysis. Symptomatic therapy is also carried out.
Data on overdose of sibutramine are extremely limited. The most common reactions associated with its overdose are: dizziness, headache, increase in blood pressure, tachycardia. In case of suspected intoxication, Reduxin Forte should be canceled immediately and a doctor should be notified.
There is no specific antidote for sibutramine. There is also no specific treatment. Therapy is symptomatic and supportive. The patient should be given activated charcoal in a timely manner and washed out the stomach. It is necessary to ensure free breathing and monitor the state of the cardiovascular system. With tachycardia and high blood pressure, β-blockers are prescribed. The effectiveness of hemodialysis or forced diuresis for the elimination of sibutramine has not been established.
special instructions
Lactic acidosis
Lactic acidosis is a rare but serious complication that, if timely treatment is not provided, can be fatal. In patients with diabetes mellitus and severe renal failure, the likelihood of lactic acidosis while taking metformin is higher than in other groups.
The incidence of lactic acidosis can be reduced by considering several other associated risk factors, such as prolonged fasting, liver failure, ketosis, alcoholism, decompensated diabetes mellitus, and any conditions associated with severe hypoxia.
Sometimes the development of lactic acidosis is preceded by the appearance of nonspecific symptoms such as muscle cramps, which are accompanied by abdominal pain, dyspeptic disorders, and severe asthenia. With lactic acidosis, the patient develops abdominal pain, profound shortness of breath, hypothermia, and subsequent coma.
The diagnosis of lactic acidosis is confirmed by laboratory tests: the concentration of lactate in the plasma exceeds 5 mmol / l, the blood pH decreases and is less than 7.25, the lactate / pyruvate ratio increases and the anion gap increases.
Kidney function
Before starting the drug and regularly during therapy with Reduxin Forte, it is necessary to determine the creatinine clearance: in persons with normal renal function - at least once a year, in elderly patients and patients with creatinine clearance at the lower limit of the norm - 2-4 times a year.
Surgical operations
Reduxin Forte should be canceled 48 hours before the start of elective surgery. Treatment is resumed no earlier than 48 hours after the end of the operation and only if normal renal function is maintained.
Other indications
While taking Reduxin Forte, patients should continue to follow a diet that assumes an even intake of carbohydrates throughout the day. If you are overweight, it is recommended to follow a low-calorie diet (but not less than 1000 kcal per day).
The drug is used with caution together with oral hypoglycemic agents (repaglinide, sulfonylurea derivatives) or insulin. In order to control diabetes mellitus, it is recommended to regularly take appropriate tests.
Reduxin Forte is prescribed only in case of insufficient effectiveness of all other non-drug methods of reducing body weight (if only 5 kg or less were lost within three months).
The drug is used as part of complex therapy, which includes changes in lifestyle and diet, as well as an increase in physical activity. It is necessary to create the prerequisites for a persistent change in lifestyle and eating behavior, which will allow maintaining the achieved weight loss after drug treatment is canceled.
In addition to monitoring kidney function, heart rate and blood pressure should be measured regularly. In the first 3 months, these parameters are monitored once every 2 weeks, then once every 4 weeks. If, during two measurements in a row, the resting heart rate is increased by 10 beats per minute or more, and the systolic / diastolic pressure is increased by 10 mmHg. Art. or more, you should stop taking Reduxin Forte.
In persons with arterial hypertension (with a pressure of more than 145/90 mm Hg. Art. Against the background of antihypertensive therapy), the monitoring of heart rate and blood pressure is carried out more often and more carefully. If, with two measurements in a row, blood pressure exceeds 145/90 mm Hg. Art., treatment is suspended.
In sleep apnea, blood pressure is particularly closely monitored.
During regular medical examinations, special attention should be paid to chest pain, progressive dyspnea and swelling in the legs, as these symptoms may indicate the development of primary pulmonary hypertension.
If the patient has forgotten to take the next dose, it cannot be doubled in the next dose. It is recommended to continue treatment according to the previously prescribed regimen.
There are no data on addiction to sibutramine, but despite this it is recommended to study the patient's history and find out if there have been cases of drug dependence.
Metformin is recommended to be used for prevention of diabetes of the second type in patients with prediabetes and the presence of one or more risk factors for the development of overt diabetes of the second type (body mass index> 30 kg / m 2, the age of 60 years, family history of diabetes in parents, arterial hypertension, history of gestational diabetes mellitus, decreased high-density lipoprotein cholesterol, increased blood triglyceride concentration).
Influence on the ability to drive vehicles and complex mechanisms
Reception of Reduksin Forte can limit the patient's psychomotor abilities, therefore, during treatment, it is recommended to be careful when driving or other vehicles, and when working with complex and potentially dangerous mechanisms.
Application during pregnancy and lactation
Reduxin Forte is contraindicated during pregnancy, since today there is not enough research confirming the safety of sibutramine for the fetus.
Women of childbearing age who are taking Reduxin Forte must use reliable methods of contraception.
The drug is contraindicated during breastfeeding.
Pediatric use
In children and adolescents under the age of 18, Reduxin Forte is not used.
With impaired renal function
The drug is contraindicated in patients with impaired renal function (with creatinine clearance less than 45 ml / min). If the value of creatinine clearance is 45-59 ml / min, Reduxin Forte is taken with caution.
For violations of liver function
Reduxin Forte is contraindicated in patients with impaired liver function.
Use in the elderly
Elderly people aged 60–65 years are prescribed Reduxin Forte with caution, and in people over 65 years old it is not used.
Drug interactions
Metformin
The simultaneous use of metformin and iodine-containing X-ray contrast agents is contraindicated (the risk of lactic acidosis increases).
Combined intake with alcohol and drugs containing ethanol is not recommended.
Metformin is used with caution in combination with the following substances:
danazol: hyperglycemia may develop (after the end of danazol therapy, the dose of metformin must be adjusted);
Chlorpromazine: in doses greater than 100 mg per day, increases blood glucose by reducing the release of insulin;
systemic and local glucocorticosteroids: decreased glucose tolerance develops, blood glucose levels increase, in some cases ketosis occurs;
diuretics: loop diuretics increase the risk of lactic acidosis;
injectable beta 2 -adrenergic agonists: due to the stimulation of beta 2 -adrenergic receptors, the blood glucose level increases (it is required to control the glucose concentration);
antihypertensive drugs, including angiotensin-converting enzyme inhibitors: a decrease in blood glucose levels is possible (a dose adjustment of metformin may be required);
cimetidine, ranolazine, vandetanib, dolutegravir, trimethoprim, isavuconazole: the rate of elimination of metformin decreases and its concentration in the blood increases;
nifedipine: increased absorption and maximum plasma concentration of metformin;
estrogens, phenothiazides, oral contraceptives, sympathomimetics, slow calcium channel blockers, glucagon, nicotinic acid, phenytoin, levothyroxine sodium, isoniazid: the hypoglycemic effect of metformin may decrease;
cationic drugs (morphine, quinidine, ranitidine, trimethoprim, amiloride, procainamide, triamterene, vancomycin, digoxin, quinine): an increase in the maximum plasma concentration of metformin is possible (due to competition for tubular transport systems);
acarbose, insulin, sulfonylurea derivatives, salicylates: hypoglycemia may develop;
rifampicin: it is possible to increase the absorption of metformin and increase its hypoglycemic effect;
verapamil, olaparib, crizotinib: the hypoglycemic effect of metformin may decrease.
Metformin does not alter the pharmacokinetics of ibuprofen and propranolol; may reduce the therapeutic effect of indirect anticoagulants.
Sibutramine
Inhibitors of microsomal oxidation (for example, cyclosporine, erythromycin and ketoconazole) increase the plasma concentration of active metabolites of sibutramine, which leads to an increase in heart rate and a clinically insignificant lengthening of the QT interval on the electrocardiogram.
With simultaneous use with macrolide antibiotics, carbamazepine, dexamethasone, phenytoin, rifampicin and phenobarbital, it is possible to accelerate the metabolism of sibutramine.
Taking several drugs that increase plasma serotonin levels together can lead to serious interactions. Rarely, serotonin syndrome develops when sibutramine is combined with potent analgesics (pethidine, pentazocine, fentanyl), selective serotonin reuptake inhibitors (used to treat depression), antitussives (such as dextromethorphan), and some drugs used for migraine sumatriptan).
Despite the fact that sibutramine does not increase the negative effects of alcohol on the body, it is not recommended to take them at the same time (alcohol is contraindicated if you follow a diet).
Sibutramine does not interfere with oral contraceptives. When used together with drugs that affect platelet function or hemostasis, the risk of bleeding increases.
Sibutramine is prescribed with caution at the same time as drugs that can increase heart rate and blood pressure (anti-allergic, antitussive and cold medications containing pseudoephedrine or ephedrine).
Co-administration of sibutramine with drugs for the treatment of mental disorders and drugs for weight loss is contraindicated, the mechanism of action of which is associated with the effect on the central nervous system.
Analogs
Analogs of Reduksin Forte are Orsoten, Reduxin, Reduxin Met, Sibutramine, Xenical, Listata, Liponorm, Stifimol, Questa, Orlislim, etc.
Terms and conditions of storage
Keep out of the reach of children. Store in a dark, dry place at a temperature not exceeding 25 ° C.
The shelf life is 3 years.
Terms of dispensing from pharmacies
Dispensed by prescription.
Reviews of Reduksin Forte
To date, there are very few reviews about Reduksin Forte, but according to the available reports, it can be concluded that the drug is an effective tool in the fight against extra pounds. Girls and women who have used pills for weight loss, note that during treatment, appetite decreases, and the feeling of satiety comes faster. This helps to maintain a diet and, as a result, to lose weight faster.
The main disadvantage, according to users, is the high cost of the tablets.
Price for Reduksin Forte in pharmacies
The price of Reduxin Forte in the form of film-coated tablets, 850 mg + 10 mg (30 pcs. In a package) averages 2150-2200 rubles; the approximate cost of tablets with a dosage of 85 mg + 15 mg (30 pcs. in a package) - 4490 rubles.
Reduksin Forte: prices in online pharmacies
Drug name
Price
Pharmacy
Reduxin forte 850mg + 10mg film-coated tablets 30 pcs.
1779 RUB
Buy
Reduxin forte tablets p.o.p 850mg + 10mg 30pcs
RUB 2160
Buy
Reduxin forte 850mg + 15mg film-coated tablets 30 pcs.
2617 RUB
Buy
Reduksin forte tablets p.o.p 850mg + 15mg 30pcs
3515 RUB
Buy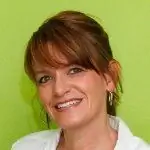 Maria Kulkes Medical journalist About the author
Education: First Moscow State Medical University named after I. M. Sechenov, specialty "General Medicine".
Information about the drug is generalized, provided for informational purposes only and does not replace the official instructions. Self-medication is hazardous to health!
Popular by topic