Table of contents: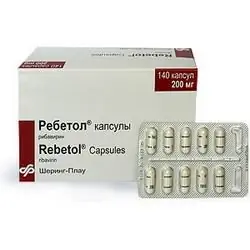 Video: Rebetol - Instructions For Use, Indications, Doses, Analogues
Rebetol
Instructions for use:
1. Release form and composition
2. Indications for use
3. Contraindications
4. Method of application and dosage
5. Side effects
6. Special instructions
7. Drug interactions
8. Analogs
9. Terms and conditions of storage
10. Terms of dispensing from pharmacies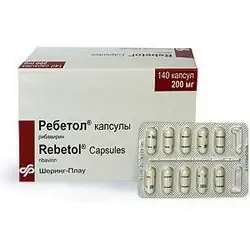 Rebetol is an antiviral drug.
Release form and composition
Dosage form - capsules: size No. 1, hard gelatinous, with a matte white surface, on the body there is a blue strip and the inscription in blue ink "200 mg", on the lid - a blue strip and the letters "SP", inside the capsules - white powder (10 pcs. in a blister, 14 blisters in a cardboard box).
The active ingredient of Rebetol is ribavirin, in 1 capsule - 0.2 g.
Auxiliary components: magnesium stearate, microcrystalline cellulose, croscarmellose sodium, lactose monohydrate.
Capsule shell composition: titanium dioxide, gelatin.
Ink composition: ethanol, shellac, n-butanol, isopropanol, ammonium hydroxide, blue aluminum lacquer FD&C No. 2, propylene glycol.
Indications for use
Combination therapy with peginterferon alfa-2b or interferon alfa-2b:
Chronic hepatitis C in patients with a favorable response (normalization of alanine aminotransferase (ALT) activity) to previous therapy with interferon alfa-2b or peginterferon alfa-2b (in the event of a relapse of the disease);
Chronic hepatitis C (previously untreated, in the absence of symptoms of liver decompensation, with seropositivity to the RNA-containing hepatitis C virus, increased ALT activity, in the presence of severe inflammatory activity or fibrosis).
Contraindications
Age under 18;
Resistant to treatment, unstable and other severe forms of heart disease diagnosed within 6 months (minimum) before starting drug therapy;
Sickle cell anemia, thalassemia and other types of hemoglobinopathies;
Thyroid pathology resistant to therapy;
Severe forms of liver dysfunction, decompensated liver cirrhosis;
Autoimmune hepatitis and other autoimmune diseases;
Severe kidney disease, including chronic renal failure (creatinine clearance (CC) less than 50 ml / min) with the need for hemodialysis;
The period of pregnancy and breastfeeding;
Severe depression, attempts at suicide, suicidal thoughts (including history);
Individual intolerance to ribavirin and other components of the drug.
Rebetol is prescribed with caution to patients with other heart diseases, diabetes mellitus with a tendency to ketoacidosis, severe pulmonary pathologies (including chronic obstructive pulmonary diseases), significant suppression of the hematopoietic function of the bone marrow, blood clotting disorders (including pulmonary embolism, thrombophlebitis), in combination with highly active antiretroviral therapy (HAART) in patients with concomitant HIV infection (due to an increased risk of developing lactic acidosis).
Method of administration and dosage
The capsules are taken orally with meals.
The doctor prescribes the dose taking into account the patient's weight.
The daily dose of Rebetol can range from 0.8 g to 1.2 g, it is divided into 2 doses (morning and evening). The drug is prescribed in combination with interferon alpha-2b (subcutaneous (sc) injections of 3 million international units (ME) 3 times a week) or peginterferon alpha-2b (sc - at the rate of 0.0000015 g per 1 kg body weight of the patient 1 time per week).
Recommended daily dosing regimen of ribavirin for combination with interferon alfa-2b:
The patient's weight is 75 kg or less: 1 g - 0.4 g in the morning and 0.6 g in the evening;
Weight over 75 kg: 1.2 g - 0.6 g each morning and evening.
Recommended daily dosage of the drug for combination with peginterferon alfa-2b:
Patient weight up to 65 kg: 0.8 g - in the morning and in the evening, 0.4 g each;
Weight from 65 to 85 kg: 1 g - 0.4 g in the morning and 0.6 g in the evening;
Weight over 85 kg: 1.2 g - 0.6 g each morning and evening.
The recommended duration of the use of combination therapy is no more than 12 months, the course of treatment is prescribed individually, depending on the tolerance of the drugs, the clinical course of the disease and the therapeutic effect.
After 6 months of treatment, the patient must be screened to determine the virological response. Lack of virological response is the basis for discontinuation of combination therapy.
With the development of serious undesirable effects or the appearance of deviations in laboratory tests during the period of taking Rebetol, a dose adjustment or a temporary cancellation of therapy is required until the symptoms of undesirable phenomena completely stop.
The doctor makes adjustments to the dosage regimen on the basis of laboratory parameters of the hemoglobin content, the number of leukocytes, platelets, neutrophils, the content of bound and free bilirubin in the blood serum, the concentration of creatinine, the activity of alanine aminotransferase and aspartate aminotransferase.
In the absence of improvement in the patient's condition after dose adjustment, the use of combination therapy should be canceled.
Side effects
Hematopoietic system: hemolysis is the main toxic effect (usually, in itself, it is not the reason for discontinuation of therapy); possibly - moderate anemia, neutropenia, leukopenia, thrombocytopenia, granulocytopenia; in some cases - the development of aplastic anemia (when combined with interferon alpha-2b);
Cardiovascular system: palpitations, chest pain, decrease or increase in blood pressure (BP), fainting, tachycardia;
Nervous system: insomnia, depression, irritability, headache, dizziness, anxiety, paresthesia, tremor, confusion, hyperesthesia, hypesthesia, decreased concentration, nervousness, emotional lability, aggressive behavior, emotional excitement; rarely - suicidal thoughts or attempts (when combined with interferon alfa-2b or peginterferon alfa-2b);
Endocrine system: hypothyroidism, functional disorder of the thyroid gland (violation of the level of thyroid-stimulating hormone);
Digestive system: taste perversion, nausea, vomiting, abdominal pain, diarrhea, constipation, anorexia, dyspepsia, pancreatitis (when combined with interferon alpha-2b), stomatitis, flatulence, bleeding from the gums, glossitis;
Reproductive system: menstrual irregularities, decreased libido, hot flashes, menorrhagia, amenorrhea, prostatitis;
Sense organs: conjunctivitis, damage to the lacrimal gland, blurred vision, tinnitus, hearing loss or hearing loss;
Respiratory system: shortness of breath, cough, pharyngitis, bronchitis, rhinitis, sinusitis;
Musculoskeletal system: increased smooth muscle tone, myalgia, arthralgia;
Laboratory indicators: in some cases - a transient increase in the content of indirect bilirubin and uric acid (with hemolysis);
Dermatological reactions: dry skin, itching, rash, alopecia, violation of the hair structure, erythema, eczema, hypersensitivity reactions, herpes infection; in some cases - Stevens-Johnson syndrome, erythema multiforme, toxic epidermal necrolysis (when combined with interferon alpha-2b and peginterferon alpha-2b);
Others: allergic reactions, malaise, thirst, dry mouth, otitis media, weakness, chills, flu-like syndrome, fever, increased sweating, weight loss, asthenia, viral infection, fungal infection, lymphadenopathy, pain at the injection site.
The development of side effects in combination treatment may be associated with each of the drugs used alone or with a combination of them.
special instructions
Rebetol should be prescribed only in combination with interferon alfa-2b or peginterferon alfa-2b, the safety and efficacy of use with other interferons has not been established.
The use of interferon alfa-2b or peginterferon alfa-2b should be started after careful study of the instructions attached to them.
It is recommended to exercise special caution when prescribing the drug to patients with heart pathologies, since the risk of anemia in this category of patients while taking the drug increases significantly and can cause an exacerbation of the disease and / or heart failure. Therefore, if the symptoms of the cardiovascular system worsen, the capsules should be discontinued.
The reason for stopping treatment is the appearance of symptoms of bronchospasm, urticaria, angioedema, anaphylaxis.
For a transient skin rash, treatment can be continued.
Treatment of elderly patients should be started only after the study of renal function.
For women of childbearing age, the use of the drug is indicated only after a negative pregnancy test result, carried out before the immediate start of therapy. During the treatment period and for 6 months after it ends, they should use effective methods of contraception and have monthly pregnancy tests. These precautions are due to the significant risk of teratogenic effects of ribavirin on the fetus in case of pregnancy during and within 6 months after treatment.
Sick men should use condoms to prevent conception during therapy.
Liver histology may be required to confirm the diagnosis.
It is required to conduct regular laboratory blood tests with counting the number of platelets and leukocyte count, analysis of electrolytes, determination of the level of creatinine in blood serum, and functional liver tests. The analysis is carried out before the start of treatment, after the second and fourth weeks of therapy, then regularly, as needed.
Rebetol can cause drowsiness, disorientation, fatigue in patients, therefore, it is recommended to refrain from driving vehicles and mechanisms during the period of combination therapy.
Drug interactions
With the simultaneous use of combination therapy of Rebetol with interferon alfa-2b and peginterferon alfa-2b:
Antacids containing simethicone, aluminum or magnesium compounds: reduce the bioavailability of ribavirin, but the interaction is not considered clinically significant;
Zidovudine, stavudine: can cause an increase in the concentration of the human immunodeficiency virus (HIV) in the blood plasma (careful monitoring of the levels of HIV ribonucleic acid (RNA) in plasma is required and, if they increase, the further use of this combination should be revised);
Didanosine, abacavir, and other purine nucleoside analogues: Increase the risk of lactic acidosis.
The possibility of drug interaction with Rebetol persists for two months after its withdrawal.
Analogs
Rebetol's analogs are: Acyclostad, Valacyclovir, Valtrex, Vivorax, Herperax, Acyclovir, Virolex, Zovirax, Tsimeven, Valcyt, Provirsan, Famvir, Herpetad, Medovir.
Terms and conditions of storage
Store at temperatures up to 30 ° C. Keep out of the reach of children.
Shelf life is 2 years.
Terms of dispensing from pharmacies
Dispensed by prescription.
Information about the drug is generalized, provided for informational purposes only and does not replace the official instructions. Self-medication is hazardous to health!
Popular by topic