Table of contents: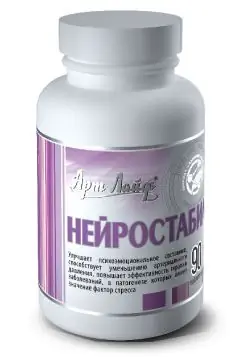 Video: Neurostabil - Instructions For Use, Indications, Doses
Neurostabil
Instructions for use:
1. Release form and composition
2. Indications for use
3. Contraindications
4. Method of application and dosage
5. Side effects
6. Special instructions
7. Drug interactions
8. Terms and conditions of storage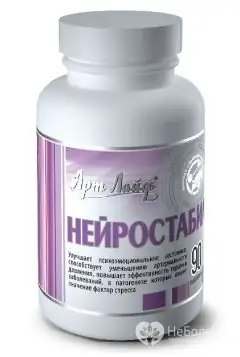 Neurostabil is a dietary supplement (BAA) of plant origin, which has a mild sedative and sedative effect, has anticonvulsant activity, normalizes the functional state of the central nervous system and blood pressure, is an effective general strengthening agent that increases the body's resistance to stressful situations and adverse factors.
Release form and composition
Dosage form - tablets of 500 mg (90 or 180 pieces in plastic bottles).
Active substances in 1 tablet of dietary supplement:
Motherwort extract - 150 mg;
L-glutamic acid - 50 mg;
Hop cones - 50 mg;
Oregano - 50 mg;
Fireweed - 25 mg;
Peony root - 50 mg;
Potassium chloride - 25 mg;
Magnesium oxide - 25 mg;
Vitamin A (retinol) - 0.12 mg;
Vitamin B 1 (thiamine) - 0.15 mg;
Vitamin B 2 (riboflavin) - 0.15 mg;
Vitamin B 3 (niacin) - 1.65 mg;
Vitamin B 5 (pantothenic acid) - 0.7 mg;
Vitamin B 6 (pyridoxine) - 0.16 mg;
Vitamin B 9 (folic acid) - 0.05 mg;
Vitamin B 12 (cyanocobalamin) - 0.0003 mg;
Vitamin C (ascorbic acid) - 10 mg;
Vitamin D 3 (cholecalciferol) - 0.0009 mg;
Vitamin E (tocopherol) - 0.9 mg;
Vitamin H (biotin) - 0.015 mg.
Indications for use
Phytocomplex Neurostabil is recommended to be taken as a dietary supplement, which is an additional source of vitamins, tannins and magnesium, in the following cases:
Migraine;
Hypertonic disease;
Neuroses of any genesis, high levels of stress, hysteria;
Vegeto-vascular dystonia;
Premenstrual syndrome;
Climacteric disorders;
Increased neuro-reflex excitability;
Depressive and hypochondriacal syndromes;
Thyrotoxicosis.
Contraindications
The use of Neurostabil is contraindicated in case of hypersensitivity to any of its constituent components.
The supplement is not used in pediatrics.
Method of administration and dosage
Neurostabil should be taken orally with meals.
Adults are usually prescribed 1 tablet 3 times a day.
Side effects
There are no data on the side effects of the phytocomplex.
special instructions
Neurostabil is not a drug, you should consult your doctor before using it.
Drug interactions
There is no information on the pharmacological interaction of Neurostabil with other drugs.
Terms and conditions of storage
Keep out of the reach of children, in a dry place at room temperature.
The shelf life is 3 years.
Information about the drug is generalized, provided for informational purposes only and does not replace the official instructions. Self-medication is hazardous to health!
Popular by topic