Table of contents: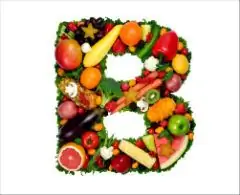 Video: Neurodiclovitis - Instructions For Use, Reviews, Doses
Neurodiclovitis
Instructions for use:
1. Composition and form of release
2. Pharmacological action
3. Indications for use
4. Contraindications
5. Method of administration and dosage regimen
6. Overdose
7. Side effects
8. Storage conditions
9. Special instructions
Prices in online pharmacies:
from 340 rubles.
Buy
Neurodiclovitis - NSAIDs in combination with B vitamins.
Composition and form of release of Neurodiclovitis
Neurodiclovit is available in modified release capsules. The main components of one capsule are:
Vitamin B12 (cyanocobalamin) - 250 mcg;
Vitamin B6 (as pyridoxine hydrochloride) - 50 mg;
Vitamin B1 (thiamine hydrochloride) - 50 mg;
Diclofenac sodium - 50 mg
Auxiliary components: talc, triethyl acetate, copolymer of ethyl acrylate and methacrylic acid, povidone K25. Sell Neurodiclovit in blisters of 10 capsules.
Pharmacological action of Neurodiclovitis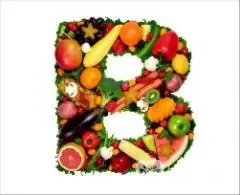 According to the instructions, Neurodiclovit is an NSAID with a combination of B vitamins. Diclofenac has an analgesic, anti-inflammatory, antipyretic and antiplatelet effect on the body. The analgesic and anti-inflammatory effect of diclofenac in rheumatic diseases significantly helps to remove pain, joint swelling, morning stiffness, which together helps to reduce the functional state of the joints. In the postoperative period, with injuries, diclofenac helps to reduce inflammatory edema and pain.
Vitamin B1, contained in Neurodiclovite, during phosphorylation processes in the human body is converted into cocarboxylase - a coenzyme of various enzymatic reactions. Thus, thiamine plays an important role in fat, protein and carbohydrate metabolism, takes an active part in the processes of nerve excitation in synapses.
Vitamin B6 is necessary for the body for the proper functioning of the peripheral and central nervous system. And without vitamin B12, the process of normal hematopoiesis and maturation of erythrocytes is impossible.
Indications for the use of Neurodiclovit
According to the instructions, Neurodiclovit is prescribed for the following diseases:
Degenerative and inflammatory diseases of the spine and joints (ankylosing spondylitis, spondyloarthrosis, rheumatoid and rheumatoid arthritis, chronic polyarthritis, osteoarthritis);
Pain syndrome in inflammation of a non-rheumatic nature (after surgical interventions and injuries, dental operations, in gynecological diseases and inflammatory diseases of the ENT organs);
Acute gouty arthritis;
Neuralgia and neuritis (sciatica, lumbago, cervical syndrome);
Rheumatic lesions of soft tissues.
Contraindications
The use of Neurodiclovit is contraindicated in such cases:
Intracranial bleeding;
Bowel diseases of an inflammatory nature;
Hematopoietic disorders;
Gastrointestinal bleeding;
Childhood;
The period of pregnancy and breastfeeding;
Active liver disease;
Erosive and ulcerative lesions of the gastrointestinal tract, which are in the acute phase;
Progressive kidney disease and severe renal failure;
Incomplete or complete combination of bronchial asthma, intolerance to acetylsalicylic acid and other NSAIDs and recurrent polyposis of the paranasal sinuses or nasal mucosa;
Hemostasis disorders;
Hyperkalemia;
Severe heart failure;
Hypersensitivity to the individual components of Neurodiclovitis and other NSAIDs;
Period of coronary artery bypass grafting.
According to reviews, Neurodiclovitis should be prescribed with caution when:
Ulcerative colitis, gastric ulcer and 12 duodenal ulcer;
Liver disease;
Crohn's disease;
Chronic liver failure, hepatic porphyria;
Arterial hypertension;
Chronic heart failure;
Bronchial asthma;
Chronic renal failure;
Peripheral artery disease;
Diabetes mellitus;
Alcoholism, smoking and other addictions;
Simultaneous intake of antiplatelet agents, anticoagulants, GCS, selective serotonin reuptake inhibitors;
Cerebrovascular diseases;
Coronary artery disease.
Method of application of Neurodiclovit and dosage regimen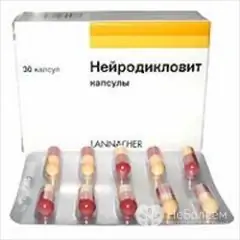 According to the instructions, Neurodiclovit capsules should be taken orally during meals with plenty of liquid. For adults, the dosage of Neurodiclovit according to the instructions is 1 capsule three times a day at the initial stage of treatment, and as a maintenance therapy - 1 capsule 1-2 times a day. The duration of treatment depends on the severity and nature of the disease.
Overdose
According to reviews, Neurodiclovit can cause the following symptoms of an overdose: bleeding from the gastrointestinal tract, vomiting, diarrhea, epigastric pain, lethargy, tinnitus, convulsions, increased blood pressure, coma, respiratory depression, acute renal failure.
In case of an overdose with Neurodiclovitis, it is recommended to do an emergency gastric lavage, take activated charcoal and carry out symptomatic treatment.
Side effects of Neurodiclovitis
According to reviews, Neurodiclovitis can cause the following side effects:
Nervous system: dizziness, headache, depression, drowsiness, sleep disturbances, aseptic meningitis (in patients with lupus erythematosus, etc.), general weakness, irritability, feeling of fear, nightmares, convulsions, disorientation in space.
Urinary system: nephrotic syndrome, fluid retention, azotemia, acute renal failure, hematuria, oliguria, interstitial nephritis.
Digestive system: diarrhea, bloating, constipation, nausea, increased concentration of liver enzymes, flatulence, gastrointestinal bleeding, peptic ulcer, melena, jaundice, vomiting, blood in the stool, dry mucous membranes, liver necrosis, hepatitis, hepatoreental syndrome, cirrhosis, pancreatitis, colitis.
Sensory organs: tinnitus, loss of clarity of vision, impaired taste, diplopia, scotoma, reversible or irreversible hearing loss.
Dermatological reactions: skin rash and itching, urticaria, alopecia, eczema, exudative erythema multiforme, toxic dermatitis, increased photosensitivity, bullous eruptions.
Respiratory system: Neurodiclovitis can cause laryngeal edema, bronchospasm, cough, pneumonia.
Cardiovascular system: increased blood pressure, extrasystole, myocardial infarction, chest pain, congestive heart failure.
Allergies: allergic vasculitis, rapidly developing anaphylactic shock, anaphylactoid reactions, swelling of the tongue and lips.
Storage conditions for Neurodiclovitis
Neurodiclovitis is a prescription drug. Store Neurodiclovit out of the reach of children, at room temperature for no longer than three years.
special instructions
During the use of Neurodiclovit, it is recommended to regularly monitor the picture of peripheral blood, kidney and liver function, as well as check feces for blood.
To avoid the risk of developing unwanted side effects from the gastrointestinal tract, according to reviews, Neurodiclovit should be taken in the recommended dosage for the shortest possible time. In order for the effect of taking Neurodiclovitis to be achieved as quickly as possible, it should be taken half an hour before a meal.
Neurodiclovitis: prices in online pharmacies
Drug name
Price
Pharmacy
Neurodiclovit capsules with modified release 30 pcs.
340 RUB
Buy
Neurodiclovit capsules 30 pcs.
361 RUB
Buy
Information about the drug is generalized, provided for informational purposes only and does not replace the official instructions. Self-medication is hazardous to health!
Popular by topic