Table of contents: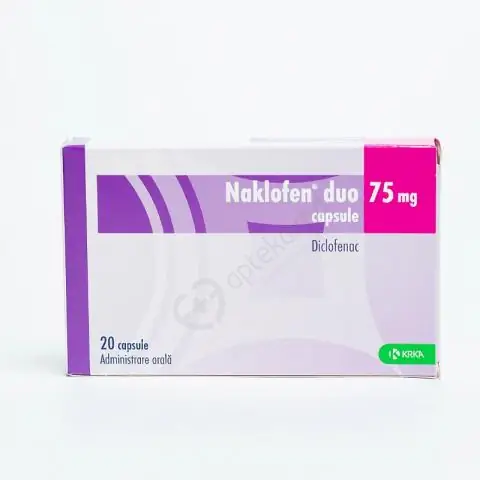 Video: Naklofen Duo - Instructions For Use Of Capsules 75 Mg, Reviews, Price
Naklofen Duo
Naklofen Duo: instructions for use and reviews
1. Release form and composition
2. Pharmacological properties
3. Indications for use
4. Contraindications
5. Method of application and dosage
6. Side effects
7. Overdose
8. Special instructions
9. Application during pregnancy and lactation
10. Use in childhood
11. In case of impaired renal function
12. For violations of liver function
13. Use in the elderly
14. Drug interactions
15. Analogs
16. Terms and conditions of storage
17. Terms of dispensing from pharmacies
18. Reviews
19. Price in pharmacies
Latin name: Naklofen Duo
ATX code: M01AB05
Active ingredient: diclofenac (diclofenac)
Manufacturer: KRKA, dd (Slovenia)
Description and photo updated: 20.11.2018
Prices in pharmacies: from 93 rubles.
Buy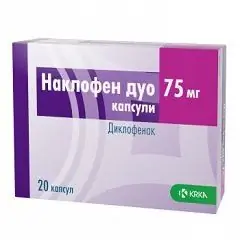 Naklofen Duo is a non-steroidal anti-inflammatory drug (NSAID) with analgesic and antipyretic action.
Release form and composition
Naklofen Duo is produced in the form of capsules with modified release: size No. 2, white body, blue cap; contents of capsules - pellets from white to pale yellow (10 pcs. in a blister, 2 blisters in a cardboard box).
Composition of 1 capsule:
active substance: diclofenac sodium - 75 mg (in sustained-release pellets - 50 mg, in enteric - 25 mg);
additional components: talc *; sustained-release pellets - hyprolose (hydroxypropyl cellulose), copolymers of ammonium methacrylate types A and B, triethyl citrate, talc, sugar spheres (the sucrose content does not exceed 92%); enteric pellets - hyprolose (hydroxypropyl cellulose), heavy magnesium carbonate, hypromellose, 30% dispersion of methacrylic acid and ethyl acrylate copolymer (1: 1), sodium carboxymethyl cellulose, triethyl citrate, titanium dioxide, talc, sodium hydroxide, macrogol, sugar spheres (92%);
capsule body: titanium dioxide (E171), gelatin (EP);
capsule cap: titanium dioxide (E171), gelatin (EP), indigo carmine dye FD&C Blue 2 (E132).
* Before filling the capsule, 0.2% talcum powder is mixed with enteric and sustained release pellets to prevent electrostatic charging of the pellets during capsule filling.
Pharmacological properties
Pharmacodynamics
Diclofenac sodium (active component of the drug) is an NSAID that exhibits analgesic, anti-inflammatory and antipyretic effects. Its main mechanism of action, as well as the resulting undesirable reactions, is the indiscriminate suppression of the activity of the enzymes cyclooxygenase 1 and 2 (COX-1 and COX-2), resulting in a violation of the metabolism of arachidonic acid, a decrease in the production of prostaglandins, thromboxane, prostacyclin. The active substance reduces the concentration of various prostaglandins in the gastric mucosa, urine and synovial fluid.
The remedy is especially effective in the treatment of inflammatory pains. Against the background of rheumatic lesions, the analgesic and anti-inflammatory effect of diclofenac leads to a significant weakening of the severity of pain, swelling and morning stiffness of the joints, which helps to improve their functional state. The drug reduces inflammatory tissue edema and pain caused by trauma or surgery.
Like all NSAIDs, Naklofen Duo exhibits an antiplatelet effect. When taken in therapeutic doses, the drug does not affect bleeding time.
During long-term treatment, the analgesic effect of sodium diclofenac is not weakened.
Pharmacokinetics
The product is completely and quickly absorbed. Since the active substance is in the preparation in the form of enteric pellets and sustained-release pellets, Naklofen Duo has both a quick and a prolonged effect. The maximum plasma concentration of diclofenac is observed 30-60 minutes after administration.
The therapeutic concentration of the drug lasts twice as long as when taking enteric film coated tablets. The level of diclofenac in plasma linearly depends on the value of the dose taken; with repeated administration, there are no changes in its pharmacokinetic parameters. Subject to the recommended break between doses, the agent does not cumulate. Bioavailability is 50%, the connection with proteins (mostly with albumin) is over 99%.
Diclofenac has the ability to penetrate into the synovial fluid, where its maximum concentration is observed 2-4 hours later than in plasma. The drug is excreted from the synovial fluid more slowly than from the plasma. The volume of distribution is 550 ml / kg.
50% of diclofenac is metabolized during the first passage through the liver. Metabolic transformation is carried out as a result of single or multiple hydroxylation and conjugation with glucuronic acid with the participation of the P450 CYP2C9 enzyme system. The metabolites have a lower pharmacological activity than diclofenac. The volume of distribution is 550 ml / kg, the systemic clearance is 260 ml / min, the half-life is 2 hours. Approximately 70% of the dose taken is excreted by the kidneys in the form of pharmacologically inactive metabolites, less than 1% - unchanged, the rest - in the form of metabolites with bile.
In elderly patients, as well as in the presence of chronic hepatitis or compensated liver cirrhosis, the pharmacokinetic parameters of the drug remain unchanged.
In patients with severe renal failure [creatinine clearance (CC) below 10 ml / min], the excretion of metabolites in the bile increases, but their blood levels do not increase.
Naklofen Duo is able to penetrate into breast milk.
Indications for use
According to the instructions, Naklofen Duo is recommended for the symptomatic treatment of the following diseases / conditions:
degenerative and inflammatory diseases of the locomotor system: psoriatic, juvenile chronic arthritis, rheumatoid arthritis, gouty arthritis, ankylosing spondylitis (ankylosing spondylitis), rheumatic lesions of soft tissues, arthritis in Reiter's disease, osteoarthritis of the spine and peripheral joints (including radicular syndrome)), periarthritis, tendovaginitis, synovitis, myositis, bursitis
diseases accompanied by pain syndrome of mild / moderate severity: lumboischialgia, myalgia, neuralgia, post-traumatic pain syndrome against a background of inflammation, migraine, headache, postoperative pain, algomenorrhea, proctitis, adnexitis, renal and biliary colic, toothache;
infectious and inflammatory diseases of the ENT organs with severe pain syndrome (as part of combination therapy): otitis media, tonsillitis, pharyngitis;
febrile syndrome.
Naklofen Duo does not affect the progression of the disease.
Contraindications
Absolute:
incomplete / complete combination of bronchial asthma, recurrent polyposis rhinosinusitis and intolerance to acetylsalicylic acid or any other NSAIDs (including a history);
decompensated heart failure;
the period after the operation of coronary artery bypass grafting;
bleeding (including cerebrovascular) and hemostasis disorders;
oppression of bone marrow hematopoiesis;
progressive kidney disease, severe renal failure (CC below 30 ml / min), including diagnosed hyperkalemia;
active phase of liver disease, severe hepatic failure;
a period of exacerbation of inflammatory bowel diseases, including ulcerative colitis (UC) and Crohn's disease;
active gastrointestinal bleeding, erosive and ulcerative disorders of the gastric mucosa or 12 duodenal ulcer;
age up to 18 years;
III trimester of pregnancy and lactation period;
hypersensitivity to any of the constituents of the drug.
Relative (Naklofen Duo should be taken with extreme caution):
ischemic heart disease (CHD);
peripheral arterial lesions;
cerebrovascular diseases;
diabetes;
dyslipidemia / hyperlipidemia;
the presence of an infection caused by Helicobacter pylori;
an indication in the history of the occurrence of ulcerative lesions of the gastrointestinal tract (GIT);
diverticulitis;
CC below 60 ml / min;
severe forms of somatic diseases;
inducible porphyria;
systemic connective tissue diseases;
epilepsy;
a significant decrease in the volume of circulating blood (BCC), including after a massive surgical intervention;
smoking and / or frequent alcohol consumption;
old age, including patients with low body weight, debilitated, taking diuretics (lower doses are recommended);
long-term use of NSAIDs;
I – II trimesters of pregnancy;
the combined use of the following drugs: oral glucocorticoids, antiplatelet agents, anticoagulants, selective serotonin reuptake inhibitors (SSRIs).
Instructions for use Naklofen Duo: method and dosage
Naklofen Duo 75 mg capsules are taken orally, swallowing the capsule whole without chewing or breaking, drinking plenty of water after or at the end of a meal. As a rule, the drug is taken in the morning.
The dose is set individually, taking into account the severity of the disease. Usually Naklofen Duo is prescribed 1-2 times a day, 75 mg (1 capsule). The maximum daily dose should not exceed 150 mg (2 capsules).
Side effects
nervous system: often - dizziness, headache; rarely - drowsiness; extremely rarely - impaired sensitivity (including paresthesia), convulsions, irritability, tremors, memory disorders, insomnia, agitation, anxiety, nightmares, depression, disorientation, mental disorders, aseptic meningitis, cerebrovascular disorders;
digestive system: often - dyspepsia, vomiting, flatulence, nausea, diarrhea, anorexia, abdominal cramps, increased aminotransferase activity, epigastric pain; rarely - bleeding from the gastrointestinal tract (diarrhea mixed with blood, melena, vomiting with blood), gastritis, gastrointestinal ulcers (with or without bleeding or perforation), jaundice, hepatitis, liver dysfunction; extremely rare - dry mucous membranes (including the oral cavity), glossitis, stomatitis, esophageal damage, constipation, diaphragmatic intestinal strictures (exacerbation of ulcerative colitis / Crohn's disease, nonspecific hemorrhagic colitis), fulminant hepatitis, pancreatitis;
hematopoietic organs: extremely rarely - leukopenia, thrombocytopenia, aplastic and hemolytic anemia, eosinophilia, agranulocytosis;
cardiovascular system: extremely rarely - chest pain, palpitations, increased blood pressure, extrasystole, tachycardia, heart failure, vasculitis, myocardial infarction;
urinary system: extremely rarely - edema, proteinuria, hematuria, acute renal failure, nephrotic syndrome, interstitial nephritis, papillary necrosis;
respiratory system: rarely - cough, bronchial asthma (including shortness of breath); extremely rare - laryngeal edema, pneumonitis;
allergic reactions: anaphylactic and anaphylactoid reactions, including severe hypotension and shock; extremely rare - angioedema, including facial edema (the drug contains propyl parahydroxybenzoate and methyl parahydroxybenzoate, which can cause allergic reactions);
dermatological reactions: often - skin rash; rarely - urticaria; extremely rare - pruritus, eczema, bullous rash, erythema multiforme, hair loss, exfoliative dermatitis, photosensitivity, Lyell's syndrome, Stevens-Johnson syndrome, purpura, including allergic;
sense organs: often - vertigo; extremely rarely - a violation of taste, visual impairment (diplopia, blurred vision), tinnitus, hearing impairment.
Overdose
Symptoms of an overdose of diclofenac include: vomiting, abdominal pain, nausea, diarrhea, gastrointestinal bleeding, irritability, headache, tinnitus, dizziness, convulsions, hyperventilation with increased convulsive readiness; against the background of significant intoxication - hepatotoxic effect, acute renal failure.
In this condition, gastric lavage, activated carbon intake, symptomatic therapy designed to eliminate gastrointestinal irritation, increase blood pressure, impaired renal function, convulsions, and respiratory depression are prescribed. Due to the high connection of diclofenac with proteins and its intensive metabolism, hemodialysis and forced diuresis are ineffective.
special instructions
In order to quickly achieve the desired therapeutic effect, you can take Naklofen Duo 30 minutes before meals, in all other cases - before, during or after meals.
The risk of undesirable effects of the agent on the gastrointestinal tract can be reduced by using the minimum effective dose in the shortest possible course.
Prostaglandins are of great importance for maintaining renal blood flow, and therefore Naklofen Duo should be taken with extreme caution in elderly patients receiving diuretics, those with reduced BCC, and patients with heart or renal failure. During the course, patients of this risk group need to monitor the functioning of the kidneys.
Against the background of prolonged use of diclofenac, in rare cases, serious hepatotoxic reactions may appear, as a result of which regular monitoring of liver function is recommended. Also, with prolonged therapy, studies of the picture of peripheral blood and feces for occult blood should be performed.
It is known that diclofenac negatively affects fertility, therefore it is not recommended for women planning pregnancy. Patients suffering from infertility (including those undergoing examination) should consider the feasibility of refusing to take the drug.
During therapy with Naklofen Duo, you must refrain from drinking alcohol.
Due to its anti-inflammatory and antipyretic effect in infectious diseases, diclofenac sodium can mask the symptoms of these lesions.
In patients with galactosemia, lactase enzyme deficiency and glucose / galactose malabsorption syndrome, a small amount of sucrose included in Naklofen Duo does not have a negative effect.
Influence on the ability to drive vehicles and complex mechanisms
Since during the period of use of Naklofen Duo, dizziness, drowsiness, visual impairment may occur, patients who drive vehicles and other complex and potentially dangerous mechanisms are advised to refrain from these activities.
Application during pregnancy and lactation
In the third trimester of pregnancy, Naklofen Duo is contraindicated. If it is necessary to take the drug in the I-II trimesters of pregnancy, it is necessary to correlate the expected benefit for the woman with the potential threat to the health of the fetus.
Diclofenac has been detected in human milk in small amounts, despite this, taking the drug during lactation is contraindicated.
Pediatric use
Use of Naklofen Duo is contraindicated for children and adolescents under 18 years of age.
With impaired renal function
Naklofen Duo is contraindicated in the presence of progressive kidney disease, severe renal failure with QC below 30 ml / min (including diagnosed hyperkalemia). With CC below 60 ml / min, diclofenac should be used with caution.
For violations of liver function
Naklofen Duo is contraindicated in patients with active liver disease or severe hepatic impairment.
Use in the elderly
Elderly patients should use Naklofen Duo with caution and at lower doses.
Drug interactions
anticoagulants, thrombolytic and antiplatelet drugs (urokinase, streptokinase, alteplase), other NSAIDs, glucocorticosteroids - the threat of bleeding (mainly from the gastrointestinal tract) is aggravated;
methotrexate, digoxin, cyclosporin, lithium preparations - the plasma concentration of these drugs increases;
potassium-sparing diuretics - the risk of hyperkalemia increases;
drugs that suppress tubular secretion - the plasma concentration of diclofenac increases, which increases its toxicity;
hypnotics and antihypertensive drugs - the effect of these drugs is weakened;
paracetamol - the risk of nephrotoxic effects increases;
acetylsalicylic acid - the concentration of diclofenac in the blood decreases;
cyclosporine - the nephrotoxicity of this substance is enhanced;
colchicine, ethanol, corticotropin, SSRIs, St. John's wort preparations - the risk of bleeding from the gastrointestinal tract increases;
methotrexate - its toxicity increases;
drugs leading to photosensitization - the sensitizing effect of diclofenac to ultraviolet radiation is enhanced;
antibacterial drugs included in the quinolone group - the threat of seizures increases;
diuretics - their effectiveness decreases;
gold preparations, cyclosporine - the effect of diclofenac on the production of prostaglandins in the kidneys increases, which leads to an increase in nephrotoxicity;
hypoglycemic drugs - hypo- or hyperglycemia may occur (it is required to control blood sugar levels);
valproic acid, cefotetan, cefamandol, cefoperazone, plikamycin - the incidence of hypoprothrombinemia increases.
Analogs
Naklofen Duo analogs are: Voltaren Emulgel, Voltaren, Diklak, Diclo-F, Diclac Lipogel, Diclogen, Diclovit, Diclofenac, Dicloran, Diclofenac retard-Akrihin, Diclofenac retard, Diclofenaclofenaco, Diclofenac-Siklofenako -ratiopharm, Diclofenac-FPO, Diclofenac-Altpharm, Diclofenac-UBF, Diclofenac-Eskom, Naklofen SR, Diclofenacol, Naklofen, Dorosan, Ortofer, Ortofissen, Rapten Duo, Svofleks, PensheteyDisset.
Terms and conditions of storage
Store out of the reach of children at temperatures up to 30 ° C.
The shelf life is 3 years.
Terms of dispensing from pharmacies
Dispensed by prescription.
Reviews about Naklofen Duo
Reviews of Naklofen Duo are overwhelmingly positive. Patients note the effectiveness and quick action of the drug for moderate pain of various types, a convenient mode of administration, its availability and low cost. According to reviews, the drug relieves morning stiffness and swelling of the joints, helps to quickly restore their motor activity in rheumatic diseases.
To the disadvantages of the drug, many patients attribute a large number of undesirable phenomena and contraindications to its use. To prevent negative effects on the digestive system, patients recommend combining the drug with agents that envelop the gastrointestinal tract or lower acidity. There are rare reviews that indicate the effect of addiction to this NSAID and the appearance of an even more severe pain syndrome after its withdrawal. In such cases, it is required to take into account that the drug removes only the symptoms of the disease, without eliminating the cause of their development.
Price for Naklofen Duo in pharmacies
The price of Naklofen Duo 75 mg can be approximately 95–120 rubles (20 capsules per pack).
Naklofen Duo: prices in online pharmacies
Drug name
Price
Pharmacy
Naklofen Duo 75 mg Modified Release Capsules 20 pcs.
93 rbl.
Buy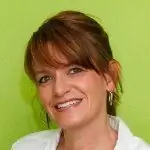 Maria Kulkes Medical journalist About the author
Education: First Moscow State Medical University named after I. M. Sechenov, specialty "General Medicine".
Information about the drug is generalized, provided for informational purposes only and does not replace the official instructions. Self-medication is hazardous to health!
Popular by topic