Table of contents: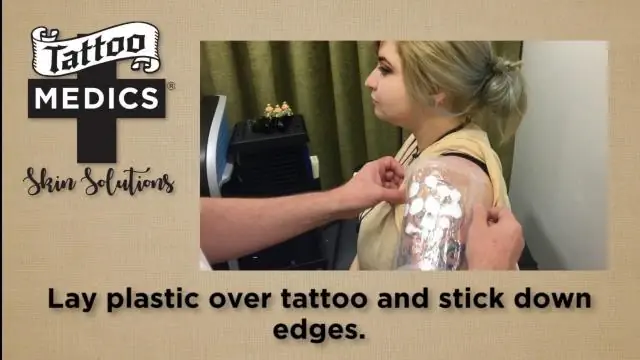 Video: Nalkrom - Instructions For Use, The Price Of 100 Mg Capsules, Analogues, Reviews
Nalkrom
Nalkrom: instructions for use and reviews
1. Release form and composition
2. Pharmacological properties
3. Indications for use
4. Contraindications
5. Method of application and dosage
6. Side effects
7. Overdose
8. Special instructions
9. Application during pregnancy and lactation
10. Use in childhood
11. Use in the elderly
12. Drug interactions
13. Analogs
14. Terms and conditions of storage
15. Terms of dispensing from pharmacies
16. Reviews
17. Prices in pharmacies
Latin name: Nalcrom
ATX code: R03BC01
Active ingredient: cromoglicic acid (Cromoglicic acid)
Manufacturer: ITC Pharma S.r. L. (ITC Farma, SrL) (Italy)
Description and photo update: 09.10.2019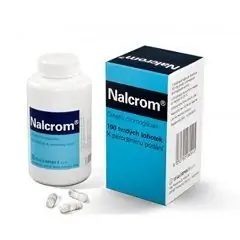 Nalkrom is an antiallergic drug, a stabilizer of mast cell membranes.
Release form and composition
The drug is produced in the form of capsules: size No. 2, hard gelatinous, with a transparent colorless body and lid, with the inscription "SODIUM CROMOGLICATE 100 mg", the contents of the capsules are white granular powder (100 pcs. In polyethylene bottles, in a cardboard box 1 bottle and instructions for the use of Nalkrom).
1 capsule contains:
active substance: sodium cromoglycate - 100 mg;
capsule shell composition: gelatin 100%.
Pharmacological properties
Pharmacodynamics
Nalkrom is an antiallergic drug. Its active ingredient, cromoglycic acid, has a membrane stabilizing effect, which prevents the degranulation of mast cells and the release of biologically active substances from them, including histamine, bradykinin and leukotrienes. The mechanism of action of the drug is aimed at preventing the development of symptoms of immediate allergic reactions, but does not eliminate them.
In the treatment of mastocytosis, relief of gastrointestinal (GI) symptoms such as diarrhea and abdominal pain or skin itching and urticaria occurs after 2–6 weeks of therapy and persists for 2–3 weeks.
Pharmacokinetics
After oral administration, less than 1% of the dose of sodium cromoglycate is absorbed from the gastrointestinal tract.
Plasma protein binding occurs at about 65%. The substance is not metabolized.
Given the physicochemical properties of sodium cromoglycate, it is unlikely that the drug will enter breast milk.
Plasma clearance is approximately 7.9 ml / min / kg, therefore, no accumulation of the substance occurs.
Cromolyn sodium is excreted unchanged in equal proportions through the intestines and kidneys.
Indications for use
Nalkrom 100 mg capsules are used in the treatment of the following conditions / diseases:
food allergy (with a confirmed presence of an allergen) - as monotherapy, as well as in combination with a diet that limits the intake of the allergen;
mastocytosis (urticaria pigmentosa);
ulcerative colitis - as an auxiliary drug while taking sulfasalazine or corticosteroids (glucocorticosteroids), in patients with hypersensitivity to sulfasalazine - as the drug of choice.
Contraindications
Absolute:
age up to two years;
individual intolerance to the components of the drug.
Care should be taken to appoint Nalkrom during pregnancy (especially in the first trimester).
Nalkrom, instructions for use: method and dosage
Nalkrom capsules are taken orally about 15 minutes before meals, swallowing whole or as an aqueous solution.
To prepare an aqueous solution of the drug, the contents of the capsules are dissolved in 1 teaspoon of very hot water, then the resulting mass is diluted in 4 teaspoons of cold water.
Recommended dosage:
children aged 2 to 14 years: initial dose - 1 capsule (100 mg) 4 times a day. The maximum daily dose is no more than 40 mg per 1 kg of the child's weight;
adults: initial dose - 2 capsules (200 mg) 4 times a day. The maximum daily dose is no more than 40 mg per 1 kg of patient weight.
In the treatment of patients with food allergies, it is considered preferable to take the drug in the form of an aqueous solution. At the beginning of treatment, the patient may experience an increase in the symptoms of the disease, therefore, an initial daily dose of no more than 100 mg should be used, increasing it with an interval of 3-4 days until the desired therapeutic effect is achieved.
No dose adjustment is required in elderly patients.
Side effects
possible: abdominal discomfort, skin rash, nausea, vomiting, diarrhea, joint pain;
extremely rare: the development of allergic reactions.
Overdose
Overdose symptoms have not been established.
Given the insignificant absorption of the active substance, sodium intoxication with cromoglycate is unlikely.
special instructions
Taking capsules as a prophylaxis is not recommended for patients with a history of the development of life-threatening allergic reactions (including anaphylactic shock) in response to the consumption of any food.
Influence on the ability to drive vehicles and complex mechanisms
There is no information about the effect of Nalkrom on the patient's ability to drive vehicles or complex mechanisms.
Application during pregnancy and lactation
During gestation, the appointment of Nalkrom capsules is indicated only in cases of obvious clinical need.
The experience of using sodium cromoglycate during pregnancy and lactation indicates the absence of an adverse effect of the drug on both the development of the fetus and the health of the child.
Pediatric use
The appointment of Nalkrom is contraindicated for the treatment of children under the age of two years.
For children aged 2 to 14 years, the daily dose should not exceed 40 mg per 1 kg of body weight.
Use in the elderly
Elderly patients do not need sodium cromoglycate dose adjustment.
Drug interactions
With the simultaneous use of Nalkrom with GCS, it becomes possible to reduce the dose or completely cancel the GCS. When the dose of corticosteroids is reduced, the patient needs careful medical supervision.
The GCS dose should be reduced gradually, no more than 10% per week.
Analogs
Nalkrom's analogs are Cromoglycic acid, Krom-allerg, Allergo-Komod, Dipolkrom, Intal, Kromitsil-SOLOpharm, Kromohexal, Kromoglin, Lekrolin, Optivell, Kromospir, Hi-Krom, etc.
Terms and conditions of storage
Keep out of the reach of children.
Store at temperatures up to 30 ° C, protected from moisture.
The shelf life is 5 years.
Terms of dispensing from pharmacies
Dispensed by prescription.
Reviews about Nalkrom
Reviews about Nalkrome are positive. Patients indicate that this is an indispensable drug for food allergy, especially if it is not possible to identify the allergen. Rapid onset of clinical effect is reported. There are no complaints about adverse reactions while using it.
The disadvantages include the lack of the drug in the pharmacy network and great difficulties in purchasing it.
Price for Nalkrom in pharmacies
The price of Nalkrom 100 mg per bottle containing 100 capsules can range from 1,890 rubles.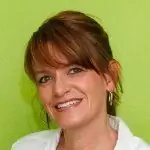 Maria Kulkes Medical journalist About the author
Education: First Moscow State Medical University named after I. M. Sechenov, specialty "General Medicine".
Information about the drug is generalized, provided for informational purposes only and does not replace the official instructions. Self-medication is hazardous to health!
Popular by topic