Table of contents: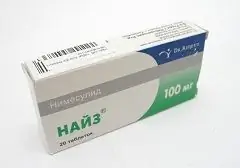 Video: Nise - Instructions, Application, Reviews
Nise
Instructions for use:
1. Pharmacological action
2. Release form
3. Indications for use
4. Contraindications
5. Instructions for use
6. Side effects
7. Storage conditions
Prices in online pharmacies:
from 116 rubles.
Buy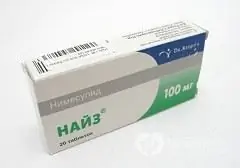 Nise is a synthetic drug used in the treatment of joint diseases and pain relief of various etiologies.
pharmachologic effect
The active substance of the drug Nise has an analgesic, anti-inflammatory and antipyretic effect.
The drug is effective in the processes associated with pain, inflammation and edema. Nise inhibits platelet aggregation and reduces bronchospasm, which is caused by the action of histamine and acetaldehyde. Also, the drug has an antioxidant effect and slows down the formation of toxins.
When applied topically, Nise has been reported to relieve pain and swelling in the joints and reduce morning stiffness.
Release form
The drug is available in several dosage forms:
Nise tablets containing 100 mg of the active ingredient nimesulide, 10 pieces in a blister;
Dispersible tablets Nise containing 50 mg of active ingredient nimesulide, 10 pieces in a blister;
Suspensions for oral administration, in 5 ml - 50 mg of nimesulide, in 60 ml vials with a dosage cap;
Gel Nise 1% for external use, in 1 g - 10 mg of nimesulide, in aluminum tubes of 20 g.
Indications for use of Nise
In any dosage form, Nise is used for:
Rheumatoid and psoriatic arthritis;
Radiculitis;
Articular syndrome with exacerbation of gout and rheumatism;
Ankylosing spondylitis;
Osteochondrosis with radicular syndrome;
Sciatica;
Arthritis of various etiologies;
Lumbago;
Fever of various origins, including infectious and inflammatory diseases;
Myalgia of rheumatic and non-rheumatic genesis;
Post-traumatic inflammation of soft tissues, bruises and injuries and ligament ruptures;
Arthralgia;
Osteoarthritis;
Inflammation of tendons, ligaments, bursitis;
Pain syndrome caused by trauma or in the postoperative period, with menstrual, toothache or headache.
Contraindications
According to Nise's instructions, it is contraindicated to take orally when:
Erosive and ulcerative lesions and bleeding of the gastrointestinal tract;
Liver dysfunction;
"Aspirin triad";
Children under 2 years of age;
Severe renal failure.
Gel Nise is contraindicated for use in case of damage to the epidermis, dermatoses and skin infections in the area of application.
Nise in any dosage form is contraindicated for use during pregnancy, lactation, as well as with hypersensitivity to nimesulide, acetylsalicylic acid or other components of the drug.
Nise is used with caution in heart failure, arterial hypertension, type 2 diabetes mellitus, visual impairment and renal function.
Instructions for use of Nise
In the form of tablets or suspension, the drug is usually prescribed for adults twice a day, 100 mg, maximum up to 400 mg. The course of treatment is 10 days.
Nise suspension and tablets are recommended to be taken before meals, dispersible tablets - after meals, after dissolving them in a teaspoon of water.
Children 2-3 years old are allowed to take Nise according to the instructions only in the form of a suspension, 3-12 years old - in the form of a suspension and dispersible tablets, over 12 years old - in the form of tablets.
A single dose for children up to 40 kg is calculated depending on body weight - 3-5 mg per 1 kg of body weight. The drug is taken 2-3 times a day. If you weigh more than 40 kg, you can take an adult dose - 100 mg twice a day.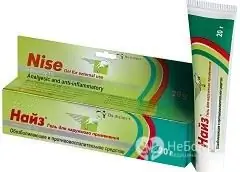 Care should be taken when Nise is taken orally with lithium preparations, digoxin, diuretics, antihypertensive drugs, phenytoin, methotrexate, anticoagulants, cyclosporine and oral hypoglycemic agents.
Gel Nise, without rubbing, is applied in a thin layer up to 4 times a day to painful areas.
The maximum daily dose of the drug is 30 g. The course of treatment with Nise gel is 10 days.
Side effects
According to Nise's reviews, when taken orally, it can cause the following side effects:
Heartburn, nausea and vomiting, stomach pains, erosive and ulcerative lesions of the gastrointestinal tract, diarrhea, increased activity of hepatic transaminases and toxic hepatitis;
Fluid retention, hematuria, prolonged bleeding time;
Headache and dizziness;
Anaphylactic shock, skin rash, or bronchospasm;
Leukopenia, thrombocytopenia, anemia, or agranulocytosis.
When using Nise in the form of a gel, urticaria, itching, peeling, and temporary discoloration of the skin are possible.
According to Nise's reviews, when applied to large areas of the skin, it can cause the development of systemic adverse reactions.
In case of an overdose of Nise, according to the instructions, convulsions, impaired renal function, respiratory depression, hepatic failure and increased blood pressure are possible.
Storage conditions
Suspension and Nise tablets are List B drugs and are available with a prescription, shelf life is up to 3 years. Gel Nise is a non-prescription drug with a shelf life of 2 years.
Nise: prices in online pharmacies
Drug name
Price
Pharmacy
Nise 100 mg tablets 20 pcs.
116 RUB
Buy
Nise 100 mg 2 g 9 pcs.
171 r
Buy
Nise gel 1% 20g
175 RUB
Buy
Nise 1% gel for external use 20 g 1 pc.
175 RUB
Buy
Nise tablets 100mg 20 pcs.
197 RUB
Buy
Nise 1% gel for external use 50 g 1 pc.
RUB 200
Buy
Nise 100 mg tablets 30 pcs.
205 RUB
Buy
Nise granules for prig suspension. for internal approx. 100mg pack. 2g 9 pcs.
211 r
Buy
Nise tablets 100mg 30 pcs.
244 RUB
Buy
Nise gel 1% 50g
325 RUB
Buy
Nise 1% gel for external use 100 g 1 pc.
367 r
Buy
Nise gel for outside. approx. 1% 100g
RUB 520
Buy
See all offers from pharmacies
Information about the drug is generalized, provided for informational purposes only and does not replace the official instructions. Self-medication is hazardous to health!
Popular by topic