Table of contents: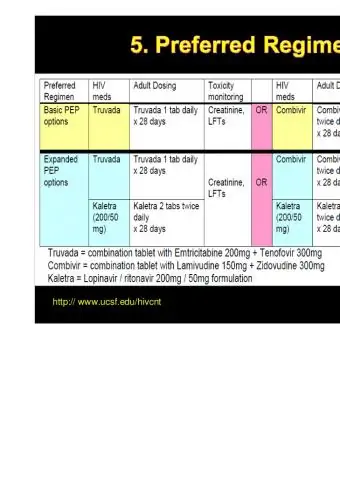 Video: Combivir - Instructions For The Use Of Tablets, Price, Reviews, Analogues
Combivir
Combivir: instructions for use and reviews
1. Release form and composition
2. Pharmacological properties
3. Indications for use
4. Contraindications
5. Method of application and dosage
6. Side effects
7. Overdose
8. Special instructions
9. Drug interactions
10. Analogs
11. Terms and conditions of storage
12. Terms of dispensing from pharmacies
13. Reviews
14. Price in pharmacies
Latin name: Combivir
ATX code: J05AR01
Active ingredient: Zidovudine + Lamivudine (Zidovudine + Lamivudine)
Manufacturer: Glaxo Operations UK Limited (Great Britain)
Description and photo update: 2019-12-08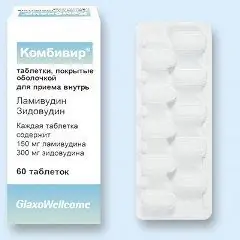 Combivir is an antiviral combined drug active against the human immunodeficiency virus (HIV).
Release form and composition
Dosage form Combivir - film-coated tablets: oval, white or almost white, on one side there is an engraved inscription, divided by a line - "GXFC3" (10 pcs. In blisters Al / PVC, 6 blisters in a cardboard box).
1 tablet contains:
Active ingredients: lamivudine - 150 mg, zidovudine - 300 mg;
Auxiliary components: anhydrous colloidal silicon, microcrystalline cellulose, sodium carboxymethyl starch (type A), magnesium stearate;
Film shell: white opadry (titanium dioxide, hypromellose, polysorbate 80, macrogol 400).
Pharmacological properties
Pharmacodynamics
Lamivudine and zidovudine, the active ingredients of Combivir, are potent selective inhibitors of HIV-1 and HIV-2 reverse transcriptase. These compounds are sequentially metabolized with the participation of intracellular kinases to 5'-triphosphate (TF). Zidovudine-TF and lamivudine-TF are substrates for HIV reverse transcriptase and competitive inhibitors of this enzyme. However, the antiviral effect of Combivir is mainly caused by the incorporation of their monophosphate form into the viral DNA chain, resulting in chain termination. The triphosphates of zidovudine and lamivudine are characterized by a significantly lower affinity for DNA polymerases found in human cells.
When lamivudine and other antiretroviral drugs (zidovudine, abacavir, zalcitabine, nevirapine) were combined in vitro, no antagonism of their mutual action was found. Antagonistic effects in vitro were also not observed when zidovudine and other antiretroviral drugs (interferon-alpha, lamivudine, didanosine, abacavir) were co-included in therapy.
In vitro studies have shown that lamivudine has a weak cytotoxic effect on peripheral blood lymphocytes, as well as on monocytic-macrophage and lymphocytic cell lines and a number of certain bone marrow stem cells. This indicates a broad therapeutic index of this active ingredient of Combivir in vitro.
Resistance of HIV-1 to lamivudine is caused by a mutation in codon M184V, which is located near the active site of HIV viral reverse transcriptase. This mutation was detected both in vitro and in patients with HIV-1 virus who received combination antiretroviral therapy (ART), which involves the use of lamivudine. A mutation in the M184V codon causes a significant decrease in the sensitivity to lamivudine and a significant decrease in the ability of the virus to replicate, according to in vitro studies. The latter confirmed that zidovudine-resistant isolates of the virus may be susceptible to its effects if these isolates develop resistance to lamivudine at the same time. However, the clinical significance of such metamorphoses has not yet been determined.
Virus resistance to thymidine analogs, including zidovudine, is well studied and is caused by the gradual cumulation of specific mutations in 6 codons (219, 215, 210, 70, 67, 41) of HIV reverse transcriptase. Viruses develop phenotypic resistance to thymidine analogs due to combined mutations in codons 215 and 41, or accumulation of at least 4 out of 6 mutations. These mutations alone do not cause high cross-resistance to other nucleoside analogs, which makes it possible to use other approved reverse transcriptase inhibitors in the future.
Two types of mutations are responsible for the development of multiple drug resistance. In the first case, mutations occur at 151, 116, 77, 75 and 62 positions of HIV reverse transcriptase, in the second case, a T69S mutation occurs, which consists in the insertion of 6 pairs of nitrogenous bases in this position. This is accompanied by the development of phenotypic resistance to zidovudine, as well as to other nucleoside reverse transcriptase inhibitors (NRTIs). Both types of these mutations significantly limit the methods of therapeutic treatment of HIV infection.
In clinical trials, the combination of zidovudine and lamivudine caused a decrease in HIV-1 viral load and an increase in the concentration of CD4 + cells. Experimental data suggest that the combination of zidovudine and lamivudine or the use of lamivudine against the background of a zidovudine-containing regimen of therapy significantly reduces the risk of worsening the patient's condition and reduces mortality.
Monotherapy with zidovudine or lamivudine, administered alone, results in HIV isolates with reduced in vitro sensitivity to these compounds. At the same time, patients who have not previously undergone ART may experience inhibition of the formation of HIV strains resistant to the action of zidovudine when combined therapy with Combivir is prescribed. However, in vitro tests for HIV susceptibility to these compounds are not standardized, therefore, the influence of various methodological factors on their results is not excluded. To date, the relationship between in vitro sensitivity to zidovudine and / or lamivudine and the therapeutic effect of therapy is not well understood.
Zidovudine and lamivudine are widely used as elements of combination ART along with other antiretroviral drugs of the same NRTI category or other categories [fusion inhibitors and integrase inhibitors, non-nucleoside reverse transcriptase inhibitors (NNRTIs), HIV protease inhibitors (PIs)]. Combination ART regimens that include lamivudine have been shown to be effective in patients who have not previously taken antiretroviral drugs and in patients who have HIV strains with the M184V mutation.
Pharmacokinetics
Zidovudine and lamivudine are well absorbed through the intestinal wall. After oral administration in adult patients, the bioavailability of zidovudine is 60–70%, and that of lamivudine is 80–85%. The maximum concentrations of these substances in the blood plasma were recorded after about 0.5 hours (for zidovudine) and 0.75 hours (for lamivudine) and were equal to 1.8 μg / ml and 1.5 μg / ml, respectively.
The degree of absorption of zidovudine and lamivudine and their half-life when taken together with food do not differ from these indicators when taken on an empty stomach, but the rate of absorption of substances slows down somewhat.
Crushing tablets and taking them orally with a small amount of liquid or semi-solid food does not affect the pharmacological properties of Combivir and does not affect the therapeutic effect. This is confirmed by the pharmacokinetic and physicochemical properties of the active components, provided that the patient takes 100% of the crushed tablet once.
When infused, the mean volume of distribution for zidovudine and lamivudine is 1.6 and 1.3 L / kg, respectively. Lamivudine is characterized by linear pharmacokinetics when taken in therapeutic doses and limited binding to blood plasma albumin (in vitro less than 36% of serum albumin). The binding of zidovudine to blood plasma proteins is 34–38%. For this reason, the interaction of zidovudine and lamivudine with other drugs by replacing them at the binding sites on proteins is almost impossible.
Zidovudine and lamivudine enter the cerebrospinal fluid and central nervous system. In 2-4 hours after ingestion, the ratio between the content of these substances in the cerebrospinal fluid and in the blood serum is approximately 0.5 and 0.12, respectively.
Lamivudine is excreted from the body mainly through the kidneys unchanged. Metabolic interactions are practically absent due to insignificant metabolism in the liver (5–10%) and weak binding to blood plasma proteins.
The main metabolite of zidovudine in urine and blood plasma is the 5'-glucuronide of this compound. Approximately 50-80% of the dose of zidovudine taken is excreted through the kidneys.
The half-life of lamivudine is 5-7 hours. Its systemic clearance is about 0.32 l / h / kg, and the renal clearance, carried out by active tubular secretion through the organic cation transport system, is over 70%.
With zidovudine infusion, the approximate half-life is 1.1 hours, and the mean systemic clearance is about 1.6 L / h / kg. The renal clearance of the substance is 0.34 l / h / kg and is carried out by active tubular secretion and glomerular filtration.
In elderly patients (over 65 years), studies of the pharmacokinetics of zidovudine and lamivudine have not been conducted.
In children over 5-6 months of age, the pharmacokinetics of zidovudine are similar to those in adults. After oral administration, the substance is well absorbed from the intestines in both adults and children over the entire range of the studied dosages. The bioavailability of zidovudine is 60–74% (average 65%). The maximum substance concentration at equilibrium equal to 1.19 mcg / ml after zidovudine as a solution in a dose of 120 mg / m 2 body surface area, and 2.06 mg / mL after administration at a dose of 180 mg / m 2. Taking zidovudine at a dosage of 180 mg / m 2 4 times a day causes the same systemic exposure in children as taking it at a dosage of 200 mg / m 2 6 times a day in adults.
The pharmacokinetics of lamivudine in children are generally identical to those in adult patients. However, the absolute bioavailability (the indicator varies in the range of 55–65%) in children under 12 years of age is slightly reduced. The systemic clearance in this group of patients is higher than in adults, and there is a definite tendency to decrease as they grow older (by the age of 12, the same indicators are observed as in adults). For this reason, the recommended dose of lamivudine in pediatric patients (from 3 months to 12 years old with a body weight of 6–40 kg) is 8 mg / kg per day. It should be noted that exposure in children aged 2–6 years may be reduced by 30% compared to patients in other age groups.
In renal failure, lamivudine excretion is impaired due to a decrease in renal clearance. In patients with CC less than 50 ml / min, it is recommended to reduce the dose of lamivudine. Plasma levels of zidovudine are also increased in patients with severe renal impairment.
In patients with liver dysfunctions, there is a decrease in glucuronidation due to cirrhosis of the liver, which may result in the accumulation of zidovudine. In patients with severe hepatic impairment, dose adjustment of Combivir is necessary.
During pregnancy, the pharmacokinetics of zidovudine and lamivudine remain unchanged. It is assumed that the substances passively penetrate the hematoplacental barrier, which is confirmed by their detection in the blood serum of the newborn in the same concentrations as in the umbilical cord blood during childbirth and in the mother's blood serum.
Indications for use
According to the instructions, Combivir is used for the treatment of HIV infection in children (weighing at least 14 kg) and adults.
Contraindications
Severe anemia (hemoglobin value below 4.65 mmol / L or 7.5 g / dL);
Severe neutropenia (the number of neutrophils is less than 0.75 × 10 9 / l);
Body weight in children less than 14 kg;
Hypersensitivity to zidovudine, lamivudine or any of the components of the drug.
Zidovudine reduces mother-to-child transmission of HIV when Combivir is taken by pregnant women, followed by neonatal therapy. However, there are no such data regarding lamivudine, its safety in pregnancy has not been established. There are also no data on the combined use of zidovudine and lamivudine. Therefore, for pregnant women, especially in the first trimester, the drug is recommended for use only if the expected benefit to the mother is higher than the likely risk to the fetus.
Because lamivudine, zidovudine, and human immunodeficiency virus (HIV) pass into breast milk, HIV-infected women treated with Combivir should not breastfeed their baby under any conditions.
In severe liver dysfunctions and in renal dysfunction with creatinine clearance (CC) ≤50 ml / min, it is recommended to use separately zidovudine and lamivudine preparations.
When treating elderly patients, special care should be taken in view of age-related changes, such as impaired renal function or changes in hematological parameters.
Instructions for use of Combivir: method and dosage
Treatment with Combivir should be carried out by specialists with experience in treating HIV-infected patients.
Combivir tablets are taken orally, swallowing whole, regardless of the meal. For patients who cannot swallow the tablet whole, it should be crushed and added to a small amount of liquid or food, and taken immediately after crushing.
The recommended dosage regimen for adults and children, depending on body weight:
≥30 kg - 1 tab. 2 times / day;
21-30 kg - 1 / 2 pi. in the morning and 1 tab. in the evening;
14-21 kg - 1 / 2 pi. 2 times / day
If it is necessary to reduce the dose of Combivir, cancel lamivudine or zidovudine, or reduce the dose of one of these components, it is recommended to use monopreparations of lamivudine (Epivir - tablets or oral solution) and zidovudine (Retrovir - oral solution or capsules).
In case of anemia (hemoglobin ≤5.59 mmol / L (9 g / dL) or neutropenia (neutrophils ≤1.0 x 10 9 / L), dose adjustment of zidovudine may be necessary, therefore, monodrugs of zidovudine and lamivudine should be used with such indicators.
Side effects
To date, there is no data on the additive toxicity of zidovudine and lamivudine, therefore Combivir can cause side effects characteristic of each of these components separately.
Side effects of lamivudine:
Hematopoietic and lymphatic system: infrequently - anemia, thrombocytopenia, neutropenia; very rarely - true erythrocytic aplasia;
Metabolism and nutrition: often - hyperlactatemia; rarely - lactic acidosis, accumulation / redistribution of lipid tissue (the frequency depends on various factors, including the specific antiretroviral drug combination);
Nervous system: often - headache; very rarely - paresthesia, there are reports of peripheral neuropathy, but its relationship with lamivudine intake is unknown;
Gastrointestinal tract (GIT): often - epigastric pain, nausea, vomiting, diarrhea; rarely - an increase in the level of serum amylase, pancreatitis (there is no reliable data on the relationship with lamivudine therapy);
Hepatobiliary system: infrequently - a transient increase in alanine aminotransferase (ALT) and aspartate aminotransferase (AST);
Skin and subcutaneous fat: often - alopecia, rash;
Musculoskeletal system and connective tissue: often - muscle disorders, arthralgia; rarely - rhabdomyolysis;
General and local reactions: often - general malaise, fatigue, fever.
Side effects of zidovudine:
Hematopoietic and lymphatic system: often - leukopenia, neutropenia and anemia (blood transfusion may be required); infrequently - pancytopenia (with bone marrow hypoplasia) and thrombocytopenia; rarely - true erythrocytic aplasia; very rarely - aplastic anemia;
Metabolism and nutrition: often - hyperlactatemia; rarely - anorexia, lactic acidosis, accumulation / redistribution of lipid tissue (the frequency depends on various factors, including the specific antiretroviral drug combination);
Mind: rarely - anxiety, depression;
Nervous system: very often - headache; often - dizziness; rarely - paresthesia, drowsiness, insomnia, convulsions, decreased mental activity;
Cardiovascular system: rarely - cardiomyopathy;
Respiratory system, chest and mediastinal organs: infrequently - shortness of breath; rarely - cough;
Gastrointestinal tract: very often - nausea; often - abdominal pain, vomiting, diarrhea; infrequently - flatulence; rarely - taste perversion, pigmentation of the oral mucosa, dyspepsia, pancreatitis;
Hepatobiliary system: often - increased levels of bilirubin and liver enzymes; rarely - liver damage, such as severe hepatomegaly with steatosis;
Skin and subcutaneous fat: infrequently - itching, rash; rarely - pigmentation of the skin and nails, urticaria, sweating;
Musculoskeletal system and connective tissue: often - myalgia; infrequently - myopathy;
Kidneys and urinary tract: rarely - frequent urination;
Reproductive system and mammary glands: rarely - gynecomastia;
General and local reactions: often - general malaise; infrequently - asthenia, fever, generalized pain syndrome; rarely - chest pain, chills, flu-like syndrome.
Overdose
Information on Combivir overdose is limited. When taking zidovudine or lamivudine in high doses, no other specific symptoms have been identified, except for a slight increase in the side effects of the drug. There was no lethal outcome in 100% of cases, and the patients' condition gradually returned to normal.
In case of an overdose, it is recommended to monitor the patient's condition for the timely determination of acute signs of intoxication and the appointment of maintenance therapy. Since lamivudine is eliminated by dialysis, continuous hemodialysis is acceptable, but there is little clinical experience with this therapy. Peritoneal dialysis and hemodialysis are ineffective for removing zidovudine from the body, but these methods increase the elimination of glucuronide, which is its metabolite.
special instructions
If it is necessary to select a dose individually, the use of separate preparations of zidovudine and lamivudine is recommended. The attending physician should be guided by the instructions for the use of these medicines.
Since the use of Combivir or other antiretroviral drugs does not exclude the development of opportunistic infections and other complications of HIV infection in patients, patients should be monitored regularly by medical personnel experienced in HIV therapy.
There are no data on the effect of zidovudine and lamivudine on female fertility.
Combivir therapy, like other antiretroviral drugs, does not prevent HIV transmission through contaminated blood transfusion or sexual intercourse, so appropriate precautions must be taken.
Special instructions for the use of Combivir for various conditions / diseases:
Hematological disorders: taking zidovudine can provoke the development of neutropenia, anemia and leukopenia (usually secondary to neutropenia); more often, such effects are observed in the case of prescribing high doses of zidovudine (1.2-1.5 g / day) in the late stages of the disease with a decrease in the bone marrow reserve before the start of therapy, therefore, patients receiving Combivir should carry out a thorough monitoring of blood counts. Since such hematological pathologies usually appear after 4-6 weeks from the start of treatment, patients with a detailed clinical picture of HIV infection are recommended to monitor their blood counts at least once every 2 weeks in the first three months of therapy, then at least once a month. With HIV infection at an early stage on the part of the blood system, side effects are rare, therefore, a complete blood count is permissible to do,focusing on the well-being of patients, 1 time in 1-3 months. In case of development of myelosuppression or severe anemia during therapy with Combivir, as well as in patients with previous bone marrow suppression (hemoglobin below 5.59 mmol / l (9 g / dl) or neutrophils below 1.0 × 109 / l) it may be necessary to specially select the dose of zidovudine, and since it is impossible to do this separately in Combivir, it is recommended to use monopreparations of zidovudine and lamivudine;
Pancreatitis: rare episodes of the development of pancreatitis in patients taking zidovudine and lamivudine have been described, but it has not been reliably established whether the complication is associated with taking drugs or with the underlying disease - HIV infection. Therapy should be discontinued immediately if clinical signs or laboratory data appear indicating the development of pancreatitis (nausea, vomiting, epigastric pain, increased levels of biochemical markers), until the suspicion of pancreatitis is excluded;
Lactic acidosis / severe hepatomegaly with steatosis: there is evidence of rare, but possibly fatal, cases of lactic acidosis and severe hepatomegaly with fatty liver disease (most of them were registered in women). The clinical symptoms of lactic acidosis are general weakness, loss of appetite and sudden unexplained weight loss, gastrointestinal disturbances, rapid breathing, and shortness of breath. It is necessary to suspend the use of Combivir if the patient has clinical and laboratory symptoms of lactic acidosis or hepatotoxicity (including hepatomegaly and steatosis, even if transaminase levels are not increased). If there are risk factors for liver damage, the drug must be taken with caution;
Redistribution of subcutaneous fat: some patients may experience (individually or in combination) the following symptoms: accumulation / redistribution of lipid tissue, including dorsocervical fat deposition at the base of the neck - "buffalo hump", central type of obesity, enlargement of the mammary glands, thinning of the facial subcutaneous fat layer and a decrease in the lipid layer on the extremities, an increase in glucose and serum lipids in the blood. In this case, lipodystrophy syndrome is due to a multifactorial etiology; for example, advanced age, the stage of HIV infection and the duration of antiretroviral therapy may be synergistic and play an important role in the accumulation / redistribution of lipids following Combivir use. At present, the long-term consequences of the noted side effects are unknown. Fat metabolism disorders should be treated depending on their clinical manifestations. It is necessary to determine the levels of glucose and lipids in the blood serum, as well as to conduct a clinical examination of patients, which should include an assessment of the physical signs of redistribution of lipid tissue;
Immune reconstitution syndrome: at the beginning of antiretroviral therapy in patients with HIV infection with severe immunodeficiency on the background of residual or asymptomatic opportunistic infection, an exacerbation of the inflammatory process is likely, this can seriously worsen the condition or aggravate the symptoms. Typically, these effects are observed during the first weeks or months after starting antiretroviral treatment, the most significant of which are generalized and / or localized (focal) mycobacterial lesions, cytomegalovirus retinitis, and pneumocystosis. Any signs of inflammatory processes should be identified immediately and, if necessary, immediately begin therapy;
Concomitant viral hepatitis B: Combivir is recommended to be used with caution in decompensated liver cirrhosis caused by chronic hepatitis B, since in rare cases an exacerbation of hepatitis may develop if lamivudine is discontinued. Periodic monitoring of liver function and markers of hepatitis B virus replication is required;
Concomitant viral hepatitis C: with the simultaneous administration of zidovudine and ribavirin, an aggravation of anemia was observed (the mechanism of the development of the effect has not been clarified), therefore the combined use of ribavirin and Combivir is not recommended, especially if there is a history of zidovudine-induced anemia. Consideration should be given to discontinuing zidovudine as a result of a change in antiretroviral therapy;
Driving vehicles and managing complex mechanisms: special studies of the effect of zidovudine and lamivudine on the reaction time and speed of psychomotor response have not been carried out, based on the pharmacological properties of these drugs, such an effect is unlikely, but it is necessary to take into account the clinical condition of the patient and the nature of the side effects of zidovudine and lamivudine.
Influence on the ability to drive vehicles and complex mechanisms
There have been no specific studies to determine the effect of lamivudine and zidovudine on the ability to drive and perform potentially hazardous work. The pharmacological characteristics of these substances indicate a low likelihood of such an effect. The patient's condition should be considered, as well as the nature of the side effects of zidovudine and lamivudine.
Drug interactions
Combivir contains zidovudine and lamivudine, so it can enter into interactions typical of any of its components.
Only a small part of lamivudine is involved in metabolism and binds to plasma proteins. Almost completely the drug is excreted unchanged by the kidneys, so the likelihood of metabolic interactions is low. However, the following interactions with lamivudine should be considered:
Medicines excreted using the cation transport system - interaction with lamivudine is possible due to the use of a single route of excretion;
Co-trimoxazole (160 mg trimethoprim + 800 mg sulfamethoxazole) - increases plasma concentration of lamivudine by 40% (taken in therapeutic doses). With normal renal function, dose adjustment of lamivudine is not necessary; in patients with renal insufficiency, Co-trimoxazole and Combivir are used with caution at the same time. Lamivudine has no effect on the pharmacokinetics of sulfamethoxazole or trimethoprim. The effect of the combined use of drugs for the treatment of toxoplasmosis and pneumocystosis has not been studied;
Zalcitabine is not recommended for use in combination with Combivir, since lamivudine can inhibit its intracellular phosphorylation.
Zidovudine binds to plasma proteins slightly, mainly it is eliminated by hepatic metabolism to inactive glucuronide.
Interactions with zidovudine:
Atovaquone - zidovudine does not affect its pharmacokinetics, but atovaquone reduces the metabolic rate of zidovudine to its glucuronide (AUC of zidovudine in the equilibrium state increases by 33%, and C max in plasma glucuronide decreases by 19%). When using zidovudine from 500-600 mg / day in combination with a 3-week course of therapy for acute pneumocystosis with atovaquone, an increase in the frequency of side effects associated with increased plasma concentration of zidovudine is unlikely. If a longer course of joint therapy is necessary, the clinical condition of the patient should be carefully monitored;
Clarithromycin - reduces the absorption of zidovudine (an interval of at least 2 hours between clarithromycin and zidovudine is required);
Lamivudine - increases the time of exposure to zidovudine by 13%, increases its C max in plasma by 28%, but does not significantly change the total exposure of zidovudine (AUC); zidovudine does not affect the pharmacokinetics of lamivudine;
Phenytoin - in some cases, there was a decrease in the concentration of phenytoin in the blood, and in a separate case, the concentration of phenytoin increased (therefore, with the simultaneous use of Combivir and phenytoin, it is necessary to control the concentration of phenytoin in the blood);
Probenecid - can increase the average T 1 / 2 of AZT and AUC inhibition due to the formation of glucuronide glucuronide reduce renal excretion and possibly zidovudine;
Rifampicin - possibly reduces the AUC of zidovudine by 48 ± 34%, but the clinical significance of this effect is unknown;
Stavudine - it is possible to inhibit the process of intracellular phosphorylation of stavudine with zidovudine when they are taken simultaneously, therefore this combination is not recommended;
Acetylsalicylic acid, morphine, methadone, codeine, indomethacin, ketoprofen, oxazepam, lorazepam, naproxen, cimetidine, clofibrate, isoprinosine - can disrupt zidovudine metabolism due to competitive inhibition of glucuronidation or direct suppression of microsomal metabolism. Before prescribing these drugs simultaneously with Combivir, especially for long-term therapy, it is necessary to assess the consequences of possible drug interactions;
Potentially nephrotoxic or myelosuppressive drugs (especially in the treatment of acute conditions): pentamidine (when administered systemically), dapsone, pyrimethamine, co-trimoxazole, amphotericin, flucytosine, ganciclovir, interferon, vincristine, vinblastine, doxorubicin in the side effects - may increase the risk of side effects in the case of their simultaneous appointment with Combivir, careful monitoring of renal function and hematological parameters is necessary, if necessary, it is necessary to reduce the dose of one or more drugs).
Since, despite taking Combivir, some patients may develop opportunistic infections, it may be necessary to prescribe an additional antimicrobial course of treatment to prevent them. For this, co-trimoxazole, pyrimethamine, pentamidine (aerosol) and acyclovir are recommended, since according to the results of clinical trials, there is no pronounced increase in the frequency of side effects of zidovudine when used simultaneously with these drugs.
Analogs
The analogues of Combivir are: Atripla, Abacavir / Lamivudin-Teva, Kivexa, Duovir-N, Trizivir, Maktrivir, Zidolam-N, Tenvir-Em, Eviplera, Truvada, Tenohop-E, Virokomb, Zidolam, Disaverrox, Zidolam, Disaveroxid, Duovil Lamihop Z, Lamivudine 150, Zidovudine + Lamivudine Vial.
Terms and conditions of storage
Keep out of the reach of children, at a temperature not exceeding 30 ° C.
Shelf life is 2 years.
Terms of dispensing from pharmacies
Dispensed by prescription.
Reviews about Combivir
Numerous reviews of Combivir are ambiguous. Experts believe that the dosage and treatment regimen with the drug should be selected taking into account gender, age, symptoms of the underlying disease, individual sensitivity, concomitant diseases, etc. Patients mention frequent and rather strong side effects, in the event of which it is necessary to immediately contact to the doctor for the selection of additional therapy tools that allow you to completely get rid of adverse events during treatment with Combivir. The rather high cost of the drug is also mentioned.
Price for Combivir in pharmacies
In most cases, the price for Combivir is no more than 2200-2400 rubles (for a pack of 60 tablets).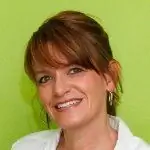 Maria Kulkes Medical journalist About the author
Education: First Moscow State Medical University named after I. M. Sechenov, specialty "General Medicine".
Information about the drug is generalized, provided for informational purposes only and does not replace the official instructions. Self-medication is hazardous to health!
Popular by topic