Table of contents: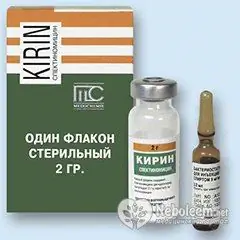 Video: Kirin - Instructions For Use, Indications, Doses, Analogues
Kirin
Instructions for use:
1. Release form and composition
2. Indications for use
3. Contraindications
4. Method of application and dosage
5. Side effects
6. Special instructions
7. Drug interactions
8. Analogs
9. Terms and conditions of storage
10. Terms of dispensing from pharmacies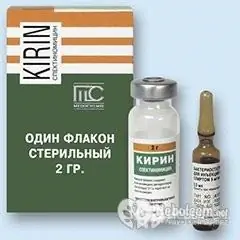 Kirin is an antibiotic used in the treatment of urogenital gonorrhea.
Release form and composition
Kirin is produced in the form of a powder for preparing a suspension for intramuscular administration: from almost white to white (2 g in glass vials, 1 vial in a cardboard box, complete with a solvent in dark glass ampoules).
The composition of 1 bottle contains the active substance: spectinomycin - 2 g (in the form of pentahydrate hydrochloride).
Solvent: bacteriostatic water for injection with 0.9% benzyl alcohol - 3.2 ml.
Indications for use
Kirin is prescribed for the treatment of urogenital gonorrhea in women and men.
Contraindications
A contraindication to the use of Kirin is hypersensitivity to the components of the drug.
Pregnant women should be treated only when the potential health benefits to the mother outweigh the potential risk to the fetus. For women during lactation, breastfeeding should be interrupted when prescribing the drug.
Method of administration and dosage
Kirin is administered intramuscularly.
Adults are prescribed 2 g of the drug (5 ml of suspension). If necessary, the dose is doubled.
The suspension is injected into the upper outer quadrant of the buttocks by deep intramuscular injection. The dose can be divided into 2 injections.
No dose adjustment is required for elderly patients.
Due to the lack of sufficient data, the use of Kirin in children is not recommended. There is evidence that a dose of 40 mg / kg of body weight is effective for children from 2 years of age. If no other effective treatment is available, Kirin can be used at this dose.
There are no data on the effectiveness and safety of using the drug in children under 2 years of age.
To prepare the suspension, add 1 ampoule of solvent (3.2 ml of sterile water for injection) to the contents of the vial and mix immediately. The resulting suspension (volume - 5 ml) has a concentration of 400 mg / ml. The prepared suspension must be injected immediately after preparation, the drug is not subject to storage.
Side effects
During the use of Kirin, the following side effects may develop:
Digestive system: cholestatic jaundice, nausea, increased alkaline phosphatase levels;
Urinary system: decreased urine output, which is not accompanied by impaired renal function; in some cases - hematuria; with prolonged use - an increase in the level of urea in the blood, a decrease in creatinine clearance;
Central nervous system: insomnia, dizziness;
Laboratory indicators: with prolonged use - a decrease in hematocrit, the level of glutamine pyruvate transaminases and hemoglobin in serum;
Allergic reactions: rarely - anaphylactic reactions, urticaria, skin rash (spotty erythematous, sometimes turning into itchy generalized);
Local reactions: soreness and induration at the injection site.
special instructions
The appointment of Kirin to patients with functional impairment of the kidneys is possible only if other drugs are ineffective.
Do not prescribe Kirin 24 hours before dialysis, as its effectiveness may be reduced (due to a decrease in serum concentration).
The use of Kirin can mask the signs of syphilis, therefore, within 4-6 weeks, patients should be tested for its presence. If syphilis is suspected, serological testing should be done for at least 4 months.
When carrying out therapy, the possibility of developing resistance to Neisseria gonorrhoeae should be considered. This occurs in rare cases, however, despite this, the clinical efficacy of Kirin should be monitored to identify any symptoms of the development of resistance.
Drug interactions
Kirin lowers the clearance of lithium, thereby increasing the toxicity and effect of lithium to a clinically pronounced degree (with simultaneous use, strict monitoring of the symptoms of lithium toxicity and its level in the blood should be carried out).
Analogs
Kirin's analogs are: Trobicin, Spectinomycin.
Terms and conditions of storage
Store in a dry place out of reach of children at temperatures up to 30 ° C.
The shelf life is 5 years.
The prepared suspension cannot be stored.
Terms of dispensing from pharmacies
Dispensed by prescription.
Information about the drug is generalized, provided for informational purposes only and does not replace the official instructions. Self-medication is hazardous to health!
Popular by topic