Table of contents: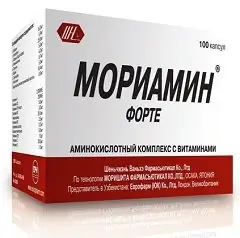 Video: Moriamin Forte - Instructions For Use, Indications, Doses, Analogues
Moriamin forte
Instructions for use:
1. Release form and composition
2. Indications for use
3. Contraindications
4. Method of application and dosage
5. Side effects
6. Special instructions
7. Drug interactions
8. Analogs
9. Terms and conditions of storage
10. Terms of dispensing from pharmacies
Moriamin forte is a combined action preparation containing vitamins and essential amino acids in a balanced proportion; the complex accelerates the regeneration of the structural components of cells, normalizes metabolism, stimulates the immunoprotective properties of the body, helps to slow down age-related changes, accelerate recovery of working capacity during fatigue and / or convalescence, reduces the destructive effect of unfavorable environmental factors, replenishes vitamin deficiencies.
Release form and composition
Dosage form of Moriamin forte - capsules: gelatinous hard; lid - transparent, dark red, overprinted "MM 888" in white, body - transparent, colorless; the capsule contains granules of various colors - translucent, yellowish, red-pink, orange, dark brown and white (10 pcs. in a blister strip made of PVC film, 3 or 10 packs in a bag of aluminum foil, 1 bag in a cardboard box with a protective hologram sticker).
1 capsule contains active ingredients:
5-hydroxyanthranilic acid hydrochloride - 200 mcg;
L-valine - 6700 mcg;
L-isoleucine - 5900 mcg;
L-leucine - 18,300 mcg;
L-lysine hydrochloride - 18,300 mcg;
L-methionine - 18,400 mcg;
L-threonine - 4200 mcg;
L-tryptophan - 5000 mcg;
L-phenylalanine - 5000 mcg;
Vitamin B 1 (thiamine mononitrate) - 5000 mcg;
Vitamin B 2 (riboflavin) - 3000 mcg;
Vitamin B 6 (as pyridoxine hydrochloride) - 2500 mcg;
Vitamin B 12 (cyanocobalamin) - 1 mcg;
Vitamin E (as alpha-tocopherol acetate) 1000 mcg
Vitamin C (ascorbic acid) - 20,000 mcg;
Vitamin D 2 (ergocalciferol) - 5 μg, which corresponds to 200 IU of ergocalciferol;
Vitamin A (retinol palmitate) - 1100 μg, which corresponds to 2000 IU of retinol palmitate;
Calcium pantothenate - 5000 mcg;
Nicotinamide - 20,000 mcg;
Folic acid - 200 mcg
Auxiliary components: lactose monohydrate, potato starch, microcrystalline cellulose, titanium dioxide, calcium carmellose, methylcellulose, macrogol-6000, hyprolose, aluminum silicate, quinoline yellow dye (E 104), azorubin dye (E 122), brown chocolate dye.
Indications for use
Therapy of hypoalbuminemia, concomitant with various diseases, such as hepatocirrhosis, chronic liver diseases, chronic renal failure, due to which the nitrogen balance in the blood serum is disturbed and a lack of protein is formed;
Recovery and nutrition of the body after surgery or in case of malignant tumors;
Hypovitaminosis (therapy and prevention);
Increased need for trace elements, minerals and vitamins during intense physical or mental activity, pregnancy, convalescence, intoxication, stressful situations, inadequate and unbalanced nutrition, in the postoperative period, after radiation therapy, during lactation, during the increased growth of children and adolescents.
Contraindications
Hypervitaminosis;
Children under 3 years old;
Hypersensitivity to any component of the complex.
Moriamin forte is taken with caution in diabetes mellitus.
Method of administration and dosage
Capsules are taken orally with sufficient water, regardless of food intake. If the capsule cannot be swallowed whole, it is recommended to stir its contents in warm milk, water or liquid food with a neutral medium. A mixture of granules must be taken immediately, storage of granules or solutions without a capsule shell is not allowed.
Recommended dosing regimen for prevention:
Children 3-6 years old - 1 capsule per day;
Children over 6 years old and adults - 2 capsules a day.
The duration of the preventive course is from 3 months or more. If necessary, it is allowed to continue or repeat the intake of Moriamin forte.
Recommended dosage regimen for therapy:
Children 3-6 years old - 1 capsule per day;
Children 6-12 years old - 1 capsule 3 times a day;
Children over 12 years old and adults - 1-2 capsules 3 times a day.
The duration of the therapeutic course is from 2 months, if necessary, it can be extended or repeated.
In the I trimester of pregnancy, take 1 capsule per day, in the II and III trimester - 2 capsules per day.
Side effects
Allergic reactions are possible.
special instructions
The bioavailability of the components of Moriamin forte reaches 98% due to the use of a special granulation technology.
When using the drug, urine may turn yellowish due to the presence of vitamin B 2 in the composition.
The simultaneous use of the vitamin-mineral complex with other vitamin-containing products is not recommended.
In the presence of diabetes mellitus, Moriamin Forte is used after medical advice.
Drug interactions
Ascorbic acid - reduces the rate of excretion of salicylates, barbiturates, sulfonamides;
Biguanides - reduce the absorption of cyanocobalamin;
Vinblastine, bleomycin, fluorouracil, cisplatin - disrupt the absorption of vitamins A, B 1 and B 6;
Isoniazid, penicillamine - reduce the effectiveness of vitamin B 1, increasing its metabolism, isoniazid - reduces the effectiveness of pyridoxine;
Methotrexate, sulfasalazine, pyrimethamine, trimethoprim, triamterene, antiepileptic drugs - reduce the absorption of folic acid, causing folate deficiency;
Pyridoxine - increases decarboxylation in the peripheral tissues of levodopa;
Antiepileptic drugs - increase the metabolism of ergocalciferol and its excretion in the bile;
Cardiac glycosides - increase the likelihood of developing ergocalciferol-induced hypercalcemia;
Laxatives containing mineral oil and cholestyramine - reduce the absorption of vitamins A, E and D;
Oral contraceptives (estrogens) - increase the concentration of vitamins A and C in the blood serum, decrease the concentration of folic acid.
Analogs
Analogues of the drug Moriamin forte are: Univit kids, Pantovigar, Revalid, Complivit, Vitrum, Doppelgerts energotonik, Velmen, Feroglobin-B, Livolin.
Terms and conditions of storage
Store in a dry, dark place at a temperature not exceeding 30 ° C. Keep out of the reach of children.
The shelf life is 3 years.
Terms of dispensing from pharmacies
Available without a prescription.
Information about the drug is generalized, provided for informational purposes only and does not replace the official instructions. Self-medication is hazardous to health!
Popular by topic