Table of contents: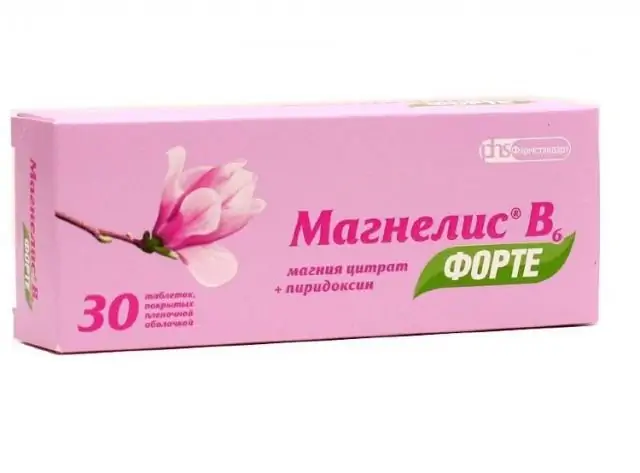 Video: Magnelis B6 Forte - Instructions For Use, Price, Reviews, Analogues
Magnelis B6 forte
Magnelis B6 forte: instructions for use and reviews
1. Release form and composition
2. Pharmacological properties
3. Indications for use
4. Contraindications
5. Method of application and dosage
6. Side effects
7. Overdose
8. Special instructions
9. Application during pregnancy and lactation
10. Use in childhood
11. In case of impaired renal function
12. Drug interactions
13. Analogs
14. Terms and conditions of storage
15. Terms of dispensing from pharmacies
16. Reviews
17. Price in pharmacies
Latin name: Magnelis B6 forte
ATX code: A12CC
Active ingredient: magnesium citrate + pyridoxine (Pyridoxine)
Producer: JSC Pharmstandard-Tomskhimfarm (Russia), LLC Nanolek (Russia)
Description and photo update: 2019-08-10
Prices in pharmacies: from 347 rubles.
Buy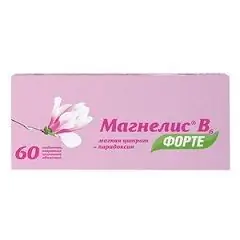 Magnelis B6 forte is a drug that compensates for the lack of magnesium in the body.
Release form and composition
The drug is produced in the form of film-coated tablets: biconvex, oblong, white film shell, the core on the cut is almost white or white (10 pieces in a blister strip, in a cardboard box 3, 6 or 9 packs and instructions for use Magnelis B6 forte).
1 tablet contains:
active substances: magnesium citrate - 618.43 mg, which is equivalent to magnesium (Mg 2+) in an amount of 100 mg; pyridoxine hydrochloride - 10 mg;
additional components: ludipress [crospovidone (kollidon CL), povidone K-30 (kollidon 30), lactose monohydrate], magnesium stearate, macrogol-6000 (polyethylene glycol-6000);
film casing: VIVACOAT PM-IP-000 [macrogol-3350 (polyethylene glycol-3350), titanium dioxide, hypromellose (hydroxypropyl methylcellulose), hyprolose (hydroxypropyl cellulose), talc].
Pharmacological properties
Pharmacodynamics
Magnesium is one of the vital elements, without which the normal functioning of cells is impossible. This element is involved in most of the metabolic reactions, including the regulation of the transmission of nerve impulses and the process of muscle fiber contraction. Approximately 50% of the magnesium in the body is stored in bone tissue.
Pyridoxine (vitamin B 6) helps to improve the absorption of magnesium from the gastrointestinal tract (GIT) and its subsequent entry into cells, and the vitamin is also a participant in many metabolic processes.
Magnesium must be ingested with food. The lack of this important biogenic element in the body can be fixed when there is a deficiency of its intake (including when dieting) or when the need for magnesium increases. Moderate magnesium deficiency occurs when serum concentration ranges from 12 to 17 mg / L (1–1.4 mEq / L or 0.5–0.7 mmol / L), and severe deficiency occurs when serum concentrations less than 12 mg / l (1 mEq / l or 0.5 mmol / l).
Pharmacokinetics
The absorption of magnesium salts in the gastrointestinal tract is carried out in part through a passive mechanism, in which the solubility of these substances is of paramount importance. The degree of this absorption does not exceed 50%. Elimination is carried out mainly by the kidneys.
Indications for use
Magnelis B6 forte is recommended for use in the presence of an established magnesium deficiency, isolated or associated with other deficiency conditions, accompanied by the following symptoms: minor sleep disturbances, excessive fatigue, increased irritability, palpitations, gastrointestinal cramps, tingling sensation in muscles, spasms and pain in the muscles.
If a month after the start of the course of therapy there is no decrease in the above symptoms of magnesium deficiency, the continuation of the drug is impractical.
Contraindications
Absolute:
glucose and galactose malabsorption syndrome, hereditary galactosemia, lactase deficiency (due to lactose monohydrate included in Magnelis B6 forte);
severe renal failure [with creatinine clearance (CC) less than 30 ml / min];
combined treatment with levodopa;
age up to 12 years;
breast-feeding;
hypersensitivity to any of the constituents of the drug.
Relative (Magnelis B6 forte tablets should be used with caution):
moderate impairment of renal function (the risk of developing hypermagnesemia increases);
pregnancy period (use is allowed if necessary and only on the recommendation of a specialist).
Magnelis B6 forte, instructions for use: method and dosage
Magnelis B6 Forte is taken orally with a meal with a glass of water. The tablets must be swallowed whole without chewing.
It is recommended for adolescents over 12 years of age to use the drug 2-4 tablets per day, adults - 3-4 tablets per day, dividing them into 2-3 doses. Typically, the average course of treatment is 1 month.
Side effects
immune system: extremely rare (<0.01%) - allergic reactions, including skin reactions;
digestive tract: with an unknown frequency (according to the available data, it is not possible to estimate the frequency of these disorders) - flatulence, nausea, diarrhea, vomiting, abdominal pain.
Overdose
In patients with normal renal function, an overdose of oral magnesium in most cases does not lead to the development of toxic reactions. However, in the presence of renal failure, magnesium poisoning may develop.
Symptoms of an overdose of Magnelis B6 forte may include the following phenomena, the severity of which depends on the magnesium content in the blood: vomiting, nausea, decreased blood pressure, decreased reflexes, changes in the electrocardiogram, depression of the central nervous system, anuria syndrome, respiratory depression, coma, paralysis breathing and cardiac arrest.
In this condition, rehydration and forced diuresis are indicated. Patients with renal failure require hemodialysis or peritoneal dialysis.
special instructions
If there is a simultaneous deficiency of calcium and magnesium, the lack of magnesium must be eliminated before taking calcium supplements or dietary supplements that include calcium.
Against the background of long-term intake of pyridoxine (for several months, and sometimes years) in daily doses exceeding 200 mg, sensory axonal neuropathy may occur, accompanied by such phenomena as tremor of the distal extremities, impaired bathyesthesia and numbness, gradually developing impaired coordination of movements (sensory ataxia). All of these symptoms are usually reversible and disappear after pyridoxine is stopped.
Influence on the ability to drive vehicles and complex mechanisms
Magnelis B6 forte does not affect the ability to drive a car and other complex moving mechanisms. There are no specific recommendations.
Application during pregnancy and lactation
According to the data obtained in clinical practice in the treatment of a sufficient number of pregnant women, the combined use of magnesium citrate and pyridoxine hydrochloride did not have teratogenic and fetotoxic effects.
The use of Magnelis B6 forte during pregnancy is allowed only if necessary and on the recommendation of a doctor.
Due to the fact that magnesium is excreted with breast milk, when prescribing the drug during lactation, it is necessary to resolve the issue of transferring the child to artificial feeding.
Pediatric use
Magnelis B6 forte tablets are contraindicated for children under 12 years of age, since the effectiveness and safety of drug treatment in patients of this age category have not been established.
With impaired renal function
Patients with severely impaired renal function (CC less than 30 ml / min) are contraindicated to take Magnelis B6 forte, with moderate impairments - it should be taken with caution because of the increased threat of hypermagnesemia.
Drug interactions
levodopa: the activity of this substance is inhibited by pyridoxine; it is necessary to avoid the use of pyridoxine in any doses while taking levodopa, if the use of levodopa is not combined with the use of peripheral decarboxylase inhibitors of aromatic L-amino acids;
preparations containing calcium salts or phosphates: there may be a decrease in the absorption of magnesium in the intestine; these combinations are not recommended;
tetracyclines (for oral administration): absorption of these drugs worsens; with combined use, the interval between taking medications should be at least 3 hours.
Analogs
Analogues of Magnelis B6 forte are: Magwit, Magnesium Plus, Magne B6, Magwit B6, Magnelis B6, Magne B6 forte, Magnistad, Magnesium Plus B6, L-Mag, etc.
Terms and conditions of storage
Store at a temperature not exceeding 25 ° C, out of the reach of children.
Shelf life is 2 years.
Terms of dispensing from pharmacies
Available without a prescription.
Reviews of Magnelis B6 Fort
Reviews of Magnelis B6 Fort, found on medical sites, are mostly positive. Patients note that the drug after a course of administration helped to cope with depression, chronic fatigue, frequent headaches, eliminated sleep disturbances, pain and muscle cramps, which are symptoms of a lack of magnesium in the body. They also indicate that this remedy helps to improve metabolic processes and weaken spasms in the gastrointestinal tract. Some patients, according to reviews, took the drug during pregnancy on the recommendation of the attending physician and were satisfied with its action, since it relieved rapid heartbeat, excessive irritability, night cramps in the calf muscles and feet.
In the presence of impaired renal function, many patients recommend seeking the advice of a specialist before taking the drug.
However, there are also reviews in which patients express dissatisfaction with the insufficient effect of drug therapy or note the complete absence of any improvement after using it. Occasionally, there are complaints about the development of undesirable phenomena in the form of gastrointestinal disorders or allergic reactions.
Price for Magnelis B6 forte in pharmacies
The price for Magnelis B6 Forte, film-coated tablets, can be: 330-350 rubles. for 30 pcs. in a package, 450-520 rubles. for 60 pcs. packaged.
Magnelis B6 forte: prices in online pharmacies
Drug name
Price
Pharmacy
Magnelis B6 forte 100 mg + 10 mg film-coated tablets 30 pcs.
347 r
Buy
Magnelis B6 forte 100 mg + 10 mg film-coated tablets 60 pcs.
578 r
Buy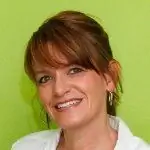 Maria Kulkes Medical journalist About the author
Education: First Moscow State Medical University named after I. M. Sechenov, specialty "General Medicine".
Information about the drug is generalized, provided for informational purposes only and does not replace the official instructions. Self-medication is hazardous to health!
Popular by topic