Table of contents: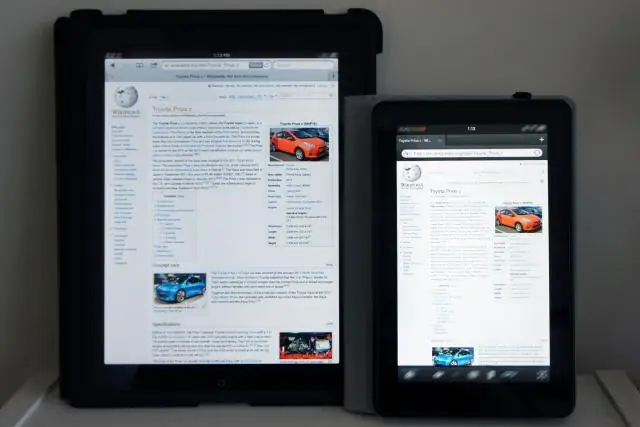 Video: Roliten - Instructions For The Use Of Tablets, Price, Reviews, Analogues
Roliten
Roliten: instructions for use and reviews
1. Release form and composition
2. Pharmacological properties
3. Indications for use
4. Contraindications
5. Method of application and dosage
6. Side effects
7. Overdose
8. Special instructions
9. Application during pregnancy and lactation
10. Use in childhood
11. Drug interactions
12. Analogs
13. Terms and conditions of storage
14. Terms of dispensing from pharmacies
15. Reviews
16. Price in pharmacies
Latin name: Roliten
ATX code: G04BD07
Active ingredient: tolterodine (tolterodine)
Manufacturer: Ranbaxy Laboratories Ltd. (India)
Description and photo update: 2018-26-10
Prices in pharmacies: from 459 rubles.
Buy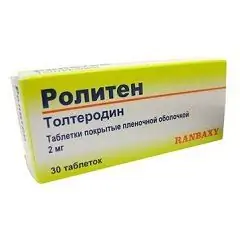 Roliten is an m-anticholinergic blocker that has antispasmodic and anticholinergic effects.
Release form and composition
Dosage form of the drug Roliten - film-coated tablets: biconvex, round, color from almost white to white (10 pcs. In blisters, in a carton of 3 or 6 blisters).
Composition for 1 tablet:
active substance: tolterodine tartrate - 2 mg;
auxiliary components: microcrystalline cellulose, colloidal silicon dioxide, calcium hydrogen phosphate, sodium carboxymethyl starch, magnesium stearate;
film casing: white opadry dye OY-S-58910 (titanium dioxide, hypromellose, talc, macrogol 400), purified water (evaporates during the production process).
Pharmacological properties
Pharmacodynamics
The active component of Roliten, tolterodine, is an antagonist of m-cholinergic receptors, concentrated in the salivary glands and bladder. It reduces the contractile activity of the bladder and reduces salivation. Rolliten allows partial emptying of the bladder, increasing the amount of residual urine and decreasing the pressure of the muscular membrane of the bladder (detrusor). A stable therapeutic effect of the drug is achieved 4 weeks after the start of treatment. Tolterodine, as well as 5-hydroxymethyl, its active metabolite, exhibit high specificity for muscarinic receptors and are selective for bladder receptors (in comparison with salivary gland receptors).
Pharmacokinetics
The main pharmacokinetic characteristics of tolterodine:
absorption: after oral administration, tolterodine is rapidly absorbed from the gastrointestinal tract (gastrointestinal tract), reaching C max (maximum serum concentration) after 1–3 hours after administration. C max increases in proportion to the dose in the range of 1–4 mg. The indicator of absolute bioavailability is up to 65% with reduced metabolism (in persons deprived of CYP2D6) and up to 17% with increased metabolism, which is typical for most patients. Food intake does not affect the exposure of unbound tolterodine and its active metabolite in patients with increased metabolism, however, when tolterodine is taken with food, its level increases;
distribution: it takes up to 2 days to reach an equilibrium concentration of a substance; V d (volume of distribution) - 113 liters;
metabolism: metabolic processes occur mainly in the liver with the participation of the polymorphic enzyme CYP2D6, resulting in the formation of a pharmacologically active 5-hydroxymethyl metabolite. With further metabolism, 5-carboxylic acid and its N-dealkylated metabolites are formed. In patients with reduced metabolism due to deficiency of the CYP2D6 enzyme, tolterodine undergoes dealkylation by CYP2D6 isoenzymes with the formation of pharmacologically inactive N-dealkylated tolterodine. Tolterodine and its active metabolite bind mainly with alpha-1-acid glycoprotein (orosomucoid), unbound fractions are 3.7% and 36%, respectively;
excretion: with increased metabolism, the systemic clearance rate reaches 30 liters per hour, T 1/2 (half-life) is 2-3 hours. For the 5-hydroxymethyl metabolite, T 1/2 increases to 3-4 hours. Elimination of a radioactive label after taking 14 C-tolterodine: with urine ~ 77%, with feces ~ 17%, including unchanged <1%, in the form of an active metabolite ~ 4%. Of the total amount of tolterodine excreted in the urine, the carboxylated metabolite is 51%, the corresponding dealkylated metabolite is ~ 29%.
With a reduced metabolism, a decrease in the clearance of tolterodine and an increase in its T 1/2 to 10 hours leads to an approximately 7-fold increase in its concentration level against the background of undetectable 5-hydroxymethyl metabolite concentrations. As a result, with the same dosage regimen, the AUC value (area under the concentration-time curve) of tolterodine in patients with reduced metabolism is close to the sum of the AUC of tolterodine and its active 5-hydroxymethyl metabolite in individuals with increased metabolism. Thus, Roliten's safety, tolerability and clinical efficacy are the same for different phenotypes.
In patients with liver cirrhosis, the AUC of tolterodine and its active 5-hydroxymethyl metabolite is approximately doubled.
Indications for use
According to the instructions, Roliten is recommended to be used for the treatment of hyperreflexia (hyperactivity, instability) of the bladder, manifested by urinary incontinence and / or frequent urge to urinate.
Contraindications
Absolute:
delay in urination;
angle-closure glaucoma, not amenable to drug therapy;
myasthenia gravis (myasthenia gravis);
ulcerative colitis, including with toxic enlargement of the large intestine (megacolon);
the period of pregnancy and breastfeeding;
childhood;
individual hypersensitivity to the components of the drug.
Relative contraindications for which Roliten should be used with caution: obstructive gastrointestinal lesions, obstruction of the urinary tract, irreducible hernia, neuropathy.
Instructions for use of Roliten: method and dosage
Roliten tablets are taken orally.
The recommended dosing regimen for adult patients: 2 mg (1 tablet) 2 times a day.
Patients with hepatic / renal failure, as well as the development of side effects should be reduced to a dose of 1 mg (1 / 2 tablets) 2 times per day.
After six months, the effectiveness of treatment should be assessed and the need to continue it should be decided.
Side effects
During therapy with Roliten, the following side effects are possible (gradation: often - more than 10%; infrequently - from 1 to 10%; rarely - less than 1%):
reactions to the anticholinergic effect of the drug: often - dry mouth; infrequently - xerophthalmia (decreased lacrimation), accommodation disturbances, dry skin; rarely - urinary retention;
digestive system: infrequently - abdominal pain, dyspepsia, constipation, flatulence, vomiting; rarely - gastroesophageal reflux;
central and peripheral nervous system: infrequently - dizziness, headache, drowsiness, paresthesia, nervousness; rarely - impaired consciousness;
other reactions: infrequently - fatigue, weakness, weight gain; rarely - allergic reactions, chest pains, flushing of the face.
Overdose
The maximum single dose of tolterodine tartrate received by the volunteers was 12.8 mg. In this case, the following side reactions were observed: the most important - painful urge to urinate and accommodation disturbances; possible - hallucinations, hyperexcitation, tachycardia, respiratory failure, convulsions, urinary retention, dilated pupils.
The first stage of treatment is the maximum possible removal of Rolten from the gastrointestinal tract: gastric lavage, intake of activated carbon.
Further, symptomatic therapy is carried out according to the indications:
pronounced central anticholinergic effects (including hallucinations) - physostigmine;
convulsions or severe agitation - benzodiazepines;
tachycardia - beta-blockers;
respiratory failure - artificial respiration;
urinary retention - catheterization;
dilated pupils - pilocarpine in the form of eye drops and / or moving the patient into a room without lighting.
special instructions
Before starting therapy, it is necessary to exclude the organic causes of frequent / urgent urge to urinate.
Influence on the ability to drive vehicles and complex mechanisms
Accommodation disorders and a decrease in the speed of psychomotor reactions caused by the use of Roliten can affect the ability to perform potentially dangerous activities. In each case, this possibility should be considered separately, after assessing the patient's response to the drug.
Application during pregnancy and lactation
Roliten is contraindicated for use during pregnancy and lactation. Women of reproductive age need to use reliable methods of preventing pregnancy while undergoing tolterodine therapy.
Pediatric use
Roliten is not used in pediatrics, since the safety and effectiveness of its use in children have not been studied.
Drug interactions
other anticholinergic substances / drugs: it is possible to increase the therapeutic effect of Roliten and increase the undesirable effects;
m-cholinomimetics: the therapeutic effect of tolterodine may decrease;
metoclopramide and cisapride: possible weakening of their effectiveness;
other drugs metabolized by isoenzymes of the cytochrome P 450 system CYP2D6 or CYP3A4, or which are inhibitors or inducers of these isoenzymes: their pharmacokinetic interaction with tolterodine is likely;
fluoxetine (a strong inhibitor of CYP2D6, metabolized to norfluoxetine, a CYP3A4 inhibitor): slightly increases the total AUC of tolterodine and its active 5-hydroxymethyl metabolite, without causing clinically significant interactions;
strong inhibitors of CYP3A4 [macrolide antibiotics (erythromycin and clarithromycin) or antifungal agents (ketoconazole, itraconazole and miconazole)]: their simultaneous use with Roliten should be avoided;
warfarin, combined oral contraceptives containing ethinylestradiol / levonorgestrel: according to clinical trials, they did not interact with Rolten;
cytochrome P 450 isoenzymes (CYP2D6, CYP2C19, CYP3A4 or CYP1A2): Clinical studies using metabolic probes have not provided any indication that tolterodine is capable of inhibiting their activity.
Analogs
Roliten's analogues are Urotol, Uroflex, Detrusitol, etc.
Terms and conditions of storage
Store at a temperature of 25 ° C out of the reach of moisture. Keep out of the reach of children.
Shelf life is 4 years.
Terms of dispensing from pharmacies
Dispensed by prescription.
Reviews about Roliten
According to reviews, Roliten is a fairly effective drug for problems with uncontrolled urination. Patients note that the therapeutic effect of the tablets diminishes over time, presumably due to addiction.
Many people think that this drug is optimal in terms of efficiency / cost ratio, but because of this it is inaccessible and incredibly difficult to find in pharmacies.
Price for Roliten in pharmacies
Approximate price for Roliten (30 pcs per pack) - 455-507 rubles.
Roliten: prices in online pharmacies
Drug name
Price
Pharmacy
Roliten 2 mg film-coated tablets 30 pcs.
459 r
Buy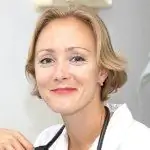 Anna Kozlova Medical journalist About the author
Education: Rostov State Medical University, specialty "General Medicine".
Information about the drug is generalized, provided for informational purposes only and does not replace the official instructions. Self-medication is hazardous to health!
Popular by topic