Table of contents: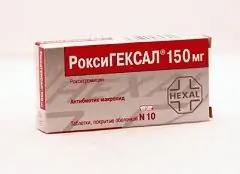 Video: RoxyGEXAL - Instructions For Use, Indications, Doses, Analogues
RoxyHEXAL
Instructions for use:
1. Release form and composition
2. Indications for use
3. Contraindications
4. Method of application and dosage
5. Side effects
6. Special instructions
7. Drug interactions
8. Analogs
9. Terms and conditions of storage
10. Terms of dispensing from pharmacies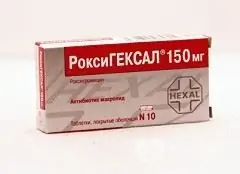 RoxyHEXAL is a drug with antibacterial action.
Release form and composition
RoxyHEXAL is produced in the form of coated tablets: almost white or white; 50 mg each - oblong, have notches on both sides; 150 mg each - convex, round, notch on one side, on the other - "R 150"; 300 mg - convex, round, notch on one side, on the other - "R 300" (50/150 mg: 10 pcs. in blisters, 1-2 blisters in a cardboard box; 300 mg each: 7, 10 or 14 pcs. In blisters, 1 blister in a cardboard box).
Composition of 1 tablet:
Active ingredient: roxithromycin - 50, 150 or 300 mg;
Auxiliary components: PEG 400, microcrystalline cellulose, isopropyl alcohol, titanium dioxide, magnesium stearate, hydroxypropyl methylcellulose, poloxamer 188, povidone K30, purified water.
Indications for use
RoxyHEXAL is prescribed for the treatment of infectious and inflammatory diseases caused by microorganisms sensitive to the action of roxithromycin:
Upper / lower respiratory tract infections (pharyngitis, tonsillitis, otitis media, sinusitis, bronchitis, pneumonia);
Chronic prostatitis;
Infections of soft tissues and skin (including acne vulgaris);
Urogenital tract infections (other than gonococcal infections);
Acute gastroenterocolitis (including Campylobacter called jejuni);
Chronic gastritis and duodenal ulcer (caused by Helicobacter pylori);
Odontogenic infections;
Infections caused by Chlamydia spp., Mycoplasma spp., Legionella spp.;
Rheumatic fever (prevention);
Other infectious diseases caused by microorganisms sensitive to the action of roxithromycin in patients with a known hypersensitivity reaction to penicillin antibiotics.
Contraindications
Combined use with drugs containing ergotamine, dihydroergotamine or other Secale cornutum alkaloids;
Combined use with drugs containing substances such as pimozide, astemizole, terfenadine, cisapride (due to the likelihood of prolongation of the QT interval and the development of torsades de pointes arrhythmias);
Porphyria;
I trimester of pregnancy;
Hypersensitivity to the components of the drug, as well as to other macrolide antibiotics.
In the II-III trimesters of pregnancy, the appointment of RoxyHEXAL is possible only for health reasons.
The drug can be used during lactation only under the supervision of a specialist.
Method of administration and dosage
RoxyHEXAL is taken orally with a sufficient amount of liquid, about 15 minutes before a meal. Do not chew the tablets.
The average daily adult dose is 300 mg (in 2 divided doses in equal parts with an interval of 12 hours or once).
The dosage regimen should be adjusted in the following cases:
Severe liver dysfunction: 150 mg once a day; therapy is carried out under the control of hepatic function;
Severe renal failure (with creatinine clearance less than 0.25 ml / min): 150 mg once a day.
The recommended daily dose for children weighing 40 kg or more is 5-8 mg / kg (determined by the type of pathogen and the severity of the infectious process) in 2 doses or 300 mg (2 times a day, 150 mg).
For children weighing up to 40 kg, RoxyHEXAL is usually prescribed in a daily dose of 5-7.5 mg / kg (in 2 divided doses).
Recommended dosing regimen for children (single dose with a frequency of administration 2 times a day):
7-13 kg - 25 mg;
14-26 kg - 50 mg;
27-40 kg - 100 mg.
Elderly patients do not adjust the dosage regimen.
With simultaneous hepatic and renal failure, it is necessary to monitor the level of serum roxithromycin and, if necessary, adjust the dose.
The duration of therapy is determined by the severity of the clinical symptoms. After the symptoms of the disease disappear, treatment should be continued for at least another 2 days.
The duration of treatment for streptococcal infections, urethritis, cervicovaginitis, cervicitis - up to 10 days, in other cases - up to 28 days.
Side effects
When using RoxyGEXAL, adverse reactions, as a rule, develop rarely (in 3-4% of patients). If they occur, it is recommended to consult a specialist. Cancellation of therapy is usually not required.
Possible side reactions:
Digestive system: stomach pain, vomiting, nausea, diarrhea; rarely - an increase in the level of transaminases (alanine aminotransferase, aspartate aminotransferase, gamma-glutamyl transferase); very rarely - liver failure (reversible);
Allergic reactions: rarely - hypersensitivity reactions (in most cases, on the mucous membranes and skin in the form of edema, erythema, skin rash);
Others: in isolated cases - tinnitus, headache, fever, an increase in the number of eosinophils.
special instructions
It is necessary to take into account the existing cross-resistance of RoxyHEXAL with erythromycin.
Patients with diabetes mellitus should take into account that 1 tablet corresponds to less than 0.01 XE (bread unit).
With a long course or with repeated administration of RoxyHEXAL, microorganisms resistant to the action of roxithromycin or fungal infections (mycoses) may develop.
In hypokalemia, AV conduction disturbances, arrhythmias or prolonged QT interval, the drug is prescribed with great care, under regular ECG control.
With the development of prolonged diarrhea or in cases of suspected intestinal disease (pseudomembranous colitis), RoxyHEXAL is canceled. Do not take drugs that inhibit intestinal motility.
With the development of severe hypersensitivity reactions (for example, anaphylaxis), it is necessary to immediately cancel the treatment and take the necessary emergency measures (taking sympathomimetics, corticosteroids, antihistamines, if necessary, carrying out artificial ventilation).
Due to the likelihood of an increase in plasma concentration at a steady-state level, RoxyHEXAL is prescribed with caution to elderly patients (it is possible to correct the dosage regimen).
Drug interactions
With the combined use of RoxyGEXAL with certain drugs / substances, the following effects may develop:
Ergot alkaloids (with vasoconstrictor properties): development of ergotism - arterial spasm, up to the development of necrosis of the extremities (the combination is contraindicated);
Vitamin K antagonists (drugs that inhibit blood clotting): increase in prothrombin time;
Terfenadine: increased serum levels, which may lead to severe arrhythmias (combination not recommended);
Theophylline: a decrease in its elimination and an increase in the manifestations of side effects (it is necessary to regularly monitor the amount of serum theophylline, especially if it was 15 mg / l or more before the appointment of RoxyHEXAL);
Cyclosporine: a slight increase in its serum level (dose adjustment, as a rule, is not required);
Cisapride, astemizole, pimozide: an increase in their serum levels, which can lead to the development of cardiac arrhythmias (the combination is not recommended);
Digoxin and other cardiac glycosides: an increase in the level of their concentration in the blood and an increase in adverse reactions;
Disopyramide: a decrease in the amount of its binding to proteins, which leads to an increase in the level of the free drug in the blood;
Midazolam: an increase in its half-life and the area under the pharmacokinetic curve (leads to an increase and lengthening of its action).
Analogs
Roxigexal analogs are: Xitrocin, Roxithromycin, Roxithromycin DS, Rulid.
Terms and conditions of storage
Keep out of reach of children at temperatures up to 25 ° C.
The shelf life is 3 years.
Terms of dispensing from pharmacies
Dispensed by prescription.
Information about the drug is generalized, provided for informational purposes only and does not replace the official instructions. Self-medication is hazardous to health!
Popular by topic