Table of contents: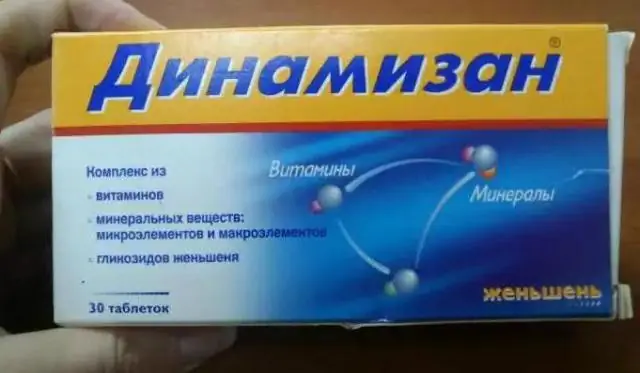 Video: Riboflavin - Instructions For Use, Indications, Doses, Analogues
Riboflavin
Instructions for use:
1. Release form and composition
2. Indications for use
3. Contraindications
4. Method of application and dosage
5. Side effects
6. Special instructions
7. Drug interactions
8. Analogs
9. Terms and conditions of storage
10. Terms of dispensing from pharmacies
Prices in online pharmacies:
from 99 rub.
Buy
Riboflavin (vitamin B 2) is a drug that regulates redox processes, participates in protein, carbohydrate and fat metabolism, hemoglobin synthesis and in maintaining the normal function of the organ of vision. Coenzyme of two flavoprotein enzymes.
Release form and composition
Riboflavin is available in the form of tablets: flat-cylindrical, yellow, chamfered and scored, sometimes there are inclusions of a darker color on the surface (10, 20 or 25 pieces in blister strip packs, in a cardboard box 1, 2, 3 or 5 packages; 50 pieces in a can, in a cardboard box one can).
Composition for 1 tablet:
Active ingredient: riboflavin - 2 mg, 5 mg or 10 mg;
Auxiliary components: talc, potato starch, calcium stearate, sugar.
Indications for use
Hypovitaminosis (vitamin B 2 deficiency);
Hemeralopia ("night blindness");
Keratitis, iritis, conjunctivitis;
Eczema;
Iron-deficiency anemia;
Viral hepatitis A;
Dysfunction of the gastrointestinal tract;
Radiation sickness;
Liver disease;
Wounds and ulcers that do not heal for a long time.
Contraindications
Nephrolithiasis is a contraindication to the use of Riboflavin. The drug is also not used with increased individual sensitivity to the components.
Method of administration and dosage
The drug is taken orally.
A single dose of Riboflavin for adult patients is 5-10 mg per day, in severe cases - 10 mg 3 times a day. The duration of therapy is 4-6 weeks.
In children, depending on age, the drug is used in a dose of 2-5 mg to 10 mg per day.
Side effects
During treatment, visual impairment, allergic reactions, and impaired renal function are possible.
special instructions
When taking large doses of Riboflavin, a reversible staining of urine in a bright yellow or orange color occurs.
Drug interactions
When used simultaneously with alcohol, the absorption of riboflavin slows down.
Chlorpromazine, amitriptyline and imipramine reduce the effectiveness of the drug.
When taken together with m-anticholinergics, the absorption of riboflavin and its bioavailability increase.
The drug reduces the antibacterial activity of doxycycline, oxytetracycline, erythromycin, lincomycin and tetracycline.
Riboflavin prevents and reduces the side effects of chloramphenicol (primary inflammation of the optic nerve and impaired hematopoiesis).
Thyroid hormones accelerate the metabolism of riboflavin, probenicid reduces its absorption in the intestine.
The drug is incompatible with streptomycin.
Analogs
Analogues of Riboflavin are: Vial, Tobradex, Viagamox, Ksalakom, Oftarimin, Catalin, Vitabact, Sofradex, Systein-Ultra, Cyloxan, Korneregel, Taurine, Uniclofen, Vitafacol, Floxal, Vizine, Inosine + ribofotlavinamic acid, Vizine, Quinax, Normax, Optinol.
Terms and conditions of storage
Store in a dark, dry place at a temperature not exceeding 25 ° C. Keep out of the reach of children. The shelf life is 3 years.
Terms of dispensing from pharmacies
Available without a prescription.
Riboflavin: prices in online pharmacies
Drug name
Price
Pharmacy
Riboflavin mononucleotide solution for injection 10mg / ml 1ml 10 pcs.
RUB 99
Buy
Information about the drug is generalized, provided for informational purposes only and does not replace the official instructions. Self-medication is hazardous to health!
Popular by topic