Table of contents: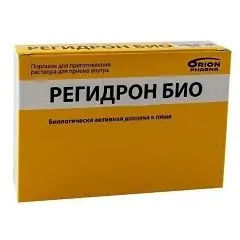 Video: Regidron Bio - Instructions For Use, Indications, Doses
Regidron Bio
Instructions for use:
1. Release form and composition
2. Properties of components
3. Indications for use
4. Contraindications
5. Recommendations for use
6. Special instructions
7. Terms and conditions of storage
Prices in online pharmacies:
from 345 rub.
Buy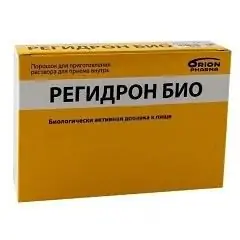 Rehydron Bio is a dietary supplement (biologically active additive) to food, used to restore water and electrolyte balance and maintain normal intestinal microflora.
Release form and composition
Regidron Bio is produced in the form of a powder for preparation of a solution for oral administration [6.4 g each in sachet A and sachet B, in a cardboard box 5 pair sachets (A + B)].
Sachet A composition:
corn maltodextrin - 1900 mg;
Lactobacillus rhamnosus GG - 100 mg
Composition of sachet B:
glucose - 3020 mg;
sodium citrate (E331) - 580 mg;
sodium chloride - 360 mg;
potassium chloride (E508) - 300 mg;
strawberry flavor - 120 mg;
silicon dioxide (E551) - 10 mg;
sucralose (E955) - 10 mg.
The total osmolarity of the Regidron Bio solution is 225 mmol / l.
Osmolarity of substances in solution (mmol / l):
citrate - 10;
K + (potassium) - 20;
Cl- (chlorine) - 50;
Na + (sodium) - 60;
glucose - 85.
The content of Lactobacillus rhamnosus GG is 1 x 10 9 CFU.
Component properties
sodium citrate, sodium chloride and potassium chloride - restore the water-electrolyte balance;
glucose is a source of energy that provides the basic needs of the body;
bacteria Lactobacillus rhamnosus GG - restore and maintain intestinal microflora in a healthy state;
maltodextrin - promotes the growth of normal microflora in the intestine.
Indications for use
Rehydron Bio is indicated for rehydration in case of dehydration and other conditions that lead to a large loss of fluid in the body (for example, due to diarrhea, high temperature, etc.), as well as for the maintenance and restoration of normal intestinal microflora.
Applying Regidron Bio in a timely manner, you can prevent the appearance of acidosis and electrolyte disorders.
Contraindications
age less than 3 years;
individual intolerance to the components of the drug.
Recommendations for use
Rehydron Bio solution is taken orally.
Recommended daily dosage depending on body weight (volume of ready-made solution + additional volume of other liquid):
70 kg: 1200 ml + 1500 ml;
50 kg: 1000 ml + 1300 ml;
40 kg: 900 ml + 1200 ml;
30 kg: 800 ml + 1100 ml;
25 kg: 750 ml + 1050 ml;
20 kg: 700 ml + 1000 ml;
18 kg: 650 ml + 950 ml;
16 kg: 620 ml + 880 ml;
14 kg: 600 ml + 800 ml;
12 kg: 550 ml + 750 ml.
Recommendations for the preparation of the solution: the contents of 2 sachets (A + B) are dissolved in a glass of drinking / boiled water at room temperature.
The ready-made solution should be consumed within 24 hours.
special instructions
A doctor's consultation is recommended before use.
Terms and conditions of storage
Store in a place protected from moisture at room temperature. The storage temperature of the finished solution is 2–8 ° C, the term is no more than a day.
The drug is suitable for use within 2 years from the date of manufacture.
Regidron Bio: prices in online pharmacies
Drug name
Price
Pharmacy
Regidron Bio paired sachets (A + B) 6.4 g each powder for preparation of oral solution 5 pcs.
345 r
Buy
Regidron BIO powder for prig solution for internal approx. sachet 6,4g 5 pcs.
440 RUB
Buy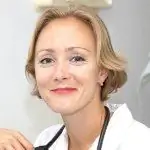 Anna Kozlova Medical journalist About the author
Education: Rostov State Medical University, specialty "General Medicine".
Information about the drug is generalized, provided for informational purposes only and does not replace the official instructions. Self-medication is hazardous to health!
Recommended: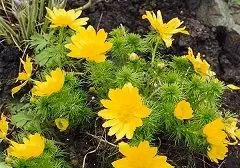 Adonis is a herbaceous plant from the genus of buttercups. The pharmaceutical industry produces on the basis of adonis tincture and tablets of Adonizid, which are prescribed for cardiac neurosis, vegetative vascular dystonia, etc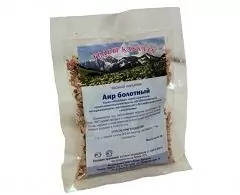 Calamus marsh has a beneficial effect on digestion and reduces gas formation in the intestines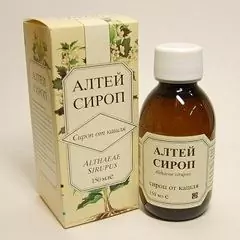 Marshmallow is a medicinal plant with expectorant and anti-inflammatory properties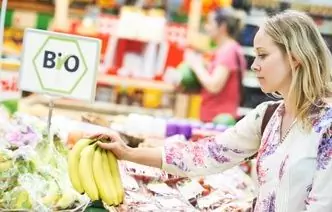 A modern person does not always manage to find housing in an ecologically clean region and work that would not harm health. At first glance, the situation with food is much better: stores are overflowing with goods that are positioned by manufacturers as very healthy and completely safe. Many Russians are absolutely convinced that choosing products labeled "bio", "eco" or "organic" guarantees them and their family members an optimal diet. Unfortunately this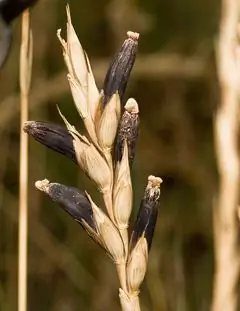 Ergot is a parasitic fungus of the ergot family found on some cereals, most often on ears of wheat and rye. In official medicine, drugs made from ergot alkaloids are used to treat nervous disorders, migraines, and uterine bleeding. In folk medicine, ergot is used for headaches, migraines, mental disorders, and also as a vasodilator in the treatment of hypertension