Table of contents: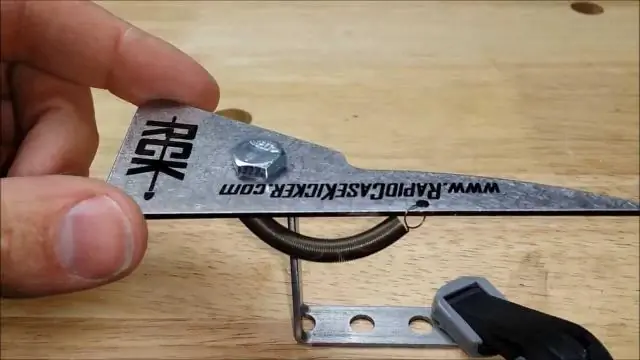 Video: Rapimed - Instructions For Use, Price, Reviews, Analogs Of Tablets
Rapimed
Rapimed: instructions for use and reviews
1. Release form and composition
2. Pharmacological properties
3. Indications for use
4. Contraindications
5. Method of application and dosage
6. Side effects
7. Overdose
8. Special instructions
9. Application during pregnancy and lactation
10. Use in childhood
11. In case of impaired renal function
12. For violations of liver function
13. Use in the elderly
14. Drug interactions
15. Analogs
16. Terms and conditions of storage
17. Terms of dispensing from pharmacies
18. Reviews
19. Price in pharmacies
Latin name: Rapimed
ATX code: N02CC01
Active ingredient: Sumatriptan (Sumatriptan)
Manufacturer: Specifar S. A. (Specifar SA) (Greece); Actavis Group, JSC (Actavis Group hf) (Iceland); Actavis, OOO (Russia)
Description and photo update: 2019-04-12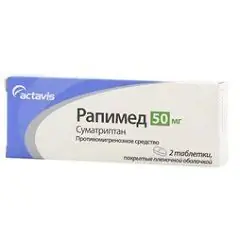 Rapimed is an anti-migraine drug.
Release form and composition
The drug is available in the form of film-coated tablets: white, oval, biconvex, with "SN" engraving on one side; tablets with a dosage of 50 mg have an engraving "50" on the other side, they have a dividing line on each side and on the side; tablets with a dosage of 100 mg on the other side are engraved with "100" (in blisters: 2 pcs., in a cardboard box 1 blister; 3 pcs., in a cardboard box 1, 2, 4, 6 or 8 blisters. In each box also contains instructions for using Rapimed).
1 tablet contains:
active substance: sumatriptan succinate - 70 or 140 mg, which corresponds to the content of 50 or 100 mg of sumatriptan;
auxiliary components: lactose monohydrate, anhydrous lactose (Pharmatose DCL 21), croscarmellose sodium, magnesium stearate, microcrystalline cellulose (Avicel PH 102);
film shell: lactose monohydrate, mannitol, triacetin, titanium dioxide, talc.
Pharmacological properties
Pharmacodynamics
Rapimed is an anti-migraine drug. Its active substance, sumatriptan, is a specific selective agonist of 5-hydroxytryptamine-1-serotonin receptors (5HT ID), which are mainly localized in the blood vessels of the brain. The main reason for the development of migraine in humans is the expansion of the vessels of the meninges and / or their edema. The action of sumatriptan promotes vasoconstriction in the carotid arterial bed, supplying blood to extracranial and intracranial tissues, without significantly affecting cerebral blood flow. In addition, the anti-migraine effect of Rapimed is based on the ability of sumatriptan to suppress the activity of the receptors of the endings of the afferent fibers of the trigeminal nerve in the dura mater, which leads to a decrease in the production of sensory neuropeptides. The drug has no effect on other subtypes of 5-HT-serotonin receptors (5HT 2 - 5HT 7).
After taking Rapimed inside at a dose of 25–100 mg, the migraine attack is quickly eliminated in 50–70% of cases. Usually, the clinical effect occurs in 0.5 hours. Taking the pills allows you to stop the nausea and photophobia associated with the disease.
A relapse requiring repeated administration of the drug can develop within 24 hours in 1/3 of patients.
Pharmacokinetics
After taking Rapimed inside, the absorption of sumatriptan occurs quickly, after 3/4 hours its plasma content reaches 70% of the maximum concentration level. Sumatriptan is characterized by presystemic metabolism and incomplete absorption, therefore its bioavailability is 14%. The maximum concentration in blood plasma (C max) after taking 100 mg of sumatriptan is 0.000 054 mg / ml.
Plasma protein binding is 14–21%, the total volume of distribution is 170 l (2.4 l / kg). It is biotransformed by oxidation with the participation of mainly the isoenzyme A of monoamine oxidase (MAO) to form the main metabolite - the indoleacetic analogue of sumatriptan. The main metabolite has no pharmacological activity against 5HT 1 - and 5HT 2 -serotonin receptors.
The half-life (T 1/2) of sumatriptan is approximately 2 hours. Plasma clearance is 1160 ml / min, renal clearance is 260 ml / min, extrarenal clearance is 80% of the total clearance.
It is excreted through the kidneys, mainly (up to 97% of the dose taken) in the form of metabolites - free acid and glucuronide conjugate.
Indications for use
The use of Rapimed is indicated for the relief of migraine attacks (with or without aura).
Contraindications
Absolute:
basilar, hemiplegic or ophthalmoplegic form of migraine;
severe impairment of liver and / or kidney function;
angina pectoris (including Prinzmetal's angina);
ischemic heart disease or suspicion of it;
myocardial infarction (including history);
postinfarction cardiosclerosis;
peripheral vascular occlusive disease;
uncontrolled arterial hypertension;
stroke or transient ischemic attack (including history);
concomitant therapy with ergotamine or its derivatives (including methysergide);
simultaneous use with MAO inhibitors or within the first 14 days after their cancellation;
period of pregnancy;
breast-feeding;
the patient's age is under 18 years old or over 65 years old;
hypersensitivity to the components of the drug.
With caution, Rapimed tablets should be used to treat patients with impaired liver and / or kidney function, epilepsy or any other conditions with a decrease in the seizure threshold, controlled arterial hypertension, hypersensitivity to sulfonamides.
Rapimed, instructions for use: method and dosage
The tablets are taken orally, swallowed whole and washed down with water.
Although the use of Rapimed is effective at any stage of a migraine attack, treatment should be started when its first symptoms appear.
Recommended dosage: 50 mg once every 24 hours. Some patients may need a dose of 100 mg to relieve acute migraine attacks. If after taking the first dose, improvement was achieved, and then the patient felt that the migraine attack was resuming, the second dose can be taken, but not earlier than 2 hours after taking the first. The maximum dose is 300 mg for 24 hours.
If symptoms do not decrease after taking the first dose, then you should not re-take the drug to stop this attack. However, Rapimed can be used to relieve subsequent migraine attacks.
Side effects
on the part of the cardiovascular system: transient increase in blood pressure (BP), lowering blood pressure, cardiac arrhythmias, bradycardia, angina pectoris, tachycardia (including ventricular tachycardia), transient changes in the electrocardiogram in ischemic type, myocardial infarction, coronary artery spasm; in very rare cases - Raynaud's syndrome;
from the gastrointestinal tract: ischemic colitis, nausea, vomiting, abdominal discomfort, dysphagia;
from the central nervous system: paresthesias and other sensory disorders, seizures, dystopia;
from the senses: flashing "flies" before the eyes, decreased visual acuity, diplopia, nystagmus, scotoma, transient partial loss of vision;
movement disorders: a feeling of stiffness (usually transient, it can occur in the chest, throat, other part of the body and be intense), stiff neck muscles, tremors;
laboratory parameters: slight changes in the activity of hepatic transaminases;
allergic reactions: pruritus, rash (including urticaria, erythematous rash), anaphylactic reactions;
general reactions: usually transient effects (including intense ones) that occur in the chest, throat or any other part of the body - pain, heat, tingling, feeling of heaviness or tightness; phenomena of a transient nature of mild or moderate severity - drowsiness, feeling of weakness, fatigue, hot flashes, dizziness;
others: nosebleeds, shortness of breath.
Overdose
Symptoms: When Rapimed is taken orally at a dose of up to 400 mg, adverse reactions characteristic of sumatriptan may appear.
Treatment: the appointment of symptomatic therapy, careful monitoring of the patient's condition within 10 hours after the overdose.
special instructions
Patients with established hypersensitivity to sulfonamides should be careful when taking Rapimed due to the fact that they have an increased risk of developing allergic reactions of varying severity, including anaphylaxis.
Sumatriptan should be prescribed only with a confirmed diagnosis of migraine; it is not intended to prevent migraine attacks. In patients with newly diagnosed migraine or atypical migraine, other potentially serious neurological conditions should be excluded. It should be borne in mind that migraine increases the risk of developing cerebrovascular complications such as stroke, transient cerebrovascular accident.
Patients with risk factors for the development of coronary heart disease, women in the postmenopausal period and men over the age of 40 are at risk of side effects from the cardiovascular system, therefore, this category of patients should start using sumatriptan only after a preliminary examination for the detection of diseases hearts.
If, while taking Rapimed, there is tightness and transient intense chest pain extending to the neck region, then an appropriate diagnostic examination must be carried out in order to exclude (or confirm) the presence of coronary heart disease.
Patients with controlled arterial hypertension and concomitant functional impairment of the kidneys or liver should be especially careful due to the existing risk of a transient increase in blood pressure and peripheral vascular resistance due to impaired absorption, metabolism or excretion of Rapimed.
Influence on the ability to drive vehicles and complex mechanisms
After taking Rapimed, patients need to be careful when driving and engaging in other potentially hazardous activities, the performance of which depends on an increased concentration of attention and the speed of psychomotor reactions.
Application during pregnancy and lactation
The use of Rapimed is contraindicated during pregnancy and breastfeeding.
If it is necessary to use the drug during lactation, breastfeeding should be stopped for 24 hours from the moment it was taken.
Pediatric use
The use of Rapimed for the treatment of children under the age of 18 is contraindicated.
With impaired renal function
Rapimed tablets are contraindicated for use in severe renal impairment.
Sumatriptan should be used with caution in patients with impaired renal function.
For violations of liver function
The use of Rapimed is contraindicated in case of severe liver dysfunction.
Sumatriptan should be used with caution in patients with liver dysfunction.
Use in the elderly
The use of Rapimed for the treatment of patients over the age of 65 is contraindicated.
Drug interactions
ergotamine: it should be borne in mind that the combination with ergotamine-containing drugs increases the risk of prolonged vasospasm. In this regard, if a combination therapy is necessary, ergotamine-containing agents should be used no earlier than 6 hours after taking sumatriptan, and sumatriptan can be taken only 24 hours after taking ergotamine-containing drugs;
propranolol, flunarizine, pizotifen, ethyl alcohol: the interaction of sumatriptan with these drugs has not been established;
MAO inhibitors: concomitant therapy with MAO inhibitors can reduce the metabolic rate of sumatriptan and increase its concentration;
selective serotonin reuptake inhibitors and serotonin and norepinephrine reuptake inhibitors: taking one of the listed agents can contribute to the development of serotonin syndrome, therefore, if necessary, joint administration should be carefully monitored for symptoms of mental disorders, autonomic lability and neuromuscular disorders;
preparations of St. John's wort: increase the likelihood of adverse events.
Analogs
Rapimed analogs are Amigrenin, Imigran, Sumamigren, Sumarin, Sumitran, Sumatriptan, Sumatriptan-Teva, Sumatriptan Adipharm, Sumatriptan-OBL, Sumatriptan Canon, Trimigren, etc.
Terms and conditions of storage
Keep out of the reach of children.
Store at temperatures up to 30 ° C, protected from moisture and light.
The shelf life is 3 years.
Terms of dispensing from pharmacies
Dispensed by prescription.
Reviews about Rapimed
Reviews about Rapimed are positive. Patients point to the high efficiency and rapid action of the drug, which saves them from excruciating migraine pain. The lack of addiction allows the drug to be used for many years. It is recommended to take a pill when the first symptoms of the disease appear, as this increases the clinical effect of Rapimed.
The price of Rapimed in pharmacies
The price of Rapimed for a package containing 6 tablets with a dosage of 100 mg can be from 807 rubles, 2 tablets with a dosage of 100 mg - from 262 rubles. The cost of a package containing 6 tablets with a dosage of 50 mg can be from 563 rubles, 2 tablets with a dosage of 50 mg - from 277 rubles.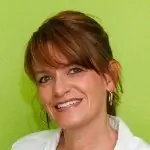 Maria Kulkes Medical journalist About the author
Education: First Moscow State Medical University named after I. M. Sechenov, specialty "General Medicine".
Information about the drug is generalized, provided for informational purposes only and does not replace the official instructions. Self-medication is hazardous to health!
Popular by topic