Table of contents: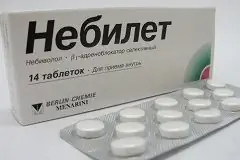 Video: Nebilet - Instructions, Reviews, Analogues
Nebilet
Instructions for use:
1. Pharmacological action
2. Release form
3. Indications for use
4. Contraindications
5. Instructions for use
6. Side effects
7. Storage conditions
Prices in online pharmacies:
from 475 rubles.
Buy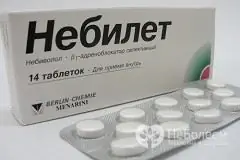 Nebilet is an antihypertensive drug with vasodilating properties, used for arterial hypertension and some diseases of the cardiovascular system.
pharmachologic effect
The active substance of Nebilet has an antianginal, hypotensive and anti-ischemic effect.
The drug effectively reduces blood pressure, heart rate and total peripheral vascular resistance. According to reviews, the antihypertensive effect of Nebilet has a number of advantages over other drugs:
Smooth and physiological decrease in systolic and diastolic blood pressure;
Absence of withdrawal syndrome with a sharp discontinuation of the drug;
Lack of development of resistance to Nebilet with prolonged use;
The effectiveness of the drug does not depend on gender, age and meal time.
Also, according to the instructions, Nebilet has a cardioprotective and angioprotective effect, manifested as a normalization of the basal vascular tone, improvement of arterial distensibility and inhibition of the progression of atherosclerosis.
Release form
Nebilet is available in the form of round white cross-cut tablets containing 5 mg of the active ingredient. 7 and 14 tablets in a blister.
Various analogues of Nebilet are produced, containing the same active ingredient. These include Binelol, Nebivator, Nebivolol-Chaikafarma, Nebikor Adipharm, Nebilong, Nevotenz, OD-Neb, Nebivolol, Nebivolol Stada, Nebivolol-Teva, Nebilan Lannacher. These preparations also contain 5 mg of active ingredient. Other analogues of Nebilet are also produced, similar in therapeutic effect, but differing in chemical composition.
Indications for the use of Nebilet
According to the instructions, Nebilet is used for:
Arterial hypertension;
Chronic heart failure, most often as part of combination therapy;
Coronary artery disease.
Contraindications
Nebilet is contraindicated for:
AV blockade II and III degree;
Severe arterial hypotension;
Cardiogenic shock;
Myasthenia gravis;
Acute heart and chronic heart failure in the stage of decompensation;
Pheochromocytoma, without the simultaneous use of alpha-blockers;
Sick sinus syndrome, including sinoatrial block;
Metabolic acidosis;
Depression;
Bradycardia;
Severe liver dysfunction;
Intolerance or deficiency of lactase and galactose malabsorption syndrome;
Bronchospasm and bronchial asthma in history;
Severe obliterating peripheral vascular diseases;
Hypersensitivity to the active substance - nebivolol or other components of the drug.
During pregnancy, Nebilet is used only under strict indications and under control of uteroplacental blood flow and fetal growth. In this case, the use of the drug must be canceled no later than two days before delivery. While using Nebilet, breastfeeding should be interrupted. According to the instructions, Nebilet is not used under the age of 18 due to the lack of studies on the effectiveness and safety of the drug.
Nebilet tablets should be used with caution in case of thyroid hyperfunction, psoriasis, renal failure, diabetes mellitus, 1st degree AV block, chronic obstructive pulmonary disease, a history of allergic diseases, Prinzmetal's angina pectoris, as well as those over the age of 75 years.
Instructions for the use of Nebilet
Nebilet tablets are recommended to be taken once a day, regardless of food intake and time of day, but preferably at the same time.
For the treatment of arterial hypertension and coronary heart disease, a daily dose of 2.5-5 mg of Nebilet is usually prescribed, while the drug can be used both in monotherapy and in combination with other drugs that lower blood pressure.
With renal failure, as well as over the age of 65, the initial dose should not exceed 1.5 mg. If the drug is well tolerated, gradually, at intervals of 1-2 weeks, the dose can be increased to 2 Nebilet tablets per day.
Before using Nebilet analogues, it is imperative to consult a doctor.
In case of an overdose of the drug, a decrease in blood pressure, vomiting, bronchospasm, nausea, cyanosis, AV blockade, loss of consciousness, sinus bradycardia, cardiogenic shock, coma and cardiac arrest are possible.
Nebilet is used with caution with many drugs because of the possibility of increasing side effects and changing the therapeutic effect.
Side effects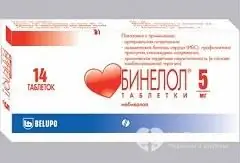 According to reviews, Nebilet most often causes headache and dizziness, diarrhea, increased weakness, constipation and nausea, fatigue, paresthesia.
Much less often, when using Nebilet tablets, the following may occur: dyspepsia, flatulence, nightmares, vomiting, erythematous skin rash, bradycardia, depression, AV blockade, orthostatic hypotension, acute heart failure, Raynaud's syndrome, itching, bronchospasm, confusion.
Fainting, hallucinations, aggravation of the course of psoriasis, angioedema and dry eyes, according to reviews, Nebilet causes only in rare cases.
Storage conditions
Nebilet is a prescription drug. Shelf life is 3 years.
Nebilet: prices in online pharmacies
Drug name
Price
Pharmacy
Nebilet 5 mg tablets 14 pcs.
475 RUB
Buy
Nebilet tablets 5mg 14 pcs.
RUB 530
Buy
Nebilet 5 mg tablets 28 pcs.
RUB 871
Buy
Nebilet tablets 5mg 28 pcs.
961 RUB
Buy
Information about the drug is generalized, provided for informational purposes only and does not replace the official instructions. Self-medication is hazardous to health!
Popular by topic