Table of contents: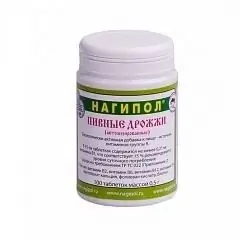 Video: Nagipol - Instructions For Use, Indications, Doses
Nagipol
Instructions for use:
1. Release form and composition
2. Indications for use
3. Contraindications
4. Method of application and dosage
5. Side effects
6. Special instructions
7. Drug interactions
8. Terms and conditions of storage
Prices in online pharmacies:
from 86 rub.
Buy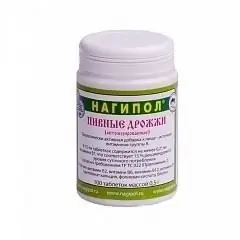 Nagipol is a food supplement containing autolysate of brewer's yeast, which compensates for the lack of B vitamins, micro- and macroelements and proteins.
Release form and composition
Dosage forms of Nagipol release:
Dragee 500 mg (200 pcs. In cans);
Powder (in cans of 500 g);
Tablets of 250, 500 or 600 mg (in cans of 100 or 200 pcs.).
Active substance of Nagipol: autolysate of brewer's yeast (contains amino acids (including 8 essential), enzymes, proteins, carbohydrates, vitamins H, E, F, group B (B1-B6, Bc), etc., nucleotides, polysaccharides, lipids, higher and lower peptides, micro- and macroelements).
Indications for use
Iron deficiency anemia, furunculosis, recovery in the postoperative period and with increased blood loss, oncological diseases, including their prevention in areas with high radiation levels;
Protein starvation, a- and hypovitaminosis, reduced body resistance to colds;
Digestive disorders;
Hepatitis, infectious diseases of the gastrointestinal tract, respiratory and cardiovascular systems (in combination with other drugs), acute and chronic poisoning with harmful organic compounds and heavy metals;
Overwork (physical, mental and nervous);
Increased physical activity, as well as the need to build muscle mass.
Contraindications
A contraindication to taking Nagipol is the presence of hypersensitivity to its components.
Method of administration and dosage
The supplement is taken orally, preferably 10 minutes before a meal.
Frequency rate of application - 1-3 times a day.
Recommended dosage regimen (depending on the dosage form; daily dose):
Tablets 500 or 600 mg, pills: 10-15 pcs.;
Tablets 250 mg: 20-30 pcs.;
Powder: 5000-10,000 mg.
Duration of use is from 7 days to 2 months. If necessary, after a break, it is possible to repeat the course.
When living in unfavorable climatic and ecological regions for 1 year, it is recommended to conduct 3 courses for 2 months. When used for therapeutic purposes, it is possible to increase the doses by 1.5-2 times.
Side effects
During the use of Nagipol, side effects were not identified.
special instructions
Do not exceed the dosage regimen recommended by your doctor.
Before starting to use Nagipol, as well as in cases of the development of side effects, you need to consult a specialist.
Drug interactions
Information on the interaction of Nagipol with other drugs and / or dietary supplements is not provided.
Terms and conditions of storage
Store in a dark, dry place out of reach of children at room temperature.
Shelf life is 2 years.
Nagipol: prices in online pharmacies
Drug name
Price
Pharmacy
Brewer's yeast Nagipol 1 for hair and skin nails 0.5 g tablets 100 pcs.
RUB 86
Buy
Brewer's yeast Nagipol 0.5 g tablets 100 pcs.
RUB 88
Buy
Nagipol yeast beer tablets 500 mg 100 pcs.
113 RUB
Buy
Brewer's yeast Nagipol 2 for acne 0.5 g tablets 100 pcs.
127 RUB
Buy
Brewer's yeast Nagipol 3 Immunomodulator 0.5 g tablets 100 pcs.
RUB 137
Buy
Information about the drug is generalized, provided for informational purposes only and does not replace the official instructions. Self-medication is hazardous to health!
Popular by topic