Table of contents: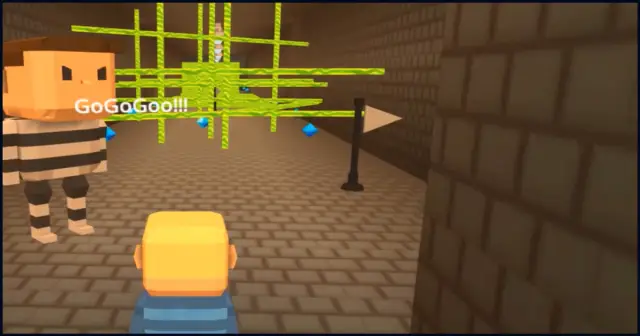 Video: Kofasma - Instructions For The Use Of Syrup, Price, Reviews, Analogues
Cofasma
Kofasma: instructions for use and reviews
1. Release form and composition
2. Pharmacological properties
3. Indications for use
4. Contraindications
5. Method of application and dosage
6. Side effects
7. Overdose
8. Special instructions
9. Application during pregnancy and lactation
10. Use in childhood
11. In case of impaired renal function
12. For violations of liver function
13. Drug interactions
14. Analogs
15. Terms and conditions of storage
16. Terms of dispensing from pharmacies
17. Reviews
18. Price in pharmacies
Latin name: Cofasma
ATX code: R05CB10
Active ingredient: bromhexin (Bromhexine) + guaifenesin (Guaifenesin) + salbutamol (Salbutamol)
Producer: Agio Pharmaceuticals Ltd (India)
Description and photo updated: 2018-29-11
Prices in pharmacies: from 139 rubles.
Buy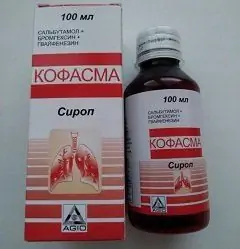 Cofasma is a combined expectorant bronchodilator and mucolytic agent.
Release form and composition
The drug is produced in the form of a syrup: an orange liquid with a pineapple smell (100 or 200 ml in a dark plastic bottle with a screw-on aluminum cap, in a cardboard box 1 bottle complete with a dosing cap and instructions for use of Cofasma).
1 ml of syrup contains:
active ingredients: guaifenesin - 10 mg, bromhexine hydrochloride - 0.4 mg, salbutamol (in the form of sulfate) - 0.2 mg;
additional components: sodium benzoate, propylene glycol, levomenthol, aspartame, sodium citrate dihydrate, citric acid, hypromellose, pineapple flavor, sunset yellow dye, purified water.
Pharmacological properties
Pharmacodynamics
Cofasma is a combined drug with expectorant, bronchodilator and mucolytic effects. The effect of the drug is due to the properties of its active ingredients:
guaifenesin is a mucolytic agent that reduces the surface tension of the structures of the bronchopulmonary apparatus; activating the secretory cells of the bronchial mucosa, promotes the production of neutral polysaccharides, provides depolymerization of acidic mucopolysaccharides, liquefies phlegm, stimulates the ciliary activity of the bronchi, facilitates and accelerates the transition of an unproductive cough to a productive one, improves sputum evacuation;
bromhexine is a mucolytic agent that demonstrates an expectorant effect; helps to increase the serous component of bronchial secretions; activating the work of the cilia of the ciliated epithelium, increases the volume of sputum, reduces its viscosity and improves the process of discharge;
salbutamol is a bronchodilator that stimulates β 2 -adrenoreceptors of blood vessels, bronchi and myometrium; prevents or relieves bronchospasm, reduces resistance in the respiratory tract, increases the vital capacity of the lungs (VC); leads to the expansion of the coronary arteries without lowering blood pressure (BP).
Pharmacokinetics
Guaifenesin is rapidly absorbed from the gastrointestinal tract (GIT) - 25-30 minutes after oral administration. It penetrates well into tissues that contain acidic mucopolysaccharides. About 60% of the administered dose of the active substance is metabolized in the liver, the half-life (T ½) is 1 hour. Guaifenesin is excreted by the lungs with sputum and kidneys in the urine unchanged and in the form of inactive metabolites.
Bromhexine after oral administration for 30 minutes is almost completely (99%) absorbed in the gastrointestinal tract. The agent has a low bioavailability due to the effect of the first passage through the liver, is able to penetrate the blood-brain barrier (BBB) and the placental barrier. The process of metabolic transformation occurs in the liver through oxidation and demethylation, the substance is converted into the pharmacologically active metabolite ambroxol. As a result of slow reverse tissue diffusion, T ½ of the agent is about 15 hours, against the background of chronic renal failure, the elimination of its metabolites is impaired. Bromhexine is excreted by the kidneys; with repeated use, it can cumulate.
Salbutamol after oral administration is characterized by high absorption, bioavailability is approximately 50%. Simultaneous intake with food reduces the rate of absorption, but does not affect bioavailability. The substance binds to plasma proteins by 10%, can pass through the placental barrier. It undergoes presystemic metabolism in the intestinal wall and liver, is inactivated with the participation of phenolsulfotransferase to 4-o-ether sulfate, T ½ - 3.8–6 hours. The drug is excreted in the urine (69–90%), mainly in the form of an inactive phenol sulfate metabolite (60%) for 72 hours and in the bile (4%).
Indications for use
The expectorant Kofasma is recommended for use in the combination therapy of bronchopulmonary diseases in acute and chronic forms, accompanied by the formation of a viscous secretion that is difficult to separate:
acute and chronic bronchitis;
tracheobronchitis;
bronchial asthma;
chronic obstructive pulmonary disease (COPD);
pulmonary emphysema, pneumoconiosis;
pneumonia;
pulmonary tuberculosis;
whooping cough.
Contraindications
Absolute:
tachycardia, tachyarrhythmia;
heart defects (including aortic stenosis);
myocarditis;
hepatic and / or renal failure;
thyrotoxicosis;
decompensated diabetes mellitus;
gastric bleeding, a period of exacerbation of gastric ulcer and 12 duodenal ulcer;
phenylketonuria;
pregnancy and lactation;
glaucoma;
hypersensitivity to any component of the drug.
Relative (take Cofasma syrup with caution):
arterial hypertension;
severe damage to the cardiovascular system;
peptic ulcer and 12 duodenal ulcer in remission;
diabetes;
hyperthyroidism.
The drug should not be combined with β-blockers.
Kofasma, instructions for use: method and dosage
Cofasma syrup is taken orally, 3 times a day.
Recommended single doses, depending on the patient's age:
children under 6 years old - 5 ml (1 teaspoon);
children from 6 to 12 years old - 5-10 ml (1-2 teaspoons);
adolescents over 12 years old and adults - 10 ml (2 teaspoons).
Side effects
cardiovascular system: decrease in blood pressure, tachycardia, peripheral vasodilation, collapse;
nervous system: muscle cramps, hand tremors; when treating with high doses - dizziness, drowsiness, headache, sleep disturbance, increased nervous irritability;
urinary system: urine staining pink;
digestive tract: vomiting, nausea, diarrhea, increased activity of hepatic transaminases, exacerbation of gastric ulcer and 12 duodenal ulcer;
allergic reactions: urticaria, skin rash, paradoxical bronchospasm.
Overdose
A symptom of an overdose of an expectorant may be an increase in the severity of the above undesirable effects. In this condition, if necessary, symptomatic treatment is carried out.
special instructions
Alkaline drinks are not recommended along with the drug.
Guaifenesin, which is part of the syrup, stains the urine pink.
Influence on the ability to drive vehicles and complex mechanisms
Taking into account the profile of side reactions of Cofasma (drowsiness, dizziness, and others), during the period of therapy, one should refrain from driving motor transport and other complex mechanisms.
Application during pregnancy and lactation
For pregnant and breastfeeding women, drug therapy is contraindicated.
Pediatric use
The syrup is used as directed by the attending physician according to the recommended dosage regimen.
With impaired renal function
In the presence of renal failure, taking Cofasma is contraindicated.
For violations of liver function
In the presence of liver failure, taking Cofasma is contraindicated.
Drug interactions
β-adrenomimetics, xanthines (including theophylline): the risk of tachyarrhythmias is aggravated;
monoamine oxidase inhibitors (MAOIs), tricyclic antidepressants: the effect of salbutamol is enhanced, which can provoke a sharp decrease in blood pressure (this combination is not recommended);
nonselective β-blockers: incompatible with taking Cofasma;
glucocorticosteroids, diuretics: the hypokalemic effect of salbutamol is enhanced;
antitussives, including drugs containing codeine: sputum discharge is difficult (Cofasma should not be used in combination with these drugs);
cephalexin, erythromycin, oxytetracycline: the penetration of these antibiotics into the lung tissue is improved due to the bromhexine included in the drug.
Analogs
Analogs of Kofasma are: Joset, Ascoril, Ascoril expectorant, Kashnol, Bromhexin, Bromhexin-Akrikhin, Coldrex Broncho, Bromhexin Nycomed, Kombipek, Salbutamol AV, Hexo Broncho, Bronhostop, etc.
Terms and conditions of storage
Store in a tightly closed bottle out of the reach of children at a temperature not exceeding 25 ° C. Do not freeze.
Shelf life is 2 years.
Terms of dispensing from pharmacies
Dispensed by prescription.
Reviews about Cofasma
According to many reviews about Cofasma, the drug effectively helps to cope with coughs in children and adults. Patients note that after several days of treatment with an expectorant, the viscosity of sputum decreases, its discharge improves, and the coughing attacks become less intense. They also indicate that the cost of the syrup is about half the cost of its known counterparts.
At the same time, there are reviews in which patients express dissatisfaction with the effect of Cofasma, considering it very weak. It is noted that drug treatment shows a good result only with a mild cough and is completely ineffective in severe cases. In many reviews, the disadvantages of syrup include its unpleasant taste. There are no complaints about the development of undesirable reactions.
Price for Cofasma in pharmacies
The average price for Cofasma is: 170–186 rubles for a 100 ml bottle, 250–280 rubles for a 200 ml bottle.
Cofasma: prices in online pharmacies
Drug name
Price
Pharmacy
Cofasma syrup 100 ml 1 pc.
139 RUB
Buy
Cofasma syrup 100ml
146 r
Buy
Cofasma syrup 200 ml 1 pc.
212 r
Buy
Kofasma Syrup 200ml bottle + dosing cap
236 r
Buy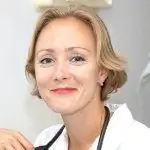 Anna Kozlova Medical journalist About the author
Education: Rostov State Medical University, specialty "General Medicine".
Information about the drug is generalized, provided for informational purposes only and does not replace the official instructions. Self-medication is hazardous to health!
Popular by topic