Table of contents: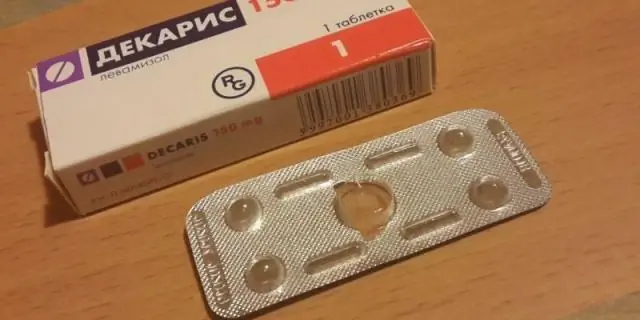 Video: Cornam - Instructions For The Use Of Tablets, Price, Reviews, Analogues
Cornham
Kornam: instructions for use and reviews
1. Release form and composition
2. Pharmacological properties
3. Indications for use
4. Contraindications
5. Method of application and dosage
6. Side effects
7. Overdose
8. Special instructions
9. Application during pregnancy and lactation
10. Use in childhood
11. In case of impaired renal function
12. For violations of liver function
13. Use in the elderly
14. Drug interactions
15. Analogs
16. Terms and conditions of storage
17. Terms of dispensing from pharmacies
18. Reviews
19. Price in pharmacies
Latin name: Kornam
ATX code: G04CA03
Active ingredient: terazosin (Terazosin)
Manufacturer: LEK d.d. (LEK dd) (Slovenia)
Description and photo update: 28.11.2018
Prices in pharmacies: from 268 rubles.
Buy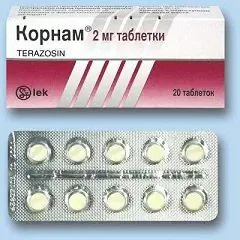 Cornam - antihypertensive agent; α 1 -adrenergic blocker, used in the case of urinary disorders in benign prostatic hyperplasia (BPH).
Release form and composition
The drug is produced in the form of tablets: flat, round, yellow (2 mg) or orange-yellow (5 mg) in color, with a line on one side and a chamfer; the surface is beveled to the risk (10 pcs. in a blister, in a cardboard box 2 or 3 blisters and instructions for use of Kornam).
1 tablet contains:
active substance: terazosin (in the form of terazosin hydrochloride dihydrate) - 2 or 5 mg;
additional components: microcrystalline cellulose, lactose monohydrate, quinoline yellow dye (E 104), corn starch, magnesium stearate, colloidal silicon dioxide, talc.
Pharmacological properties
Pharmacodynamics
Terazosin, active ingredient of Kornam, blocker of peripheral postsynaptic α 1 -adrenergic receptors; leads to the expansion of venules and arterioles, helps to reduce the total peripheral vascular resistance (OPSS) and venous return to the heart, demonstrates an antihypertensive effect.
Clinical manifestations of BPH are caused by a decrease in the lumen in the area of the outflow tract of the bladder with a decrease in urine flow through the urethra, which occurs due to static obstruction associated with an enlarged prostate, and dynamic obstruction, depending on the tone of the smooth muscles of the prostate gland and the bladder neck controlled by the sympathetic nervous system. Terazosin contributes to the normalization of urination in patients with BPH, by suppressing α 1 -adrenoreceptors localized on the postsynaptic membranes located in the smooth muscles of the prostate and bladder neck. Due to the data blockade α 1-adrenergic receptors, the tone of smooth muscles is weakened, which may cause a decrease in the number of symptoms caused by BPH, which is noted against the background of Kornam use.
The antihypertensive effect of Kornam is a direct result of peripheral vasodilation. The mechanism for lowering blood pressure (BP) is not fully understood. It is assumed that the relaxation of blood vessels occurs mainly due to the selective blockade of postsynaptic α 1 -adrenergic receptors. The antihypertensive effect of Kornam with prolonged use in most cases is not accompanied by reflex tachycardia.
Pharmacokinetics
Terazosin is characterized by fast and high absorption, the degree of which is not affected by simultaneous food intake. Bioavailability of Kornam is more than 90%, the period of reaching the maximum concentration (T Cmax) is 1 hour. The substance binds to blood plasma proteins by 90–94%.
The metabolic transformation of terazosin occurs in the liver by hydrolysis, demethylation and dealkylation with the formation of five metabolites, one of which, a piperazine derivative of terazosin, demonstrates antihypertensive activity.
Plasma clearance of the substance is on average 80 ml / min, the half-life (T 1/2) is 12 hours. After oral administration, the agent is excreted through the intestines - 60% (including in unchanged form - 20%) and by the kidneys - 40% (including in unchanged form - 10%).
Indications for use
BPH (symptomatic treatment);
arterial hypertension (as part of combination therapy).
Contraindications
Absolute:
predisposition to orthostatic dysregulation (including indications in history);
severe renal / hepatic impairment;
stones in the bladder or chronic urinary tract infections;
concomitant obstruction of the upper urinary tract;
anuria, a decrease in the rate of urine outflow;
age up to 18 years;
syndrome of glucose-galactose malabsorption, lactose intolerance, lactase deficiency;
pregnancy and lactation;
combined use with phosphodiesterase-5 (PDE-5) inhibitors (including tadalafil, sildenafil, vardenafil), due to the aggravation of the threat of arterial hypotension;
hypersensitivity to any component of the drug.
Relative (Kornam tablets should be taken with caution):
diseases of the cardiovascular system: heart failure with increased cardiac output; pulmonary edema with aortic / mitral stenosis; right ventricular failure associated with exudative pericarditis or pulmonary embolism; left ventricular failure with low ventricular filling pressure;
arterial hypotension;
disorders of cerebral circulation;
mild to moderate renal / hepatic impairment;
dehydration, violation of water and electrolyte balance;
age over 65;
reduced consumption of table salt (including salt-free diet).
Cornam, instructions for use: method and dosage
Cornam is taken orally, regardless of the meal. The tablets should be swallowed whole without chewing.
Symptomatic therapy of benign prostatic hyperplasia
The dose of Kornam is selected individually based on the response to therapy. During the first week of the course, all patients are advised to take the drug at bedtime, 1 mg. It is recommended to stay in bed for 6-8 hours after taking the pill. When using the first dose, it is necessary to monitor the patient's condition due to the threat of the possible appearance of arterial hypotension.
Over the next 14 days, the daily dose can be increased to 2 mg, and then over 7 days - up to 5 mg, taking Cornam, usually at night. It is possible to increase the dose of terazosin only if the previously received dose is well tolerated. Evaluation of the effectiveness of therapy is carried out within four weeks.
In most cases, in order to achieve a stable therapeutic effect, Cornam should be taken 1 time per day in a maintenance dose of 5-10 mg. The maximum allowable daily dose is 10 mg.
Treatment of arterial hypertension (as part of combination therapy)
The dose of Kornam and the period between doses (from 12 to 24 hours) are set individually, depending on the achieved degree of blood pressure reduction.
When Cornam is added to antihypertensive therapy already received, blood pressure should be carefully monitored (especially 2–3 hours after taking the pill) to ensure that it is constantly decreasing. If a diuretic or other antihypertensive drug is added to the terazosin regimen, it may be necessary to reduce the dose of terazosin and to re-titrate it under the supervision of a physician.
The recommended starting daily dose, taken at bedtime, for all patients is 1 mg. In order to reduce the risk of developing a pronounced decrease in blood pressure at the beginning of the course, the patient's condition should be monitored. To achieve a clinical effect, a gradual increase in the dose of Kornam is possible. The maintenance dose, used once a day, can usually vary from 1 to 5 mg, the maximum daily dose should not exceed 20 mg.
If, 24 hours after taking Kornam, there is a significant decrease in its effect, you can try to increase the dose of the antihypertensive agent or take it 2 times a day. In the latter case, it is necessary to make sure that there is no development of undesirable reactions in the form of dizziness, palpitations or orthostatic hypotension 2-3 hours after administration.
For all indications, the recommended starting dose of Kornam should not be exceeded.
If the use of Kornam is interrupted for several or more days, therapy must be resumed from the initial dose.
Side effects
blood and lymphatic system: with unknown frequency - thrombocytopenia;
immune system: extremely rare - anaphylactic reactions;
nervous system: often - headache, weakness, dizziness, drowsiness, increased irritability, paresthesia, asthenia; infrequently - depression; with an unknown frequency - insomnia, anxiety;
metabolism and nutritional disorders: with an unknown frequency - exacerbation of the course of gout;
organ of vision: often - a violation of color perception, decreased visual acuity; with an unknown frequency - conjunctivitis;
organ of hearing and labyrinthine disorders: very often - vertigo; with an unknown frequency - tinnitus;
cardiovascular system: often - fainting (mainly with a quick transition from a lying position to a standing or sitting position - postural hypotension), palpitations, chest pain, tachycardia, peripheral edema; with an unknown frequency - atrial fibrillation (a causal relationship with the use of Kornam has not been established), vasodilation, cardiac arrhythmias, orthostatic hypotension;
respiratory organs: often - nasal congestion, shortness of breath; with an unknown frequency - nosebleeds, cough;
musculoskeletal system and connective tissue: often - back pain, pain in the limbs; with an unknown frequency - arthropathy, arthralgia, shoulder pain, neck pain, arthritis, other pains of various origins and localization (algia);
skin and subcutaneous tissues: with an unknown frequency - skin rashes and itching, hyperhidrosis, urticaria;
reproductive system: often - erectile dysfunction; infrequently - decreased libido; with an unknown frequency - priapism;
urinary system: with an unknown frequency - increased urge to urinate, urinary tract infections and urinary incontinence (in most cases in postmenopausal women);
digestive system: often - nausea; with an unknown frequency - dryness of the oral mucosa, dyspepsia, constipation, vomiting, diarrhea, flatulence, abdominal pain;
laboratory and instrumental data: rarely - an increase in body weight; with an unknown frequency - hemodilution (for example, a decrease in hemoglobin, hematocrit, leukocytes, albumin and total protein); a pronounced effect on the level of total / free prostate-specific antigen was not detected even after prolonged therapy (2 years);
general disorders: very often - asthenia; often - excessive fatigue, mucosal edema, peripheral edema; with an unknown frequency - hyperthermia, facial edema, chest pain;
infectious and parasitic lesions: often - sinusitis; with an unknown frequency - rhinitis, pharyngitis, flu-like syndrome, bronchitis.
After taking the first dose for 1–1.5 hours, there may be a significant decrease in blood pressure, causing orthostatic dizziness, and in severe cases - fainting; in some cases, before fainting, a sharp increase in heart rate (HR) up to 120-160 beats per minute is possible.
Overdose
Symptoms of an overdose of Kornam can be a violation of the water-electrolyte balance, impaired coordination of movements, a pronounced decrease in blood pressure, fainting.
With the development of an overdose, treatment with the drug should be discontinued, gastric lavage should be performed, and adsorbents should be taken. In the case of a sharp decrease in blood pressure, the patient should be laid on his back, legs raised, and measures aimed at replenishing the circulating blood volume (BCC) should be carried out, followed by the use of vasoconstrictor agents.
It is necessary to monitor kidney function, as well as take measures to maintain and normalize the activity of the cardiovascular system. Hemodialysis is ineffective.
special instructions
Before taking Kornam for symptomatic treatment of BPH, it is important to exclude the possibility of developing prostate cancer. The effectiveness of the treatment received is assessed after 4–6 weeks of taking maintenance doses of the drug.
A decrease in the severity of BPH symptoms is possible already in the second week of the course, but the therapeutic effect can be achieved only after 6 or more weeks. If, 6 weeks after the start of using Kornam at the maximum recommended dose, there is only a slight improvement in uroflowmetry indicators (when compared with the initial results), further administration of the drug is inappropriate.
The patient should refuse drug therapy in the case when the developing side reactions are more serious than the existing symptoms of BPH, or with complications from the urinary tract that occur during treatment.
Cornam can affect the activity of renin in the blood plasma and the excretion of vanillyl mandelic acid by the kidneys, which is taken into account when carrying out laboratory studies.
The threat of orthostatic hypotension (the phenomenon of the first dose) is highest within 30–90 minutes after taking the drug, and is increased in patients who simultaneously use β-blockers and diuretics, against the background of a decrease in BCC, while following a hyposalt diet, and also when using Kornam again after a break of several days.
During treatment with Kornam, no changes in the concentration of the prostate-specific antigen were recorded.
It is necessary to remember about the aggravation of the risk of orthostatic hypotension during the simultaneous use of ethanol-containing drinks with therapy, exercise or prolonged standing, as well as in hot weather.
In some cases, in patients who had previously received tamsulosin, during surgery for cataracts, intraoperative flabby iris syndrome (IFIS) was observed - a type of narrow pupil syndrome. Also, similar data were obtained with the use of some other blockers of α 1 -adrenergic receptors, in connection with which the possibility of the influence of the class of these drugs cannot be excluded. Before carrying out the surgical treatment of cataracts, the ophthalmologist should be informed about the use of α 1 -adrenoreceptor blockers.
Influence on the ability to drive vehicles and complex mechanisms
When driving motor vehicles or other complex mechanisms during therapy, caution is required, especially within 12 hours after taking the first dose of Kornam, increasing the dose or resuming administration after interrupting the course.
Application during pregnancy and lactation
It is not recommended to use Cornam tablets for pregnant and breastfeeding women.
Whether terazosin is excreted in breast milk is unknown. If taking Kornam is necessary during lactation, it is required to stop breastfeeding.
Pediatric use
For patients under 18 years of age, Kornam is contraindicated, since there is no data confirming its effectiveness and safety in children and adolescents.
With impaired renal function
In severe renal impairment, the drug is contraindicated. Patients with mild to moderate renal impairment should take Cornam with extreme caution.
For violations of liver function
In severe liver dysfunctions, the drug is contraindicated. Patients with mild to moderate hepatic impairment should take Cornam with extreme caution.
Use in the elderly
Elderly patients Kornam should be taken with extreme caution due to the increased risk of orthostatic hypotension, as well as the appearance of dizziness, visual impairment and fainting. No dose adjustment is required for patients in this age group.
In persons over 75 years of age, the effectiveness of drug therapy is reduced.
Drug interactions
other blockers of α-adrenergic receptors: an increase in the antihypertensive effect is possible; this combination is not recommended;
vasodilators, nitrates: the hypotensive effect may increase; with this combination, care should be taken;
epinephrine, dopamine, ephedrine, metaraminol, phenylephrine, methoxamine: the peripheral vasoconstrictor effect of these drugs is suppressed;
sympathomimetics: possibly weakening of the antihypertensive effect of terazosin;
vanilyl mandelic acid: plasma activity and renal excretion of this substance may change, and therefore, laboratory tests for diagnosing pheochromocytoma should be interpreted with caution;
estrogens, non-steroidal anti-inflammatory drugs (especially indomethacin): the hypotensive effect of terazosin decreases, as a result of inhibition of the production of prostaglandins and / or sodium and fluid retention;
clonidine (when administered intravenously): its antihypertensive effect decreases;
antacids, adsorbents: absorption of terazosin in the digestive tract decreases.
Analogs
Kornam's analogs are Terazosin-Teva, Setegis, Terazosin, etc.
Terms and conditions of storage
Store out of the reach of children at a temperature not exceeding 25 ° C.
The shelf life is 3 years.
Terms of dispensing from pharmacies
Dispensed by prescription.
Reviews about Kornama
Reviews of Kornama on medical websites and specialized forums are in most cases positive. Most often, patients use the drug to treat the unpleasant symptoms that accompany BPH. In almost all cases, the effectiveness of the remedy is noted for urination disorders against the background of this prostate disease. Cornam effectively eliminates the symptoms of BPH, normalizes the metabolism of carbohydrates and lipids, and improves the general well-being of men. Many point to a fairly rapid manifestation of the drug's action, however, to achieve a stable clinical effect, it is recommended to take it regularly for at least 6 weeks.
The disadvantages of Kornam include the development of undesirable effects (mainly at the beginning of the course) such as drowsiness, dizziness, a sharp decrease in blood pressure.
Price for Cornam in pharmacies
The price of Cornam depends on the dosage of the tablets and can be:
2 mg: 20 pcs. - 250-300 rubles, 30 pcs. - 420-480 rubles;
5 mg: 20 pcs. - 450-530 rubles, 30 pcs. - 600-670 rubles.
Kornam: prices in online pharmacies
Drug name
Price
Pharmacy
Cornam 5 mg tablets 20 pcs.
268 r
Buy
Cornam 2 mg tablets 20 pcs.
272 r
Buy
Cornam 2 mg tablets 30 pcs.
389 r
Buy
Cornam tablets 5mg 20 pcs.
428 r
Buy
Cornam tablets 2mg 30 pcs.
509 RUB
Buy
Cornam tablets 5mg 30 pcs.
RUB 512
Buy
Cornam 5 mg tablets 30 pcs.
RUB 512
Buy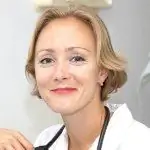 Anna Kozlova Medical journalist About the author
Education: Rostov State Medical University, specialty "General Medicine".
Information about the drug is generalized, provided for informational purposes only and does not replace the official instructions. Self-medication is hazardous to health!
Popular by topic