Table of contents:
Video: Kombitropil - Instructions For Use, Price, Reviews, Capsule Analogues
Combitropil
Kombitropil: instructions for use and reviews
1. Release form and composition
2. Pharmacological properties
3. Indications for use
4. Contraindications
5. Method of application and dosage
6. Side effects
7. Overdose
8. Special instructions
9. Application during pregnancy and lactation
10. Use in childhood
11. In case of impaired renal function
12. For violations of liver function
13. Drug interactions
14. Analogs
15. Terms and conditions of storage
16. Terms of dispensing from pharmacies
17. Reviews
18. Price in pharmacies
Latin name: Combitropil
ATX code: N06BX
Active ingredient: piracetam + cinnarizine (piracetam + cinnarizine)
Manufacturer: Sintez JSC (Russia)
Description and photo update: 2018-21-11
Prices in pharmacies: from 77 rubles.
Buy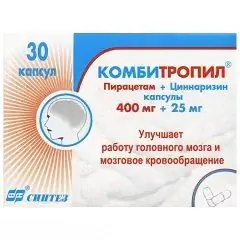 Kombitropil is a combined drug that improves blood circulation and brain metabolism.
Release form and composition
Dosage form Kombitropil - capsules: size No. 0, gelatinous, white; content - almost white or white powder (10 pcs. in blisters, 3 and 6 packs in cardboard boxes; 20 and 60 pcs. in polymer cans, 1 can in a cardboard box).
The composition of each capsule:
active substances: piracetam - 400 mg, cinnarizine - 25 mg;
auxiliary components: lactose (milk sugar), talc, magnesium stearate, microcrystalline cellulose;
shell: gelatin, methyl parahydroxybenzoate, acetic acid, propyl parahydroxybenzoate, titanium dioxide.
Pharmacological properties
Pharmacodynamics
Combitropil is a drug of combined composition that has a nootropic, vasodilating and pronounced antihypoxant effect, which is due to the mutual potentiation of the effects of the active substances. Significantly improves cerebral circulation.
Piracetam is a nootropic agent that has a positive effect on metabolic processes in the brain: it stimulates glycolytic processes, enhances the synthesis of ribonucleic acid and phospholipids, increases the concentration of adenosine triphosphoric acid in the brain tissue, and enhances glucose utilization. Changes the rate of propagation of excitation in the brain, inhibits the aggregation of activated platelets, and also improves microcirculation. It does not have a vasodilating effect.
Also, piracetam reduces the severity of vestibular nystagmus, reduces δ-activity on electroencephalography, enhances α- and β-activity, and has a protective effect against brain damage caused by electric shock, intoxication and hypoxia. Improves cerebral blood flow, interneuronal transmission and synaptic conduction in neocortical structures. Virtually no psychostimulating and sedative effect.
Thus, piracetam, improving the integrative activity of the brain, helps to consolidate memory, increases mental performance, and facilitates the learning process.
Piracetam develops gradually. The therapeutic effect of Kombitropil appears after 1-6 hours.
Cinnarizine is a selective calcium channel blocker that reduces the intake of calcium ions into cells and decreases its content in the plasmolemma depot; reducing the tone of smooth muscles of arterioles and decreasing their response to biogenic vasoconstrictor substances (including serotonin, dopamine, epinephrine, norepinephrine, vasopressin, angiotensin). It has a vasodilating property (mainly in relation to the vessels of the brain, due to which it enhances the antihypoxic effect of piracetam), while it does not significantly affect blood pressure.
Also, cinnarizine lowers the tone of the sympathetic nervous system, reduces the excitability of the vestibular apparatus and has a moderate antihistamine activity. Reduces blood viscosity, increases the elasticity of erythrocyte membranes and their ability to deform.
In patients with impaired peripheral circulation, cinnarizine enhances postischemic vasodilation, improves blood supply to organs and tissues (including the myocardium).
The toxicity of the combination piracetam + cinnarizine does not exceed the toxicity of each of the substances separately.
Pharmacokinetics
After oral administration, Kombitropil is rapidly and completely absorbed from the gastrointestinal tract.
Pharmacokinetic parameters of piracetam: bioavailability - 95%, time to reach maximum concentration: 2–6 hours. Does not bind to blood plasma proteins. Penetrates the placental and blood-brain barriers. In 1-4 hours after administration, it accumulates in the brain tissue. Practically not metabolized. It is excreted from the cerebrospinal fluid much more slowly than from other tissues. The half-life from blood plasma is on average 4.5 hours, from the brain - about 7.7 hours. It is excreted mainly by the kidneys: at least 95% of the dose taken within 30 hours.
Pharmacokinetic parameters of cinnarizine: maximum concentrations are observed in the blood, brain, heart, kidneys, liver, lungs and spleen, are reached within 1–4 hours. About 91% of the dose is bound to plasma proteins. Completely metabolized in the liver by dealkylation. The half-life is about 4 hours is derived as metabolites: through the intestine to feces -. 2 / 3 doses, kidneys in the urine - 1 / 3 dose.
Indications for use
psychoorganic syndrome with a predominance of signs of asthenia and adynamia;
disorders of cerebral circulation (including with ischemic stroke and atherosclerosis of the vessels of the brain, after traumatic brain injury, during the aftercare period after hemorrhagic stroke);
Meniere's syndrome;
labyrinthopathies of various origins, accompanied by tinnitus, dizziness, nystagmus, nausea, vomiting;
asthenia of psychogenic origin;
diseases of the central nervous system, accompanied by a decrease in intellectual and mnestic functions;
impaired memory, concentration and thinking function;
depression;
encephalopathy of various origins;
lag in intellectual development in children;
comatose and subcomatous states after intoxication and brain injury;
prevention of kinetosis and migraine.
Contraindications
Absolute:
parkinsonism;
severe renal or hepatic impairment;
children under 5 years old;
period of pregnancy and lactation;
hypersensitivity to any component of Combitropil.
Relative (special care required):
moderate renal and / or hepatic impairment;
Parkinson's disease.
Instructions for use of Kombitropil: method and dosage
Kombitropil is taken orally.
Depending on the clinical situation, 1 or 2 capsules are prescribed: adults - 3 times a day, children over 5 years old - 1-2 times a day.
The duration of therapy is from 1 to 3 months. It is recommended to conduct 2-3 courses per year.
In patients with chronic renal failure (creatinine clearance <60 ml / minute), the dose of Combitropil is reduced and / or the intervals between doses are increased.
Side effects
from the central nervous system: headache, sleep disturbance, irritability, tremor of the limbs;
from the digestive system: dry mouth, epigastric pain, dyspeptic disorders;
allergic reactions: skin rash.
Overdose
No data available.
special instructions
Combitropil should be used with caution in patients with increased intraocular pressure.
During treatment, monitoring of liver function is indicated.
Patients receiving nootropic therapy should refrain from drinking alcoholic beverages.
Cinnarizine, contained in Combitropil, can cause a false-positive reaction in athletes during doping tests.
Influence on the ability to drive vehicles and complex mechanisms
During the period of therapy, it is recommended to be careful when performing potentially hazardous types of work that require a high reaction rate and / or increased attention.
Application during pregnancy and lactation
According to the instructions, Combitropil is contraindicated during pregnancy and lactation.
If treatment is required during lactation, breastfeeding should be discontinued.
Pediatric use
The drug is contraindicated for the treatment of children under the age of 5 years.
With impaired renal function
Kombitropil is contraindicated in severe renal failure; caution should be used in moderate renal failure.
For violations of liver function
The drug is contraindicated in severe hepatic impairment. With caution, Combitropil should be used in moderate hepatic insufficiency.
Drug interactions
Combitropil improves the tolerance of tricyclic antidepressants and antipsychotics (antipsychotics).
With simultaneous use, it enhances the effects of ethanol, antihypertensive and nootropic drugs, as well as drugs that depress the central nervous system.
The action of Combitropil is enhanced by vasodilators.
Analogs
The analogues of Combitropil are Omaron, Phezam and Piracesin.
Terms and conditions of storage
The shelf life is 3 years.
Keep out of the reach of children, protected from light, at temperatures up to 25 ° C.
Terms of dispensing from pharmacies
Dispensed by prescription.
Reviews about Kombitropil
According to reviews, Combitropil is an inexpensive but effective nootropic agent. Patients note that it is very important to take it as directed by a doctor and not self-medicate. The drug is well tolerated, practically does not cause side effects, has a small list of contraindications, and can be used to treat children from 5 years of age. In addition, its cost is an order of magnitude lower than for other drugs with a similar composition of active ingredients.
The price of Combitropil in pharmacies
Depending on the pharmacy chain in which the drug is sold, the price for Combitropil is approximately 54–80 rubles per pack of 30 capsules.
Kombitropil: prices in online pharmacies
Drug name
Price
Pharmacy
Combitropil 400 mg + 25 mg capsules 30 pcs.
77 RUB
Buy
Combitropil capsules 400mg + 25mg 30 pcs.
125 RUB
Buy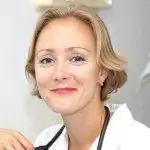 Anna Kozlova Medical journalist About the author
Education: Rostov State Medical University, specialty "General Medicine".
Information about the drug is generalized, provided for informational purposes only and does not replace the official instructions. Self-medication is hazardous to health!
Popular by topic