Table of contents: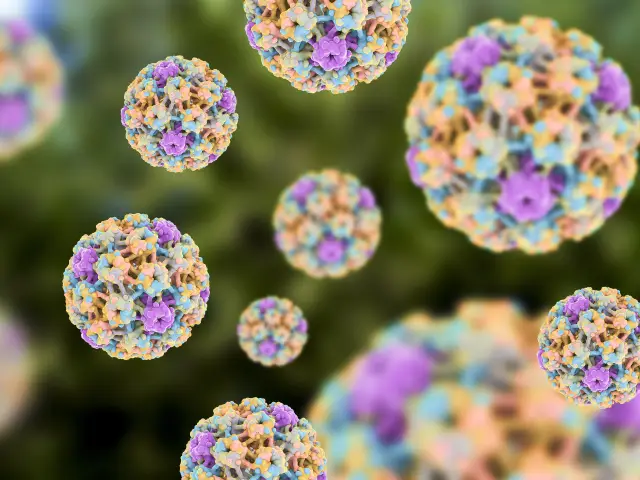 Video: Kollomak - Instructions For Using The Solution, Reviews, Price, Analogues
Kollomak
Kollomak: instructions for use and reviews
1. Release form and composition
2. Pharmacological properties
3. Indications for use
4. Contraindications
5. Method of application and dosage
6. Side effects
7. Overdose
8. Special instructions
9. Application during pregnancy and lactation
10. Use in childhood
11. In case of impaired renal function
12. Drug interactions
13. Analogs
14. Terms and conditions of storage
15. Terms of dispensing from pharmacies
16. Reviews
17. Price in pharmacies
Latin name: Collomack
ATX code: D11AF
Active ingredient: Salicylic acid (Salicylic acid)
Manufacturer: Heinrich Mack Nachf. (Germany)
Description and photo update: 2019-12-08
Prices in pharmacies: from 253 rubles.
Buy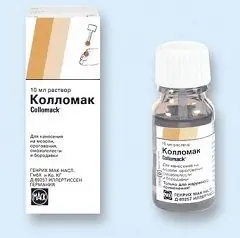 Kollomak is an external preparation with antimicrobial and keratolytic action.
Release form and composition
Collomac is produced in the form of a solution for external use (10 ml each in dark glass bottles, complete with a shaving lid, 1 bottle in a cardboard box).
The composition of 10 g of the solution contains active substances:
Salicylic acid - 2 g;
Polidocanol 600 - 0.2 g;
Lactic acid - 0.5 g.
Pharmacological properties
Pharmacodynamics
The active components of Kollomak have the following actions:
salicylic acid has keratolytic properties, causing desquamation and subsequent destruction of the epithelium. It also has a weak antimicrobial effect;
polidocanol produces sclerosing and local anesthetic effects;
lactic acid influences the keratinization process and contributes to the chemical destruction of warts.
Pharmacokinetics
The pharmacokinetics of Kollomak in humans has not been studied.
Indications for use
According to the instructions, Kollomak is used in the treatment of warts, calluses, calluses, keratinization of the skin, genital warts (including classic giant and flattened condylomas of Buschke-Levenshtein), hyperkeratosis in psoriasis (including palmar-plantar).
Contraindications
Breast age;
Hypersensitivity to the components of the drug, as well as to salicylates.
Instructions for the use of Kollomak: method and dosage
Kolomak is used externally.
The solution (1 drop) should be applied to the affected skin areas. Frequency rate of application - 1-2 times a day. With hyperkeratosis of the feet (callousness) and plantar warts, the therapeutic effect is enhanced by a warm foot bath.
The maximum dose for adults is 10 ml per day (corresponds to 2 g of salicylic acid). As a rule, after 3-4 days (after taking a warm foot bath) calluses and calluses can be removed.
The maximum daily dose for children is 1 ml (corresponding to 0.2 g of salicylic acid). Do not exceed the specified dose. When treating children, several areas should not be treated at the same time.
The duration of therapy is set individually based on the effectiveness of the drug, however, when using the maximum daily dose, it should not exceed 7 days. If necessary, the treatment course can be repeated.
Do not allow contact of the drug with mucous membranes and eyes. To avoid damage to the tissues surrounding the lesion, zinc paste must be applied to them before applying the solution.
After use, the bottle with the drug should be closed well.
Side effects
In rare cases, when using Kollomak, local skin irritation may occur, manifested in the form of redness and burning.
Sometimes, skin allergic reactions may occur upon contact with the drug.
Overdose
Salicylic acid preparations when applied externally, as a rule, do not cause toxic side effects, even if the maximum dosages were unintentionally exceeded for a short time. Sometimes, skin irritation may occur at the site of application of the excess amount of the drug. Treatment consists in removing the product from the skin surface.
If Kollomak solution is accidentally swallowed, rinse the mouth with plenty of water, and then consult a doctor.
special instructions
You should not apply Kollomak solution to hairy warts, moles, warts in the face or genitals.
The drug is not recommended for use in patients with functional impairment of the kidneys (renal failure). In such patients, the use of medicines containing salicylates is possible only with extreme caution.
Do not allow Kollomak to get into mucous membranes, especially in the eyes. In the event of such an incident, the area in question must be flushed with plenty of water.
Application of the solution during pregnancy is permissible only when applied to a small skin area (no more than 5 cm²). When using Kollomak, nursing women should avoid accidental intake of the solution by an infant (through contact with the treated surfaces of the mother's body).
Application during pregnancy and lactation
During pregnancy, the drug can be applied only to limited body surface areas, not exceeding 5 cm 2.
During breastfeeding, the use of Kollomak is possible according to indications, however, accidental ingestion of the solution inside should be avoided when the child comes into contact with the treated areas of the body.
Pediatric use
In infancy, Kollomak is contraindicated.
At an older age, the use of the drug is permissible, but treatment of several skin areas at the same time should be avoided.
With impaired renal function
For patients with chronic renal failure, the drug is prescribed with caution.
Drug interactions
There are no data on the interaction of Kollomak with other drugs.
Analogs
Kollomak analogs are: Duofilm, Salicylic acid, Salicylic ointment.
Terms and conditions of storage
Store in a dark place, out of reach of children, at temperatures up to 25 ° C.
The shelf life is 5 years.
Terms of dispensing from pharmacies
Available without a prescription.
Reviews about Kollomak
Reviews about Kollomak are contradictory. Some patients are very pleased with the drug and say that after 2 weeks of use, they have permanently got rid of the warts. The product is painless and does not cause side effects.
In other reviews, it is reported that Kollomak is an expensive and ineffective remedy that copes only with young, not hardened warts, and with plantar warts or calluses, it removes only the top layer of keratinized skin, while the wart or callus itself remains. This is probably due to the fact that old warts and calluses penetrate deeply into the layers of the skin and it is not always possible to remove them after one course of treatment.
Some reviews say that when Kollomak was applied, severe itching and irritation appeared.
The price of Kollomak in pharmacies
The price of Collomak in the form of a solution for external use (in 10 ml vials) is about 300 rubles and varies slightly in different pharmacies.
Kollomak: prices in online pharmacies
Drug name
Price
Pharmacy
Collomak solution for external use 10 ml 1 pc.
253 r
Buy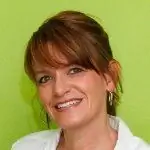 Maria Kulkes Medical journalist About the author
Education: First Moscow State Medical University named after I. M. Sechenov, specialty "General Medicine".
Information about the drug is generalized, provided for informational purposes only and does not replace the official instructions. Self-medication is hazardous to health!
Popular by topic