Table of contents: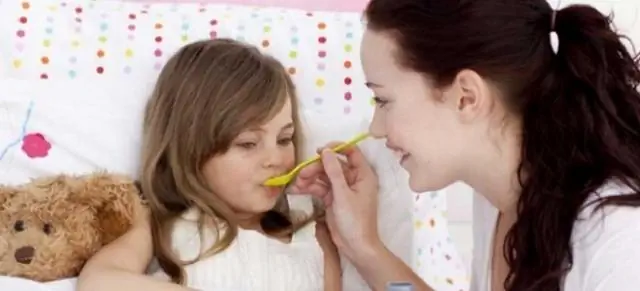 Video: Codelac Phyto - Instructions For Use, Price, Composition, Reviews, Analogues
Codelac phyto
Codelac phyto: instructions for use and reviews
1. Release form and composition
2. Pharmacological properties
3. Indications for use
4. Contraindications
5. Method of application and dosage
6. Side effects
7. Overdose
8. Special instructions
9. Application during pregnancy and lactation
10. Use in childhood
11. In case of impaired renal function
12. Drug interactions
13. Analogs
14. Terms and conditions of storage
15. Terms of dispensing from pharmacies
16. Reviews
17. Price in pharmacies
Latin name: Codelac phyto
ATX code: R05FA
Active ingredient: dry extract of thermopsis (thermopsidis extract siccum) + thick extract of licorice root (crassum extractum liquiritiae radix) + liquid extract of thyme (serpylli extract fluid) + codeine phosphate (codeine phosphate)
Producer: JSC "Pharmstandard-Leksredstva" (Russia)
Description and photo updated: 22.11.2018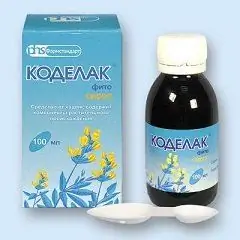 Codelac phyto is a combined drug that has an antitussive and expectorant effect.
Release form and composition
Dosage form of release - elixir: brown, has a characteristic aromatic odor; during storage, sediment formation is permissible (in a cardboard box 1 bottle of 50, 100 or 125 ml, complete with a measuring spoon).
Active ingredients in 1 ml of elixir:
dry extract of thermopsis - 2 mg;
thick extract of licorice root - 40 mg;
liquid thyme extract - 200 mg;
codeine phosphate - 0.9 mg.
Auxiliary components in Phyto Codelac: nipagin - 0.75 mg; sorbitol - 600 mg; nipazole - 0.25 mg; purified water - up to 1 ml.
Pharmacological properties
Pharmacodynamics
Codelac phyto is one of the combined antitussive drugs. Its action is due to the properties of active ingredients:
licorice: due to the content of glycyrrhizin, it has an expectorant effect. Against the background of its application, the activity of the ciliated epithelium in the bronchi and trachea is stimulated and the secretory function of the mucous membranes of the upper respiratory tract is enhanced. In addition, licorice root has an antispasmodic effect on smooth muscles (due to flavonoid compounds), anti-inflammatory effect (manifests itself as suppression of inflammatory reactions caused by bradykinin, serotonin, histamine), as well as a glucocorticosteroid-like effect (due to metabolic transformations of glycyrrhizic acid);
thermopsis: has a pronounced expectorant effect, which manifests itself as an increase in the secretory function of the bronchial glands, an increase in the activity of the ciliated epithelium and an acceleration of the evacuation of secretions, an increase in the tone of the smooth muscles of the bronchi (due to the central vagotropic effect). Contains isoquinoline alkaloids that stimulate the respiratory and stimulate the vomiting center;
thyme: contains a mixture of essential oils that have an expectorant, bactericidal and anti-inflammatory effect, provided by an increase in the activity of the ciliated epithelium of the mucous membranes of the upper respiratory tract, an increase in the amount of secreted secretions of the bronchial mucosa, dilution of phlegm, accelerating its evacuation and loosening of inflammatory plaques. Thyme also has a weak antispasmodic and reparative effect;
codeine: is an agonist of opioid receptors, phenanthrene series opium alkaloid. Reduces the excitability of the cough center. To a lesser extent than morphine, it inhibits the respiratory center, inhibits intestinal peristalsis. Nausea, vomiting and miosis is less common, but can lead to constipation. When used in small doses, respiratory depression does not cause. In addition, it does not reduce bronchial secretion and does not disrupt the function of the ciliated epithelium. If codeine is used for a long time, or in high doses, drug dependence may occur.
Indications for use
According to the instructions, Codelac phyto is prescribed against the background of bronchopulmonary diseases for the symptomatic treatment of dry cough of any etiology.
Contraindications
Absolute:
respiratory failure;
bronchial asthma;
simultaneous intake with alcohol;
combined use with morphine-like drugs - buprenorphine, nalbuphine, pentazocine;
pregnancy and the period of breastfeeding;
age up to 2 years;
individual intolerance to the components contained in Phyto Codelac.
Relative (the drug should be administered under medical supervision):
impaired renal function;
increased intracranial pressure.
Instructions for use of Codelac phyto: method and dosage
Codelac phyto is taken orally, preferably in between meals.
The recommended daily dose (in 2-3 doses):
children 12-15 years old and adults - 15-20 ml;
children 8-12 years old - 10-15 ml;
children 5–8 years old - 10 ml;
children 2–5 years old - 5 ml.
Therapy should be short-lived (over several days). With a long course, drug dependence may occur.
Side effects
digestive system: vomiting, nausea, constipation;
central nervous system: drowsiness, headache;
allergic reactions: urticaria, pruritus.
Overdose
The main symptoms: bradycardia, arrhythmias, bradypnea, atony of the bladder, vomiting, itching, headache, drowsiness, impaired coordination of eyeball movements with visual impairment.
Therapy: gastric lavage. Symptomatic treatment is shown, which is aimed at restoring breathing and cardiovascular activity (including the introduction of atropine, respiratory analeptics, a competitive antagonist of codeine - naloxone).
special instructions
In patients with impaired renal function, the elimination of codeine is slowed down, and therefore it is recommended for this group of patients to lengthen the intervals between single doses.
Simultaneously, Codelac phyto should not be used with mucolytic and expectorant drugs.
Before prescribing antitussives, the cause of the cough should be clarified (due to the possible need for special therapy).
Drinking alcohol during treatment with Kodelak phyto is prohibited.
Codeine is a doping drug that must be taken into account by athletes.
Influence on the ability to drive vehicles and complex mechanisms
Patients during the period of therapy with Kodelak phyto are advised to refrain from driving vehicles, which is associated with the likelihood of developing a sedative effect.
Application during pregnancy and lactation
Codelac phyto is not prescribed during pregnancy / lactation.
Pediatric use
Therapy with Codelac phyto is not prescribed for patients under 2 years of age.
With impaired renal function
Against the background of impaired renal function, it is recommended to lengthen the intervals between single doses.
Drug interactions
Possible interactions:
drugs with hypnotic, sedative, antihistamine action, opioid analgesics (morphine derivatives), anxiolytics, antipsychotics (drugs that have a depressing effect on the central nervous system): a depressing effect on the respiratory center and increased sedation (the combination is not recommended);
chloramphenicol: the biotransformation of codeine in the liver slows down, which leads to an increase in its action;
cardiac glycosides (including digoxin): their effect is enhanced (in combination with large doses of codeine), which is associated with a weakening of intestinal motility and increased absorption of these drugs;
adsorbents, coatings and astringents: the absorption of codeine is reduced;
ethanol: its effect on psychomotor functions is enhanced (due to codeine).
Analogs
The analogues of Codelak phyto are: Codelanov, Codelak, Codelak Broncho with thyme, Codelak Neo, Sinekod, Libeksin, Pertussin.
Terms and conditions of storage
Store at 12-15 ° C. Keep out of the reach of children.
The shelf life is 18 months.
Terms of dispensing from pharmacies
Dispensed by prescription.
Reviews of Codelac phyto
According to reviews, Codelac phyto is effective for dry coughs. It has a low cost and good taste. Among the shortcomings, they point to the possibility of addiction, an inconvenient dosing spoon, and a decrease in effectiveness with prolonged use.
Price for Codelac phyto in pharmacies
The price of Codelac phyto is unknown because the syrup is not available in pharmacies. The approximate cost of analogs: Codelac Broncho with thyme (1 bottle of elixir 100 or 200 ml) - 125–212 or 215–314 rubles, Codelac Neo (1 bottle of syrup 100 or 200 ml) - 134–218 or 225–340 rubles.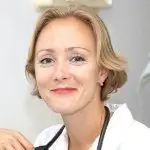 Anna Kozlova Medical journalist About the author
Education: Rostov State Medical University, specialty "General Medicine".
Information about the drug is generalized, provided for informational purposes only and does not replace the official instructions. Self-medication is hazardous to health!
Popular by topic