Table of contents: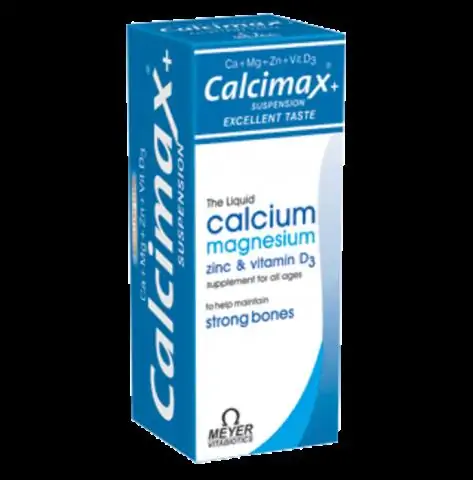 Video: Calcimax - Instructions For Use, Reviews, Price, Capsule Analogues
Calcimax
Calcimax: instructions for use and reviews
1. Release form and composition
2. Pharmacological properties
3. Indications for use
4. Contraindications
5. Method of application and dosage
6. Side effects
7. Overdose
8. Special instructions
9. Drug interactions
10. Analogs
11. Terms and conditions of storage
12. Terms of dispensing from pharmacies
13. Reviews
14. Price in pharmacies
Latin name: Calcimax
Active ingredient: calcium hydroxyapatite (Calcium hydroxyapatite), vitamin C (Vitamin C), zinc oxide (Zinc oxide), boron glycyrate (Bora glitsirat), vitamin D3 (Vitamin D3), magnesium oxide (Magnesium oxide), chondroitin sulfate (Chondroitin sulfate), silicon oxide (Silicium oxide), manganese sulfate (Manganese sulfate), chromium picolinate (Chromium picolinate)
Manufacturer: Artlife LLC (Russia)
Description and photo updated: 2019-27-08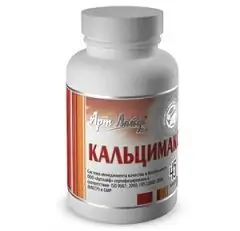 Calcimax is a biologically active food supplement (BAA), which helps to activate the process of osteogenesis, accelerate bone recovery after damage (fractures, injuries), and improve joint recovery.
Release form and composition
The dietary supplement is produced in the form of capsules of 0.75 g each (45 or 90 pieces each in plastic cans containing instructions for the use of Calcimax).
1 capsule contains active substances:
Vitamin C - 60 mg;
Vitamin D3 - 0.0016 mg;
Boron glycerate - 0.50 mg;
Calcium hydroxyapatite - 350 mg;
Silicon oxide - 8 mg;
Magnesium oxide - 100 mg;
Manganese sulfate - 0.8 mg;
Chondroitin sulfate - 66 mg;
Chromium picolinate - 0.0085 mg;
Zinc oxide - 1.5 mg.
Pharmacological properties
Calcimax is a biologically active complex containing calcium, magnesium and other elements involved in metabolism, the formation of bone, connective and nervous tissues.
A biologically active additive (BAA) maintains the balance of trace elements in the body, prevents the development of osteoporosis, and facilitates the course of chronic inflammatory diseases of the joints.
The active components of the dietary supplement are biomolecules that ensure the preservation of the structure and function of joints (chondroitin sulfate), bones (vitamin D) and connective tissue (vitamin C), therefore, the dietary supplement is useful for maintaining the entire musculoskeletal system.
Properties of macro- and microelements in the composition of Kaltsimaks:
Calcium: forms the basis of bone tissue, provides muscle contraction and transmission of impulses in the nervous system, takes part in the processes of blood coagulation and the activation of certain hormones;
Magnesium: essential for all cells and tissues, participates in the processes of relaxation and contraction of muscles, provides bone strength;
Manganese: is an essential trace element for the full functioning of the musculoskeletal system and the nervous system;
Boron: participates in the exchange of calcium and potassium;
Chromium: helps to maintain normal blood sugar levels, accelerates carbohydrate metabolism, provides the body with energy.
Indications for use
Allergic diseases;
Skin lesions of various etiologies;
Systemic osteoporosis;
Osteochondrosis;
Bone fractures;
Increased fragility and capillary permeability;
Rehabilitation after injuries received;
Articular pathologies (rheumatoid arthritis, deforming osteoarthritis, etc.).
Contraindications
Tendency to thrombosis;
Hypercalcemia;
Severe forms of atherosclerosis;
Hypersensitivity to the components of the supplement.
Calcimax, instructions for use: method and dosage
Calcimax capsules are taken orally, preferably with meals.
Recommended dosing regimen: for adults 1 capsule 2 times a day. The duration of the course is determined by the doctor, according to his appointment, an increase in the dose is also allowed.
Side effects
There are no data on possible side effects during the use of dietary supplements.
Overdose
No information available.
special instructions
Calcimax is not a medicine.
The vitamin complex can be used to prevent calcium deficiency in healthy people.
Before using the supplement, you should consult with your doctor.
Drug interactions
There is no information about the interaction of Calcimax with other drugs.
Analogs
Calcimax analogues are Calcium-Sandoz Forte, Calcium D3, Calcid, Mountain Calcium D3, Calcemin Advance, Artroflex, Osteo Vera, Artrocin, Rheumosin, etc.
Terms and conditions of storage
Store in a dry place out of reach of children at room temperature.
The shelf life is 3 years.
Terms of dispensing from pharmacies
Available without a prescription.
Reviews about Calcimax
Reviews about Calcimax are mostly positive. According to patients, this is a useful food supplement, containing a large amount of calcium and other trace elements necessary for the body. The dietary supplement strengthens not only bones and joints, but also nails and hair, improves the nervous system and metabolism.
Price for Calcimax in pharmacies
Average prices for Calcimax, capsules weighing 0.75 g: 1 bottle 45 pcs. - 204 rubles, 1 bottle 90 pcs. - 357 rubles.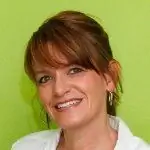 Maria Kulkes Medical journalist About the author
Education: First Moscow State Medical University named after I. M. Sechenov, specialty "General Medicine".
Information about the drug is generalized, provided for informational purposes only and does not replace the official instructions. Self-medication is hazardous to health!
Popular by topic