Table of contents: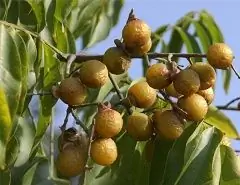 Video: Soap Nuts - Instructions, Application For Hair, Reviews
Soap nuts
Instructions for use:
1. Useful properties
2. Application
3. Contraindications
Beneficial features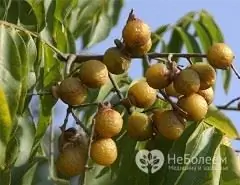 Soap nuts are the fruits of soap trees native to India. Nuts appear in November-December, they are round, yellowish-brown in color, no more than 2.5 cm in diameter.
For humans, a nut shell is valuable, containing natural foaming agents - saponins, which have detergent qualities, while they completely disintegrate, getting into the environment and, accordingly, unlike modern household chemicals, they do not pollute it. Soap nuts have the same gentle effect on the human body - they are non-toxic, do not cause allergies, do not have a smell, so they can be used for washing, rinsing clothes, and washing dishes. Using nuts instead of dishwashing detergents and laundry powders relieves a person from contact through clothing and absorption of various chemical compounds with food, which, as you know, are poorly rinsed out and cause deterioration of immunity, allergies, and skin diseases. In cosmetology, soap nuts are used for hair, skin care, and treatment of skin diseases.
Soap nuts have antibacterial properties, relieve inflammation, accelerate wound healing, and reduce the increased secretion of sweat glands.
Application
As already mentioned, walnut shells are of interest - they need to be put in a cloth bag, best of all made of flax, and crushed.
If you use nuts for automatic washing, this bag is put into the drum along with the laundry and washed as usual. On average, there are 2-5 nuts per wash. If the water is hard or the wash performance is unsatisfactory, the amount of shells can be increased.
Judging by the reviews, soap nuts can be used more than once. If washing takes place at a temperature of no more than 50 degrees, the shell can be applied 3-4 times, if more than 50 degrees, then only 1-2 times.
If it is supposed to be washed by hand, the same bag with crushed shells is placed in a washing container filled with warm water (it should be borne in mind that the saponins in the shell of soap nuts begin to act exclusively in warm water). After placing the bag in water, knead it there and stir the water until foam appears. The laundry is soaked in this water, after which it is rinsed in cool water. You can still add nuts to the rinse water to make the laundry softer.
For hair, soap nuts are used as a decoction. It is necessary to pour 10-15 pieces of crushed nutshells, pour a liter of water and boil them for half an hour. The result is a liquid soap-like decoction. You can store it for another two weeks in the refrigerator.
When using nuts for washing hair, it should be borne in mind that washing their hair like a regular shampoo will not work - the broth is liquid like water. It is recommended to pour the broth over the head and massage immediately, while you can collect the soapy liquid that merges from the hair into a container and water it again on the head until the hair is clean. At the same time, there may be no foam, but the hair is washed without it.
Reviews of soap nuts say that to wash long hair you need to take a decoction of 8 nuts, to wash short ones - 3 nuts and even less - to wash children's hair. The exact amount of shell depends on the hardness of the water and the degree of oily hair.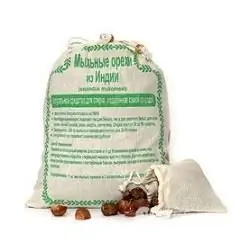 It is noticed that nuts help get rid of dandruff, but it is advised during treatment to change the comb and wash your headdress with nuts.
Soap nuts are also used for the hair of weakened, colored hair, in addition, the decoction from the shell helps to stop hair loss.
A decoction of nuts can be used for eczema, psoriasis, herpes, fungus and other skin diseases - it has been noticed that the protective functions of the skin increase, it becomes smooth, soft.
The broth can be used not only for cosmetic purposes - they wash dishes with it, wash clothes, water and fertilize indoor plants.
Store soap nuts in a cool, dry place. Sometimes nuts stick together, but this is not reflected in their quality, they are used in the same way as dry nuts.
Contraindications
In addition to individual intolerance, soap nuts have no contraindications.
Do not allow the nut broth to get into the eyes - saponins irritate mucous membranes. If this happens, rinse your eyes well.
Information about the drug is generalized, provided for informational purposes only and does not replace the official instructions. Self-medication is hazardous to health!
Popular by topic