Table of contents: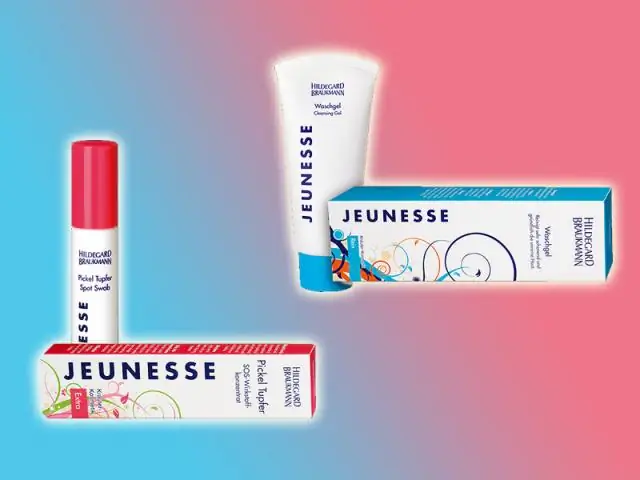 Video: Mucofalk - Instructions, Use During Pregnancy, Price, Reviews, Analogues
Mukofalk
Mucofalk: instructions for use and reviews
1. Release form and composition
2. Pharmacological properties
3. Indications for use
4. Contraindications
5. Method of application and dosage
6. Side effects
7. Overdose
8. Special instructions
9. Application during pregnancy and lactation
10. Use in childhood
11. Use in the elderly
12. Drug interactions
13. Analogs
14. Terms and conditions of storage
15. Terms of dispensing from pharmacies
16. Reviews
17. Price in pharmacies
Latin name: Mucofalk
ATX code: A06AB
Active ingredient: oval plantain (Plantago ovata)
Manufacturer: Catalent Germany Eberbach GmbH (Catalent Germany Schorndorf, GmbH) (Germany); Losan Pharma GmbH (Germany)
Description and photo update: 2019-21-08
Prices in pharmacies: from 431 rubles.
Buy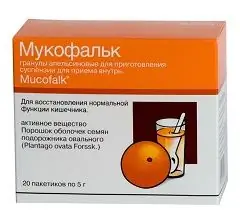 Mucofalk is a laxative herbal medicine.
Release form and composition
Mucofalk is produced in the form of orange granules for preparing a suspension for oral administration: light brown with inclusions of dried seeds Plantago ovata Forssk (oval plantain) - brown particles of the peel and adjacent shell cells (in laminated bags of 5 g, 20 sachets in a cardboard pack).
1 sachet contains:
Active ingredient: oval plantain (in the form of seed coat powder) - 3.25 g;
Auxiliary components: sucrose - 0.4795 g, citric acid - 0.435 g, dextrin - 0.294 g, sodium alginate - 0.2515 g, sodium citrate - 0.225 g, sodium chloride - 0.015 g, sodium saccharinate - 0.01 g, orange flavoring - 0.04 g.
Pharmacological properties
Pharmacodynamics
The active ingredient from the shells of plantain seeds includes episperm and adjacent layers of mature dried plantain seeds, oval or ovoid Plantago ovata Forssk. The shells of the seeds of this plantain are extremely rich in dietary fiber and plant mucus, in an amount significantly higher than the content of these ingredients in other plantain species. Its seed coats are capable of absorbing water up to 40 times their own weight. They are 85% water-soluble fibers, which are partially fermentable (according to in vitro studies, up to 72% is non-fermentable residue) and contribute to the hydration of feces.
Under the action of plantain seed shells, oval intestinal peristalsis, as well as the rate of excretion of the contents, can vary depending on the mechanical expansion of its walls. This is the result of an increase in the mass of the contents of the large intestine and a decrease in the viscosity of the stool as a result of their absorption of water.
Psyllium seed shells, taken with a large volume of liquid, increase intestinal contents due to their high volume-forming capacity, thereby stimulating the stretching of the anal sphincter and causing bowel movements. At the same time, the swollen mucous substance creates a lubricating layer that facilitates the passage of intestinal contents. Thus, with the help of Mucofalk, normal bowel function is restored.
The laxative effect of psyllium seed shells lasts from 12 to 24 hours after a single dose of the drug. In some cases, the maximum effect is achieved only after 2-3 days. In patients with mild to moderate hypercholesterolemia, LDL-C (low density lipoprotein cholesterol) decreased by about 7%. The effect of psyllium seed shells on the incidence of cardiovascular complications and overall mortality has not been studied.
Pharmacokinetics
In accordance with the International Convention (EMEAHMPWG11 / 99), clinical trials of herbal preparations do not require an isolated study of pharmacokinetic parameters.
Indications for use
Constipation (including in pregnant women);
Functional diarrhea;
Hemorrhoids;
Anal fissures;
Irritable bowel syndrome;
The period after surgical interventions in the anorectal region (to create a softer stool consistency).
Contraindications
Intestinal obstruction;
Decompensated diabetes mellitus;
Organic strictures of the gastrointestinal tract;
Age under 12;
Hypersensitivity to drug components.
Instructions for use of Mucofalk: method and dosage
Mucofalk is taken orally.
Single dose - 1 sachet or 1 teaspoon, frequency of administration - 2-6 times a day.
Before use, the granules in a single dose should be poured into a glass, slowly filled with 150 ml of cold water, stir and immediately drink the resulting solution. After that, you need to drink another glass of liquid.
Side effects
During the use of Mucofalk, allergic reactions may develop.
In the first days of therapy, a feeling of fullness in the abdomen and increased flatulence may appear.
Overdose
Symptoms of an overdose of psyllium seed shells are epigastric discomfort, flatulence and intestinal obstruction.
It is recommended to carry out symptomatic treatment and drink the required amount of liquid.
special instructions
When taking Mucofalk per day, you must drink at least 1.5 liters of liquid. The intake of 5 g (1 sachet / measuring spoon) of the drug should be accompanied by the use of 150 ml (1 glass) of liquid. Do not swallow dry granules, this can lead to difficulty in swallowing and suffocation.
Lack of the required amount of fluid while taking bulking drugs can cause obstruction of the airways and esophagus, accompanied by choking and intestinal obstruction, with symptoms such as vomiting, chest pain, difficulty swallowing (breathing).
The use of psyllium seed shells by patients with hypercholesterolemia as an adjuvant to the diet is recommended under medical supervision.
Without a doctor's prescription, Mucofalk is not taken for coprostasis and symptoms such as nausea, vomiting and abdominal pain, which may indicate potential or existing intestinal obstruction.
When treating chronic constipation, Mucofalk is stopped and a doctor is consulted in case of abdominal pain or irregular bowel movements.
For patients with gastrointestinal diseases, it is important to ensure fluid and electrolyte replacement during Mucofalk therapy.
Due to the presence of sucrose in the composition of Mucofalk, it is not recommended to use it for hereditary fructose intolerance, glucose-galactose malabsorption or congenital sucrase-isomaltase deficiency.
In 5 g of the preparation (single dose - 1 sachet / scoop), the sucrose content is 0.5 g, which corresponds to the energy value - 3.07 kcal (12.86 kJ) and the carbohydrate content - 0.064 bread units (XE).
Patients on a controlled sodium diet (low sodium / sodium chloride) should take into account that 5 g of the drug (single dose - 1 sachet / scoop) has a sodium content of 3.9 mmol (90 mg).
Influence on the ability to drive vehicles and complex mechanisms
According to the instructions, Mucofalk does not affect the ability to perform potentially dangerous types of work that require increased concentration of attention and high speed of psychomotor reactions.
Application during pregnancy and lactation
There are no restrictions and contraindications for taking Mucofalk during pregnancy and breastfeeding.
Pediatric use
Due to the lack of experience in the use of the drug in children, its appointment in pediatrics is contraindicated in patients under 12 years of age.
Use in the elderly
Therapy of elderly patients (debilitated patients) is required under medical supervision.
Drug interactions
vitamins (vitamin B 12), minerals, cardiac glycosides, carbamazepine, coumarin derivatives, lithium preparations: the shells of psyllium seeds can slow down their absorption in the small intestine, therefore it is recommended to observe an interval of 30-60 minutes between taking them with Mucofalk;
drugs that inhibit intestinal motility (opiates, loperamide): to reduce the risk of developing intestinal obstruction, their simultaneous use with Mucofalk must be carried out under strict medical supervision;
antidiabetic drugs: according to the results of individual studies, it was revealed that psyllium seed shells can reduce blood glucose levels, this may require a dose adjustment of these drugs in patients with diabetes mellitus;
thyroid hormones: the possibility of a decrease in their action cannot be ruled out, even if they are not taken simultaneously with Mucofalk.
Analogs
Analogues of Mucofalk are: Defenorm, Plantain tincture, Plantain syrup, Transilan, Fiberlex.
Terms and conditions of storage
Store in a dry place out of reach of children at temperatures up to 25 ° C.
The shelf life is 3 years.
Terms of dispensing from pharmacies
Available without a prescription.
Reviews about Mucofalk
The laxative tastes good, works effectively, does not cause addiction, helps with constipation, gently cleansing the body without pain and abdominal cramps, it is safe - most patients leave such reviews about Mucofalk. The possibility of using Mucofalk during pregnancy and during lactation is especially noted, women call it an indispensable tool in the postpartum period. The drug is also recommended to take for hemorrhoids to facilitate bowel movements.
Most often, the high cost of the drug and its availability in not all pharmacies, as well as the need to consume a lot of fluids during therapy, are indicated as a disadvantage.
Mucofalk price in pharmacies
Approximate price of Mukofalk (granules for preparation of suspension with orange flavor for internal use) package of 20 sachets / sachet, 5 g each - 470–550 rubles; can of 300 g - 1127-1300 rubles.
Mucofalk: prices in online pharmacies
Drug name
Price
Pharmacy
Mucofalk granules for oral suspension with orange flavor or aroma 5 g 20 pcs.
431 r
Buy
Mucofalk granules for suspension for internal approx. apel si n. 5g 20 pcs.
487 r
Buy
Mucofalk granules for oral suspension with orange flavor or aroma 300 g 1 pc.
1455 RUB
Buy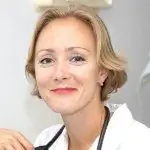 Anna Kozlova Medical journalist About the author
Education: Rostov State Medical University, specialty "General Medicine".
Information about the drug is generalized, provided for informational purposes only and does not replace the official instructions. Self-medication is hazardous to health!
Popular by topic